Places to be this weekend
By Eric Sorenson
Special to ESPN.com
1. No. 9 LSU (40-13, 17-10 SEC, No. 7 RPI) at No. 2 South Carolina (39-13, 17-9 SEC, No. 8 RPI)



Carolina Stadium, Columbia, S.C.

There are so many ramifications from this series, it's hard to fit them all in this space. If Kentucky wins the overall SEC title, this could be a case where either of these teams could lock up, or lose, a national seed here. The Tigers must get better pitching beyond Kevin Gausman and get Raph Rhymes back to form if they are to hold any hopes of keeping that Carolina Stadium crowd quiet. The Gamecocks will rely on their old standbys -- Michael Roth, Matt Price and a defense that hasn't committed an error in 41 innings.
2. No. 7 Rice (37-14, 15-6 C-USA, No. 19 RPI) at No. 16 UCF (40-12, 15-6 C-USA, No. 23 RPI)


Jay Bergman Field, Orlando

The championship belt of the Conference USA race will go to the winner here, and so will the hopes of hosting a regional at home the first week of June. Though the Owls' pitching staff has been a little more steady, both staffs have shown a knack for giving up big run totals from time to time. Both teams have capable bullpens, so the big difference will be in how the starters do. Early leads will be huge.
3. No. 15 North Carolina State (37-13, 18-9 ACC, No. 12 RPI) at No. 1 Florida State (41-11, 22-5 ACC, No. 2 RPI)



Dick Howser Stadium, Tallahassee, Fla.

The Seminoles enjoy one of the best home-field advantages in the country, with a mark of 25-4. But with no North Carolina on the ACC rotation, the Pack actually represent Florida State's biggest challenge. Unlike a lot of youthful teams, NC State is getting stronger as the season goes on, winning 13 of its last 14. And while Trae Turner (50 steals) is the table setter, look for the performance of left-handed hitters Danny Canela, Tarran Senay and Brett Austin to be the key for the Pack.
4. No. 4 Baylor (40-11, 18-3 Big 12, No. 4 RPI) at Texas (29-18, 13-8 Big 12, No. 50 RPI)



Disch-Falk Field, Austin & Baylor Ballpark, Waco, Texas

This is one of those rare seasons when the Longhorns are perched precariously on the wrong side of the NCAA tournament bubble. And believe it or not, if the Bears do the fold-the-tents trick again, as they did at Oklahoma last weekend, their national seed status could get shaky. So both teams really need this. The Bears have dipped to 11-8 in road games and need to show their experience this weekend. They'll face a UT staff that has seen some attrition because of injuries.
5. No. 22 Ole Miss (34-19, 14-13 SEC, No. 20 RPI) at Vanderbilt (26-25, 13-14 SEC, No. 38 RPI)



Hawkins Field, Nashville

This one is obviously vital to the Commodores and their chances for an at-large berth into the NCAA tournament. If they lose this weekend, it will hurt their RPI and drag their overall record out of the conversation. They need to pull a "Georgia" here and get above the Mendoza Line to add some sweetener to that already-improved RPI. The Rebels are notoriously bad away from Swayze Field, going 7-11 in true road games. But Alex Yarbrough and Matt Snyder have been clutch hitters and could offset that improving Commodores pitching staff.
Wacha comes up big for Texas A&M
By Walter Villa
Special to ESPN.com
Michael Wacha hasn't even left school yet, and he's already huge at Texas A&M -- literally.
Halfway between the Aggies' baseball lockers and their weight-room facility, there's a 10-foot-tall poster of the junior right-hander with the word "Aggressor" printed in big, bold letters.
[+] Enlarge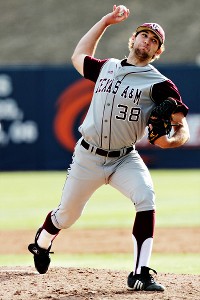 AP Photo/Larry Goren/Four Seam ImagesMichael Wacha has become the leader of a strong Texas A&M pitching staff.
Wacha -- it's pronounced wock-aw -- is projected to be a high first-round pick next month and has pitched like it this year, aggressively going after hitters and posting an 8-0 record with a 2.14 ERA.
He has 95 strikeouts in 92 1/3 innings, allowing just 76 hits, 16 walks and a .226 batting average for the eighth-ranked Aggies.
Wacha, a 6-foot-6, 200-pounder, has a fastball that reaches 96 mph. But that's not the only reason he's successful.
"He's able to grasp concepts in a hurry and make adjustments," Aggies coach Rob Childress said. "If all our guys were like that, our coaches wouldn't have much to do."
Actually, the entire Aggies pitching staff has been outstanding this season, including senior Ross Stripling (9-2), who threw a no-hitter on Saturday in a 1-0 win over San Diego State. It was the Aggies' first no-no since 2004.
The Aggies' team ERA is 2.84, which is No. 1 in the Big 12.
The leader, of course, is Wacha, which is surprising when you consider where he was three years ago.
"I didn't get a lot of looks out of high school," said Wacha, who went to Pleasant Grove High in Texarkana, Texas, a city that borders Arkansas.
Texarkana is known for producing football players such as quarterback Ryan Mallett and running back LaMichael James, but it's also one of the few cities in Texas that is a baseball town first.
Wacha fit right in to that environment, said Pleasant Grove baseball coach Craig Jones.
"Michael has that 'it' factor," Jones said. "He has the drive, the heart and the will to win, and I don't think colleges pay enough attention to all that."
Brent Bearden, a local youth league coach who had pitched for Childress at Baylor, was the man who "discovered" Wacha, calling his former coach to tell him about the prospect.
Childress had coached at Texarkana College and knew about the city's passion for baseball.
"I saw him throwing 85 to 87 [mph], and I decided to take a chance on a body like that," said Childress, referring to Wacha's tall frame. "He came on faster than anybody thought he would."
Jones said Wacha had good stuff in high school, but he rarely threw his changeup because there was no need -- most hitters couldn't catch up to his fastball.
But perhaps, Jones theorized, some scouts were dismissive of Wacha because they didn't think he had a changeup.
"Not one of those other scouts or coaches called to ask me about him," Jones said, "and that bothers me."
Jones, who predicts Wacha will be a major league innings-eater along the lines of a CC Sabathia, said he started to see his young pitcher emerge as a sophomore.
As a junior, Wacha won a state semifinal game, knocking off the No. 1 team in Texas. As a senior, he pulled a hamstring muscle but continued to pitch, leading his team to the state semifinals.
He was 22-6 in his final two years, earning first-team All-State in both seasons.
Once he got to the Aggies, he learned a cutter, refined his changeup and increased his velocity from the 85-87 range to 90-96.
"By far, his best pitch is his fastball," Childress said. "He throws it downhill and can hold his velocity the whole game.
"His changeup, he throws it 78 to 84 [mph]. He can put people away with it -- both lefties and righties. He also has a curve that he will use to steal a strike. But the changeup is what has allowed him to go three and four times through a lineup."
As a freshman, Wacha ranked fifth in the Big 12 in wins (9-2) and sixth in ERA (2.90).
He was even better as a sophomore, posting a 9-4 record with a 2.29 ERA and beating host Florida State in the rubber game of the super regionals. He held FSU to two runs in 7 1/3 innings, sending the Aggies to the College World Series.
It was the Aggies' first CWS appearance since 1999 and only their fifth ever. They have yet to win a CWS title, but they have the pitching to make a serious bid this season.
Wacha, who this season became the third Aggies pitcher to reach 300 strikeouts in a career, said he is focused on finishing strong and isn't worried about the June 4 draft.
His father, Tom, said it will be Michael's decision whether to sign after this season or return for his senior year.
"It takes a special kid to focus on the season when the draft is coming up, but that's what Michael does," Tom Wacha said. "The beauty of it is that the Aggies are having a really good year, and Michael is trying to get his team back to Omaha [for the CWS]. He's a team-first guy."
Top 25 matchups
No. 1 Florida State vs. No. 15 NC State
No. 2 South Carolina vs. No. 9 LSU
No. 3 Florida vs. Auburn
No. 4 Baylor vs. Texas
No. 5 Kentucky vs. Mississippi State
No. 6 North Carolina vs. Virginia Tech
No. 7 Rice vs. No. 16 UCF
No. 8 Texas A&M vs. Oklahoma State
No. 10 Oregon vs. Seattle
No. 11 UCLA vs. California
No. 12 Stanford vs. Utah No. 13 Purdue vs. Iowa
No. 14 Cal State Fullerton vs. UC Riverside
No. 17 Arizona vs. USC
No. 18 Arkansas vs. Tennessee
No. 19 Virginia vs. Maryland
No. 20 Oregon State vs. Washington State
No. 21 Miami vs. Georgia Tech
No. 22 Ole Miss vs. Vanderbilt
No. 24 Louisville vs. Pittsburgh
No. 25 TCU vs. San Diego State
Preseason bracketology
ESPN's resident NCAA baseball bracketologist, Jeremy Mills, offered his NCAA tournament projections. Mills' eight national seeds are:
1. Florida State
2. Oregon
3. South Carolina
4. Baylor
5. Florida
6. UCLA
7. North Carolina
8. LSU
You can find the rest of his projected 64-team field in ESPN.com's college baseball blog.
Five more to watch
1. Northern Colorado (25-27, 15-9, No. 279 RPI) at Utah Valley (39-12, 24-0, No. 73 RPI)
With Utah Valley's 32-game win streak snapped, it will be interesting to see how the Wolverines respond. Can dominating the Great West still curry an at-large bid?
2. Missouri State (35-17, 11-6, No. 43 RPI) at Indiana State (40-13, 13-5, No. 48 RPI)
This is huge. The Sycamores and Bears both have at-large hopes for the NCAAs, but ISU looks for its first Missouri Valley title as it goes in with a game-and-a-half lead.
3. SWAC tournament, Baton Rouge, La. -- eight teams, double elimination
Jackson State dominated the regular season (21-3) but will have to win the tournament on Southern's home field. Keep an eye on Alabama State under new coach Mervyl Melendez. The Hornets finished in second place in the SWAC East and had their first winning mark (14-10) since 2002.
4. MEAC tournament, Norfolk, Va. -- eight teams, double elimination
The Bethune-Cookman domination days are done after going 18-5 in the MEAC South. This will be the first time that teams from the two divisions will face each other under the new format. Delaware State went 22-2 in the North Division.
5. Patriot League playoffs, Holy Cross (32-20) at Army (39-12), Doubleday Field, best of three
Both teams are about as high quality as the Patriot League has seen recently. The Knights look to become the first 40-win program in the Patriot League, and the Crusaders won at Texas A&M this year.
-- Eric Sorenson
Bubble watch
Vanderbilt (26-25, No. 38 RPI)


Pro: Vandy has played the eighth-toughest schedule in the country (according to Boyd Nation). The Commodores are on an uptick, winning their last three SEC series versus Kentucky and at Tennessee and at LSU. The committee has a recent history of rewarding .500-ish SEC teams with tough nonconference schedules.
Con: Conversely, the committee has shown no quarter to SEC teams with losing records in conference (recall LSU in 2011). Some of the Dores' early-season losses were pretty ugly. What they must do: By all means, don't lose the Ole Miss series. Achieving a winning mark in the SEC tournament may be too hard, and is not likely to happen anyway.
Utah Valley (39-12, No. 67 RPI)


Pro: No one else comes close to Utah Valley's 32-game win streak. The team played in a weak conference but has dominated, going 24-0. If you want to compare losses, South Carolina lost to Francis Marion, Arizona lost to North Dakota State, Texas A&M lost to UT-Pan Am and Rice lost to Grambling. UVU's only "bad" loss was to Seattle.
Con: Well, obviously, playing in the Great West is enough of an albatross. The resulting anchor-affected RPI hurts, too. What they must do: Hopefully, the committee thinks outside the box and doesn't just assume a seventh- or eighth-place team from a power conference is better. Utah Valley also must hope the committee sees its 20 road wins (equal to Purdue) as a strong positive.
Oklahoma (33-20, No. 46 RPI)


Pro: Wins over Oregon, Arkansas, Pepperdine, New Mexico and a sweep of Baylor have to carry some weight. A 13-10 mark in the fourth-rated conference is solid.
Con: The Sooners are 1-3 versus Oklahoma State and trail the Cowboys in the Big 12. However, with a No. 79 RPI, there's little chance the Cowboys will get a bid. OU is also 0-10 vs. Texas, Texas A&M, Dallas Baptist and TCU. What they must do: Sweeping Samford (No. 63 RPI) this weekend would help, along with making a good run in the Big 12 tournament.
New Mexico State (31-20, No. 32 RPI)


Pro: A 30-11 start included wins over Arizona (2), Wake Forest (3) and a series win over WAC leader Nevada. The RPI is good and, since the Aggies are geographically challenged, the committee may give them some benefit of the doubt.
Con: The elephant in the room is that 1-9 streak they're on, not something the committee cottons to. They sit behind Nevada (No. 70 RPI) and Sacramento State (No. 88 RPI) in the WAC standings. What they must do: Since winning the WAC regular season outright isn't going to happen, the Aggies must stymie this giant skid by winning the San Jose State series. And just to make sure, make a deep run in the WAC tourney.
Michigan State (34-17, No. 48 RPI)


Pro: The RPI is in a pretty good range. Only UCLA also has wins over both Baylor and Purdue. The Spartans have won 20 games away from East Lansing, 15 in nonconference play.
Con: People who place heavy emphasis on the RPI will point to Sparty's 14 games versus 200-plus ranked teams, two of which they lost. Would the committee really give a bid to the fourth-place team in the Big Ten? What they must do: Winning the Penn State series, and maybe even sweeping, is a must this week. MSU can't have a quick exit from the Big Ten tournament, and winning any matchup with Purdue would be a plus.
Washington (26-21, No. 52 RPI)


Pro: The Huskies have wins over Oregon (2), Stanford, Oregon State and Arizona. UW has played only 16 games versus 100-plus RPI teams, winning 13 of them. Boyd Nation has their schedule seventh-best in the country.
Con: The record isn't so sexy right now, including an 11-13 Pac-12 mark. Nonconference wins versus UC Irvine, Cal Poly and San Diego State aren't so hot now. One Pac-12 team usually gets snubbed on selection day. What they must do: Well, don't go belly-up in three games versus Arizona State as fellow in-stater Gonzaga did last week. Get the Pac 12 mark above .500 and try to get above Oregon State in the standings.
Tulane (35-17, No. 56 RPI)


Pro: The fifth-rated conference will get more than three teams in, right? The Greenies are on a 9-3 spree, including a series win at East Carolina, which is No. 25 in the RPI. They also blew out Southeastern Louisiana (No. 55 RPI) in three games.
Con: An RPI in the 50s still puts them on the fringe for a C-USA team. A final regular-season series versus Marshall won't help the RPI. Going 1-5 vs. Rice and UCF is a downer. Of the 35 wins, 23 have been versus 100-plus RPI teams. What they must do: Finish above East Carolina in the final standings and hope to match up with the Pirates, Rice or UCF in the conference tournament … and win. That should bring the RPI into the low-40s.
-- Eric Sorenson