What to watch during conference tournaments
By Eric Sorenson
Special to ESPN.com
SEC tournament (May 22-27)

Hoover, Ala.
Three things to watch for

1. Malaise: With LSU, Florida and South Carolina all not really having anything to play for, you have to wonder if they will mail it in this week or use a lot of lesser-used players to avoid injury. That could be beneficial to some of the lower seeds who need wins to bump up their RPI.
2. Putting lipstick on a pig: The SEC knows what it's doing. By adding two more teams -- increasing the tournament to 10 teams in an unwieldy six-day format -- it knows that borderline at-large teams which finish ninth or 10th in the regular-season standings can get additional style points. The league receiving nine bids to the NCAA tournament isn't out of the question.
3. At-large hopefuls: The NCAA selection committee usually doesn't do many favors for SEC teams with RPIs in the 40s, but you never know. So keep an eye on Georgia and Auburn. If either of those two gets its RPI to jump up a bit this week, it could be a boon for its at-large hopes.
Big 12 tournament (May 23-27)

Oklahoma City
Three things to watch for

1. Is this a two-bid conference?: Be watchful of the results for Texas and Oklahoma. If they both flame out quickly in OKC, there's a chance the Big 12 could become the unthinkable: a two-bid conference with just Baylor and Texas A&M invited to the NCAA tournament.
2. SEC vs. Big 12: How cool is this Division II bracket? Future SEC members Texas A&M and Missouri are bracketed with longtime rivals Texas and Kansas in a double-elimination setting. The opening-round matchups are A&M vs. KU and Mizzou vs. UT, but there will likely be some rival showdowns along the way. And they're going to be fun, if only for one last time.
3. Ongoing droughts: Keep an eye on Baylor, Texas Tech and Oklahoma, all of whom have yet to win a Big 12 tournament title in the new millennium. Texas and Texas A&M have won the past five.
ACC tournament (May 23-27)

Greensboro, N.C.
Three things to watch for

1. The Big Five (of the Big Eight): As of right now, FSU, UNC, NC State and Virginia could all end up as national seeds depending on how things turn out here. If it's FSU-UNC in the finals, the ACC could get only two top-eight qualifiers. Since 1999, the most national seeds from one conference has been three.
2. Is the RPI too generous?: There's been a lot of talk about how the ACC gets overrepresented by the RPI, especially in how highly-rated Miami, Virginia, Clemson and Georgia Tech are. Keep an eye on their ranking as their wins pile up this week.
3. Fear the Demon Deacons: Wake Forest has the "nothing to lose" mentality going into the week. Keep in mind that the Deacons own wins over North Carolina, Florida State, Georgia Tech, Miami and Clemson this season and are on a 6-3 run in May, including last week's sweep of Clemson, which was their best weekend of baseball this season.
Three more tournaments to watch
Big Ten tournament (May 23-27)


Columbus, Ohio
What to watch: This is the first time the Big Ten tournament will have a top-15 team in its field, in the form of Purdue. The Boilermakers' performance here will be big as they hope to land a home regional and even have an outside shot at a national seed with a good week. But as you know, the Big Ten teams play their best baseball at this time of year. Even though Purdue won 41 games, it still only won the conference by a single game over Indiana and had three other teams within three games of it. This is a wide-open field.
Favorite: Purdue
Spoiler: Nebraska, if the pitching comes through
Winner: Indiana, which comes in on a 12-3 run
Conference USA tournament (May 23-27)


Pearl, Miss.
What to watch: This is the tale of two teams: East Carolina and Tulane. Rice battled UCF for the C-USA title and both teams are assured of NCAA tournament bids, with the Owls in contention for a possible national seed. But ECU and Tulane are interesting tales. The Green Waves took two-of-three against the Pirates in the regular season and finished ahead of them in the C-USA standings. But the better strength of schedule helps ECU as the Waves have had some opponents not pan out as tough as expected.
Favorite: Rice
Spoiler: Memphis, on a 12-3 run as hottest team in C-USA
Winner: Tulane. Desperation inspires greatness here
Southern Conference tournament (May 23-27)


Greenville, S.C.
What to watch: The SoCon was the top mid-major conference for most of the season, finishing just behind the Missouri Valley at seventh in the conference RPI. ASU and College of Charleston sit at 31 and 40, respectively, in the RPI, so as long as they don't tank it, they should be safe for the NCAAs. Watch out for Elon and Samford, which both sit just outside of at-large consideration but are desperate for and capable of big wins here. If both teams overcome their shoddy defenses, they could ruin some title hopes here.
Favorite: Appalachian State and College of Charleston
Spoiler: Georgia Southern, especially if All-American Victor Roache returns
Winner: Samford, which has recent wins over Florida and Oklahoma
Cardinals eagerly anticipating return trip
By Walter Villa
Special to ESPN.com
Louisville coach Dan McDonnell recently bought 10 copies of the book "Lone Survivor" and passed them around for his players to read.
The book was written by Marcus Luttrell, who was a Navy SEAL and the only survivor of a four-man mission in 2005 into Afghanistan, where the Americans were ambushed by Taliban fighters.
[+] Enlarge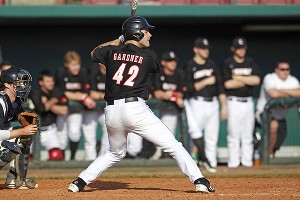 Mike Janes/Four Seam Images/AP ImagesAfter a one-year NCAA tournament hiatus, Louisville is eagerly anticipating a return trip.
McDonnell's Cardinals, ranked No. 22 in the country, aren't going to war, of course. But the coach wants to make sure his team is a tough-minded group as it competes in this week's Big East tournament in Clearwater, Fla.
"Sometimes, when the season is too easy," McDonnell said, "and you get to the postseason and some adversity happens, you don't handle it well.
"Our season hasn't been easy."
This past weekend, the Cards won their third Big East regular-season title in the past four years, and they are the top seed in this week's tournament.
But other than a sweep of Cincinnati, every other Big East series the Cards played went 2-1. The only Big East team to win a series against Louisville was Seton Hall, which visited Louisville in mid-April.
The Cards have also suffered through three postponements -- two of them at home -- but have played good baseball, beating Kentucky 12-0 and 10-2 when the Wildcats were ranked No. 1 in the country.
Louisville was 5-2 against Big Ten schools, losing to the conference champion Purdue Boilermakers 2-1.
Against the mighty SEC, Louisville went 3-3, including a pair of one-run losses.
"The Big East sometimes doesn't get a lot of respect, but it's a good conference," said Zac Wasserman, Louisville's 6-foot-6, 225-pound first baseman from Big Ten country (Stevensville, Mich.).
Wasserman, who is about 80 pages into "Lone Survivor," said the book has given him a lot to think about.
"It's about brotherhood and how much pride you take in not letting the person next to you down," Wasserman said.
"At this point in our season, all the individual goals go out the window. It's about making the playoffs and fighting to win a championship as a team."
McDonnell, who had been an assistant at his alma mater, The Citadel, and then at Ole Miss, was hired by Louisville in 2006.
Less than one year later, he led the Cards to the College World Series. He was the first rookie coach in 27 years to take his team to Omaha, and he followed that up with NCAA regional berths in 2008, 2009 (super regional) and 2010.
Last year, the Cards took a step back, finishing 32-29 and failing to make a regional.
"We won 50 games the year before [50-14], we were a national seed, and the [MLB] draft hit us hard," McDonnell said. "Ten players were drafted, including seven juniors, and six of those signed.
"We had a good team last year, but we were real young. Five freshmen started at times."
The other problem, McDonnell said, was that the Cards had a tough adjustment to the new, less-potent bats in college baseball.
He said his team's approach had to change from an American League philosophy of waiting for the three-run homer to the small ball of the National League -- sacrifices, defending the bunt and running.
The Cards went from 88 homers in 2010 to 36 last year -- statistics that McDonnell recited from memory -- and faced a 65 percent increase in the number of times teams bunted on them.
"We did a lot of soul-searching and a lot of evaluating to figure out what type of players we wanted to recruit," McDonnell said of the work done by his staff.
On the first day of practice last fall, the Cards worked on bunt defense, something they usually hadn't touched until spring training.
In the recruiting battles, Louisville has sought out more athletic players who can run and defend. There is still room, McDonnell said, for the power hitter who is not great defensively, but you can't have three or four players who fit that description.
As a role model, McDonnell has looked at two-time defending national champion South Carolina.
"What their coach [Ray Tanner] has done is remarkable," McDonnell said. "He was an AL-style manager who won the national title. Then, the bats change, and he wins again with an NL style."
McDonnell figures his team will start to peak next year, when the Cards will have a strong junior class, but he won't sell this team short.
The only senior in the starting lineup is right fielder Stewart Ijames, who is hitting .266 with team highs in homers (12) and RBI (60). The only senior pitchers in key roles are Derek Self (3.07 ERA, team-high 7 saves) and Travis Tingle (3.77 ERA, 20 appearances, 9 starts).
The team's statistical leaders are ace pitcher Justin Amlung (8-3, 2.16 ERA), a junior, and sophomore third baseman Ty Young (team-high .349 batting average).
McDonnell said he believes in "controlled chaos" in his dugout.
"In the postseason, there are ESPN cameras and all kinds of distractions," said McDonnell, who added that the coaches' kids and other children are a common sight in his dugout.
"I don't want to make it sound like we have confetti and balloons in here. I just think that everything we do is geared toward performing well on the big stage in postseason play."
Preseason bracketology
ESPN's resident NCAA baseball bracketologist, Jeremy Mills, offered his NCAA tournament projections. Mills' eight national seeds are:
1. Florida State
2. Oregon
3. Baylor
4. LSU
5. Florida
6. UCLA
7. North Carolina
8. South Carolina
You can find the rest of his projected 64-team field in ESPN.com's college baseball blog.
Series to watch this weekend
Despite all the conference tournament hoopla that will be going on this week, there are still a few conferences that know how to decide a true champion. The Pac-12, Big West and West Coast Conferences don't hold postseason tournaments or playoffs, instead awarding their automatic bids to their regular-season champions. Here are the best of this weekend's three-game series.
1. Oregon (41-14, 19-8 Pac 12, No. 5 RPI) at Oregon State (35-18, 15-12 Pac 12, No. 38 RPI)



What's at stake: Oregon's national seed hopes and OSU's at-large hopes.
Conventional thinking would suggest that the Beavers are safely into the field of 64, but they are the sixth-place team in the Pac-12 and their RPI is inching toward bubble-land. It's vital for the Black & Orange to win at least one game. The Ducks could fall out of the national seed talk if they lose two or three this weekend, but they have been so tough on the road this season, winning weekends at Hawaii, Vanderbilt, UCLA, Stanford and Arizona. That's a team with a tough mentality.
2. San Diego (39-13, 14-7 WCC, No. 28 RPI) at Pepperdine (32-20, 14-7 WCC, No. 33 RPI)



What's at stake: The WCC championship and automatic bid to the NCAAs.
It's been a huge rebound year for the West Coast Conference, with traditional powers San Diego and Pepperdine at the forefront of the revival. Both teams are locks for NCAA tournament play, so pride and better placement in the Big Dance is what should motivate these teams in Malibu, Calif., this weekend. An athletic and diverse Toreros' batting order will have tough assignment in pitching-friendly Eddie D. Field Stadium.
3. Cal State Fullerton (33-18, 15-6 Big West, No. 20 RPI) at Long Beach State (27-25, 14-7 Big West, No. 66 RPI)



What's at stake: Fullerton's last chance at a home regional and the Dirtbags' at-large hopes.
It's almost good to see these two SoCal rivals back at the top of the Big West with everything on the line this weekend. It's old school cool again. But as much as the Dirtbags struggled out of conference (granted, against a tough-as-nails schedule), they've been just as doggedly determined in Big West play, losing only one weekend all season, at UC Davis. The Beach has the best pitching staff in the conference (3.08 team ERA) and will have to be on lock-down mode against the dangerous Titans. Any deficit will be costly for Long Beach, since it hits a Big West-worst .259.
-- Eric Sorenson
Bubble Watch: Spoiler alert
If you're a team that is sitting on the bubble for making the NCAA tournament, then there are seven teams that you are definitely pulling for in their respective conference tournaments this week. If these seven teams win out -- and prevent another team from their league from stealing a bid -- those teams on the soft side of the bubble will slide off and into the field of 64.
Mountain West: TCU


Though they shared the regular-season title with New Mexico, the Horned Frogs and their No. 30 RPI are the only team in the four-team MWC tournament field with a sure shot at an at-large bid. The Frogs are notoriously streaky, with winning streaks of nine, eight, six and five this season. Bubble teams hope that continues through the MWC tournament.
Spoiler alert: San Diego State. The Aztecs beat TCU last Friday and will be face the Horned Frogs in the opener this week.
Big East: Louisville


Like TCU, the Cardinals had to share the regular-season crown, in this case with St. John's. But Louisville has an RPI in the low 40s and really can't do much to hurt its NCAA tournament status. The big problem is the Big East tournament is notorious for upsets and it will have seven other hungry teams to fight past.
Spoiler alert: Pittsburgh. The Panthers gave the Cards fits last weekend, even handing them a loss. Tough draw.
Southern Conference: Appalachian State


The SoCon had a great season as a conference, but even though College of Charleston (No. 40 RPI), Elon (No. 51) and Samford (No. 58) are all in the discussion for an at-large berth, none of these teams is as locked in as the Mountaineers are.
Spoiler alert: Elon. The Phoenix took down ASU early in the season, winning two of three and plating 21 runs in the two wins.
Big South: Coastal Carolina


The good news for bubble teams is that the Chanticleers have completely dominated the Big South tourney, winning the past five and losing only twice during that span. This year, Coastal Carolina was rebuilding and a little vulnerable, but should still pull through.
Spoiler alert: Campbell. The Camels won 40 games during this year and are itching to prove their worth.
Colonial: UNC Wilmington


The Seahawks were pretty dominant in CAA play this season, never losing a single weekend. But they can't get comfortable; a No. 41 RPI is decent, but an 0-2 slide could cost them.
Spoiler alert: Hofstra. The Pride gave UNCW its biggest tussle in CAA play, losing the deciding game on a walk-off single.
Missouri Valley: Missouri State


The second-place Bears have the best RPI of the Missouri Valley contenders at No. 35, so they're the team bubble teams will hope comes out with a title here. Regular-season champ Indiana State (No. 48 RPI) could join them with a deep run, but nothing is assured.
Spoiler alert: Bottom-feeders. In Day 1 of the MVC tournament on Tuesday, the top three of MSU, ISU and Wichita State all lost to the bottom three seeds.
WAC: New Mexico State


Granted, this choice depends on how heavily the committee leans on RPI rankings. The good news for the Aggies: They sit at a solid No. 25 position. The bad news: They've gone just 9-11 since Tax Day and had to share the regular-season crown with Nevada and Sacramento State.
Spoiler alert: Everyone else. NMSU has been very ordinary down the stretch, so they're vulnerable against anyone at this point.
-- Eric Sorenson
ESPN HS 100
Holy Innocents' (Atlanta) senior outfielder Skye Bolt, the No. 37 prospect in the ESPN 100, has made a name for himself both for his play on the field and his charity work off it. Matthew Muench
• Top 100 player rankings | FAB 50