Ten places to be this weekend
By Eric Sorenson
Special to ESPN.com
Opening weekend is never a bad thing for college baseball fanatics across the country. But shrouded by the excitement of a new season was the fact that there wasn't a bonanza of great games, intriguing matchups and huge upsets. There were a few surprises here and there, mild reminders that 11.7 scholarships per team ensures a good deal of parity, but for the most part it was a pretty calm first three days.
The bad news is that this week's action probably won't be earth-shaking either. With only two matchups involving Top 20 teams, don't look for a lot of headlines nationwide. But there are always potential speed bumps out there; just no cool crashes to gawk over. It's looking like conference play will have to kick in for the most noise to be made.
So if you need a guide of where you should venture out these next few days, here are some of the best places to be in this second weekend of the college baseball season:
1. Texas (2-2, No. 9 in NCBWA poll) at No. 3 Stanford (4-0)



Sunken Diamond, Stanford, Calif.
Holy smokes. Forget the BBCOR restrictions, the Cardinal put the rest of the nation on notice that their offense would be as formidable as any in 2012 with an opening weekend sweep of Vanderbilt. Stephen Piscotty has already hit a grand slam and added a game-winning two-run home run in a 9-7 win over Pacific. But keep in mind, this is Texas coming in. The Longhorns are about as steeped in top-shelf pitching history as it gets, having given up just seven earned runs in four games. If the Burnt Orange arms can keep it close, hammer closer Corey Knebel (two saves vs. Duke, hitless inning vs. UT-Arlington) has shutdown potential on anyone and could make this a wake-up call for Stanford.
Key matchup: The Texas defense vs. the bouncing ball.
Errors were a huge part of Vandy's undoing against the Cardinal and UT's defense is just .960 so far, with seven errors.
2. No. 14 TCU (1-2) at No. 19 Cal State Fullerton (1-2)



Goodwin Field, Fullerton, Calif.
Both of these teams face a "Was that for real?" weekend. Can Fullerton's new faces really play with anyone in the country like we saw at Florida last weekend? And can TCU's freshmen stars keep up their heroics? Both teams had banner recruiting classes which are already paying dividends. The Titans got a Sunday win from frosh reliever Koby Gauna and a home run from J.D. Davis vs. the Gators. TCU had the MWC Pitcher of the Week after Preston Morrison's 10-up, 10-down relief effort in Sunday's win over Mississippi. Both teams are notorious for great nonconference schedules and deserve praise for keeping the early part of every season interesting.
Key matchup: TCU baserunners vs. the CSF outfield.
TCU had a couple runners gunned down by the Rebels last week. Be careful with the Titans.
3. No. 29 Baylor (5-0) at No. 27 UCLA (2-2)



Jackie Robinson Stadium, Los Angeles
I'm not going to call this an "elimination" weekend or anything because it's way too early to write off anyone yet. But the loser here faces a real uphill battle in the respect department (though if you remember, the Bruins suffered numerous black eyes early last season yet still earned a No. 1 seed in the NCAA tournament). Baylor looked good in a sweep of Oral Roberts last week, but had to rally from behind for two of those wins. The Bruins got off to another slow start and the same old bugaboos from last year have reared their ugly heads already in 2012, namely bullpen and hitting issues. UCLA's offense can't sleepwalk through this series because the Bears have better pitching than its first opponent, Maryland, did. Oh, and with Max Muncy, Jake Miller, Logan Vick, etc., Baylor has enough offense to make things very difficult for the Bruins.
Key matchup: Bullpen versus bullpen.
Baylor's was epic; UCLA's was an epic disaster. Whichever one steps up here may decide things.
4. Oregon (3-1) at No. 16 Vanderbilt (0-3)



Hawkins Field, Nashville, Tenn.
This one deserves a keen eye all weekend, as these seem the most divergent teams on this list. While Vanderbilt was getting worked over in a high-profile series at Stanford, the Ducks were quietly winning three of four at Hawaii, which is always one of the more arduous trips to make in the country. The boys from Nike U. are looking for a signature series to kick-start their 2012 recovery project after last year's disastrous season. Leadoff man J.J. Altobelli is the big key. In a Game 1 loss and narrow Game 2 win at Hawaii last weekend, Altobelli went just 2-for-9. But in two blowout wins, he set the table with an 8-for-11 performance. Speaking of setting the table, grinding hustle machine Tony Kemp was just 1-for-11 at the dish for Vanderbilt and shockingly committed two errors in left field against Stanford. His immediate turnaround -- and better play from the dirtbaggers in the infield -- will be extremely necessary this weekend.
Key matchup: The battle of the minds.
Oregon has to love where it is right now, but the Commodores can't get caught playing mental hopscotch. They've got to get into the right mindset before stepping between the lines.
5. The Keith LeClair Classic
Clark-LeClair Stadium, Greenville, N.C.
East Carolina (3-0); Purdue (3-0); Maryland (2-1); Western Carolina (4-0)
After last week's results, this tournament took on a whole new look with the Boilermakers going 3-0 in the Big Ten-Big East Challenge while Maryland took two of three at UCLA. ECU had a pretty breezy time getting past Wisconsin-Milwaukee last weekend, but this will be a serious step up in competition. Plus, come the end of May, the results of this tournament could mean a big bubble bump for whoever escapes with a winning mark here. Keep an eye on that potent Boilermaker offense, as eight starters return to the order and players like Kevin Plawecki and Cameron Perkins are capable of making minced meat of opposing pitching. Meanwhile, don't sleep on WCU either. Ross Heffley hit .419 last season and is a lock-down 2B/SS.
Key matchup: Purdue vs. the Pirate Nation
In the Friday game, it should be interesting to see how Purdue handles this tough crowd, unlike any other they'll face the rest of the season. Consider it a precursor to NCAA tournament regional play, if the Boilermakers make it that far in 2012.
6. No. 23 California (3-0) at Long Beach State (2-2)


Blair Field, Long Beach, Calif.
The old vets hit the road again in a matchup of teams with similar personalities. Cal took on a "Dirtbag" type of mentality last season -- solid defense, lockdown pitching, never-say-die attitude -- and turned it into a trip to Omaha. Though Long Beach is just 2-2, you've already got to love how it has played three one-run games and a two-run game so far this season. Stay glued to your seat, folks, because these games are going down to the ninth inning. The experience of the Bears' arms corps is tough to overlook, but the Beach might have more overall pitching depth. If Long Beach can get into the Cal bullpen early, that will be huge. But the Dirtbags are hitting just .248 so far, so they'll have to prove they can consistently swing the sticks.
7. Boston College (3-0) at No. 24 UCF (3-1)
Blair Field, Long Beach, Calif.



Like the Keith LeClair Classic above, this weekend series took on much bigger meaning after opening weekend. The Eagles went to the Caravelle tournament in Conway, S.C., and took down a pair of ranked teams in Virginia and Coastal Carolina, instantly raising their profile. The bullpen has accounted for 10.1 innings of work and has yet to give up an earned run. Keep an eye on reliever/Sunday starter Hunter Gordon and reliever Nate Bayuk, who were both lights-out last weekend. They may need to be again, too, as UCF comes in having gone .347 at the plate vs. LIU, including lumberjack D.J. Hicks hitting two home runs and a double -- he's one of three .500-plus hitters in the order.
8. Auburn (3-2) at No. 18 Arizona (3-1)



Hi Corbett Field, Tucson, Ariz.
The Tigers were already baited, caught and bagged at home by Missouri last weekend, where they lost two of three games, so this assignment really ups the ante on their season. Lose two and it's going to be a big hill to climb. Lose all three? Dare I say, it could be a lost season, especially with a monster SEC schedule still ahead. And though the Wildcats dropped one game vs. North Dakota State (really?), they got back on track quickly to score 20 runs in their next two games. This is a redemption weekend for both. Here's where the Cats can look to remind everyone this is going to be their best season since 2004. And here's where the Tigers can prove that opening weekend was a fluke. Call it a good SEC barometer.
9. FIU (0-3) at No. 8 Florida State (4-0)



Dick Howser Stadium, Tallahassee, Fla.
Here's a bit of advice to the Panthers: Throw strikes. Sounds too simple, right? FIU lost three games to Rice last weekend, but actually out-hit the Owls. FIU's wild control problems were one of the main culprits in their demise, as they issued 21 walks in those three losses. FSU got 13 walks courtesy of Jacksonville on Tuesday night, helping the 'Noles to a 16-9 win, so add that to the math here. FIU has the offense to hang with FSU, but it will go 0-fer for the second straight weekend if they start sailing the ball outside the black at Dick Howser Stadium.
10. Dallas Baptist (3-1) at No. 7 Rice (5-0)



Reckling Park, Houston
The Patriots don't have many chances to get the golden ticket to Wonkaland, aka the NCAA tournament, this year, so they have to take advantage of their opportunities. This is one of them. While Rice is good -- really good -- coach Dan Heefner and his Pats know they are beatable as they won their only matchup last year in 11 innings. But they'll have to play better to have any chance, as they played three close-shave games vs. Southeast Missouri last week and then lost a mid-weeker to Oklahoma State by two runs, despite having two men in scoring position in the ninth inning. For Rice, Austin Kubitza and Matthew Reckling had great starts last weekend, but things got interesting after they were pulled for pitch count reasons. The bullpen should be a strength for the Owls, so keep that in mind.
Dallas Baptist wants to be in it for the long haul
By Walter Villa
Special to ESPN.com
Dallas Baptist University, an independent baseball program which only became eligible for the Division I postseason in 2006, is one of the fastest-rising success stories in the sport.
It may not quite equal the rags-to-riches status of the NBA's Jeremy Lin, but it's impressive on its own merits. The Patriots made the NCAA regionals for the first time in 2008, as a No. 2 seed, and last year shocked the baseball world by advancing to the super regionals.
[+] Enlarge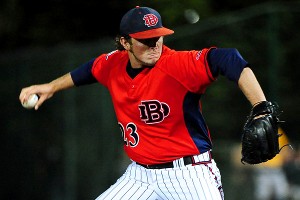 Kyle Terada/US PresswireDallas Baptist was last season's NCAA tournament darling, advancing to the super regionals. The Patriots want to build on that success as they continue their transition into the WAC.
Next season, the Patriots will join the Western Athletic Conference, which will give them their first chance of making the NCAA tournament as an automatic entry if they win the league's postseason tournament.
Joining the WAC will also help in scheduling. At present, it's hard for DBU to schedule good teams while those would-be opponents are in conference play.
Located 15 miles southwest of downtown Dallas, DBU is also in a tough battle for recruits, playing in the shadows of state powers such as fifth-ranked Texas, No. 6 Texas A&M, No. 7 Rice and No. 11 TCU.
"It's a huge challenge," said Dan Heefner, DBU's head coach since its breakthrough season of 2008. "We're not going to beat Texas, Rice or those other big schools for recruits."
Heefner, whose 2012 team boasts a strong offense, a deep bullpen and a talented but inexperienced rotation, said he gets 80 percent of his players from the Lone Star State.
"There are a lot of great college programs in Texas, but, on the flip side, there are also a lot of great high school players in the state," he said. "We have to get the most talented players we can find and then develop them."
So far, the plan is working. The Patriots have sent eight players to the majors, including former MLB batting champ Freddy Sanchez, a three-time All-Star who was a starter for the World Series champion Giants in 2010.
Another notable ex-Patriot is Ben Zobrist, who spoke at DBU's preseason banquet earlier this month. Zobrist was an All-Star for the Tampa Bay Rays in 2009.
A potential future major leaguer is senior outfielder Landon Anderson, who enters 2012 as the first preseason All-American in school history.
A lefty hitter and a native of Grapevine, Texas, Anderson hit .356 last season with 13 doubles, seven triples, seven homers and 21 steals in 24 attempts. He also scored 72 runs and drove in 58, helping the Patriots (44-20) finish the season ranked 16th in the nation.
"We shocked a lot of people last season, but we didn't shock ourselves," Anderson said of the 2011 Patriots, who lost to Cal in the Super Regionals. "We were praying we'd get a big stage to glorify God's name. God can do big things, so why not us?"
Anderson, a 5-11, 172-pounder, is a great example of the type of player that fits in perfectly at DBU.
Physically, he said he was "under the radar when I got here." He also admits he didn't have have the work ethic he needed at the time.
"But I learned a lot from the veterans on the team," he said.
Spiritually, Anderson often quotes the Bible in conversation and has the "faith background" Heefner is looking for in players he recruits.
"They don't all have to be Christian," Heefner said of his recruits. "But we want good-character guys who are open to what we are all about."
All of Heefner's players must take four religion classes during their college careers. They also have to attend chapel at least three times a week, and all classes are taught from what Heefner calls "a Christian world view."
This past fall, the team took a mission trip to Santo Domingo, Dominican Republic, where they played baseball, painted a school, gave clinics and spread the word of God.
"We offer a unique opportunity at DBU," Heefner said. "We play baseball at the highest level, send guys to the major leagues and all that. But at the same time, our kids get the chance to do something a little bit more lasting."
Top 25 matchups
No. 1 Florida vs. William & Mary
No. 2 South Carolina vs. Elon
No. No. 3 Stanford vs. 9 Texas
No. 4 Texas A&M vs. Holy Cross
No. 5 Arkansas vs. Valparaiso
No. 6 North Carolina vs. Wright State
No. 7 Rice vs. Dallas Baptist
No. 8 Florida State vs. FIU
No. 10 LSU vs. Appalachian State
No. 11 Georgia Tech vs. Ohio State
No. 12 Arizona State vs. UC Riverside No. 13 Miami vs. Albany
No. 14 TCU vs. No. 19 Cal State Fullerton
No. 15 Clemson vs. Maine
No. 16 Vanderbilt vs. Oregon
No. 17 Georgia vs. Winthrop No. 18 Arizona vs. Auburn
No. 20 Oregon State vs. San Diego State
No. 21 UC Irvine vs. Washington
No. 22 Oklahoma vs. Hartford
No. 23 California vs. Long Beach State
No. 24 UCF vs. Boston College
No. 25 Louisville vs. Oakland
Upset watch
Maine at No. 15 Clemson


The Tigers raised some red flags last week with their loss to Xavier in a tough three-game series. This week, another team migrates south to the Tigers' den. But this Black Bear team, Clemson coach Jack Leggett's alma mater, could pose bigger problems as they are more experienced and are coming off a good showing in the Chapel Hill Regional last June.
How it could happen: Maine has pitching in spades. The Black Bears return six of their top seven arms, including ace Jeffrey Gibbs and Stephen Perakslis, who are both big-body types that are projected to be top 10-round draftees this coming June. Also, keep in mind that the Tigers hit just .247 against Xavier, but benefitted from 10 walks and six hit batsmen to help score their 14 runs.
Why it might not: Maine coach Steve Trimper told me his players are chomping at the bit to get to Clemson and play some ball. But even though it's been a mild winter in the Pine Tree State, they still haven't had a lot of outdoor time. So there will certainly be an adjustment period. Advantage Tigers. -- Eric Sorenson
Mid-major matchup
Who: Central Michigan at Stetson



The Chippewas played a very good series at Troy last weekend, even winning the getaway game 14-7, stacking up 18 hits on the Trojans pitch staff in the process. But there was some concern about highly-regarded closer Dietrich Enns. The All-American got roped for three runs (two earned) and two hits, while issuing two walks in the blowout win. Stetson, meanwhile, swept unheralded George Washington, but relented 17 runs in the three games. Keep in mind, Stetson's pitching corps returned nearly intact from last year, a unit which led the Atlantic Sun with a 3.75 team ERA. Coach Steve Jaksa's Chippewas won't be intimidated going into Melching Field with its raucous Gang Green crowd. -- Eric Sorenson
Under the radar
Troy (2-1) at Southern Mississippi (2-2)



The Trojans are firmly entrenched as the Sun Belt Conference favorite and regularly make a habit of knocking off big-wigs like Southern Miss from Conference USA, which they did last season on en route to the NCAA tournament. But both teams had curious losses last weekend, to Central Michigan and Nicholls State, respectively, last weekend, so both need a shot of confidence with this series. The Trojans come in with the more experienced team; Tyler Ray, a 12-game winner last season, gives them an almost-certain victory each week. Troy is an SEC-like team, and the coaching staff raved all fall about how well the players adjusted to the new bats last year. Watch for Danny Collins and Logan Pierce, who both hit .400-plus last weekend and both smashed yard calls, and also Boone Shear, who hit two dingers. Southern Miss is breaking in three new mound starters. Yikes. If Troy grabs a late lead, expect to see Tyson Workman, who earned two saves and has yet to relent a single hit in his two appearances. -- Eric Sorenson
Coach's Corner
Larry Lee, Cal Poly


The central coast of California is great if you're a wine enthusiast. Or if you want a romantic drive along the ocean with breathtaking views. But if you're a Division I baseball program, you've got your challenges ahead of you.
Cal Poly head coach Larry Lee knows that. Getting high-profile teams to come to San Luis Obispo is like pulling teeth. That's why, when Oklahoma State made the venture to the Coastal Valley for opening weekend, it was a pleasant surprise. When the Mustangs turned around and dominated their guests in three straight games, it was a bit of a jaw-dropper, especially ace Joey Wagman's Friday performance of eight innings, giving up just two hits.
I caught up with the Mustang maestro this week, just after a mid-week loss to equally surprising Santa Clara.
Eric Sorenson: Talk about the performance of your team. Are you guys as good as we saw against Oklahoma State?
Larry Lee: Well first, it was good to play a high-quality program like Oklahoma State, and then we played extremely well. We got quality starts on Friday and Sunday (both 6-0 shutouts) and our bullpen was really good. The offense is still the big question mark, but we did face a high-quality left handed pitcher on Friday and we did enough to get the win. We answered some questions, but then more arose after our loss to Santa Clara. So we're not there yet, by any means.
ES: Your Friday starter, Joey Wagman, was lights out against OSU. Did you see that coming?
LL: To be honest, we didn't quite know what to expect. Over the last three weeks of intersquad scrimmages, he wasn't really sharp at all. Then on Friday, he was as good as he's ever been. He was dominant. But at the same time, he's not a dominating big guy. He's just got a great mindset which always gives him a chance. He knows that it's just one game. He's still got a lot to prove.
ES: Your leadoff guy, Mike Miller, looked like he was going to get an inside-the-park home run to start the game on Saturday. Any thoughts of sending him?
LL: No. Not with no outs at the beginning of the game. But he's definitely the catalyst of our team as the leader of our defense at shortstop and has just incredible fundamentals. And he definitely sets the table for our offense. When he can get on base it just makes it that much easier to run our offense and set up our middle-of-the-order guys to pick up RBIs.
ES: But you heard the crowd wanting you to send him toward home on that triple, right?
LL: [Laughs] Oh, sure. And maybe I would've if we had two outs or something. But you know those same people are the ones who are gonna get all over your back if he's thrown out at the plate.
ES: Speaking of the crowd, I was told at the ticket window that the stadium section of Baggett Stadium was sold out for the entire year. Is that for real?
LL: Yeah, those stadium seats have been sold out for at least the last five years, maybe longer. We've always been able to pull in good crowds, especially since the weather is usually so good. Out west, programs like Stanford, Fullerton, Arizona State, Oregon State and Fresno, they all get big crowds. But we're right there with them as far as getting fans to games on a consistent basis. We've got great fan support and the crowds are always electric.
ES: That brings up my next question, being as isolated as you guys are, how tough is it to get a team like Oklahoma State or like Rice a few years ago, to make it here for a weekend?
LL:It's very difficult to get a home-and-home with anybody outside the west. But it's so beneficial to get an Oklahoma State, or a Rice, or a Kansas State. It just helps in a lot of areas. The crowds know they're good teams you're playing, so there's a buzz. Plus, the biggest thing is that getting a team like OSU really helps your RPI, which the teams in the west always have a tough time with because of the way its formulated. But teams usually have to fly into LAX or San Jose and bus the rest of the way, so it's not an easy thing.
ES: You guys have always been near the top of the Big West, do you think this could be the year you bust through and make it back to the NCAA tournament?
LL: Last weekend was a great start but I'm still not sure how good we really are. If things fall into place we'll be good, but we definitely have to take care of wins inside and outside of the Big West. We can't afford to stumble anywhere. Being out west, there are always three or four teams that deserve to be at-large teams but don't get into the tournament. So we have to get as close to 35-36 wins as possible. This team is capable of that, but we've got to keep working.