Ten places to be this weekend
By Eric Sorenson
Special to ESPN.com
1. No. 2 Florida (7-1) at No. 8 Miami (8-0)



Alex Rodriguez Park, Coral Gables, Fla.
After having a tussle with Cal State Fullerton during opening weekend and then sort of sleepwalking its way through a series win over William & Mary, this will be a wakeup call for Florida. Meanwhile, Miami might be able to match the Gators arm-for-arm, especially with the glowing return of Eric Erickson, who is 2-0 in his two starts and has yet to give up an earned run. He is one of three pitchers with more than 10 innings of work and an ERA of 0.75 or lower. If you like heated rivalries with top-shelf talent, get on a plane now and head to Miami International Airport because this one is going to be riveting.
Key matchup: The Game 3 pitching matchup.
Miami's Bryan Radziewski (1-0, 5.59) hasn't been very steady so far and the Gators have concerns with Karsten Whitson, who started last Sunday but went only 13 pitches before getting pulled.
2. No. 19 Clemson (4-2) vs. No. 3 South Carolina (7-0)



Joe Riley Park, Charleston, S.C. and Carolina Stadium, Columbia, S.C.
It goes without saying that this Palmetto State rivalry is a highly anticipated series. And have I mentioned it's also hotly contested? With these two rabid fan bases? Oh yeah, it's big time. While Clemson has struggled a little bit, losing both of its Friday games so far to UAB and Maine, the unbeaten Gamecocks have yet to really lace it up against a legitimate threat. The Tigers will at least be able to match their talent level. And get this, even against their lower-level competition, the defending champions have now played four one-run games. Granted, they've won all four. It's one thing to play to the level of your competition, but another to win those games.
Key matchup: The Tigers' mentality at the plate vs. South Carolina's pitching accuracy.
Clemson hit .317 against Maine last weekend, but was also benefitted from 17 walks. Those things won't happen this weekend, so the Tigers will have to be more aggressive with their sticks versus the Gamecocks. But as you know, that will be a dicey problem.
3. Houston College Classic
Minute Maid Park, Houston
No. 4 Rice (9-0); No. 7 Arkansas (9-1); No. 16 Texas (3-5); Texas Tech (8-1); Tennessee (8-1); Houston (4-4)
This is always the best pre-conference jamboree in the early part of the season. Three ranked teams (Rice, Arkansas, Texas) are taking part and three others (Texas Tech, Tennessee and Houston) who have good talent and are sticking out their chests saying "notice us, notice us." Well guys, this is your chance to make a big splash and get yourself ranked. The Friday night marquee game between Rice and Texas should pull in well over 13,000 fans and will have a good pitching matchup of Austin Kubitza going against Nathan Thornhill, who must rebound from the shelling Stanford handed him last week. Tennessee has upped its play under new head coach Dave Serrano and has one of the best two-way players in the country in Drew Steckenrider, who hits .450 and is 1-0, 1.29 in his two starts on the bump.
Key matchup: Texas Tech RHP Duke von Schamann (2-0, 0.00) vs. Arkansas RHP D.J. Baxendale (2-0, 2.45).
Tech can't wait to get this one going as von Schamann, the son of former Oklahoma All-American kicker Uwe von Schamann, has given up just four hits in his 14 innings of work. Baxendale is a live-arm type with mid-90s punch who got dinged for three runs in his six innings by Valparaiso last week. Tech's slash-and-dash offense will be a much bigger test.
4. No. 23 USC (7-1) at No. 6 North Carolina (6-1)



Boshamer Stadium, Chapel Hill, N.C.
The Trojans put everyone on notice that this wouldn't be the same USC from the recent years when they swept Jacksonville on opening weekend, including two blowout wins. They finally lost a game on Tuesday at Pepperdine, ending what had been their best start since 1988, but the message has been sent: This is a new Trojan squad bent on returning to glory. The Tar Heels have had some curious moments, including giving up wild amounts of offense to Xavier on opening weekend. The Heels pitchers settled down a bit versus Wright State last week, throwing a pair of shutouts. One thing is certain, Colin Moran has picked up where he left off last season, hitting .455 with 12 RBIs, to lead the team.
Key matchup: USC bullpen vs. UNC order.
The Men of Troy have outscored their opponents 23-4 in the last three innings of games so far this season, but holding back Colin Moran, Tom Zengel (.500) and Cody Stubbs (.444) will be a totally different animal.
5. Long Beach State (4-4) at No. 12 Oregon (7-1)



PK Park, Eugene, Ore.
Despite having 17 newcomers on the roster and losing 322 innings from last year's innings pitched, the Ducks are playing much better than they did all last season. Last week's sweep of then-No. 17 Vanderbilt was the first sweep of a ranked opponent for Oregon since the reinstatement of the program. On top of that, freshman Scott Heineman has a hit in seven straight games and leads the Ducks with a .478 average. Long Beach may just be .500 but winning two of three versus Cal last weekend was impressive. Besides, we all know that the Beach is notorious for overly ambitious scheduling, so that's reflected in the win-loss column.
Key matchup: Long Beach defense vs. Oregon pressure cooker.
So far, the Beach's opponents are out-hitting them .277 to .200. And on top of that, the defense has been a problem, committing 12 errors. Look for Oregon to take some chances on the basepaths to rattle the Dirtbags a little.
6. Pepperdine (7-2) at No. 17 Louisville (6-2)



Patterson Stadium, Louisville, Ky.
This one got a lot more interesting in the last few days. Pepperdine may be in the midst of turning a significant corner this season and is already out to a 7-2 start, including series wins over Oklahoma and Fresno State, while also handing USC its first loss of the season on Tuesday. You could say it's obvious that freshman OF Aaron Brown has acclimated to college-level play pretty well, as he was hitting .406 and leading the Waves with 11 RBIs after last weekend. The pitching staff of the Cardinals will pose a formidable threat, especially a bullpen led by Derek Self and Matt Koch, who each have two saves. Look for late leads to be a huge key in this one. Oh, and yes, those expected upper-40s temperatures could work against the Beach Boys, too.
7. The Baylor Classic
Waco, Texas
Lamar (2-4); UC Irvine (4-3); Baylor (6-2)
This is going to be a redemption weekend for one of these teams. The host Bears are looking to get back into form after dropping two tough losses at UCLA, their first two Ls of the season. BU didn't close things out well in Los Angeles and will need some back-end arms to come to the fore. UC Irvine was as high as No. 7 in the Power Rankings (based largely on the fact that it's always underrated) but went just 1-3 last week and is probably no longer considered the Big West favorite. The big problem is an offense which hasn't faced top-flight pitching staffs and is still hitting just .248 so far. Lamar was facing a rebuilding season for coach Jim Gilligan and crew and is playing with an all new infield and mostly new pitching staff.
8. Auburn Tournament
Plainsman Park, Auburn, Ala.
Auburn (6-4); Purdue (5-1); Southern Miss (6-3); Charleston Southern (4-4)
It's an interesting weekend showdown in War Eagle-town. Other than an 11-1 loss to Maryland, the Boilermakers offense has been pretty prodigious, hitting .343 and helping them to wins over UConn and East Carolina. Southern Miss has curiously lost both of their Friday games so far (including an opening day loss to Nicholls State), but have rebounded nicely, including two straight wins over a really good Troy squad last weekend and then a blowout win over Alabama on Wednesday. And you know how the Eagles love to beat their nearby SEC brethren. The Tigers have lost two of three to Missouri and Arizona. Like Purdue, the offense for Auburn is potent, hitting .326, but beyond Daniel Koger (1-0, 0.00, .187 OBA) and Jon Luke Jacobs (1-0, 0.00, .100 OBA), you never know what you're going to get on the hill. Charleston Southern has a lot of new faces, especially on the mound, so it could be a long weekend for the Bucs. But don't sleep on them.
9. Oklahoma State (5-4) at TCU (2-5)



Lupton Stadium, Fort Worth, Texas
Future Big 12 opponents get a taste of what lies ahead in this three-gamer in Fort Worth. I'm not sure which Oklahoma State team will show up: the one that got worked over pretty good out at Cal Poly on opening weekend, or the team that beat Dallas Baptist and then breezed past Bowling Green, scoring 26 runs in the process? TCU had some significant bright spots in their trip to Cal State Fullerton, including the emergence of freshman 2B/SS Derek Odell, who hit a screaming home run into the arboretum beyond right field and had a hit in each game. Also, the return of closer Kaleb Merck is a great sign, after he threw three innings, giving up just one hit and getting the save in Friday's win. Both teams could use a boost of confidence here.
10. Mississippi State Tournament
Dudy Noble Field, Starkville, Miss.
Lipscomb (4-4); Connecticut (2-4); Mississippi State (6-2)
If the boys from the Nutmeg State are going to bust out of any doldrums, this is the weekend they'll need to do it. In terms of their at-large well-being, the Huskies must take a game, maybe even two games, from host MSU this weekend. There aren't going to be many chances at quality nonconference wins for UConn, especially at a venue such as Dudy Noble, where a win will really resonate with the Selection Committee. MSU's pitching will be tested; it sports a sound 1.88 team ERA and a 81-19 K-to-BB ratio. But it's been the Bulldogs' offense that has been the big surprise, having to replace seven starters in the field.
Gators own recent history in Florida-Miami series
By Michael DiRocco
GatorNation
A rivalry is always better when there's heartbreak involved, and there's no better example of that than the Florida-Miami baseball series.
[+] Enlarge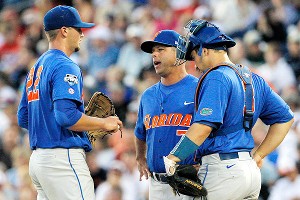 Bruce Thorson/US PresswireKevin O'Sullivan's Florida squad has had the upper hand over Miami in recent years.
The two teams -- which will meet in Coral Gables, Fla., for a three-game series that begins Friday -- have spent the last 27 years bouncing each other out of the postseason. For a while, the Hurricanes controlled the series, ending the Gators' playoff run eight times from 1984 to 2004. Florida, however, has sent Miami home short of the College World Series in each of the last three seasons.
No. 2 Florida (7-1) has won six games in a row against No. 8 Miami (8-0) in the postseason, outscoring the Hurricanes 51-20 in the process. The Gators beat the Canes in the Gainesville Regional in 2009 and 2011, and in a 2010 super regional. Florida has won 11 of its last 12 meetings with Miami dating back to an early-season series in 2009, when the Canes outscored the Gators 26-8 in a three-game sweep in Coral Gables.
"We've had some recent success against Miami, but this is a year-to-year thing," UF coach Kevin O'Sullivan said after the Gators eliminated Miami in the 2011 postseason. "We just have played well against Miami [lately]. We've been at home for three years in a row [in the postseason], and that's a big difference. … But by no means do we have this thing figured out."
Florida has pretty much the same team that beat Miami five times last season, including outfielder Preston Tucker, who drove in five runs in UF's 11-4 victory over Miami in the final game of the Gainesville Regional. The Gators have scored 47 runs and hit 12 home runs in eight games. Opponents, which include No. 15 Cal State Fullerton, have scored just 24 runs and are hitting .249.
Miami has outscored its opponents 70-25 and has a team ERA of just 2.43.
Don't sleep on Florida Atlantic
By Walter Villa
Special to ESPN.com
At 5-foot-7 and 162 pounds, senior Mike Albaladejo epitomizes Florida Atlantic University's baseball team.
His second cousin, pitcher Jonathan Albaladejo of the Arizona Diamondbacks, towers over him at 6-5 and 255 pounds, much like the way the University of Miami baseball program has cast a shadow over FAU for decades.
[+] Enlarge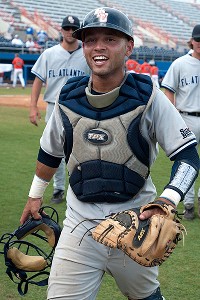 AP Photo/Phil SandlinMike Albaladejo and Florida Atlantic see a return to the NCAA tournament in their future.
While the Hurricanes have won four national titles, the Owls -- located in Boca Raton, Fla., an hour north of downtown Miami -- have labored in relative obscurity.
The Owls, though, have made the occasional splash, especially at the University of Alabama. It was there in 2002 that FAU won an NCAA Division I regional for the only time in its history. And it was there that the Owls opened this season with a three-game sweep of the Crimson Tide.
"Sweeping Alabama was one of the top three highlights of my career," said Albaladejo. "We answered a lot of questions."
It was FAU's first sweep of an SEC team since 1999, and it was the first time Alabama had ever been swept at home by a nonconference opponent.
But as far as answering questions, FAU (6-2) has a long way to go to silence the doubters. The Owls' first 13 games this season are against teams that made NCAA regionals last year.
The hope for FAU is that it can continue to knock off big-name opponents and make up for last season, when the Owls were in position to earn an NCAA at-large berth but lost two of its final three series and went 0-3 in the Sun Belt tournament.
Albaladejo is certainly doing his part. He is batting .545, hitting out of the leadoff spot. But just as impressive as his hitting has been his willingness to switch positions to help the team.
After serving as the team's catcher his first three years at FAU, Albaladejo has started every game this season, rotating from behind the plate to second base depending on what lineup fourth-year head coach John McCormack wanted that day.
"Last year, at South Alabama, Mike played shortstop during warmups, and he impressed me," McCormack said. "And I knew he had played second base in summer leagues to save his knees [from catching]."
Junior Mike Spano, considered by some to be FAU's top hitting prospect, hasn't done much damage yet, but Albaladejo's unselfishness has made an impression on the team, according to McCormack.
Albaladejo, though, doesn't see his move as a sacrifice. He said he enjoys learning new things, and he also sees the benefit to his body.
"I feel amazing now," he said. "Playing second base compared to catching is like a day off. For the past three years, I've caught almost every game, and the next day is always brutal -- Advil, icing my knees."
Albaladejo said catching ground balls feels natural to him, but he admits that the nuances of the position -- bunt plays, cut-offs, relay throws and turning the double play -- are a challenge.
He is used to seeing runners come at him, gunning for home plate. Now, on double plays, he turns his back to the runner and does not have the protection of his catching gear.
"It's an adjustment," said Albaladejo. "But I'll do whatever the team needs."
McCormack appreciates Albaladejo's team-first attitude and feels the Owls have a shot to be special this season. Senior Ryan Garton (2-0, 0.69) has developed into an ace. Senior outfielder Alex Hudak is hitting .419 with four homers.
Setup reliever R.J. Alvarez (0.00 ERA), a junior, has the best power arm on the staff, helping to make up for the early-season absence of senior closer Hugh Adams (shoulder injury). McCormack is hoping Adams comes back this weekend and said Alvarez has the best arm of any pitcher in South Florida with the possible exception of Canes closer E.J. Encinosa.
"Our pitching is better than our 2002 staff," said McCormack, who was an assistant on that team. "We are not as dynamic offensively, but some of that has to do with the new bats. Time will tell how far we can go."
Top 25 matchups
No. 1 Stanford vs. Fresno State
No. 2 Florida vs. No. 8 Miami
No. 3 South Carolina vs. No. 19 Clemson
No. 4 Rice vs. No. 16 Texas
No. 5 Texas A&M vs. Michigan State
No. 6 North Carolina vs. No. 23 USC
No. 7 Arkansas vs. Houston
No. 9 Florida State vs. Maine
No. 10 Georgia vs. Western Illinois
No. 11 Georgia Tech vs. Rutgers
No. 12 Oregon vs. Long Beach State
No. 13 Arizona vs. Harvard
No. 14 Virginia vs. Wright State
No. 15 Cal State Fullerton vs. Utah Valley
No. 17 Louisville vs. Pepperdine No. 18 TCU vs. Oklahoma State No. 20 LSU vs. Dartmouth
No. 21 Baylor vs. UC Irvine
No. 22 Oklahoma vs. New Mexico
No. 24 UCLA vs. Sacramento State
No. 25 Ole Miss vs. Miami (Ohio)

Upset watch
Maine (3-2) at No. 9 Florida State (6-1)



We're going to stay on the Black Bear pain train for the second straight week, mainly because it just makes sense. Maine won its season opener last week at Clemson (let that sink in: the Black Bears won their first game against a top 20 team, with little practice outdoors), and then played the Tigers tough all weekend. FSU has six wins in seven games, but has shown some odd weaknesses, hitting wildly in the first weekend, then getting the bats shut down pretty well by Florida International, with just 10 hits and five runs in the last two games.
How it could happen: While FIU did a good job pitching to the Noles, the Black Bears will bring a more experienced arms corps that has even more potential. As we wrote about in last week's Upset Watch, frontline starters Steve Perakslis and Jeffrey Gibbs are big-time talents and are going to be a little bit sharper this time around. The team in general should play better, especially if you subscribe to the thinking that a team improves the most between the first and second weekend.
Why it might not: Well, this is Florida State. The Noles love their right-field short porch, with a bevy of left-handed bats that usually have a feeding frenzy with it. Keep in mind, Maine's rotation is a bunch of hard-throwing righties, which is a tough assignment against left-handed slugger James Ramsey and Co. If the Black Bears don't keep their pitches down in the zone, it could get ugly. -- Eric Sorenson
Coach's Corner
Dave Serrano, Tennessee


One of the more interesting offseason coaching moves saw Dave Serrano matriculate from Cal State Fullerton to Tennessee. He left one pressure-cooker job for a top dog position in the SEC, a high-pressure conference to say the least. In case you've lived under a rock, Serrano is no stranger to success, having taken both his previous programs to the College World Series -- UC Irvine in 2007 and Cal State Fullerton in 2009.
His new Volunteer squad is coming off a 25-29 season and a run of six straight years of not going to the NCAA tournament. Taking over the Vols and turning them into a national power again is a pretty sizable task, but so far his new team has responded, racing out to a 7-0 record before losing on Tuesday night at Middle Tennessee in extra innings. I caught up with the high-energy Serrano the morning after Tennessee's first loss.
Eric Sorenson: First off, what are your impressions of your team now that we're a few weeks into the season as opposed to what you saw when you showed up there in the fall?
Dave Serrano: Our opinion of our team is no different now than it was when we first saw what we had. We're a work in progress and we have a long way to go as a program. We still have to work on all the fundamentals, work on getting better in every way. We were excited about our start, but we are also realistic about the things we need to work on for our program to get to where we want it to be.
ES: The team you inherited, how is their work ethic? How is their unity? Talk about the intangibles of this team.
DS: I will say that we have a freshman group of players we inherited that has a tremendous work ethic, which is exciting for our future. We have some older guys whose work ethic has been good as well, I think these guys are having a little bit more fun showing up every day, they're trusting each other a little bit more and they really want to win for each other. They don't want to win for [the coaching staff], and we don't want them to win for us. We want them to win for each other and they're playing very inspired baseball. I don't think there's a guy out here that is worried about his numbers, they want Tennessee baseball to get recognition, that's all.
ES: What has been the biggest surprise on the team?
DS: If you follow our team through each of these games we've played, you'll notice that there has been a different guy step up every time. And I wouldn't want it any other way. We don't have any All-Americans, we don't have any first-round draft picks. We're probably not going to be ranked for a while. But to our coaching staff, none of that matters right now. It's all about being better every day and being the best team we can be.
ES: Are you yourself doing anything different as far as coaching goes with this Tennessee job?
DS: Absolutely not. To me, baseball is baseball. There is nothing different. We've inherited a new group of kids, but they're still ballplayers. We, as a coaching staff, are excited to be here and accept the challenges that come along with the job to get this program to where we want it to be and where the community wants it to be.
ES: What's the difference in the pressure at Fullerton as opposed to the pressure to win there in Knoxville?
DS: To be honest, the expectations are probably a bit lower than we thought they would be. When we came in, people were saying it would take a couple of years to be a winner here and everything … well that's all fine and dandy, but I want to be good yesterday. I'm not trying to sugarcoat it, we've got a long way to go, but there's no reason why we can't get this thing going sooner rather than later. It might be a while before we get into the national championship consideration, but we're not very far off from being a team that gets into the SEC tournament or makes a run in the regionals.
ES: This weekend will obviously be your biggest challenge so far. What do you expect for the Houston College Classic?
DS: What I'm excited about is that we get to go on the road for the first time as a team, we get to play in a beautiful venue and for a program that hasn't been in an atmosphere of the SEC tournament or a regional, this is going to have that kind of feel. This is going to be a good experience for our team. But I don't expect our team to be more jacked-up to play this weekend. We hope we have their mindset to try to approach every weekend the same, no matter what color uniform or what the name across the jerseys says on our opponents.
ES: So last question, and this one's kind of a personal one. Are you happy out there in Tennessee?
DS: [Laughs]. I can tell you without a doubt there's a lot of people I miss back home, including family and friends. But Eric, I've gotta be honest with you, I couldn't be happier. There's always a place that you feel you have a niche, and this is my niche. The city of Knoxville really wants a winner in baseball. They've had a lot of success with football and basketball, but they really seem to want baseball to do good. Part of being good is getting the community behind you. That's how a lot of SEC schools have been successful. And we don't have a lot of excuses, we have everything here we need to be successful; it's just gonna take some time to get it going. But we're confident we will.
Box Score Bingo
Let's take a look behind the numbers from this week in the first edition of Box Score Bingo:
• 16: Rice won its 16th straight game against Houston with a 4-1 victory on Tuesday.
• 36: Runs scored by LSU in midweek games against Grambling and McNeese State after mustering just five runs in its weekend series against Appalachian State.
• 22: Consecutive scoreless innings allowed by Georgia from Saturday to Tuesday, including the Bulldogs' first back-to-back shutouts since 1986.
• 7: Losses by Vanderbilt already this season, matching the number of losses the Commodores had all last season to teams other than Florida.
• 20: Virginia had won 20 straight regular-season midweek games before losing 8-0 to Liberty on Tuesday.
• 2: Through its first seven games, South Carolina has not allowed more than two runs in a game on its way to a 7-0 start.
• 13: Texas A&M scored the final 13 runs of its game Tuesday to rally from a 10-1 deficit and beat Northwestern State 14-10.
• 19: Stanford 3B Stephen Piscotty's RBI total through eight games, nearly halfway to his full-season total of 40 RBIs last season.
• 5: Texas snapped a five-game losing streak with a 2-0 win against Houston Baptist Tuesday; it was the Longhorns' longest losing streak since 2001.
• 42: Delaware State scored 42 runs in 12 trips to the plate Tuesday in a doubleheader sweep of Lincoln (Pa.).
• 7: Washington RF Michael Camporeale drove in seven runs in the Huskies' 18-6 win over Cal State Northridge on Monday.
• 8: Presbyterian scored the final eight runs of the game to beat Wofford 8-5 in the home opener for the Blue Hose.
• 3: Georgia Tech tied a school record with three triples in its 11-5 win over Kennesaw State.
• 17: Maine scored 17 runs Wednesday to complete a two-game sweep of Florida A&M.
• 3: LSU allowed 10 or more runs in each of its last three games, the first time the Tigers have done so against nonconference opponents since 2000.
• 7: McNeese scored seven runs in the second inning against Prairie View on Tuesday but lost the game 8-7 in 10 innings.
• 9: Duke scored the final nine runs, including four in the bottom of the ninth inning, to beat Eastern Michigan 9-8 on Tuesday.
• 152: Fordham beat Fairfield 5-3 on Tuesday in the earliest home opener in the school's 152-year history.
• 3: Baylor senior Trent Blank picked up his third win in an eight-day span as the Bears beat Sam Houston State 6-2 on Tuesday and leads the Big 12 with four wins this season.
• 17: Eastern Illinois beat No. 17 Louisville 3-2 on Tuesday, the Panthers first win against a ranked opponent since 2009.
• 9: UCF has played nine times on Leap Year Day, and Wednesday's 8-4 win was the fourth time the Knights beat Bethune-Cookman on Feb. 29.
• 800: Roger Cador picked up his 800th career victory in Southern's 7-4 win over Northwestern State on Sunday.
-- Jeremy Mills