Places to be this weekend
By Eric Sorenson
Special to ESPN.com
1. No. 4 Rice (12-2) at No. 2 Stanford (11-1)



Sunken Diamond, Stanford, Calif.
This is about as good as it gets. Two top-five teams with great pitching and unlimited potential on offense. Oh, and these guys are also from high-academic schools. What's not to like? The Cardinal have become soul-crushers on offense, hitting .329, but they are also one of those teams that if they get momentum on their side, forget about it. The hits overwhelm you in droves. Owls arms like Matthew Reckling (2-0, 0.82) and freshman Jordan Stephens (1-0, 1.88) have been impeccable, and J.T. Chargois (1.29, 3 saves) and John Simms (2-0, 3.09) have been bullpen studs. But Rice will need more quality arms to step forward here to corral those dangerous bats they'll face.
Key matchup: Austin Kubitza vs. his psyche
The Rice ace has been iffy at best, going 1-0, 4.72 so far and walking 11 batters in his 13 innings. If he gets out to another slow start against an offense like Stanford's, well, it'll be curtains for the Owls.
2. No. 14 Cal State Fullerton (8-4) at No. 5 Texas A&M (12-1)



Olsen Field, College Station, Texas
Two things you can count on here: One, the Titans may be a youthful squad with a mostly new pitching staff, but they definitely won't be intimidated by going into Olsen Field and hearing the throngs in that student section throw every taunt in the book at them. Second, the Aggies won't treat this like a series against Holy Cross or something. Fullerton will have their full attention this weekend, and the Ags should play better than their hither-and-yon performances so far. The A&M stat sheet is glossy, to say the least, like the .198 opponent average and opposing pitching staffs having an ERA of 6.01. But this will be a significant bump up in competition and will be a great litmus test of how legit this Aggies team is.
Key matchup: Fullerton starting pitchers vs. Tyler Naquin and Mikey Reynolds
The top two hitters in A&M's order have on-base percentages of .569 and .544, respectively. They also combined for 17 walks and 12 stolen bases. These guys make things happen. If the Titans can't corral them early in games, they'll be playing uphill all weekend.
3. No. 7 North Carolina (10-2) at No. 19 Clemson (6-4)



Doug Kingsmore Stadium, Clemson, S.C.
After tangling with rival South Carolina last weekend (after weekend series against UAB and Maine), it's obvious to say that Clemson is war-tested and already has faced top-line pitching. Don't expect the two big Tigers bats of Richie Shaffer (.452, 4 homers, 12 RBIs) and Phil Pohl (.371-3-12) to shrill from the challenge of facing arms like Kent Emanuel, Chris Munnelly and ace relievers R.C. Orlan and Michael Morin. Plus, you know the Tigers are champing at the bit to make amends for a couple of near misses versus the Gamecocks. But the Heels have not only good pitching but also three guys hitting .400-plus in Tom Zengel, Cody Stubbs and leading hitter Colin Moran. This just goes to prove that Mike Fox might overhaul a lineup year after year, but the results will be the same.
Key matchup: Kent Emanuel vs. Kevin Brady.
Yes, the ace versus ace matchup on Friday will be huge. The problem has been Brady's starts. It hasn't been so much his efforts but the offense supporting him. The Tigers have lost to UAB, Maine and South Carolina on consecutive Fridays, hitting just .192 in those games.
4. No. 16 UCLA (10-3) at No. 12 Georgia (11-2)



Foley Field, Athens, Ga.
Both teams are pretty hard to figure out. There's talent in abundance, but both have had their issues, particularly on offense. While that is one area the Bruins seem to be getting better at, the Dawgs look like the Bruins of 2011: great pitching and talent at the dish, but no numbers being put up on offense. (UGA has hit just .278 against some pretty weak pitching staffs.) Meanwhile, after early struggles versus Maryland, the Bruins are doing something they haven't done in years, that is, hit above .300 (at .307 to be specific). The knee-jerk reaction is to look at the two schedules -- the Bruins have played the fifth-toughest slate in the country, and the Dogs have played 224th toughest -- and think it'll be the boys from Westwood, Calif., in three straight. But this is also UCLA's first real road game, and this will be a tough environment to find a comfort level in.
Key matchup: Bruins' starting rotation vs. Georgia's batting order.
The Dawgs didn't bat well last weekend against Western Illinois, and this time they'll face a staff with way more talent and killer instinct than the Leathernecks could throw up at them. Will the .278 average take an even bigger hit?
5. The Nike College Showcase
PK Park, Eugene, Ore., and Goss Stadium, Corvallis, Ore.
No. 10 Oregon (10-1); Oregon State (8-4); No. 18 Oklahoma (9-3); Connecticut (4-6); Illinois (4-5); West Virginia (6-6)
One of the best jamborees of the early-season slate, the northern BCS conference teams (UConn, Illinois and West Virginia) need to win here more than the other teams, as each has suffered some numbing one-run losses, and all are looking for RPI points. But it's the Ducks who come into this one as a bit of a surprise as the heavy favorite. George Horton's 2012 edition has shown a penchant for winning the close ones, going 6-0 in one-or-two run games, including all three versus Long Beach State last weekend. If Oregon leadoff hitter J.J. Altobelli starts to heat up again (he's hitting just .264 now), the Big Green won't have so many close calls. They'll take on Oklahoma and UConn on Saturday and Sunday for their toughest assignments. This is also Oregon State's best chance at getting back into the rankings discussion before Pac-12 play kicks in next week.
Key matchup: UConn's RPI matchups.
The Huskies have come up snake-eyes in games with Mississippi State, Purdue and College of Charleston so far. This could be their last chance at earning some top-quality nonconference wins to impress the NCAA selection committee. In other words, wins here versus Oklahoma, Oregon State and Oregon could be the difference between an at-large bid or needing to win the Big East tournament.
Surprised at Maryland's fast start? Don't be.
By Walter Villa
Special to ESPN.com
Under his bed back home in Westminster, Md., pitcher Brett Harman keeps binders full of autographs he collected from athletes during his younger days.
Some of his more prominent "gets" include George Brett, the player he was named after, and Ken Griffey Jr.
[+] Enlarge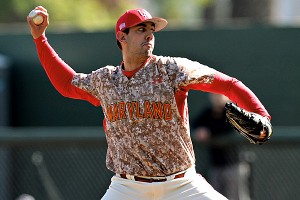 AP Photo/Larry GorenBrett Harman's return to the mound after missing all of 2011 is one reason for Maryland's fast start to 2012.
"I also got a University of Miami football helmet signed by Ray Lewis and Ed Reed," Harman said of the former Hurricanes and current Baltimore Ravens stars.
These days, Harman and his University of Maryland teammates delight in signing autographs for young Terps fans. And the way the Terps have started this season, those signatures may be gaining in value.
The Maryland revival started on opening weekend, when the Terps went to UCLA, which was No. 14 in the nation at the time, and took two out of three games, winning their first road series since 2009.
The good times have since continued for the Terps (11-1), who are off to their best start since 1967.
Consider:
• Their 10-game win streak is closing in on the school record of 12 set in 2002. They can break the record if they can sweep their ACC-opening series this weekend at Wake Forest.
• They are ranked No. 25 in the nation by Baseball America, the first time in the 32-year history of that poll that the Terps have been ranked.
• Their 0.95 ERA leads the nation.
All those numbers represent a sharp turnaround from last year, when Maryland finished 21-35, including 5-25 in the ACC. But third-year Maryland coach Erik Bakich downplays his team's start.
"It's nice to be recognized in the polls, and it's good for recruiting, but we haven't done anything yet," Bakich said. "I feel like all we've done is talk the past two years."
Bakich recognizes that the Terps, who haven't appeared in the NCAA tournament since 1971, had previously set a low bar.
"Maryland baseball doesn't exactly have a long tradition of success," he said. "If we do what we're supposed to, a lot of those records should come down."
Harman, meanwhile, said he saw the potential for better things in the 2011 Terps, but the team was just too young to have that reflect in the win column. The Terps lost 13 games by two runs or fewer.
"Our [2011] record didn't reflect the talent we had," said Harman, a redshirt senior who graduated last year with a 3.7 grade-point average and a degree in kinesiology. "We still have a lot of talent."
Harman is a big part of that talent base. After missing last season thanks to Tommy John surgery, he's off to a 2-0 start with a 0.00 ERA and 17 strikeouts in 17 innings. In his first start back from surgery this season, he led Maryland to a 5-1 win over UCLA to give the Terps the series.
But the Terps are about more than just Harman. All eight position starters and eight of the top 11 pitchers are back from last season. There are nine seniors on the team, including six who are on the Terps' seven-player leadership council.
Five current Terps have already been drafted, including two freshmen, an indication the program is now getting a higher level of recruits. At 34, Bakich is the youngest current head coach at a BCS school. He was a volunteer assistant at Clemson when the Tigers made the College World Series in 2002 and spent seven years as Vanderbilt's recruiting coordinator. All seven of the recruiting classes brought in at Vandy during that span were ranked in the top 25, including two that were in the top two.
When he arrived at Maryland, Bakich counted 15 players from the state who were playing at other ACC or SEC schools, including stars such as Virginia's Danny Hultzen, who is now part of the Seattle Mariners organization.
Bakich has vowed to keep those players home and in 2010 brought in a 22-player class that was ranked in the top 25. He also has seen good things already from last year's 12-player class.
"When I got here, this program was built for mediocrity," Bakich said. "We were below average in everything -- facilities, budget, atmosphere, support.
"We've worked hard to make tangible improvements in facilities and fundraising, and our administration is supporting baseball in a more positive way.
"But we're light-years behind the rest of the conference."
Maybe, but perhaps the hot start by Harman and his senior-laden Terps teammates is simply a sign of things to come.
Top 25 matchups
No. 1 Florida vs. Florida Gulf Coast
No. 2 Stanford vs. No. 4 Rice
No. 3 South Carolina vs. Princeton
No. 5 Texas A&M vs. No. 14 Cal State Fullerton
No. 6 Arkansas vs. Binghamton
No. 7 North Carolina vs. No. 19 Clemson
No. 8 Florida State vs. Duke
No. 9 Georgia Tech vs. NC State
No. 10 Oregon vs. Illinois
No. 11 Arizona vs. Eastern Michigan
No. 12 Georgia vs. No. 16 UCLA
No. 13 Miami vs. Boston College
No. 15 LSU vs. Michigan
No. 17 Ole Miss vs. Houston No. 21 California vs. Nebraska No. 22 Gonzaga vs. New Mexico
No. 23 Mississippi State vs. Mercer
No. 24 UCF vs. Massachusetts
No. 25 Baylor vs. Memphis

Five more to watch
1. No. 9 Georgia Tech (10-3) at NC State (9-2)
Doak Field, Raleigh, N.C.



While the Yellow Jackets have maintained a presence in the national polls despite losses to Kent State and Ohio State, the Wolfpack have quietly been toiling in the shadows, getting out to a respectable start albeit against mostly lower-level competition. Obviously, NC State super-frosh Brett Austin has acclimated well to the speed of the college game, hitting .381. He's joined by upperclassmen like Chris Diaz (.409) and Danny Canela (.410) to form the 11th-best hitting team in the country (.332), more than capable of confronting the Yellow Jackets' arms corps. Starters Matt Grimes, Dusty Isaacs and Buck Farmer have combined to go 7-2, 2.75. This should be a great matchup of wills between two familiar foes.
2. Virginia Tech (11-2) at Virginia (7-4-1)
Davenport Field, Charlottesville, Va.



The Hokies are evoking memories of their magical 2010 season, when they won 40 games, but they're gunning for more this year. They've lived off their pitching, which has a cumulative ERA of 2.35, good for No. 22 in the nation. But their offense is going to challenge UVa like no one else has with top bats Chad Pinder (.383) and Jake Atwell (.320 with three triples) leading a capable charge. And on top of all that, wouldn't it be tasty for Hokies fans to have their team deep-six its hated in-state rivals to springboard its ACC season? UVa may be a very green team, but its team ERA is nothing to slouch about, sitting at 2.81. It's so cool to see Scott Silverstein plodding along with 1-1, 1.50 numbers in his three starts after coming into his redshirt senior season having thrown just 14 innings in his career.
3. Texas Tech (10-3) at TCU (5-6)
Lupton Stadium, Fort Worth, Texas



Despite the big disparity in their win-loss records, it could be argued that Texas Tech and TCU are pretty even teams with a slight edge to the Horned Frogs, talentwise. However, Tech has much more speed and plays much better defense. At the top of the order, Barrett Barnes and Jamodrick McGruder are two of the most exciting players in the country, using their speed and experience to get on base and swiftly swiping bases like it's an afterthought. So far, these two movers and shakers have combined to go 20-for-24 in steals already this season. On the flip side, TCU can go pitch-for-pitch with anyone, sporting a 3.34 team ERA and holding some pretty good hitting teams to a cumulative .233 average thus far. But if the Frogs' offense doesn't get untracked -- it's hitting just .245 -- don't be shocked if Duke von Schamann (2-1, 1.27) & Co. give these Lupton lads a lashing.
4. Alabama Baseball Classic
Sewell-Thomas Stadium, Tuscaloosa, Ala.
No. 20 Louisville (9-3); Alabama (5-7); East Carolina (8-3); Oral Roberts (6-5)
This tournament picked up a lot of steam and lost a bit at the same time last weekend. Louisville took two of three from Pepperdine last week and East Carolina swept Stony Brook, but Alabama continues to slide, having lost two of three at Tulane and four of its past five overall. Oral Roberts is still an enigma, having been swept at Baylor to open the season and also losing to Wichita State and Eastern Michigan. If the Tide and Eagles are going to build some momentum, this would be the weekend to do it. After last weekend, ECU had the second-best team ERA in the country at 1.20, giving up just 12 earned runs in 10 games. As for the Cardinals, they're growing their confidence after last year's bust when their bats didn't live up to their potential. So far in 2012, they have the 37th-best offense, hitting .316. Plus, just like a lot of teams based in northern conferences, Louisville could use this weekend to further bolster its at-large résumé for June.
5. No. 8 Florida State (11-1) at Duke (7-7)
Bulls Athletic Park, Durham, N.C.



Already sitting at a crossroads in their season, the Blue Devils' road to respect will be a rough ride the next two weekends as they'll take on the Seminoles this weekend and Miami the following week. But they'll face both teams at home, and having a dealer like Marcus Stroman on the mound is a boon, considering he's pulled in 27 K's in his past two starts. Plus, the offense has speed in spades, leading the nation in triples, and has 21 stolen bases. But FSU has the No. 3 hitter in the country in James Ramsey (at .552, and also leads the nation with 21 runs scored), and the No. 27 hitter in Jayce Boyd (.474). Considering the Noles put up a .398 average against Maine's respected pitching rotation last week, Duke's other two starters, Robert Huber (2-1, 2.12) and Trent Swart (2-1, 2.87) will need to go as long as possible in their starts because the Blue Devils' bullpen has been problematic. -- Eric Sorenson
Upset watch
No. 21 California (9-2) at Nebraska (8-4)
Remember back in December when the Pac-12 and Big Ten announced they would spearhead a scheduling partnership for all sports? Well, that's not officially supposed to start until next school year, but here's a preview for the baseball version. And yes, you're reading right, this will be the Bears from Berkeley, Calif., heading to the Big Red north of Lincoln, Neb. In early March, no less. Luckily for Cal, the temperatures are supposed to be in the upper 50s/low 60s, and all four games are during the day, so there is no reason to hibernate.

How it could happen: After narrowly losing three games to Gonzaga to open the season, the Cornhuskers have played much better and reached a comfort zone, now sitting at 8-4. Michael Pritchard (.424), Chad Christensen (.408) and newcomer Richard Stock (.417) have all been machines of late in what has become an infectious offense. If Cal's offense stumbles, as it did in three games at Long Beach State, this Huskers squad is capable of outscoring the Bears in their own environs.
Why it might not: Bear weather or not, it's pretty simple for Cal. In fact, the Bears don't even need to hit heavy. In their only two losses at Long Beach (and in the close call versus Creighton), the Bears had small self-destructions that doomed them: walks, hit batsmen, wild pitches and errors. If they stay clean here, then get the usual solid pitching of Justin Jones, Matt Flemer, Kyle Porter and Michael Theofanopoulos, a sweep is possible. -- Eric Sorenson
Mid-major matchups
Texas State (9-3) at UT-Arlington (9-5)



Conference play will kick off in earnest across the country this weekend, including this showdown highlighting the Southland Conference opener. A lot of hay has been made of Texas State's 57.2-inning scoreless streak, and rightfully so. The Bobcats came within 6 1/3 innings of setting an NCAA record for consecutive scoreless innings. And how can you not love their weekend rotation that has seen their collective ERA drop to 1.31 with Colton Turner (0.44), Kyle Finnegan (0.47) and Travis Ballew (1.33) setting the tone with great starts? But the Mavericks come in at 9-5, owning wins over Texas and Oklahoma. And while the Bobcats hit a very light .262, UT-Arlington comes in with the second-best offense in the Southland, hitting .285 as a team. Plus, playing in Arlington hasn't been kind to the paws of the Bobcats, as Texas State hasn't won a weekend series there since 2007. -- Eric Sorenson