Places to be this weekend
By Eric Sorenson
Special to ESPN.com
Editor's note: The NCAA has not released its RPI ratings yet. The RPI ratings listed below are from Boyd's World and are not official.
1. No. 2 Stanford (16-3, 2-1 Pac-12, No. 3 RPI) at No. 12 Arizona (18-7, 4-2 Pac-12, No. 16 RPI)



Hi Corbett Field, Tucson, Ariz.
What's at stake: A home regional?
I know it may sound a little far-fetched right now, since we're still in late March, but you've got to keep the big picture in mind. The winner of this series does one thing for certain: It makes that team look a whole lot better for home regional in the NCAA tournament or possibly a shot at a national seed.
Key matchup: Mark Appel vs. Kurt Heyer.
Two of the best hurlers in the country will face off against two of the more versatile and athletic offenses in the country. Keep an eye on Heyer; in his past two Pac-12 starts he's given up 18 hits in 12 innings.
2. No. 3 Arkansas (22-3, 5-1 SEC, No. 9 RPI) at No. 14 LSU (19-6, 3-3 SEC, No. 28 RPI)



Alex Box Stadium, Baton Rouge, La.
What's at stake: Legitimacy.
There are still a lot of questions facing both teams going into this weekend. The Razorbacks and Tigers have both played pretty Charmin-soft schedules, especially in the nonconference. But there are more questions surrounding the Tigers, who lost another road weekend at Auburn last week. The doubts over last year's NCAA snub and their slow start against perceived weaker opponents this year have brought clouds of doubt to the Tiger faithful.
Key matchup: LSU's Kurt McCune vs. Arkansas' power hitters.
McCune has had a star-crossed 2012 season so far, losing his weekend post after being shifted to the bullpen. If the Hogs' big bats (Matt Reynolds, Sam Bates and Dominic Ficociello) get on him, the Tigers could sink.
3. No. 1 Florida (23-2, 5-1 SEC, No. 1 RPI) at No. 20 Ole Miss (18-7, 3-3 SEC, No. 22 RPI)



Oxford-University Stadium, Oxord, Miss.
What's at stake: The Rebel rep.
We already know about Florida. The big question is whether or not the Rebels can compete at the Gators' level. They've gone just 4-4 in their past eight, and we are still waiting for the "wow factor" to kick in. How cool would it be for them to put a stamp of approval on their season with a win or two versus the top-ranked Gators? One thing is certain, that rowdy right-field student section at O-U Stadium will be ready for coach O'Sullivan's crew.
Key matchup: The potent Florida bats vs. starters beyond Bobby Wahl.
There have been a lot of new faces toeing the rubber for the Rebs this season. Beyond Wahl, there may be some frayed nerves if the Gators start jumping on the yearling arms early on.
4. Arizona State (16-9, 3-3 Pac-12, No. 41 RPI) at No. 16 Oregon (15-8, 3-3 Pac-12, No. 37 RPI)



PK Park, Eugene, Ore.
What's at stake: Staying in the chase.
So far, the Devils have been hit-and-miss. They've already lost a series to the conference leaders (UCLA), so if they drop another road series here in Eugene, that mountain to the title will get steeper to climb. The Ducks have also come out just 3-3 and were swept in a pair of midweek games at Texas State. With consecutive road trips to UCLA and Stanford after this, losing a series here puts them far behind the eight ball in the conference race.
Key matchup: The Ducks' table-setters vs. Sun Devils' arms.
While Kyle Garlick has done his job (.344, 7-of-10 in steals), the Ducks need to get J.J. Altobelli and Aaron Payne (both hitting just .253 with 10 combined steals) on the basepaths more to get the offense moving.
5. No. 7 Kentucky (25-1, 5-1 SEC, No. 4 RPI) at No. 18 Georgia (17-9, 3-3 SEC, No. 101 RPI)



Foley Field, Athens, Ga.
What's at stake: Hanging with the big dogs.
Are you wondering how long the Wildcats' Shock The World Tour will continue? Right now, they're golden. But Georgia is in a corner if it drops this weekend and its RPI further declines. The last time the Bulldogs faced a high-ranking team at home, they got swept by UCLA. Here's their chance at making amends in a big way. Beware UK, angry dogs await.
Key matchup: The bats of the Cats vs. the Bulldogs' starting pitchers.
Georgia's rotation of Alex Wood, Michael Palazzone and Pete Nagel are wildly talented, but have had trouble with making it longer than four or five innings in games. They must produce better results here.
6. California (14-9, 1-5 Pac-12, No. 76 RPI) at No. 25 Texas (14-9, 5-1 Big 12, No. 32 RPI)


Dell Diamond, Round Rock, Texas
What's at stake: Staying power.
Both teams are on the fringes of the national conversation, so that can quickly be remedied with a winning weekend here. The Bears may be a bit travel weary, having already gone to Long Beach State, Nebraska and Arizona State. The Longhorns seem like a completely different team than the outfit I saw get roped earlier at Stanford. They can get their Bay Area revenge here if they keep their hot bats intact, as the Horns have scored 63 runs in their past 10 wins, which is a lot by their standards.
Key matchup: Bears' pitching vs. Horns' hitting.
This one's pretty obvious. Whichever unit steps up will help its team get huge RPI points that could come in handy come NCAA tournament time.
7. Virginia (17-8, 5-4 ACC, No. 20 RPI) at No. 22 NC State (17-6, 6-3 ACC, No. 12 RPI)



Doak Field, Raleigh, N.C.
What's at stake: Contention.
The Cavs are similar to Cal, Georgia and Ole Miss in that they've had some losses that have sidetracked their season a bit. But beating the youthful Pack won't be easy. Just ask No. 3 North Carolina, which barely escaped a weekend series with them last week. NC State has a team ERA of 2.88 with an ACC low of 72 walks, going up against UVa's ACC-best offense of .317.
Key matchup: The speed merchant vs. Cavs' defense.
Freshman Trae Turner has been a dynamo for the Wolfpack, going 25-for-25 in stolen bases. If the Cavs' pitching can't strike him out, then their ACC-best defense (.973) needs to stop him from turning this into a track meet.
8. Southern Miss (15-10, 2-1 C-USA, No. 65 RPI) at No. 11 Rice (19-8, 2-1 C-USA, No. 13 RPI)



Reckling Park, Houston
What's at stake: The start of the comeback trail.
For the Eagles, the "comeback" is a much bigger climb out of the ditch after they've limped out to an uncharacteristic 14-10 start, having gone just 6-6 in their past 12 games. Any push toward a Conference USA title and NCAA at-large bid must begin here. The Owls have hit a rough spell of their own lately, not having a weekend sweep since February.
Key matchup: The walk-to-strikeout ratio.
Rice has earned 125 walks on the season, second-most in the conference. Meanwhile, the Eagles' pitching has issued a C-USA-high 97 free passes.
9. Missouri (15-9, 2-1 Big 12, No. 89 RPI) at No. 6 Texas A&M (20-5, 2-1 Big 12, No. 7 RPI)



Pat Olsen Field, College Station, Texas
What's at stake: SEC supremacy.
Yes, these two will continue their battles in SEC country next year. Mizzou seems to be creeping back into relevance, but still aren't quite up to the level that coach Tim Jamieson would like. A&M certainly shook off any doubts by going to the Malibu shores and sweeping a good Pepperdine team last weekend, pitching up to their sizable potential. Returning to conference play, the Aggies look like the class of the Big 12 and need to start proving it now.
Key matchup: Which Michael Wacha shows up?
It's been a roller coaster for the Aggies' ace, giving up 11 hits and nine runs in 5.1 innings versus Kansas State in a 15-12 loss, then tossing a complete-game two-hitter at Pepperdine last week.
10. Pepperdine (16-9, No. 26 RPI) at Gonzaga (16-6, No. 24 RPI)



Patterson Baseball Complex, Spokane, Wash.
What's at stake: Staying in the conversation.
These two teams still have stellar RPIs and have played the 29th and 39th toughest schedules, respectively. Plus, both are top in the arms staff department, with the Zags posting a 2.69 team ERA (15th nationally) and Pepperdine at 2.96 (29th). Unfortunately, both teams lost a series to a high-profile team (Texas A&M and Arkansas, respectively) causing them to drop. A weekend win here could provide for a quick return to the national eye.
Key matchup: Jon Moscot vs. Marco Gonzales.
One of the more underrated ace-versus-ace matchups this weekend. Whichever one sets the tone early on will give his team the upper hand the rest of the weekend.
Duke's Stroman has big future
By Walter Villa
Special to ESPN.com
Junior pitcher Marcus Stroman, who was leading the nation with 14.05 strikeouts per nine innings entering last weekend, is one of the best athletes on the Duke campus.
Yet, he's not treated like a big star. For example, he's never been able to get into Cameron Indoor Stadium for his school's big basketball games.
"I don't get any VIP treatment," Stroman said with a laugh. "Basketball was my first love, and I'm still a huge fan. But the Carolina games are impossible to get into, even being an athlete."
Capacity at cozy Cameron is only 9,314 and Stroman is less than three months away from possibly joining a much more exclusive club.
[+] Enlarge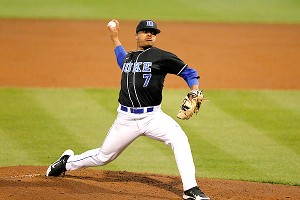 Jon Gardiner/Duke PhotographyDuke junior pitcher Marcus Stroman has turned in a string of solid performances for the Blue Devils.
He is projected as a mid- to late-first-round pick in the June 4-6 MLB draft. If that happens, he would become the first Duke player to get selected in the first round of the June draft. Former Duke outfielder Steve Kesses is the program's only first-rounder, having been selected 16th in the 1976 secondary phase.
Pro scouts had to be impressed with Stroman on March 2, when the right-hander faced 23 batters and struck out 17. He pitched seven shutout innings in a 13-2 win over George Washington.
Stroman, who did not issue a walk, threw 105 pitches and allowed just two hits. He retired the last eight batters he faced, seven by strikeouts, and finished two short of the ACC record of 19 Ks.
"I wasn't aware of the record," said Stroman. "I could have absolutely gone longer, but it's early in the season. Coach [Sean McNally] made the right decision."
Stroman excelled again on March 16, getting a 4-1 win over the Miami Hurricanes, ranked 10th in the nation at the time. He struck out 13 in seven innings, and the only run he allowed was on a rally started by a popup double that should have been caught in shallow left field.
Stroman, who is 3-2 with a 2.83 ERA for a sub-.500 team, leads the ACC with 60 strikeouts in just 41.3 innings. Batters are hitting just .224 against him.
Part of what makes Stroman unique is his size at 5-foot-9 and 190 pounds. He is the 10th-ranked draft-eligible pitching prospect in the nation, and all nine rated above him are at least five inches taller.
Most of the top pitchers are 6-4 (such as Kevin Gausman of LSU) or 6-5 (Mark Appel of Stanford) or even 6-8 (Matt Smoral, a prep star from Ohio).
But while Stroman is relatively short, he is not small or weak.
A native of Medford, N.Y., Stroman maxes out on squats at 490 pounds and uses his lower-body power to drive his fastball. He consistently registers 93 to 95 mph on his heater and has hit 97.
Pitching coach Sean Snedeker said Stroman once hit 100 mph in a game at Miami, although the Hurricanes' pitching coach told him their radar gun was a couple mph fast.
"I think the gun was a bit amped up, but that still left Marcus throwing 98," Snedeker said. "You can't deny Marcus has great genetics. He is gifted, he's strong and his delivery is so compact. He gets tremendous torque and momentum."
Stroman said he was "only" topping out at 93 mph when he left high school and credits Duke's strength and conditioning program for helping him increase his velocity.
In the summer of 2010, Stroman played in the top-rated Cape Cod League and was 11-for-11 in save opportunities with a 0.00 ERA in 27 innings.
Last summer, he became the first player in Duke history to make Team USA's final collegiate roster. Stroman said he was just thrilled to make the roster and represent his country -- but he did much more than that.
In 8 1/3 innings, Stroman had a 0.00 ERA and struck out 17 of the 27 batters he faced, allowing only one walk. He was 4-for-4 in save opportunities.
McNally, though, said he believes Stroman projects as a starter.
"Most people say becoming a closer will be Marcus' quickest route to the big leagues," McNally said. "I think he has a bright future regardless."
Top 25 matchups
No. 1 Florida vs. No. 20 Ole Miss
No. 2 Stanford vs. No. 12 Arizona
No. 3 Arkansas vs. No. 14 LSU
No. 4 Florida State vs. Virginia Tech
No. 5 North Carolina vs. Wake Forest
No. 6 Texas A&M vs. Missouri
No. 7 Kentucky vs. No. 18 Georgia
No. 8 Miami vs. Clemson
No. 9 UCLA vs. Utah
No. 10 South Carolina vs. Vanderbilt
No. 11 Rice vs. Southern Miss
No. 13 Cal State Fullerton vs. Cal State Northridge
No. 16 Oregon vs. Arizona State
No. 17 UCF vs. Houston
No. 19 Oregon State vs. Washington No. 21 Georgia Tech vs. Duke
No. 22 NC State vs. Virginia
No. 23 Baylor vs. Oklahoma State
No. 24 Purdue vs. Penn State
No. 25 Texas vs. California

Maryland's Erik Bakich
Maryland set the college baseball world abuzz right from the start with the opening weekend series win at UCLA. That was the weekend that coach Erik Bakich's team said his team learned to believe in itself. It also explains why their hats have the word "Omaha" etched on the back of them. I caught up with coach Bakich after his team beat St. John's 16-4 on Wednesday afternoon.
Eric Sorenson: For a good portion of this season so far your pitching staff has led the country in ERA. How pleased are you with your pitching?
Tod Brown: First, Sean Kenny, our pitching coach, does an excellent job. We knew last year was kind of a fluke, we just spiraled out of control near the end due to the inexperience factor. But this year, with everybody back, that's been a big difference. With the experience factor, we knew we could have a lot more success this year.
ES: Your Friday ace, Brett Harman, has been special so far. What's the key for him?
TB: That's just a guy with all kinds of savvy and feel for pitching. He's a fifth-year senior who came back from Tommy John surgery and he's excelled for us this time around. He's also the ultimate Jekyll & Hyde, too, because he's the nicest guy off the field you'd ever want to meet, but he's the meanest S.O.B. when he's on the mound. But he's really shown the way for a lot of our younger guys.
ES: Your offense is pretty light (.262). Is that a concern down the stretch?
TB: We're not stringing together good at-bats, and the middle of our order has taken a dip lately, too. But the encouraging thing is that our guys have done a good job of focusing on having a quality at-bat the next time up. I've gotten the sense that when we've gotten down a few runs, we've let it affect us. But I really think the offense is better than the statistics show.
ES: How much is this team capable of?
TB: To be honest, I think we got spooked a little bit with that sweep at Wake Forest, but the strength of our team is pitching, defense and timely hitting. We're not an offensive juggernaut, but the pitching and the defense are what helped us early in the year and they're going to be the keys from here on out. It's kept us in close games.
ES: I don't want to ask if you guys are an Omaha-type team, but I guess you never know, right?
TB: Yes, Omaha is too far away. But I think the things that teams in Omaha do is pitch well on the mound and play good defense. Those big offensive teams can't always hit their way through a Regional, but you can pitch and play defense through a regional. For us, just getting invited to the Dance would be a big step for this program.
ES: Yeah, I didn't mean to ask if you guys are thinking about Omaha already.
TB: That's true, but we believe we can do anything and we always want our players to have the ultimate goal in the back of their minds. That's why we have "Omaha" on the back of our hats and not on the front.

-- Eric Sorenson
Mid-major spotlight
Missouri State (No. 18 RPI) vs. Dallas Baptist (No. 48 RPI)



This resembles one of those basketball Bracket Buster matchups, doesn't it? This was supposed to be a preview into future Missouri Valley seasons, as DBU originally was pegged to join the MVC next season (the Patriots are playing seven Valley teams this year), but then the WAC came calling and the Pats followed. The Bears come in with a 2.35 team ERA, good for fifth-best in the country, and the Patriots are steady across the board. But the key thing is DBU is 10-1 at home this season and playing with confidence. Unbowed, MoState is 10-4 away from Springfield this season. Something's got to give here.
-- Eric Sorenson