Canes gaining momentum after UNC sweep
By Walter Villa
Special to ESPN.com
CORAL GABLES, Fla. -- A couple of dozen sandwiches sat a few feet from North Carolina's team bus on the sidewalk, all waiting to be picked up by Tar Heels players.
There was no time for a fancy dinner, and you couldn't blame Tar Heels coach Mike Fox for wanting to get to the airport and leave Miami as quickly as possible after his team was swept by the Hurricanes last weekend.
Fox was obviously disappointed about the way his team -- which entered the series with a No. 3 national ranking -- was handled by Miami, which allowed just three runs against UNC, two of them earned, in the three games totaling 32 innings.
[+] Enlarge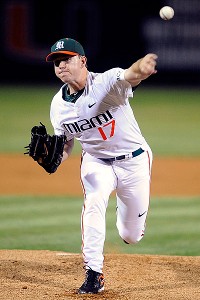 Richard C. Lewis/Icon SMIMiami pitcher Eric Erickson and the Hurricanes are hopeful last weekend's sweep of North Carolina propels them to a strong finish.
But Fox was gracious in defeat and sought out Canes pitching coach J.D. Arteaga after the series was over.
"They pitched incredibly," Fox said of Miami. "I told J.D. that we have not been dominated like that on the mound in quite some time."
It's been a long time for the Canes (24-9), too, who swept a team ranked in the top three for the first time since they took down Florida State in 2001, which was the last year they won the College World Series. Miami also pitched two shutouts in one series for the first time since Harvard in 1998 and for the first time ever against an ACC team.
It's no wonder the Canes moved from No. 13 to sixth in this week's USA Today/ESPN national poll.
The irony is that the Canes entered the UNC series in a mini-slump, having lost three of their past four games and averaging less than two runs per game during that stretch. And in Miami's only previous games this season against a top-10 team, it had been swept, at home, by Florida.
"This could be the turning point of our season," said Eric Erickson, Miami's ace pitcher.
Erickson, mind you, said those words after leading Miami to an 8-0 win in the first game of the series on Friday. He had no way of knowing that the Canes were to beat UNC 4-3 in 14 innings on Saturday night in a game that ended at 12:40 a.m.
The teams were back at Alex Rodriguez Park the following day for a 1 p.m. Sunday start, and the Canes sent UNC home with a 4-0 loss.
Just how far can that momentum take the Canes going forward?
No one knows the answer, of course, but we can look for clues in three key areas:
• The pitching rotation: Left-handers Erickson (5-3, 2.94 ERA) and Steven Ewing (4-0, 2.08) and right-hander Eric Whaley (3-2, 2.32) are standouts on the weekend. But last week, the Canes lost sophomore lefty Bryan Radziewski (2-0, 3.08), their midweek starter, after he was ruled out for the year after shoulder surgery.
There are only three midweek games left, and the Canes appear to have a solid fourth starter in Javi Salas (3.08 ERA). But come the postseason, pitching depth is crucial, and losing Radziewski could be an issue.
• The bullpen: Closer E.J. Encinosa is the team's best power pitcher and heads a 'pen that has allowed just two earned runs in the past 25 innings. The top setup men are AJ Salcines, Eric Nedeljkovic and Adam Sargent.
Encinosa has been outstanding since a March 4 meltdown in a loss to Florida, lowering his ERA from 10.38 to 2.50 during that stretch to go with a 2-1 record and seven saves. Encinosa also pitched six perfect innings of relief in Saturday's win over UNC.
"That was the biggest pressure situation he has been in since the Gators series," Canes coach Jim Morris said of the UNC game. "It takes a special person to pitch with the pressure of a closer."
Encinosa, the reigning ACC Pitcher of the Week, was a setup reliever as a freshman and a starter as a sophomore. This is his first year as a closer, and he seems to be making the adjustment.
• The offense: Senior catcher Peter O'Brien, who is one of the top power hitters in the country, is clearly the key. Teams haven't pitched around him too much -- at least not yet -- but that may start to happen if the Canes don't get more support in the lineup.
Morris thought his cleanup hitter would be left fielder Rony Rodriguez, who led the team with 13 homers last year. But Rodriguez, who was batting sixth on Saturday, has only one long ball so far.
He missed four games with kidney stones and has missed the past two games due to a bruised left hand after he was hit by a pitch.
It's been that type of year for Rodriguez, who might have had a grand slam Saturday if not for the wind -- estimated at 25 mph.
Morris said Rodriguez's problems started last year, when he was not selected in the MLB draft.
"He was disappointed, and I was disappointed for him," Morris said. "I think he's putting a lot of pressure on himself. He's got to relax.
"His hand is OK. It's just going to take a little bit of time because it's bruised pretty bad. Thank goodness it wasn't broken."
Morris said while Miami has made progress, there is still work left to be done, which was evident in Wednesday's 4-2 loss to Florida Gulf Coast.
"We have to get better on defense," Morris said of the Canes, who are 11th in the 12-team ACC in fielding percentage. "We're also not scoring enough runs -- we're leaving too many runners on base."
Places to be this weekend
By Eric Sorenson
Special to ESPN.com
Editor's note: The NCAA has not released its RPI ratings yet. The RPI ratings listed below are from Boyd's World and are not official.
1. No. 2 Kentucky (30-4, 9-3 SEC, No. 5 RPI) at No. 9 Arkansas (24-8, 7-5 SEC, No. 21 RPI)



Baum Stadium, Fayetteville, Ark.

This is an intriguing showdown of the top hitting team in the conference -- Kentucky hits .328 as a team -- going up against the top pitching team in the conference in Arkansas, which boasts a team ERA of 2.65. The Wildcats still have an uphill climb in front of them, especially after an undressing by rival Louisville on Tuesday by a 12-0 count. The Razorbacks will play at UK and then at Florida over the next two weeks, so the 2-5 skid they're on couldn't be coming at a worse time.
2. No. 17 Oregon (22-9, 8-4 Pac-12, No. 23 RPI) at No. 5 Stanford (21-7, 4-5 Pac-12, No. 9 RPI)



Sunken Diamond, Palo Alto, Calif.

The Pac-12 is a revolving door of hot teams and each week it seems there is a new contender, but the Ducks have made huge waves with consecutive winning weekends versus Arizona State and at UCLA. The one-two punch of Alex Keudell (4-3, 2.06) and Jake Reed (3-2, 2.47) is vastly underrated. Meanwhile, the Cardinal duo of Mark Appel and Brett Mooneyham can be lights-out or hither and yon, depending on the day. The Cardinal has the edge on offense, but pitching consistency is the bigger key.
3. No. 11 UCLA (22-7, 8-4 Pac-12, No. 4 RPI) at No. 12 Arizona (23-9, 9-3 Pac-12, No. 18 RPI)



Hi Corbett Field, Tucson, Ariz.

The top two hitting outfits in the Pac-12 meet. The Wildcats are the top unit in the country with a .331 average. The Bruins have issued a conference-high 122 walks, so look for Arizona to try and jump to early leads at home. Wildcats batters Joey Rickard, Alex Mejia, Robert Refsnyder and Seth Mejias-Brean are the top four hitters in the conference so Bruins pitchers will have their work cut out for them.
4. No. 8 North Carolina (24-9, 9-6 ACC, No. 3 RPI) at No. 24 Virginia (23-10-1, 9-6 ACC, No. 15 RPI)



Davenport Field, Charlottesville, Va.

How interesting will this series be? Let's see how the Tar Heels respond after getting skunked twice in a three-game sweep at the hands of Miami last week. They'll be on the road again and will match their top hitting unit in the ACC (.316) against the league's top pitching staff (2.66). Something has got to give. But more importantly, it'll be the mental side of things that will be the key to UNC's success, or lack thereof.
5. No. 16 Cal State Fullerton (21-11, 5-1 Big West, No. 17 RPI) at UC Irvine (17-12, 3-3 Big West, No. 69 RPI)



Anteater Ballpark, Irvine, Calif.

Throw out the records when these two Orange County rivals square off because it's always a wild ride. Both teams have a lot to play for either way, as Fullerton hopes to get every bump up it can to move into No. 1 seed territory in the RPI and the Anteaters won't have too many more opportunities to spit-shine their résumé except with a series win here. Though neither team will lack for motivation, it's more of a do-or-die time for UCI.
6. No. 15 UCF (28-7, 7-2 C-USA, No. 19 RPI) at Southern Miss (19-13, 3-3 C-USA, No. 102 RPI)



Pete Taylor Park, Hattiesburg, Miss.

The Knights are sitting in a pretty good place, leading the Conference USA standings and sitting just outside of No. 1 seed consideration in the RPI. But they start a six-game string of road games at USM and Tulane in the next two weeks. The Eagles own wins over Auburn, Ole Miss and Rice, but still could use a series win here to get them into at-large consideration. But the Knights' formidable pitching staff will be a challenge.
7. No. 21 NC State (22-9, 9-6 ACC, No. 7 RPI) at Clemson (19-15, 8-7 ACC, No. 36 RPI)



Doug Kingsmore Stadium, Clemson, S.C.

People were ready to write the Tigers off after they got swept by both North Carolina and Virginia, but they're flying under the radar now. They've gone 8-4 in the past two weeks, with wins over Georgia and Miami. There are great matchups all around this series including Wolfpack freshman Carlos Rodon (5-0, 1.41) versus Tigers slugger Richie Shaffer (.373-7-32) and Clemson catcher Spencer Kieboom versus NC State base stealer Trae Turner (29-of-30 stolen bases).
8. No. 4 Florida (26-7, 7-5 SEC, No. 1 RPI) at Tennessee (20-13, 6-6 SEC, No. 62 RPI)



Lindsey Nelson Stadium, Knoxville, Tenn.

This one will be interesting if only for the fact we can't wait to find out which direction these Gators will go next. They're 3-5 in the past two weeks, but did manage a third straight win over Florida State on Tuesday. The Volunteers can jump into the at-large discussion this week, but will have to overcome their meager offense (just .261). Nick Williams (2-3, 2.02) and Drew Steckenrider (3-2, 2.14) give the Vols a fighting chance.
9. Nebraska (23-12, 5-4 Big Ten, No. 74 RPI) at Ohio State (20-12, 5-4 Big Ten, No. 33 RPI)



Bill Davis Stadium, Columbus, Ohio

It's early to say it, sure, but is this an elimination weekend? With both teams inching their way up to at-large territory, the winner here could be in good shape to pull a second NCAA tournament bid out of the Big Ten, so long as they don't go south the remainder of the season. With the Buckeyes and Purdue on tap in the next two weeks, this is the time for the Cornhuskers to make their move, especially with a light slate down the stretch.
10. No. 6 Miami (24-9, 11-4 ACC, No. 12 RPI) at Virginia Tech (23-12, 5-10 ACC, No. 45 RPI)



English Field, Blacksburg, Va.

Like Clemson, you might be surprised to know that the Hokies are quietly crawling into at-large range, despite not having a lot of marquee wins. Here's their chance for big-stage W's, as their .303 offense (second in the ACC) will be a tough challenge for the Hurricane's 2.71 team ERA pitching staff (also second in the ACC). The Canes also have to overcome the look-ahead factor as they'll go from Blacksburg to Florida State next weekend.
Top 25 matchups
No. 1 Florida State vs. Boston College
No. 2 Kentucky vs. No. 9 Arkansas
No. 3 Texas A&M vs. Kansas
No. 4 Florida vs. Tennessee
No. 5 Stanford vs. No. 17 Oregon
No. 6 Miami vs. Virginia Tech
No. 7 LSU vs. Alabama
No. 8 North Carolina vs. No. 24 Virginia
No. 9 South Carolina vs. Mississippi State
No. 11 UCLA vs. No. 12 Arizona
No. 13 Rice vs. Marshall
No. 14 Baylor vs. Kansas State
No. 15 UCF vs. Southern Miss
No. 16 Cal State Fullerton vs. UC Irvine
No. 18 Purdue vs. Illinois
No. 19 Ole Miss vs. Georgia
No. 20 Louisville vs. Seton Hall
No. 21 NC State vs. Clemson
No. 22 San Diego vs. La Salle
No. 23 Oregon State vs. Arkansas-Pine Bluff No. 25 Texas vs. Oklahoma State
Upset watch: South Carolina
This weekend: vs. Mississippi State (21-12, 5-7 SEC)



It goes without saying that the Gamecocks (24-10, 5-7 SEC) are vulnerable. Considering they were pushed to the limits by Vanderbilt and Tennessee the past two weekends, including losses to each team, plus that odd loss to Francis Marion in the midweek, the Gamecocks are not at the top of their game. There is blood in the kibble here as the Dogs are slowly but surely healing up and statistically very close to the Gamecocks. The scrappy Dogs have had some strokes of bad luck but are never short on effort and pride. Let's see what happens here.
Player to watch: MSU pitcher Chris Stratton
The Dogs' ace is 7-0, 2.54 and invincible when he controls the strike zone. The Game 1 showdown with Gamecocks ace Michael Roth should be special.

-- Eric Sorenson
UCF's Terry Rooney
Slowly but surely, the Knights' coach has built his program up level by level each of the four years he's been at the controls in Orlando. This 2012 edition is his best team, currently sitting atop the Conference USA standings and within striking distance of a No. 1 seed in the NCAA tournament. But when I caught up with coach Rooney this past weekend after the Sunday win over UAB, he was excited about how much his program has grown up and where it has the potential to go.
Eric Sorenson: Talk about your high ranking, do you think your team deserves it?
Terry Rooney: Yeah, I do. I've said that all along, too. I think it goes back to the recruiting classes we've had and the guys we had coming back this year. But at the end of the day, it's all about getting it done on the field and so far we have. There's a lot of baseball left to be played, though.
ES: You went to the Regionals for the first time last season. Do you see a difference in this year's team and last year's?
TR: Well nothing can replace experience. And last year our guys got the experience of making it to the postseason. They now know what it takes to get there. That's the biggest difference in this year's team, they understand what it takes. They get it.
ES: How much better is your pitching this year? Is that the big key to your team?
TR: There's no question that this is the deepest pitching staff we've had in the last four years. We had one of the best offenses in the country last year and returned everyone, yet, for the first 20 games we were struggling at the plate but pitching like crazy. We played Florida State here for two games and shut them out in 16 of 18 innings, but we lost both games. So our pitching has been very good.
ES: Talk about your guys out of the bullpen because Joe Rogers and Roman Madrid just jump off the stat sheet.
TR: The back end of our games have been incredible. Both guys have great ERAs [1.14 and 0.38 respectively] but they're very different, too. One's a hard-throwing lefty, the other is a hard-throwing righty. One of our big phrases we have here is "win the last three." No matter what the scoreboard says, win the last three innings. We're outscoring our opponents 68-30 in the last few innings and Joe and Roman have been the difference.
ES: Going back a bit, you were an assistant at LSU in 2008. But what did you see in taking this job at UCF?
TR: I only would've left LSU to take a job that I thought could get to Omaha. But look at this place. It's got great tradition, it's also the second-biggest school in the country, I've been recruiting this area in Florida for years, we're in Conference USA; all of those things just added up to take this job.
ES: Did you have a timeline for this program when you took it over?
TR: I thought it would take us two recruiting classes to get to a Regional and three recruiting classes to get to where we could legitimately have a chance to go to Omaha. At the end of the day it's all about having good players and that's what we've been able to do with our recruiting, bring in the players that can get this program to the top.

ES: Do you hammer the idea of going to Omaha into your team?
TR: Well, do I believe we have the talent to go to Omaha? Absolutely. Do I think our players have the belief they can get there? Absolutely. But the thing I like even more is that our players know that and they work hard to get there every day. There's been no quit in them.

-- Eric Sorenson