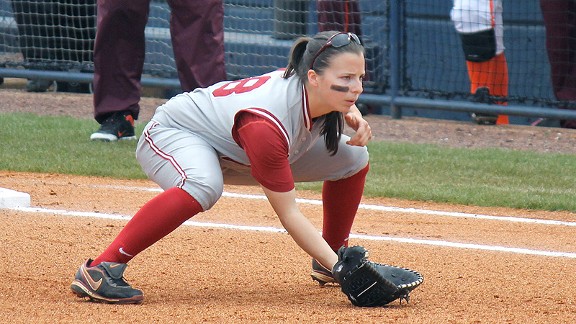 Courtesy of Graham HaysSeniors such as Cassie Reilly-Boccia have infused a calming presence into Alabama's lineup.
Tide's team ethic starts with seniors
It qualifies as something less than a bold prediction to suggest Alabama will lose at some point this season. That a game against Georgia Tech during the season's second weekend wasn't the first defeat offers some clue as to why the Crimson Tide aren't likely to lose many. And why they, at least, still believe they can win the last one.
The seniors on this team have come too far, literally and figuratively, to let this opportunity get away from them.
Should the Crimson Tide have lost Friday's game against the Yellow Jackets in the ACC/Big 12/SEC Challenge, they would have had ample excuses at their disposal. Ace Jackie Traina was ailing with flu-like symptoms all weekend and probably didn't feel any better after giving up seven runs in the first three innings. Add to it that the strike zone was more rumor than fact, forcing Traina and Georgia Tech pitcher Lindsey Anderson to throw more than 340 pitches between them in search of the elusive prize. And for much of three-plus hours of softball, most of Alabama's lineup looked like a group still stuck in preseason.
[+] Enlarge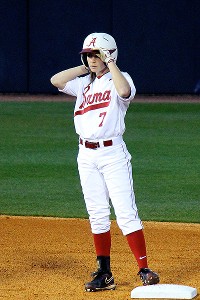 Courtesy of Graham HaysAlabama senior Jennifer Fenton helped spur the Crimson Tide on in a 12-9 over Georgia Tech on Feb. 17.
Most but not all. Hitting second and third, respectively, seniors Jen Fenton and Cassie Reilly-Boccia combined for eight hits, one walk and six RBIs in 10 plate appearances. Home runs from Kaila Hunt and Amanda Locke in the later innings provided the firepower to put the Tide over the top for good in a 12-9 win, but the game would have been long since lost by that point without Fenton and Reilly-Boccia keeping the embers glowing.
For the first time in several seasons, certainly the first time since most of these seniors arrived, Alabama's elders aren't its most recognizable faces. This group of six isn't like the class that included All-Americans Ashley Holcombe, Kelley Montalvo, Lauren Parker and Brittany Rogers three years ago. It doesn't have a dominant presence like Charlotte Morgan two years ago. It doesn't include an ace like Kelsi Dunne last year. The most recognizable names on this team, at least from afar, are Traina, a sophomore, and All-American outfielder Kayla Braud, a junior.
Which isn't to say the seniors are afterthoughts. Reilly-Boccia started 179 games in her first three seasons; Locke isn't far behind that total, and Fenton and Jazlyn Lunceford were full-time players by the time they were sophomores. That middle-of-the-order quartet, along with catchers Kendall Dawson and Olivia Gibson, has helped win a lot of games since its arrival. The six of them did so as selfless supporting actors, which is exactly how they want to lead.
"Yes, we're seniors, but it's not all about us," Fenton said. "We want it to be about the whole team, the team doing it together. A lot of seniors in the past have said if you don't want to play for yourself, play for the seniors. We don't want to say that. We're like, 'It's not only about us. It's about the whole team working together and winning as a group.'"
For a team with a sophomore ace entering her first season as the go-to pitcher, and a lot of youthful question marks beyond her in the circle, such low-key experience elsewhere may be a perfect complement. Given a choice between the two, Alabama coach Patrick Murphy proposed he'd rather have older position players and younger pitchers than the reverse.
"They're very calm about it, but they have great experience," Murphy said. "And they have the memory bank that they can talk people through stuff because they've been through almost everything -- two World Series and two SEC championships, every game in the world, every situation, basically."
When Murphy called in Lunceford, a local prep product, to offer her a scholarship, she asked if she could call her parents. Minutes later, they, too, were in the coach's office -- they had been anxiously circling the block. Reilly-Boccia assumed she would go somewhere close to her hometown near New York City until a friend of Murphy's told him about a kid he needed to come north to see. A power-speed threat who has been caught just twice in 98 career stolen base attempts, Fenton is also an aspiring elementary school teacher who sometimes acts the part in herding her teammates. Each followed her own path to Tuscaloosa, but their greatest asset is the collective that resulted from their coming together.
"We have a couple of people who are a little bit louder and joke around a lot more, and a couple of people that are kind of laughing in the background," Reilly-Boccia said. "But it's been a lot of fun being able to go through these four years with this senior class."
Chamberlain off to a fast start to Sooner career
Oklahoma coach Patty Gasso knew she landed a potential program cornerstone when she signed Jessica Shults out of California. As it turned out, she may get two cornerstones for the price of one out of the deal.
Shults wasted no time getting her junior season off on the right foot. In Oklahoma's opening game against Cal State Bakersfield on Feb. 10, she hit a two-run home run in the bottom of the first inning. Soon thereafter, leading off the bottom of the third inning, freshman Lauren Chamberlain sent another ball over the fence. The timing was a coincidence, but one home run was nonetheless very much the product of the other.
[+] Enlarge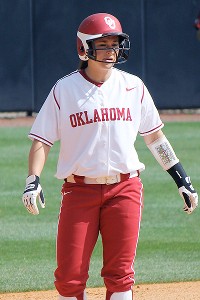 Courtesy of Graham HaysFreshman Lauren Chamberlain adds a scary bat to the Sooners' lineup.
Chamberlain didn't slow down after that first at-bat. She finished her first weekend as a collegian with three home runs, and then added another in one of the only two games the Sooners were able to squeeze in around bad weather at the ACC/Big 12/SEC Challenge. After two weeks, she's hitting .389 with a 1.111 slugging percentage and a .586 on-base percentage. She's walked eight times and has yet to strike out. Twice in a 1-0 loss against Georgia Tech, the Yellow Jackets simply elected to pitch around her with walks that were intentional in everything but name.
"She's an awesome hitter," Shults said. "It's awesome I get to hit behind her. Just watching her approach to the games, she doesn't play like a freshman. … She has a great approach to the game, and she's just another link to our team. We just feed off of each other; after I see her take a big hack, it makes me want to get in there and take a big hack."
It shouldn't be a surprise that Shults admires the freshman's approach. It is, after all, an approach Chamberlain borrowed in large part from her. Before they teamed up in Norman, Okla., the two played together on the Worth Firecrackers, one of California's top travel ball teams. Chamberlain was already a special player by that point, but watching her older teammate swing for the fences, she found the final piece of the puzzle.
"Just seeing the way she hit, I was like, 'I've got to hit like her.' She takes hacks; she takes scary hacks," Chamberlain said. "Just to see the reaction from the other teams when she swings, that's what I respond to."
And facing the Sooners just got twice as scary for opposing pitchers.
Along for the ride
AUBURN, Ala. -- Not long after Auburn run-ruled Oklahoma State on Friday behind home runs from Caitlin Jordan and Lauren Guzman, Jordan could be found giving the diminutive Guzman a piggyback ride through the press box.
It isn't easy to know in which role Jordan will give the Tigers a bigger lift this season.
A junior transfer from Georgia Tech, where she was an all-conference selection and hit .387 last season, Jordan is a big addition for a lineup that has piled up 87 runs in an 8-0 start, including the aforementioned win against Oklahoma State, a World Series participant last season, and Georgia Tech, which upset Oklahoma before losing to the Tigers.
But Jordan's addition may help in ways other than slugging percentage.
"Caitlin Jordan brings energy," Auburn coach Tina Deese said. "She brings, what can I say, a light focus -- a fun focus to the ball club. Seriously. I've never had a kid that can look me eye-to-eye, have fun with the game, but [be] really, really focused. All the kids love her. All the kids have just really taken to her. I really think by the end of it, she's going to be the one to rally this team."
Games to watch this weekend
With more than 30 teams -- 13 of them ranked -- descending on the desert near Palm Springs, Calif., the Cathedral City Classic is the tournament before the tournament in college softball.
Thursday, Feb. 23
Florida vs. Washington

The Gators face two ranked teams in succession Thursday, with this game immediately following their matchup against Texas A&M. It's an opportunity for coach Tim Walton's team to show off its pitching depth. Hannah Rogers has yet to allow an earned run, while freshman Lauren Haeger, in addition to leading the team in RBIs at the plate, is 3-0 with 26 strikeouts in 21 innings in the circle.
Arizona vs. Fresno State

Any time you get two former national champions on the field, it's worth paying attention. Arizona also faces Georgia on Thursday, so it will be interesting to see which game ace Kenzie Fowler starts. Fresh off a no-hitter against Cal State Fullerton last weekend, Fresno State ace Mackenzie Oakes seems the likely choice for the Bulldogs, who play Iowa State earlier in the day.
Friday, Feb. 24
Florida vs. Texas

After opening its stay against San Diego State and Cal State Northridge on Thursday, Texas gets an SEC test for the second week in a row after beating Tennessee in Austin last week. The Longhorns play single games Friday, Saturday and Sunday, an oddity in this event, so it will be interesting to see how they utilize ace Blaire Luna, who struck out 13 in a nine-inning win against the Lady Vols.
California vs. Fordham

It's the only game of the day for Fordham, so there should be little doubt that ace Jen Mineau, a second-team ESPN.com All-American, will get the ball against the nation's No. 1 team. Mineau's 3.43 ERA in the early going is an eyebrow-raiser, but she does have 28 strikeouts against three walks in 21 innings.
Stanford vs. Oklahoma

For all the great pitching matchups on tap in Cathedral City, Stanford shortstop Ashley Hansen battling Oklahoma catcher Jessica Shults is as strong a selling point as anything that takes place in the circle. Assuming Oklahoma starts ace Keilani Ricketts, it's also a chance for the Cardinal to prove they have the offense to beat a championship-caliber pitcher.
Saturday, Feb. 25
Nebraska vs. Missouri

Retro uniforms should be optional when these former Big 12 rivals reunite (the Cornhuskers also face Texas on Sunday). The Tigers, coming off a surprising loss last week against Eastern Kentucky, face Nebraska and Washington back-to-back, so it's entirely possible Chelsea Thomas won't start this one and instead will be saved for the Huskies.
Sunday, Feb. 26
Missouri vs. UCLA

Take your pick of Big 12 showdowns for the Bruins, who also face Texas on Saturday afternoon. If Thomas does get the start here for Missouri it will be a flashback to the 2009 super regional that saw her win the opener against the Bruins in Los Angeles, setting the Tigers on a path to the World Series.
New Mexico State vs. Oregon

Why go with Texas A&M when we haven't even really mentioned the Aggies? Because one of the under-the-radar stories of the weekend involves New Mexico State's Tiare Jennings. She piled up 18 RBIs last weekend and has 25 RBIs and a 1.273 slugging percentage through 11 games. But all of that work came at home in Las Cruces, N.M. Can Jennings keep it up against good pitching at sea level?
Alabama's Cassie Reilly-Boccia
Player of the year watch
Brittany Schutte, Florida, Jr.


Stock up: The competition will get more difficult this weekend in her native California, but in three games against Michigan State and one game against Jacksonville last week, Schutte hit .900 (9-10) with six RBIs and four walks, two home runs among the damage. She's hitting .560 with 12 RBIs through nine games in the cleanup spot.
Elizabeth Caporuscio, Arizona State, Fr.


Stock up: What, you're going to say a freshman at Arizona State can't become a factor in the awards race? Sure, Caporuscio is a long shot to trump even teammates Dallas Escobedo, Katelyn Boyd and Annie Lockwood when it comes to individual hardware, but she's putting her best foot forward. Through 12 games, she leads the Sun Devils with four home runs and 15 RBIs, is batting .452 overall and has yet to strike out in 38 plate appearances.
Christi Orgeron, La.-Lafayette, Sr.


Stock up: Make it two appearances in a row in this space for Orgeron. Louisiana-Lafayette completed only four of its scheduled six games over the weekend because of weather, but that was enough time for Orgeron to drive in 15 more runs, including a pair of grand slams. With 27 RBIs through seven games, she's on pace for 200 RBIs in the regular season.
By the numbers
5: Iowa set five school offensive records Saturday in a 26-5 win against Iowa State: runs scored; hits (29); RBIs (23); total bases (41) and team batting average (.659). Four Hawkeyes recorded four or more hits, including senior Katie Keim, who set an individual school record for runs scored (five) on a 4-for-6, 2-HR performance.
7: Delaney Willard, a senior right fielder at BYU, has hit a home run every day the Cougars have played in 2012, giving her seven on the season. Willard's not just hitting for power, as she has a .536 batting average (15-for-28) to go along with her 1.429 slugging percentage.
3: The Auburn pitching staff led the Tigers to a 3-0 record at the SEC/ACC/Big 12 Challenge. Senior Angel Bunner threw a no-hitter to beat Virginia Tech 1-0, and senior Lauren Schmalz recorded wins against then-No. 18 Oklahoma State and No. 17 Georgia Tech to make her 4-0 on the season with a 0.36 ERA.
25: North Carolina sophomore pitcher Lori Spingola struck out 25 batters in 14 innings in wins against Northwestern and UTEP. Spingola has recorded double-digit strikeouts in every game she's started this season.
-- Erin Quinn