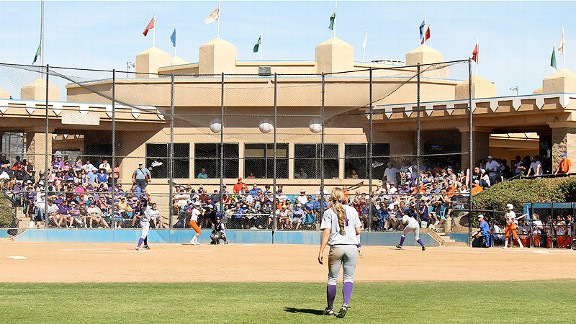 Courtesy of Graham HaysSeveral of the nation's top teams played in the Cathedral City Classic this past weekend.
Cathedral City Classic storylines
CATHEDRAL CITY, Calif. -- Softball's annual version of a typical Thanksgiving dinner spread, an unadulterated celebration of excess, descended on the desert near Palm Springs over the weekend. In the span of a little more than 80 hours, more than 80 college softball games (not to mention three exhibition games involving National Pro Fastpitch's USSSA Pride and its litany of recent college superstars) played out across five fields.
You'll have to provide your own soundtrack of cleats clicking and bat bags rolling on cement, but here are a few of the biggest storylines from the tournament:
Washington makes a statement: When Huskies coach Heather Tarr told Oregon State's Kirk Walker to schedule the Huskies against anyone in Cathedral City (the tournament is hosted by Walker's program, and coaches often request a level of difficulty in the scheduling, in much the same way you might request a level of heat in a Thai restaurant), she didn't expect such a high-wire act like five games against ranked teams in four days. But by beating Florida, Georgia, Nebraska and Texas A&M, results that more than offset joining a long list of teams befuddled by Missouri ace Chelsea Thomas, Tarr's team turned in the tournament's most impressive showing.
With former ace Danielle Lawrie among those looking on from the stands, the Huskies got three strong starts from Kaitlin Inglesby. The sophomore allowed just five earned runs and struck out 16 in 21 innings against Florida, Texas A&M and Nebraska. Just as important, given the heavy workload Inglesby shouldered last season, Washington got strong starts from Bryana Walker in the loss against Missouri and freshman Kasey Stanchek in the win against Georgia.
Teams don't win championships in Cathedral City, but it's not a bad place in which to test one's Oklahoma City credentials. Washington got that chance five times over and left little doubt as to the answer.
"In the end, we've got to be able to play against these teams in these types of tournaments, or we're not going to doing anything in the Pac-12 or beyond," Tarr said midway through the grind. "It's a good chance for us."
Georgia mea culpa: Anyone who thought Georgia was in trouble this season -- and start the list of "anyone" with me -- needs to reconsider. The Bulldogs came to Cathedral City an untested 7-1 team, and left as arguably the talk of the weekend after wins against Arizona, UCLA, Oklahoma and Cal State Fullerton. Only Washington's three-run rally in the seventh inning of its 7-5 win against Georgia kept the Bulldogs from sweeping the weekend.
Tess Sito, a transfer who was the two-time Horizon League player of the year at Cleveland State, continued to shine in her new uniform, hitting .421 (8-for-19) with three home runs and nine RBIs and getting the win in the circle against Arizona. Kristyn Sanberg added three home runs and seven RBIs, and Ashley Razey provided the the big hit in the weekend finale, a home run off Keilani Ricketts to provide the final margin in Georgia's 3-2 win against Oklahoma. It's a different ensemble, but the end result looks familiar.
UCLA struggles: The Bruins arrived in Cathedral City with a 10-0 record and left with four losses in five starts. They weren't as perfect as the former purported, and they aren't as flawed as the latter suggests. The Bruins scored at least three runs in each game and 22 runs on the weekend. They actually had fewer hits (6) in their lone victory, a 6-3 win against Syracuse on Sunday, than in losses against Georgia, Fresno State, Texas and Missouri. Freshman Stephany LaRosa was particularly productive at the plate, batting .444 (8-for-18) with five RBIs from the middle of the order. More slugger than table setter, LaRosa nonetheless had three triples on the weekend, matching the team's 2011 total.
What the Bruins didn't have in the tournament was a dominant ace in the circle or a defense capable of cutting pitchers Jessica Hall and Ally Carda any slack. The Bruins already have allowed 15 unearned runs this season. By comparison, California and Washington, the early Pac-12 pacesetters, have allowed just three unearned runs between them.
New Mexico builds buzz: There are two worlds in Cathedral City, one centered on the three showcase fields made up to resemble Fenway Park, Wrigley Field and Yankee Stadium, and one on the so-called "minor league" fields a short walk away. Georgia and Washington were the talk of the former, but word of New Mexico's feats in the minors grew from an early whisper to a major league buzz during the course of the tournament. Playing four of their five games away from the main fields, the Lobos went 4-1 on the weekend, including a 15-3 rout of Texas A&M on Thursday.
Second-year coach Erica Beach has made short work of turning around a program that was only recently an afterthought. Still starting many of the players recruited by the old regime, the Lobos have gone from an 11-37 team that slugged .399 in 2010 to a team that won 19 games and slugged .475 last season to a team already 13-2 this season and slugging .646. It's a work in progress -- the Lobos walk a lot of people and commit too many errors. But with players such as Stefanie Carramusa and Jessica Garcia, who combined for three home runs, five extra-base hits and 12 RBIs in the win against Texas A&M, that progress is both impressive and highly entertaining wherever it's on display.
Longhorns focus on the finish
It's a fact of life that after a series of disappointingly early postseason exits, Texas will be judged solely on how it finishes the season. Which isn't to say the Longhorns can't get in some practice at closing.
A week ago, playing Tennessee in its first game of the season against a ranked team, Texas trailed by a run with a runner on base in the bottom of the ninth inning when outfielder Brejae Washington launched a ball into right-center and made a mad dash around the bases for a game-winning, inside-the-park home run.
Waiting on deck at the time, reprising the role Willie Mays played on Bobby Thomson's famous home run, Texas senior Lexy Bennett had the best vantage point to watch her team win a game it might well have lost last season.
"That was probably the craziest moment I've ever experienced in softball," Bennett said. "I was walking slowly up to the plate, and then all of a sudden [Washington] is not stopping. It was the craziest thing. We got to see the play right there; we were right in front of the plate. It was the most amazing play I think I've ever seen."
Fast forward to Cathedral City, and the Longhorns were at it again. After opening their stay with a win against Cal State Northridge, the Longhorns trailed San Diego State 1-0 in the bottom of the seventh in their second game of the day. After Taylor Thom doubled and Mandy Ogle walked, No. 9 hitter Karina Scott delivered a one-out walk-off double that once again left Texas players celebrating at home plate after a 2-1 win.
The Longhorns have talked a lot this season about seeing things through to the end. Seeing them act on those words makes it easy to again be seduced by how much talent this team has at its disposal.
"We try to focus on that kind of stuff at practice, but you can't really get that feel until you get in a game like this," Bennett said. "One of our main goals this year has been finishing, and I think this is a great example of us finishing, fighting and competing to the end."
It will help if they have Bennett to the end. Out with an injury during the team's late-season slide last year, she provided what proved to be the finishing touch in Saturday's 5-4 win against UCLA in front of one of the biggest (and most partisan) crowds of the weekend. With her team trailing 3-2 in the fifth inning, Bennett's two-run home run gave the Longhorns a lead they never relinquished.
As finishing ability goes, it's a good start.
Canion's loss a massive blow to Baylor
From the games in Cathedral City to the NFCA Leadoff Classic in Florida, the college softball season seemed to hit full stride during an entertaining third weekend of play. But all the good vibes and positive energy came to a crashing halt Sunday with news that Baylor's Whitney Canion tore her ACL running out a ball in a game against North Texas.
What Robert Griffin III and Brittney Griner are to Baylor football and women's basketball, respectively, Canion is to the softball team. This is that big a loss. It's also the second time in three seasons that Baylor shut down its star because of injury, not even counting her freshman season, when she led her team to a super regional before she was forced to sit out the final game because of an ailing arm. Baylor isn't ruling out a return this season, stating in a release that Canion will attempt to rehabilitate the knee, but this injury likely puts in jeopardy both her college season and a spot on Team USA for this summer's world championship (she was a key part of the team that won Pan-Am gold last fall).
Speaking before the season about his pitching depth, Baylor coach Glen Moore sounded pleased with the progress returnees Courtney Repka and Liz Paul made behind Canion, who started 40 of the team's 62 games last season. And to this point in 2012, Repka and Paul are 6-1 with a 1.26 ERA in 50 innings. But the coach also offered an inescapable truth.
"Do we have another Whitney Canion who can match up with her? No, absolutely not," Moore said at the time.
Games to watch this weekend
Friday and Saturday, March 2-3
Oklahoma vs. LSU

The Sooners managed just three runs in support of Keilani Ricketts in their three losses (the only games in which they faced ranked teams). LSU's Rachele Fico comes off two shutouts last weekend, with Brittany Mack and Meghan Patterson also capable of making any game a pitching duel.
Friday, March 2
Michigan vs. UCLA

Haylie Wagner had only recently turned 12 years old when Samantha Findlay's home run propelled Michigan past UCLA to a Women's College World Series title in 2005. With a 7-0 record in her freshman season for the Wolverines, perhaps Wagner will get to start against her home-state team in this rematch.
Fresno State at San Diego State

Fresno State's Michelle Moses was fantastic in Cathedral City, no-hitting Iowa State with 17 strikeouts in the circle and going the distance in a 6-3 win against UCLA to close the weekend. The Aztecs are 9-8 after a 2-4 weekend, but they already own four one-run losses against ranked teams.
Saturday, March 3
Baylor vs. UCLA (ESPN3, 10 a.m. ET)

As of Tuesday, some schedules still showed Baylor facing North Carolina in this slot on ESPN3, but Baylor and UCLA both believe they're squaring off Saturday morning, the first of multiple games on ESPN3 from the tournament in Orlando, Fla.
Florida State at Hawaii

Both teams play Radford and UC Santa Barbara beforehand in the Bank of Hawaii Invitational, but Saturday's matchup could be a battle of unbeatens. Hawaii's Stephanie Ricketts is 7-0 with a 0.64 ERA and 51 strikeouts in 48 innings, including a pair of wins against DePaul, while Florida State's Monica Perry is 6-0 with 56 strikeouts in 40.1 innings.
Alabama vs. Massachusetts

Alabama has already faced some good mid-major pitching this season, including North Dakota State's Whitney Johnson, Memphis' Carly Hummel and Lipscomb's Whitney Kiihnl, but UMass ace Sara Plourde is as good a power pitcher as it will face all season, in or out of conference.
Tennessee vs. Louisville

It isn't guaranteed, of course, but a matchup between Tennessee's Ellen Renfroe and Louisville's Tori Collins (65 strikeouts in 41.2 innings) would be well worth watching. Whoever starts for the Lady Vols, it's easily the biggest test the unbeaten Cardinals have faced.
Cal vs. Northwestern

Northwestern pitchers have walked 85 batters in 87.2 innings, so the teams might as well save everyone some time and put Cal's Val Arioto (16 walks) on first base when they exchange lineup cards. But that weakness aside, the Wildcats have enough power in their lineup to make their resiliency dangerous.
Player of the year watch
Ashley Brignac, P, La.-Lafayette


Stock up: ULL's Christi Orgeron cedes her time in this space to a teammate. Brignac, a familiar name in her own right during a career marked by brilliance and injuries, was sensational in the Leadoff Classic. She earned wins in complete games against Mississippi State and Boston University, added a win in relief against Winthrop, and pitched two innings of shutout relief for a save in a 10-7 win against Michigan. Overall, she struck out 20 and allowed three earned runs in 20 innings.
Teagan Gerhart, P, Stanford


Stock up: In the long run, pitching every game might not be the best thing for Gerhart's stock, but in the short run, she made the most of an extended showcase in Cathedral City. Gerhart started and won all five games Stanford played, beating Long Island, Oklahoma, Long Beach State, New Mexico State and San Diego State. The three-hit shutout against Keilani Ricketts against the Sooners, her second start of a warm day in the desert, was a true gem.
Sara Plourde, P, UMass


Stock up: There were some special pitching performances in Cathedral City, but one of the best of the weekend came on the other side of the country in the NFCA Leadoff Classic in Florida. Pitching her second game of the day, Plourde allowed just two hits and struck out 16 in a 1-0 win against Michigan. The senior's overall numbers are still modest for a mid-major award hopeful (4-4, 2.17 ERA), but 83 strikeouts in 51.2 innings will keep her in the debate.
Washington's Kimi Pohlman
Fresh faces at familiar places
One theme repeated over and over in Cathedral City was that of freshmen already playing major roles for contending teams, from Florida's Sami Fagan, Lauren Haeger, Katie Medina and Jess Damico to Washington's infield trio of Kimberlee Souza, Courtney Gano and Kylee Lahners, and Georgia's starting quartet of Gracie Goulder, Niaja Griffin, Anna Swafford and Paige Wilson. The problem is, the team everyone is chasing has its own fearless newcomers.
A Cal team that returned intact from a trip to the World Series and added a healthy Valerie Arioto back to the mix now has three freshmen routinely among the top six hitters in its lineup: Cheyenne Cordes, Danielle Henderson and Breana Kostreba.
"To have three players come in in one year and start and be impact players, that doesn't happen every year," coach Diane Ninemire said. "You might be lucky if you get one or two players that come in with your recruiting class that are able to break into that bubble and really be key people. But those three have really added a wealth of strength this year, and I think it has really pushed the players who were starters last year, who even played in the World Series and were starters."
The result is a team that is 11-0 with eight shutouts and an 85-12 scoring margin. Henderson and Kostreba trail only Arioto and Jace Williams in RBIs, while Cordes has provided nearly flawless defense at shortstop with Britt Vonk serving as the designated player while working her way back from a shoulder injury.
By the numbers
1.520: Eight of California senior Valerie Arioto's 13 hits in 2012 have been home runs, helping her hit for a 1.520 slugging percentage. She also has walked 16 times against just two strikeouts, and is 5-0 with a 0.22 ERA and 36 strikeouts on the mound.
16: Massachusetts senior pitcher Sara Plourde struck out a season-high 16 batters in a 1-0 win against Michigan on Friday, making it the first time the Wolverines had been shut out since a May 27, 2010, super regional loss to Tennessee. Plourde showed no letup in her next start, striking out 15 in a no-hitter against Georgia Tech.
37: Florida State junior pitcher Monica Perry struck out 37 of the 78 batters she faced in appearances against St. John's, Marshall, UCF and Wisconsin. Perry recorded a 0.98 ERA and a 3-0 record for the weekend.
8: Chelsea Thomas, a junior pitcher at Missouri, threw her eighth career no-hitter in a 2-0 win against Washington on Saturday. In wins against top-10 opponents Washington and UCLA, she threw a combined 15 strikeouts.
3: Georgia freshman Paige Wilson hit three home runs in the Cathedral City Classic, including one against Oklahoma All-American Keilani Ricketts, who had not yet given one up in 2012. Wilson hit .438 for the weekend, helping the Bulldogs to wins against Oklahoma, UCLA, Arizona and Cal State Fullerton.
-- Erin Quinn