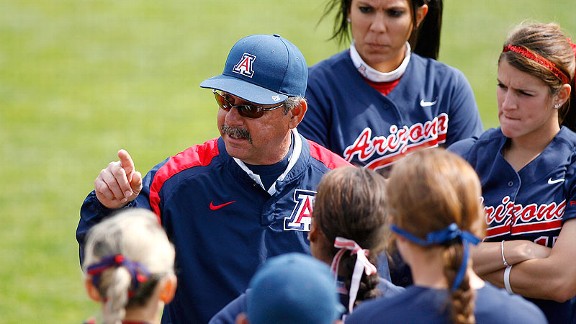 Jesse Beals / Icon SMIMike Candrea's Arizona squad has received an immediate boost by Jessica Spigner's addition.
Spigner provides immediate boost for Arizona
Mike Candrea had a simple message for Jessica Spigner when she transferred to Arizona for her senior season.
"The only thing I expect out of you," Candrea recalled telling the player who would become his cleanup hitter, "is for you to have fun every day and play this game without any thought or worry."
The truth is, the fun started for Spigner the moment she heard from Candrea following her official separation from the University of Tennessee after last season. The very possibility that the person on the other end of a ringing phone might be the coach with nine national championships reduced her to a level of giddiness more often reserved for fans of pop stars.
Suddenly, the stressful process of finding a new home turned into winning the lottery.
"The day after my release went out, I got a phone call from him and I was totally excited about it," Spigner said. "I was hyperventilating; I was like, 'Oh my god, I think this is Coach Candrea calling. What do I do?' I had to answer the phone and I had to pretend to be normal, but I was freaking out on the other end of the line."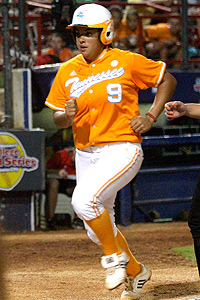 AP Photo/Sue OgrockiJessica Spigner has made an immediate impact on Arizona this season after transferring to Tucson from Tennessee.
As No. 13 Arizona travels to No. 16 Baylor this weekend for a three-game series, a rarity for ranked teams in the world of multiteam tournaments that dominate nonconference play, Spigner looks right at home in the middle of the lineup for Candrea's Wildcats. After picking up five hits and two RBIs last weekend in three wins against the College of Charleston, she is hitting .413 and leads the team in RBIs (20) and walks (17).
The quick start on the field falls in line with the approach she set for herself once she decided to make the move to Tucson, Ariz. Transfers for reasons unrelated to discipline or academics are increasingly par for the course in college softball -- Candrea himself pared his roster to what he felt was a more workable size after last season, prompting players such as Becca Tikey (Arizona State) and Matte Haack (Louisiana-Lafayette) to transfer with eligibility remaining. But it is unusual to see a rising senior change schools in such circumstances, let alone a rising senior who hit 16 home runs and slugged .714 as a junior.
So instead of having four years to get to know a campus -- the best places to study, the affordable places for late-night food, not to mention the people with whom to enjoy it -- she had to step outside her comfort zone to speed up the process. Hitting a softball was the easy part of it.
"I didn't have that kind of time here," Spigner said. "I had to force myself to get out, force myself to trust people, force myself to really put myself out there and make friends because I only have one year here and I have to make it count. I don't have time to be shy. I don't have time to have any inhibitions; I just have to get after it."
Arizona routinely starts four players seeing the field for the first time -- redshirt freshman Chelsea Suitos and true freshmen Chelsea Goodacre, Shelby Pendley and Hallie Wilson. Three losses during the opening weekend of play, plus another in a showcase game against Georgia two weeks ago, left questions as to whether the Wildcats are sufficiently reconstituted to avoid a two-year hiatus from the World Series. But true to her plan, Spigner has long since erased any questions about how valuable she will be.
"I think she's pretty much lived every day like it's her last, which I like," Candrea said. "She embraces every moment that she has. She's a very happy kid. … She's brought some stability because of her maturity into our program."
Spigner said she isn't bitter about her experience at Tennessee and sounds largely convincing when she offers the familiar refrain that everything happens for a reason. While in high school in her native California, she attended a softball camp at Arizona and became mesmerized by Candrea and the trappings of all those national championships. The recruiting process took her in a different direction, but it only made her appreciate her return that much more.
"Life right now, I couldn't have asked for a better team, a better coach, a better experience," Spigner said. "I'm making every moment count, and it's an amazing experience so far."
Q&A with MSU's Jessica Cooley
Mississippi State junior Jessica Cooley earned USA Softball Player of the Week honors after hitting .526 (10-for-19) with five home runs and 17 RBIs as the Bulldogs went 6-0. I caught up with Jessica in advance of the team's SEC opener against Florida to talk about the big week that was and the first season under new coach Vann Stuedeman.
Graham Hays: Have you ever had a weekend like this one, even in high school or travel ball?
Jessica Cooley: Probably not to this extent. This has definitely been a very exciting and great weekend, not just for me but for our whole team. My teammates, what we see on the field is not necessarily what goes into this game. All my success from this weekend, that's from my teammates. We have such a large team, we have 25 girls, and we have so many people serving different roles. The success that we had this weekend was from every single person serving their role.
[+] Enlarge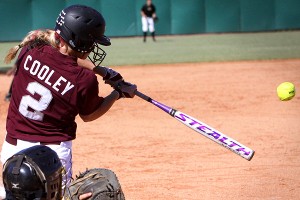 Mississippi State AthleticsJessica Cooley and Mississippi State are 14-5 heading into this weekend's series with Florida.
GH: This team is 14-5 entering its first SEC games against Florida on Wednesday. You were 24-32 last season. How has the culture of the program changed with Vann Stuedeman?
JC: She's awesome. She has an amazing energy about her, and our energy and our enthusiasm has definitely come from her. And this team, our vision, our determination and just our hunger to go out there and play has just gone over the top this year. That comes from our coaches. [Assistant coaches Alan Reach and Beth Mullins] and Vann, they've done an awesome job of that. Every day you're excited to come to practice and you're eager and hungry to get back after it.
GH: The team overall is hitting for more power so far this season. Has the hitting philosophy changed?
JC: We're just working on sticking with our plan. Coming up with a plan when we get into that batter's box and sticking with the pitch and working on just following through with that. Working on our mental game -- it's come a long way, and that definitely comes a lot from Coach Mullins and Coach Reach. They've done an awesome job getting to know our swings and wanting us to do good, being excited for every single at-bat.
GH: You all are also getting a big season out of Brittany Bell, who missed most of last season with a knee injury. For those of us who don't get to see the team often, how would you sum up her game?
JC: Brittany's awesome. She brings a very, very determined and focused look to this team. She's very hungry to play, and everybody just feeds off her energy.
GH: You are majoring in marketing. What's your best sales pitch as to why this team is for real, why people should make a point to watch the Bulldogs?
JC: I would say just our complete energy and our love for this game. This team is so excited to get out and play. We want to show our community; we want to be our community's team. We want everybody to come out and see Mississippi State softball. Our coaches, our team, everybody who is a part of this Mississippi State staff, we're a family. We just love being on the field, and that's what we want people to see.
GH: You have eight home runs this season after hitting two your first two seasons. Have you mastered the pace of the home run trot at this point? Have you found that ideal speed?
JC: Oh no, it's different every single time.
Games to watch this weekend
Friday-Sunday, March 9-11
Alabama at Kentucky
The Crimson Tide still have a midweek road trip to Oregon looming, giving All-American outfielder and Oregon native Kayla Braud a homecoming, but conference play gets under way with a tricky road trip closer to home. The Wildcats have started slowly, just 10-8 after last season's run to a super regional, but they have four viable pitchers to throw at SEC teams during a three-game weekend series.
Friday-Sunday, March 9-11
Arizona at Baylor
What should have been arguably the premier interconference series of the season undeniably lost some luster when Baylor lost ace Whitney Canion to injury at the end of February. But other than a 10-6 loss against a UCLA team that can generate runs against almost any pitcher, Baylor held its own in the circle despite losing three of five games in the Citrus Classic. In the four non-UCLA games, Liz Paul and Courtney Repka allowed just two earned runs.
Friday-Sunday, March 9-11
Florida at Tennessee
Strange as it sounds, Florida will have five conference games under its belt in softball before we know which basketball teams made the cut for March Madness. After opening SEC play with a doubleheader at Mississippi State on Wednesday, the Gators travel to Knoxville, Tenn., for a three-game series.
Saturday, March 10
Michigan at Louisville
Assuming the Cardinals get by Saint Louis in their first game of the weekend on their home turf, they will put an unbeaten record on the line against the Wolverines. One key to the quick start is that Louisville seems to have found a cleanup hitter. Sophomore Taner Fowler hit two more home runs last weekend, giving her five this season, one more than she hit in 52 starts a season ago. She's hitting .440 with 16 RBIs through 15 games.
Sunday, March 11
Cal at Fresno State
Cal's final game in the Bayer CropScience Classic will be the first true road game of the season for the nation's top-ranked team. And while it's just one of 15 games in 10 days for Fresno State in a brutal bit of scheduling, it's sure to get the home team's full attention, meaning you can expect to see ace Michelle Moses (1.30 ERA, 101 strikeouts in 81 innings). Cal's Jolene Henderson pitched a three-hitter when the teams met last season.
Tuesday, March 13
Texas at Hawaii
Spring break finds the Longhorns taking a breather from Big 12 play with five games in Hawaii. It will also mark UT's first true road game after 15 games at home and five at a neutral site. The unbeaten Rainbow Wahine work with some impressive continuity -- the same nine players appeared in coach Bob Coolen's batting order in each of the team's first 17 games, and all nine players have at least one home run.
Player of the year watch
Katelyn Boyd, Arizona State


Stock up: The Sun Devils gave Boyd a slightly more dramatic stage than they might have liked for a tournament that included games against North Dakota State, Boise State, Wichita State, Howard and Creighton, but her walk-off, extra-inning home run against the Bluejays capped a 6-0 week for the defending champs. Boyd reached base 16 times in 22 plate appearances during the games, hitting three home runs and driving in eight runs.
Teagan Gerhart, Stanford


Stock up: The numbers are getting silly for Gerhart, who enters the second weekend of March with an 18-1 record. She started and won all five games for the Cardinal last weekend, beating East Carolina, Michigan State, Florida International, Northwestern and Indiana. The workload is unusual in this day and age, but Gerhart didn't throw more than 115 pitches in any of the five starts, twice throwing fewer than 60 in run-rule wins, and has completed just eight of 20 starts, with highly touted freshman Nyree White serving as essentially a dedicated reliever.
Keilani Ricketts, Oklahoma


Stock up: Mickey Mantle is one of Oklahoma's favorite sons, but Ricketts is putting together some Ruthian performances. In Friday's win against LSU, she pitched a one-hit shutout with 13 strikeouts, and at the plate she hit her third home run of the season. She followed that with two more double-digit strikeout performances in another win against LSU and one against Iowa, not to mention six strikeouts in 2.1 innings of shutout relief in a fourth game.
Stephanie Ricketts, Hawaii


Stock up: Who said this is only a one-Ricketts race? Hawaii's ace, sister of the Oklahoma All-American, is dominating hitters through the season's first month. Entering play on March 6, she was 10-0 with 10 complete games a 0.88 ERA and 78 strikeouts in 64 innings for the Rainbow Wahine. Those numbers include a pair of wins against Florida State last weekend in which she gave up a total of just three hits. The only thing that hurts her cause is she's only one half of a potent partnership for Hawaii. Kaia Parnaby is 7-0 with seven complete games.
By the numbers
119: Kansas senior Liz Kocon became the school's career leader in RBIs (119) by hitting a three-run home run against Wisconsin on Saturday. She's hitting .350 on the season with 12 walks against just three strikeouts.
5: Mississippi State junior Jessica Cooley hit five home runs in six games over the weekend, including her first career grand slam. Prior to the weekend, she had hit five career home runs in 108 games.
94: NC State freshman pitcher Emily Weiman has 94 strikeouts in 81.2 innings.
25: UTEP set a school record for most runs scored in a game in a 25-7 win against Brown on Saturday. In the second inning, the Miners went through their lineup twice and scored 15 runs, the second most runs in an inning in school history.
3: Three Stanford players who have started all 21 of the Cardinal's games, junior Jenna Rich and freshmen Leah White and Hanna Winter, are hitting above .400.
-- Erin Quinn