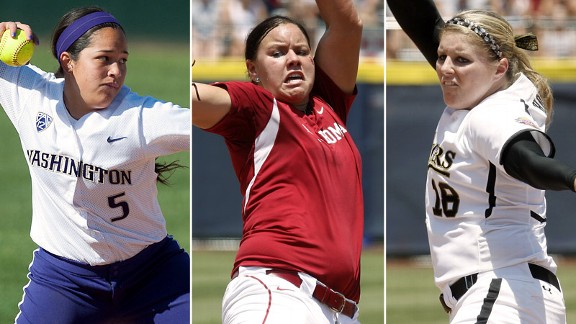 AP PhotoGraham Hays empties his notebook, looking back at the week that was and the week to come.
UVa, Bama and UF make statements in league play
Let's look at some notes from the week that was in softball, ones that are hopefully devoid of any mentions of bubbles, seeds or bracketology.
•Staking a claim in ACC: Granted, there was limited competition when it came to the most impressive performance in a conference series last week, but Virginia's three-game sweep on the road against Georgia Tech might have taken top honors if it was competing for nationwide distinction, let alone within the league. The Cavaliers missed a previous opportunity to make a statement -- dropping games against Syracuse, Michigan and Oregon in the Citrus Classic -- but rolled over the ACC preseason favorites.
With games against Fresno State, Oklahoma and Michigan, among others, in this week's Judi Garman Classic in California and a three-game series against Florida State the following week, it won't take long to get a sense of just how serious a contender Virginia is this season. The Cavaliers also got a pinch-hit, two-run home run from Kennedy Byxbee in the finale against Georgia Tech, giving the senior her first career home run and one of the most oddly impressive lines in the country. In five plate appearances, she has two hits, two walks, a hit-by-pitch and five RBIs.
• SEC opening act: Georgia and Tennessee will have every opportunity to book hotels in Oklahoma City for the Women's College World Series, but Alabama and Florida did what favorites do during the first week of conference play.
After sweeping a midweek doubleheader on the road against a vastly improved Mississippi State team, Florida went to Knoxville and took two of three from Tennessee. The teams traded 1-0 wins at either end of the series, with Lady Vols ace Ellen Renfroe striking out 15 in a three-hitter in the opener and Florida freshmen Alyssa Bache and Lauren Haeger teaming up to blank the Lady Vols in the finale. The Gators' struggle to get their bats going during much of the week can be partly attributed to the pitching they faced. It's also an indication that the loss of catcher Brittany Schutte, who's out indefinitely after suffering a broken jaw earlier this month, is about as significant a loss as any team has faced this side of Baylor losing Whitney Canion.
Two names to track: Kelsey Horton and Bailey Castro. If Horton continues to hit like she has to this point and Castro is healthy enough to get regular at-bats after injuries slowed her debut, the middle of the order should hold together.
• Alabama swept its three-game series at Kentucky and then traveled across the country to beat Oregon in Eugene on Tuesday night. I'll mention Jackie Traina here, but she could just as easily take up real estate in the player of the year watch to the right. Her nine-inning complete game in the opener against the Wildcats and 10-strikeout, three-hitter against the Ducks are the signs you want to see in evaluating her maturation into a championship-caliber ace.
• Aces coming in out of the cold: It seems unlikely this will be anything but a long spring as Utah spends its first season as a member of the Pac-12, but as league play looms, it's also true that no pitcher in the conference has more strikeouts than Utah's Generra Nielson. And it's not even close. The senior has thrown the second-most innings of any Pac-12 pitcher, trailing only Teagan Gerhart (it's rumored she gets her mail delivered to the circle), but Nielson is dominating hitters with 171 strikeouts and just 23 walks in her 111.2 innings. The former JC All-American struck out 7.7 batters per seven innings last season, her first with the Utes after two seasons at the College of Southern Idaho. This season it's 10.7 batters per seven innings.
Meanwhile, Minnesota is 17-6 under second-year coach Jessica Allister, who it seems deserves some credit for keeping on pitching coach Piper Ritter on the staff when she took over. Or maybe the credit all goes to sophomore Sara Moulton, but whatever the case, the reigning Big Ten Freshman of the Year is avoiding any jinx in her second season. Moulton no-hit Florida Atlantic last week, her second no-hitter of the season, and has 158 strikeouts and 27 walks in 109 innings. The Gophers didn't give her the ball when they played Arizona State, but she did strike out 10 in a 5-2 loss against Georgia and 10 more in a four-hit win against Notre Dame.
Q&A with Boise State's Erin Thorpe
Boise State isn't going to earn many national headlines in this sport. The Broncos are 15-10 through the first month of this season; that puts them seven games above .500 overall over the past four seasons. That's significant because those are the only four seasons in Boise State softball history. The Broncos open their home schedule this weekend with a tournament that includes Idaho State, Minnesota, Portland State and Utah State. I caught up with Broncos coach Erin Thorpe at the Cathedral City Classic in late February to talk about building a program from scratch.

Graham Hays: When does a new program stop being a new program?
Erin Thorpe: We're just trying to improve upon every year as it comes. As long as we're still improving, I still see us as new and still taking steps. Until we're satisfied with what we do, we're still going to feel like we're a new program and we still have work to do. So we're hoping that last year of a new program is going to be this year.
GH: That first day on the job when you're first hired, how daunting is that blank slate?
ET: It's actually great. I'm a business major, did all that kind of stuff, so this is like a business for me. This is starting a new business, starting over from scratch. It was a great challenge. I came in looking forward to it, got all my ducks in a row -- I'm a very task-oriented type of person.
GH: What was that first sales pitch to kids to come to a program that didn't actually exist?
ET: Create a vision in my mind and absolutely sell them on it. Sell them on me as a coach, sell them on my competitiveness, sell them on just how competitive we're going to be as a staff and bringing the right type of kids in to start this program. It goes with the Boise State mentality, too, just blue collar, ready to work.
GH: Aubrey Zell (9-6, 1.82 ERA this season) started the first game in program history, and she's still here as a senior. How did you come by her and what has she meant to the program?
ET: We got Aubrey really late. We got her in the fall of her senior year. We were really impressed with her. She's a thumber, and when you're a thumber, you need to learn how to pitch and learn how to use what you have and mix it up, mix speeds and mix locations. … She's continued to learn every single year.
GH: Are you targeting kids like that, who maybe don't have the whole athletic profile, the five-tool package, but have skills that you can use and you can build on?
ET: We're starting to recruit more of the mainstream, higher-level athletes that other programs are going after, but we were absolutely looking to fill our roster with those types of kids that want to come in, that want to really work hard, that want to prove something. I think we've been able to grow as quickly as we have because a majority of girls on our roster felt they were left behind and had something to prove. … We're getting more of those kids that other people are recruiting. Now we have to train them how to sit on the bench and how to be a good teammate. We're doing our best with that transition, but we're definitely in that transitional period.
Games to watch this weekend
Thursday, March 15
California vs. Texas
Considering there aren't any scheduled doubleheaders in conference play in the Pac-12, Thursday may just be the most challenging day of the regular season for the nation's No. 1 team. The Bears face Texas and host Hawaii in back-to-back games in the Hawaii Spring Fling in Honolulu. Then again, as the only team in the country that has two proven aces the caliber of Jolene Henderson and Valerie Arioto, Cal is built to play two.
Friday-Sunday, March 16-18
Kansas at Missouri
This didn't look like the most enticing Big 12 opener when the schedule came out, but a 20-2 start from Kansas spices up the three-game series. To be fair, the Jayhawks are the early leaders for the team with the most wins against opponents that won't finish in the top 200 of the RPI, but 20-2 is 20-2 for now. Missouri ace Chelsea Thomas is always one to watch, but this is a big stage for Kansas freshman Alicia Pille (9-2, 1.74 ERA, 96 strikeouts in 64.1 innings).
Friday-Sunday, March 16-18
Auburn at Georgia
There aren't a lot of marquee matchups in the SEC this weekend, but this should be a good one as we sort out the top contenders to give Alabama and Florida a run for their money at the top of the table. After a mixed bag at the Citrus Classic two weekends ago, run-ruling UCLA but losing to Michigan, North Carolina and Syracuse, Auburn could use a series win on the road to establish its credentials.
Friday, March 16
Louisiana-Lafayette vs. Arizona State
Dust off the suitcases because Arizona State is leaving home. The defending national champions play away from home for the first time this season in the Judi Garman Classic in Fullerton, Calif., and the Sun Devils will get a good test on the first day of play. Louisiana-Lafayette is not a program without history, so a program-record 23-0 start is something to celebrate. Pitchers Jordan Wallace and Ashley Brignac have essentially equal numbers this season, so it will be interesting if Brignac's big-game experience dictates that she gets the ball (it's the only game of the day for the Ragin' Cajuns).
Friday, March 16
Michigan vs. Oklahoma
The Wolverines are coming off a tough stay in Louisville, losing to the host Cardinals and Illinois State, their lone win coming in a 6-3 decision against Saint Louis. Pitching will be something to watch all season for Michigan, but right now it could benefit from its hitters watching a few more pitches. Typically a balanced, disciplined offense, Michigan enters the weekend with a .336 on-base percentage.
Saturday, March 17
Arizona vs. Louisiana-Lafayette
The other Arizona school gets a shot at Louisiana-Lafayette out at the Judi Garman Classic. The Wildcats were rewarded for their willingness to leave familiar territory with three rainouts at Baylor, but at least that meant a week off for Kenzie Fowler. In its past 10 games, Arizona has allowed a total of two runs.
Sunday, March 18
Washington vs. Oklahoma
Washington has a couple of intriguing games against Big East foes on Saturday in the Judi Garman Classic, playing both Notre Dame and DePaul, but it's the finale against Oklahoma that really catches the eye, especially if the pitching matchups work out to allow Kaitlin Inglesby to go against those potent Sooners sluggers.
Player of the year watch
Katelyn Boyd, Arizona State


Stock up: Throw in all the caveats you want about a home-loaded schedule or the quality of the opposition (or lack thereof), but Boyd is staking an early claim to the award she nearly won last season. She started her week with two home runs and seven RBIs in a midweek win against Creighton and went on to hit two more home runs in a weekend sweep of Valparaiso, East Carolina, Pacific and New Mexico State. The grind is coming in Pac-12 play, but she has two strikeouts in 27 games, a 1.688 OPS and double-digit home runs (11) and stolen bases (16) already.
Nikki Armagost, Pacific


Stock up: She doesn't get quite as much attention as another two-way threat in the state, Cal All-American Valerie Arioto, but Armagost is putting together a strong season for the lone Big West team with a winning record at the moment. Including a midweek win at San Jose State, Armagost had 10 hits and nine RBIs at the plate in six games for the Tigers last week and earned a complete game win in her lone start in the circle. For the season, she's 5-2 with a 2.05 ERA in the circle and hitting .377 with 1.001 OPS at the plate.
Lauren Chamberlain, Oklahoma


Stock up: As early as the second week of the season, Oklahoma coach Patty Gasso said she no longer considered Chamberlain a freshman. She might have said it the first week; I just didn't get a chance to ask. The emerging star kept emerging with five home runs in six games last week, driving in 14 runs. She leads the Big 12 in home runs and trails only Texas second baseman Lexy Bennett in RBIs and slugging percentage. She also shares space in the top five in OPS in the conference with teammates Jessica Shults and Keilani Ricketts.
Sara Nevins, South Florida


Stock up: Granted, back-to-back no-hitters aren't quite the stuff of legend in softball as they are in baseball -- more than 70 years after the fact, Cincinnati Reds pitcher Johnny Vander Meer is still the only pitcher to throw back-to-back no-hitters in the majors -- but South Florida's Sara Nevins doesn't have a lot of company in doing what she did. Nevins threw a no-hitter Saturday against Central Connecticut and then pitched a perfect game against Toledo a day later. She enters this weekend with a streak of 16.1 consecutive innings without a hit allowed and 33.1 consecutive innings without a run allowed. If she could somehow carry those streaks through to this Sunday's showdown against Florida State, look out.
By the numbers
0: Through 51 at-bats this season, Elon junior Tomeka Watson has yet to strike out. She has started every game for the Phoenix, hitting .392 with seven walks and two home runs.
4: Harvard senior Rachel Brown has allowed just four earned runs in 40.2 innings pitched. She went 5-0 at the Northridge Classic this past weekend, including a 3-2 win against Oregon State.
4: Four of the 10 highest team batting averages in the country are held by Pac-12 teams: Arizona St (.375), California (.375), UCLA (.369) and Stanford (.354).
3: Marshall has three players with 14 or more stolen bases on the season: junior Ashley Gue (16-17), junior Taylor Thompson (14-14) and senior Jessica Hughes (14-15). Marshall leads the country in stolen bases per game at 3.27.
9: All nine Texas players who have started at least 75 percent of the Longhorns' games are hitting .300 or better.
-- Erin Quinn