Cal's Arioto is back and better than ever
In her first at-bat of the season and her first in a college game in a year and a half, Valerie Arioto hit a 3-1 pitch for a home run. Two innings later, in her second stint in the batter's box, the Cal senior let a 3-1 pitch go by for a walk. In her third plate appearance, she hit her second home run of the game.
[+] Enlarge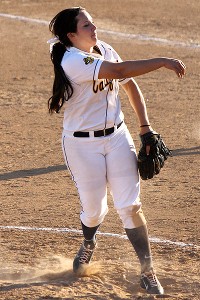 Courtesy of Graham HaysCal's Val Arioto is carrying on the Pac-12's proud tradition of dual-threat players.
Mind you, all of this came against a Tennessee team still ranked in the top 10.
Right then and there, on Feb. 10, pitchers nationwide might as well have waved the white flag of surrender.
At some point this weekend, the college softball season will hit the exact midpoint between opening day and the final day of the Women's College World Series (although there's no truth to the rumor that if you stand on egg on its end at the precise moment of the midpoint, the egg will remain standing). No team has done more to cement its place as a championship favorite than top-ranked California, and the player at the center of it is a carefree, perpetually smiling fifth-year senior putting together one of the most statistically dominant seasons the sport has seen in a long time.
Entering this week's conference series at Utah, Arioto is hitting .434 with 15 home runs, 45 RBIs and a 1.738 OPS, the product of a 1.092 slugging percentage and borderline ridiculous .646 on-base percentage. If ranking second in the nation in on-base percentage and third in slugging percentage for the best team in the land wasn't enough to clinch USA Softball Player of the Year honors, Arioto also happens to be 15-0 with a 1.03 ERA in 15 starts in the pitching circle, one half of a lockdown pitching duo with Jolene Henderson.
The former Pac-10 produced some impressive dual threats in recent seasons, namely Washington's Danielle Lawrie and UCLA's Megan Langenfeld, but Arioto's numbers might be the best of them all.
The Bears were at it again last weekend, sweeping three games from No. 3 Washington, and Arioto was up to her normal business. In the first two games of the series, she registered just two official at-bats while piling up six walks (she also struck out nine in a complete-game win from the circle in the second game). Thanks to a Cal lineup that is much deeper than last season's World Series entrant, pitching around her did not work out for Washington. As such, the Huskies gave Arioto something to hit in the finale and she obliged with her 15th home run of the season and drove in two runs.
After missing all of the 2011 season with a foot injury, Arioto has returned a better hitter than ever.
"She's become more disciplined at the plate and more picky at the type of pitches she's willing to swing at," Cal coach Diane Ninemire said. "She knows her strength in which pitch she hits the best, and she's not willing to give in unless she absolutely has to. She's really a hitter that a pitcher would not like to pitch to very much."
What must be all the more maddening for opponents is that unlike Lawrie and Langenfeld, each a face mask shy of middle linebacker on the intensity scale, Arioto seems to have so much, well, fun when she's making foes miserable. Sure, the grin may recede as she stares in at a batter or locks in on a pitcher, but after a year away, she takes her craft more seriously than she seems to take herself.
"It really hit me hard," Arioto said of sitting out last season. "I didn't know, really, how to react to it. But I think with all the great support that I had, with my teammates, my family, the trainers, the coaching staff, it kind of turned a negative into a positive for me. When I came back, I still had the love for the game and the want to play.
"I think that's really why I'm so happy on the field is I want to play and I love to play."
When Ninemire talks about Arioto becoming a more patient hitter, it's worth noting that the player in question walked 48 times and posted a .444 on-base percentage as a freshman. Maturation is one thing, but vision and quick hands are gifts that can be honed but not created. So far this season, she's walked 47 times and struck out just 11 times (she struck out 51 times as a freshman). With proven hitters like Jace Williams and emerging freshman standouts like Breana Kostreba, Cheyenne Cordes and Danielle Henderson behind her, pitching around Arioto hardly gets pitchers out of trouble.
But she isn't going to do them any favors by expanding the most expertly managed strike zone in the country.
"I think my year sitting out has kind of put a new perspective on hitting for me," Arioto said. "In past years, I'm very energetic and anxious and kind of emotional, so my year off, I kind of realized a lot of great hitters are very patient, very poised. So I've been trying to do that with my hitting, so hopefully it's been paying off."
Those natural gifts and well-honed skills landed her on Team USA last summer, where she emerged as one of the most valuable run-producing hitters for the national team, an experience that also gave her plenty of live at-bats to work her way back into peak form after returning from injury. One of the players she replaced in the middle of the order for Team USA, as the veteran core of the team opted to focus on the domestic professional league, was Jessica Mendoza. And as politically incorrect as it may be for someone from Cal to laud a Stanford grad, it's Mendoza's swing that Arioto wants. And the results suggest she's coming close.
"It looks easy; that's where I'm trying to get with my swing," Arioto said. "It looks simple, it looks easy, effortless."
It's the exact opposite of the complicated, difficult and arduous task of getting her out. And unless people figure out how to keep her from circling the bases, one at a time or all at once, California is headed back to Oklahoma City for a longer stay this season.
Player of the year watch
Evelyn Carrillo, Ohio State


Stock up: The sophomore first baseman has a knack for putting the ball in play -- she entered last weekend with just one walk and four strikeouts in 24 starts -- but a weekend series against the Spartans took that to a new level. Carrillo went 11-for-12 with eight RBIs in the three-game sweep, including a home run and a double.
Lauren Chamberlain, Oklahoma


Stock up: The freshman phenomenon hit a home run and drove in two in the finale of a three-game sweep against Kansas -- and that was the game she took it easy on the Jayhawks. Chamberlain hit two home runs in each of the first two games in the series and finished the series with five home runs and 10 RBIs. She's at 17 home runs and counting on the season, already just three shy of the program single-season record.
Kelly Majam, Hawaii


Stock up: A familiar name from seasons past came up big for the Rainbow Wahine at New Mexico State. Majam had a home run and four RBIs as Hawaii swept three games from the Aggies. Hawaii had played just a single true road game prior to the trip but has just four more home games on its schedule. Majam's .247 batting average won't attract attention, but her .427 on-base percentage and .528 slugging are better measures of her production.
Jamia Reid, California

Stock up: A team doesn't claim a place as the unanimous No. 1 in both major polls without some depth, so we pause from the usual routine of Valerie Arioto and Jolene Henderson trading turns in this space to talk about Reid. Cal's leadoff hitter was the only Bear to get a hit in all three games of a sweep against No. 3 Washington and finished the series with five hits, two runs scored, two stolen bases and two RBIs. She's fourth in the nation in stolen bases per game and one of only two players from power conferences in the top 10.
Kirsten Verdun, DePaul


Stock up: And then there were none. Louisville, the nation's last remaining unbeaten, dropped two of three games to DePaul, thanks largely to Verdun. The sophomore pitched a two-hit shutout to beat the Cardinals in the first game of the series and came back to win the rubber match with a three-hitter. She also provided all of her own run support in the opening 3-0 win with a three-run home run. For the season, Verdun has driven in more runs at the plate (29) than she's been charged with as earned runs in the circle (27).
Games to watch


Arizona at Washington: The Huskies certainly did what a championship contender is supposed to do in pushing top-ranked California for three games in the Bay Area last weekend, but they didn't win any of those contests. That makes a home series against Arizona almost equally compelling. Do they bounce back and separate themselves from the Pac-12 pack? Washington's Kaitlin Inglesby had some ups and downs in the circle (walking eight in one game and allowing 12 hits in another), but she drove in a run in each game and finished with six hits in 10 at-bats.


Florida State at Virginia Tech: The Hokies have put themselves near the top of the ACC standings with pitching, namely Jasmin Harrell's 17-8 record and 1.64 ERA, but Florida State's Monica Perry and Lacey Waldrop have allowed just six earned runs between them in nine conference starts. This series and a home series against Georgia Tech are about the only remaining conference hurdles for the Seminoles.


LSU at Alabama: That things worked out for everyone in last summer's biggest soap opera only marginally decreases the drama as LSU visits Pat Murphy, the coach the Tigers thought they hired. The good news for the Tigers is the coach they got, Beth Torina, is making a strong case for coach of the year. LSU enters 10-1 in SEC play, with Rachele Fico (13-4, 0.69) pitching like the ace she was projected to be out of high school and Brittany Mack (12-4, 1.89 ERA) on fire of late. Watching those two battle Alabama's deep lineup should end up the real story of the series.


Michigan at Ohio State: The two rivals are tied for second in the Big Ten, a game behind Purdue. Playing at home, this could be an opportunity for Ohio State's Mikayla Endicott to raise her profile. The Oregon transfer is 13-7 with a 2.09 ERA (3.50 in Big Ten play) and 127 strikeouts in 125 innings for the Buckeyes.


Missouri at Texas: Aim the spotlight here for the best series of the weekend. The Tigers are squarely in the national title picture at 28-5 overall, but they also already lost a road series in conference at Texas A&M. With another Big 12 road series looming at Oklahoma in two weeks and a three-game series out of conference at Oregon on the schedule for early May, it's never too early to start thinking about how many losses they can afford and still hope to host a super regional. Missouri's Nicole Hudson was 5-for-8 with two doubles and a home run against Blaire Luna last year.


Oregon at Stanford: Life in the Pac-12 can take a team from contender to question mark in a hurry. Stanford is still more of the former than the latter, but a 1-5 record and a 5.89 team ERA after its first two conference series are eyesores. Oregon ace Jessica Moore allowed just two earned runs in 17.2 innings in three appearances against the Cardinal last season, so it won't be easy for the home team to restart an offense struggling as much as the pitching.


Pacific at UC Riverside: The weekend series between UC Santa Barbara and Cal State Fullerton pits the teams tied for first in the Big West (albeit tied at a modest 2-1 in the early going), but this series between the Tigers and Highlanders features the only two teams in the conference with winning records overall. Riverside is 16-6 at home and boasts one of the conference's toughest outs in junior Jessica Vasser (.483 on-base percentage).


UCLA at Arizona State: A 12-game winning streak for the Bruins came to a close in last weekend's series finale against Oregon State, and now the challenge is to avoid a losing streak of any significance in Tempe. Arizona State didn't hit all that well in its first two conference series (.248 average. .403 slugging percentage), but it still scored better than five runs per game against Arizona and Oregon.


USC Upstate at Georgia (Tuesday): The Bulldogs also play a midweek doubleheader against South Carolina next week, but this is the game of note against a team from the Palmetto State. Upstate has piled up some big numbers thus far, most notably 12 home runs and an .892 slugging percentage from freshman Shellie Robinson, but wins against Penn State and Syracuse notwithstanding, this is a step up in class for the Spartans.
By the numbers
4: Quinnipiac hit four home runs in a row, which tied an NCAA record, in the first inning of a 12-7 win against Sacred Heart April 1.
0: No UCLA player who has started at least half of the team's 32 games is hitting below .300.
7: From March 17 to 28, Tulsa recorded 10 or more hits in seven straight games.
13: Arizona has committed just 13 errors, giving the Wildcats the best fielding percentage (.984) in the country.
1: Texas junior pitcher Blaire Luna has given up only one earned run in 55.1 innings at home this season.
-- Erin Quinn