Texas Tech knocking on the door in the Big 12
Texas Tech checked off another chore from the list of accomplishments any program must complete in order to emerge as a legitimate contender.
The Red Raiders beat No. 6 Oklahoma on the road last weekend, and they did it in a game started by Sooners All-American Keilani Ricketts. It was just Texas Tech's seventh win in 40 tries against one of the Big 12's cornerstone programs, and it was Oklahoma's first loss at home this season. Yet it's not the result, but the reaction to the series as a whole -- which the Red Raiders lost 2-1 -- that suggests Texas Tech is trending in the right direction. It comes at an opportune time, with the Big 12 needing to ease the sting of losing Missouri and Texas A&M to the SEC after losing Nebraska to the Big Ten.
"We were disappointed that we didn't win the series," Texas Tech coach Shanon Hays said of 4-1 and 3-1 losses that left his team 31-9 on the season. "We had opportunities to win the other two games that we kind of let slip through our fingers, and our goal was to go in there and win the series. I think that says a little bit about where our program is now. Before we just hoped we could compete with teams like Oklahoma and Texas and Missouri. And now we go in there with different expectations."
It's impressive growth from a program that had eight consecutive losing seasons before Hays arrived in 2010.
It's an impressive showing from a coach who seven years ago was more focused on March Madness than softball.
[+] Enlarge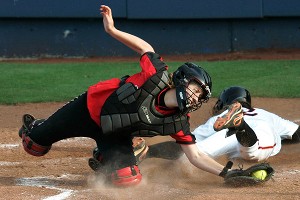 AP PhotoTexas Tech, with catcher Holley Gentsch, has made gains in the Big 12 since the arrival of head coach Shanon Hays.
There are plenty of paths to becoming a Division I softball coach (the number of possible routes likely greater than the quantity of roads leading to Lubbock, Texas), but men's basketball associate head coach at the University of Houston is undeniably the starting point of the road less traveled. That's the title Hays held for the Cougars by the end of the 2005-06 basketball season, the end of a progression that included stints as a men's basketball assistant coach at Texas Tech and head coaching positions in men's basketball at Frank Phillips CC, Abilene Christian University and Midland JC (he never had a losing season in five seasons as a basketball head coach).
Starting the softball program at Lubbock Christian University wasn't the next logical step, but that's the one Hays took. After working for a year to lay the foundation off the field, he went 60-9 in his debut.
"I kind of got burned out on the men's basketball deal, with the recruiting and always being away from home," Hays said. "So it was something I felt was a good family move for me."
That last part was true geographically and athletically. Both Hays and his wife were raised in Lubbock, a longer drive from Houston than Boston is from Washington D.C. And Hays was raised in a family full of bats and gloves. He played baseball at Lubbock Christian and Texas Tech, and his father, Larry, is both one of the winningest baseball coaches in college history across tenures at Lubbock Christian and Texas Tech and a longtime men's fastpitch player.
Like those of Big 12 counterparts and experienced fastpitch hands Ehren Earleywine at Missouri and Rich Wieligman at Oklahoma State (the latter a friend who played for Larry Hays at Lubbock Christian), Hays' softball teams immediately showed improvement at the plate. The Red Raiders slugged nearly 100 points better in his first season than in the season before, then improved on that by nearly 100 more points in his second season. Both seasons ended after at least 38 wins and in NCAA tournament regional finals, first against Hawaii in 2010 and then Arizona in 2011.
Though Texas Tech's team slugging percentage is down slightly from a season ago, the current season's mark comes against a far more formidable schedule than the team played the past two seasons. However, the biggest reason this team feels like it can win a series against the likes of Oklahoma is the other half of the inning. Freshman ace Cara Custer isn't going to receive a lot of headlines in a conference that includes the likes of Ricketts and Missouri's Chelsea Thomas, but she stabilized a pitching staff that was battered to the tune of a 5.49 ERA in conference play a season ago.
"Her big strength is her movement," Hays said of a pitcher who is 18-6 with a 2.25 ERA. "She's got good velocity, she's going to throw in the mid-60s, but she has a late break out of the zone, and against your power-hitting teams she keeps the ball on the ground. As long as you're able to make plays behind her in the infield, you're going to get a lot of ground balls. And if you make the plays for her, she can have some quick innings."
The Oklahoma series was just the first test. Beginning on Wednesday, the Red Raiders will play seven games in eight days against Texas, Missouri and Texas A&M. Winning just two of those would be a solid showing that would leave a winning conference record within reach (Tech is currently 4-4 in Big 12 play). But for a team and a coach ready to be a bigger part of the madness of May, expectations are a little higher.
Arizona's Pendley producing beyond her years
Arizona coach Mike Candrea is not prone to bouts of hyperbole when it comes to his own players, particularly when those players have yet to play a game for the Wildcats. But even the coach's ever-inscrutable mustache sounded like it twitched slightly toward a smile when he talked before this season about freshman Shelby Pendley.
[+] Enlarge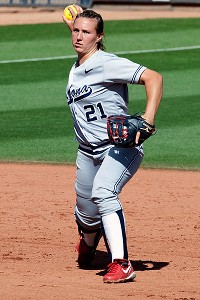 University of Arizona AthleticsArizona freshman Shelby Pendley wasted little time making an impact for the Wildcats.
"She's a strong kid. If you've ever seen her, she's not your typical athlete. She's very, very strong," Candrea said. "She's a very talented young lady. She brings a little stability for us at shortstop and a strong left-handed hitter."
Never mind that Pendley wasn't a lock to be ready for the start of the season after tearing her ACL and MCL last summer. Never mind that a kid from New Mexico -- hardly a hotbed of All-Americans -- would start at a position as demanding as shortstop in a conference as demanding as the Pac-12. Candrea's been at this long enough to know when he's been dealt a good hand.
Even if Pendley had to wait him out, passing up offer after offer from other programs until her dream school finally came calling.
Pendley was at it again Tuesday night. She hit a walk-off home run in Arizona's 8-0 run-rule win against Utah in the first game of a doubleheader sweep, and finished with three hits to improve her batting average to .352 in conference play and .358 overall. The Wildcats will hit the halfway mark in Pac-12 play after Wednesday's series finale against Utah, and there's a good chance Pendley will do so as one of just four players in the nation's best conference slugging better than .800 for the season, joining Cal's Valerie Arioto, Arizona State's Katelyn Boyd and Washington's Kaitlin Inglesby.
All three of those veterans are front and center in the discussion for national player of the year honors, and it may be time to welcome Pendley into that company.
It's a good year for freshman sluggers, a class paced by Oklahoma's Lauren Chamberlain (19 home runs) and another big run producer in the same state as Pendley: Arizona State outfielder Elizabeth Caporuscio (12 home runs). But as valuable as Pendley's bat is behind Brigette Del Ponte and Jessica Spigner on a team otherwise fighting off a downturn in its offensive production, it's only half of her value.
Pendley played error-free ball against Utah. She has committed just four errors all season, despite being on pace to finish with more assists than any Arizona shortstop in more than a decade behind a pitching staff bringing the defense more frequently into play. Obviously, even the shortstop is only one part of the defensive effort, but she's a big part for a team that has a .985 fielding percentage, a significant improvement on recent seasons and an important asset with a pitching staff that has far and away the conference's greatest walk rate.
Just imagine what she might be doing if she felt right. The start of conference play didn't slow the freshman, but she's been battling the physical and mental challenges posed by her knee all season.
"I still don't feel back to the player I used to be," Pendley said. "I feel like I'm at about 80 or 90 percent right now."
As Arizona heads to face top-ranked California this weekend, that's still more than enough to make the young Wildcats intriguing spoilers in the Pac-12.
Player Q&A: Missouri's Ashley Fleming
No. 9 Missouri claimed sole possession of second place in the Big 12 by winning two of three at No. 5 Texas last weekend. Senior Ashley Fleming, who hit a home run in the finale and leads the Tigers with a .390 batting average, .660 slugging percentage and 31 RBIs, talked about those wins and coach Ehren Earleywine's notably meticulous approach to hitting.
Graham Hays: Winning the series against Texas, coming back to win the last two games, is that a big deal for this team or just business as usual in the Big 12?
Ashley Fleming: It's a big deal, obviously. They're always one of our toughest competitors in the conference. We obviously had a setback when we went 1-2 against Texas A&M, so we knew going into the weekend that we needed to pull out a couple of wins, which we knew we were very capable of if we played the way we should. But we knew that we had to bounce back for that week and get some wins to be able to still be in line to hopefully win the conference championship.
[+] Enlarge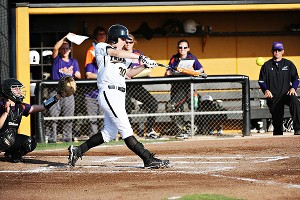 Mizzou AthleticsMissouri senior Ashley Fleming helped the Tigers to a 2-1 series win over Texas last weekend.
GH: Chelsea Thomas, when you watch her pitch now, what stands out most to you about how she's grown over the time you've been around her?
AF: That's a tough question. Obviously, when she came in, she was pretty much all drop ball; she didn't have a rise ball at all. So from a mechanical standpoint, it was huge when the summer after her freshman year, she really worked hard to establish a rise ball. I think that's taken her to the next level. And that hasn't been that much different from last year to this year because she's had it for a couple of years.
GH: How would you describe Ehren's general approach to hitting, his philosophy of hitting?
AF: He's definitely a perfectionist. That's not just with hitting; that's just his coaching philosophy in general. … I'm kind of like him, in that I probably overanalyze too much, always thinking about just the mechanics and stuff. To have a coach like that, who thinks the same way -- and I'm sure playing for him has made me even more like that that -- but I wouldn't trade that for anything in the world to have somebody like that, compared to somebody who just lets you go and if you're hitting good, just let it go and keeping going. Because you're always going to run into a time when you are in a slump. I think knowing that even when players are hitting good, he's still offering that advice, you're so comfortable even when you are struggling because when he starts offering you more advice, you're not thinking, "Oh, I've got a lot that I'm doing wrong." Because that can stress you out even more.
GH: With your basketball background [Fleming also drew interest from Missouri in basketball], would it be harder to get to the basket against Brittney Griner or harder to get a hit off of Chelsea?
AF: I don't know. I mean, I've got to back up Chelsea, right, and say that she would be tougher to make her look better? Right now, I would definitely say Brittney Griner would be harder because I've been hitting off Chelsea for four years. But if I had chosen to go play basketball for four years and played people -- obviously, not like Brittney Griner a lot -- but played against harder basketball players, I would think it would be crazy to think I was going to step into the box against Chelsea Thomas.
Games to watch


Georgia Tech at Florida State (Monday at 7 ET on ESPNU/ESPN3): The ACC regular-season title is effectively, if not quite mathematically, up for grabs when the resurgent Yellow Jackets visit the Seminoles for three games. Georgia Tech ace Hope Rush allowed just one earned run in two starts against Maryland last weekend and drove in five runs at the plate. She'll be looking for a change of fortune after handing the Seminoles their lone win in the three-game series between the teams last year.


Longwood at Louisville: Living the difficult life of a Division I independent, Longwood gets a rare turn in the spotlight with a three-game series at Louisville. Longwood's NCAA tournament case this season isn't anything close to what it was last season when it was well and truly snubbed by the selection committee, but three games at a ranked opponent represents the Lancers' version of the postseason.


Oklahoma at Texas A&M: This week marks the last big road test of the regular season for an Oklahoma team that hopes it can win a national title without leaving its home state in the postseason. After a midweek Bedlam game at Oklahoma State, Oklahoma heads to Texas A&M for three games. When the teams met last season, Mel Dumezich beat the Sooners with a three-hit shutout, only to lose a 2-0 duel the following day when Keilani Ricketts threw a one-hit shutout with 15 strikeouts.


Syracuse at Notre Dame: With Syracuse and DePaul coming to South Bend and South Florida and Louisville not on the schedule, Notre Dame certainly has a chance to make a run in the Big East. The Orange are a patient team (despite a difference of nearly 50 points in team batting average, these teams are evenly matched in on-base percentage), which makes for a compelling matchup against Irish ace Laura Winter (141 strikeouts, 12 walks in 118.1 innings).
Player of the year watch
Bailey Castro, Florida


Stock up: Even before the Gators lost Brittany Schutte to injury, coach Tim Walton sounded a little like a kid looking ahead to Christmas when he talked about having a healthy Castro in the lineup. Now we know why. A lineup regular after injuries slowed the start of her freshman season, Castro hit three home runs in a weekend three-game sweep against Mississippi, including a pair of home runs and a program-record-tying seven RBIs in the finale.
Dallas Escobedo, Arizona State


Stock up: There may be questions about the current viability of UCLA as a championship contender, but there is no questioning the difficulty of pitching to a lineup as loaded as the Bruins'. Escobedo got the ball twice in Arizona State's three-game sweep of UCLA and allowed just seven hits and three earned runs in 13 innings. She did allow a home run, No. 14 in 107.2 innings, but it was the lone extra-base hit against her.
Sam Fischer, Loyola Marymount


Stock up: A weekend split of four games against Cal State Bakersfield leaves Loyola Marymount in the middle of the pack in the Pacific Coast Softball Conference, but Fischer continues doing her part. The senior shortstop finished the weekend with three home runs, seven RBIs and a .500 on-base percentage. Her Pac-12 counterparts get more attention, but no shortstop has better numbers than Fischer's staggering 1.779 OPS.
Ashley Hagemann, Nebraska


Stock up: A three-game weekend sweep against Illinois leaves the Cornhuskers tied for second in the Big Ten, a game behind Michigan. Nebraska's senior ace was central to the most recent success, no-hitting the Illini in the series opener and finishing with two wins and just three hits allowed in 15 innings. Walks have been her bugaboo this season, but she walked just four and struck out 16 in three appearances.
Danielle Henderson, California

Stock up: The "other" Henderson for Cal, Jolene's little sister stole the spotlight in Cal's sweep against Utah. Continuing a standout freshman campaign, Danielle hit home runs in all three games against the Utes and finished the series with seven RBIs and six runs scored. Her 12 home runs are already three more than any Cal player had last season (Valerie Arioto leads Cal with 16 home runs this season).
Madison Shipman, Tennessee


Stock up: The shortstop started the week well, driving in both runs in a 2-1 win against Georgia to salvage a midweek split at home, and kept right on going through a three-game weekend sweep at Auburn. Shipman homered and drove in four runs in each of the first two wins against the Tigers and capped her weekend with two more home runs and three more RBIs in the finale.
Jackie Traina, Alabama


Stock up: The Crimson Tide may be as vulnerable as at any point in recent seasons when Traina isn't in the circle. They may also be better than at any point in recent seasons when she is. LSU stole one game in Tuscaloosa, but it had no luck in two tries against Traina. She threw a four-hit shutout and hit a home run in one win and then struck out 12 in a one-hit shutout in the finale. Teammate Jen Fenton set an NCAA record with her 74th consecutive stolen base in the opener, only to see her record streak snapped in the second game.
By the numbers
25: Alabama sophomore pitcher Jackie Traina has won a school-record 25 straight games during a streak dating to last season. Traina has limited opponents to two hits or less 11 times this season.
29: Louisiana-Lafayette senior Katie Smith has recorded a hit in 29 of her last 30 games. She's hitting .420 on the season with 16 walks.
13: Tennessee sophomore pitcher Ellen Renfroe leads the country in shutouts with 13.
3: California has swept all three Pac-12 teams it has played in conference play this season. In nine Pac-12 games, the Golden Bears have scored 67 runs.
12: Stony Brook freshman pitcher Allison Cukrov struck out 12 in her first career perfect game, a 9-0 win against Manhattan on Thursday.
-- Erin Quinn