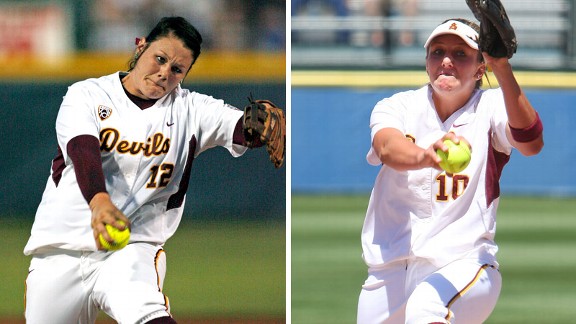 Icon SMIArizona State is trying to keep pace with a blistering hot and top-ranked Cal team.
Bach, Escobedo hold the key for Sun Devils
SEATTLE -- It's safe to say there is some difference of opinion when it comes to how easy it is to play for Arizona State coach Clint Myers. Not surprisingly, he presents the argument in his own favor in sparse terms.
"I'm not hard to figure out," said Myers, who needed just six seasons with the Sun Devils to become the fourth coach to win multiple national championships. "You want to play, you've got to hit. If you want to pitch, you've got to pitch."
But how long does it take players to adjust to the whims and machinations of the master of overstuffed rosters and endless lineup permutations, a coach who, it seemed, barely cracked a smile after his team rolled through last year's World Series?
"I'm still learning, so probably all four years," sophomore All-American Dallas Escobedo mused.
Or maybe longer.
"I'm still trying to figure it out," senior Hillary Bach said. "I've been here four years, so maybe give me a couple more months? He's such a special guy. You're never going to be perfect, and we're not trying to be perfect. But we just have to keep the communication and try to help each other as a team."
Perhaps the only point of unanimity is that it is easier to play for Myers than it is to beat him.
[+] Enlarge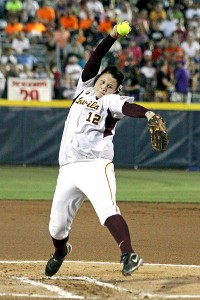 J.P. Wilson/Icon SMIDallas Escobedo leads Arizona State in strikeouts this season with 143.
After a weekend sweep at Washington, a contentious series that saw Huskies ace Kaitlin Inglesby warned for hitting a batter and coaches and parents on both sides act like they had either too much or not enough of the coffee for which the city is famous, No. 2 Arizona State again looks the part of championship contender. Repeating as Pac-12 champions will almost certainly require winning a series at top-ranked California, but regardless of that outcome in two weeks, the Sun Devils and Bears increasingly look like favorites to meet for the bigger title in Oklahoma City.
Both teams have loaded lineups. Arizona State leads the Pac-12 in runs per game and OPS in conference play; California is second in both categories. Cal leads the league in ERA and opponents' batting average in conference play; Arizona State is second in both categories.
And it's on that last count that Myers is again doing things his own way, relying equally on Escobedo and Bach a season after the former pitcher's arrival appeared to push the latter off the stage.
As a freshman, Escobedo earned a share of Most Outstanding Player honors in the World Series and cemented her All-American status with a week of gutsy pitching in Oklahoma City. But although she's still one of the best pitchers in the nation, there have been some sophomore ups and downs. Her walk rate is up slightly, her strikeout rate down slightly, and home runs (18 in 133 innings) have been a bugaboo.
Enter Bach. Or more precisely, re-enter Bach, who led the team to the World Series as a freshman in 2009.
A season ago, Bach and Mackenzie Popescue combined to throw 160 1/3 innings for the Sun Devils, representing all the innings thrown by someone other than Escobedo. After combining in the middle game of the three-game series against Washington, Popescue getting the win in relief of Bach, they are already at 164 innings this season, with two Pac-12 series and the entire postseason still to play. Escobedo started twice in the Washington series, but she and Bach have split Pac-12 starts almost equally, seven for Bach and nine for Escobedo.
"I don't think there's a formula; I think that she just came out with great pitches," Myers said of a resurgence that has Bach at 19-0 with a 1.28 ERA. "Look at the freshman year in [2009] that she had, and these are things that we know that they're in there. She's been able to put them together and get after it and be successful making the ball go four directions, up, down, in, out. We're not surprised. When you recruit, you envision the ability someone is going to have down the road, and Hillary's just throwing lights out."
Bach rejected the notion that she was frustrated by throwing just 64 innings last season, saying it's difficult to be frustrated in the midst of winning a national championship. But whether it's the cause or effect of more innings this season, there is no doubt she's happier.
"I think it was me," Bach said. "I had a lot of growing up to do, and I learned a lot about myself and why I play softball and what really gets me going. That's just really helped me to enjoy the game again this year. When I was a freshman, I was having so much fun in the circle, and I really just found that love for softball again."
When she dials it up, Escobedo still looks every bit the pitcher who could win national player of the year honors before her time is up in Tempe. That power makes it tempting to think that she will get the ball with increasing regularity as the games dwindle and a potential championship hangs in the balance. But whether it makes him confounding or simple, Myers operates by one basic principle.
"I like to win," Myers said. "So whoever is in the circle, we're not going to worry about those guys fighting it out. If you have a bad day, somebody else is going in. Somebody goes in, keeps them from scoring, we swing the bats, and we've got a chance to win. We have a pretty good idea and a pretty good concept of exactly what we want to do. And they understand it, and they play with and we get it going pretty good."
Hawaii gearing up for NCAA tournament return
Which team has the most dominant pitching combination in the country?
At least by the measure of ERA, it's not Cal's All-American duo of Jolene Henderson and Val Arioto, although both rank in the top 20. It's not Arizona State's Hillary Bach and Dallas Escobedo, either.
Here's a hint: Most of us can't drive to see these two pitch.
[+] Enlarge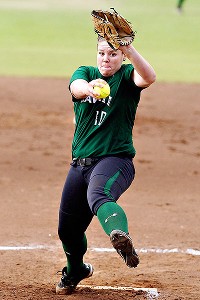 University of Hawai'iStephanie Ricketts has Hawaii poised for a return to the NCAA tournament after a one-year hiatus.
If you didn't know the answer was Hawaii's Stephanie Ricketts (25-3 and fifth nationally with 1.02 ERA) and Kaia Parnaby (15-2 and fourth nationally with a 1.00 ERA), you aren't alone. It's all too easy to forget about No. 14 Hawaii, even though the program has been among the most consistent winners outside of the BCS conferences in recent seasons.
The Rainbow Wahine are at it again. With a core of juniors and seniors who were part of the team that reached the World Series in 2010 and who experienced the low of missing the NCAA tournament last season, No. 14 Hawaii is 40-5 after it swept Fresno State last weekend, a record that includes a win against top-ranked Cal in addition to DePaul and two wins against Florida State. The team that reached Oklahoma City made its mark with the long ball, setting an NCAA single-season record with 158 home runs. The current group has power at the plate, but it excels with the pitching of a senior who wanted to make her own mark (Ricketts' older sister, Samantha, was an All-American at Oklahoma, as is younger sister Keilani these days) and an Australian junior willing to play her understudy.
"Having Kaia understand that Stephanie was in the program a year and Stephanie would be looked at first, that is something that some egos from some pitchers wouldn't allow," coach Bob Coolen said. "But right now, both of them complement each other really well. … It's a good relationship. They enjoy each other's company. I've had them in my van for three years when we travel together. Nothing ever has come between the two of them. They pick each other up when they need relief, and it's just been a real good relationship between the two of them."
Even as the team continues to win and move up the ladder in the human polls, Hawaii's RPI has dropped in recent weeks. At No. 18 in the most recent release, it could find itself unseeded when the NCAA tournament begins, even if it sweeps Utah State this weekend and runs through the WAC tournament at New Mexico State. Unlike last year, there is no doubt the Rainbow Wahine will be included when the NCAA tournament bracket is revealed, but there is always something to prove for a program that often feels it is out of sight and out of mind for those on the mainland.
"We're a non-BCS mid-major," Coolen said. "And that is something that as a coach, you have to get a serious reality check that you need to do something special year in and year out to put yourself in the eyes of the committee. There's no two ways about that."
Winning 40 games with two pitchers ranked in the top five nationally in ERA ought to open a few eyes. A regular-season conference title wouldn't hurt, either.
Bubble watch
There are 10 conferences currently represented in the top 40 of the RPI. Assuming for the moment that 10 of those teams claim automatic bids to the NCAA tournament as conference champions of one sort or another, that means 30 of those teams in the top 40 would be in line for at-large bids. Take out Kentucky, currently No. 39 in the RPI but not yet eligible for the NCAA tournament at 26-27 overall, and that drops to 29 at-large bids spoken for.
The above leaves five at-large bids available for teams not ranked in the top 40. Based on selection committee history of hewing close to the RPI, there would need to be a glaring reason to bump a team in the top 40 out of the mix. So while a team like No. 35 Central Florida or No. 40 UAB could yet move back into the bubble debate, precedent suggests they would be safe if the bracket came out today.
RPI Nos. 41-45: San Diego State, Kansas, Texas State, Houston, Boston University
San Diego State (Mountain West), Texas State (Southland) and Boston University (America East) are favorites to win automatic bids out of their respective leagues but have strong at-large cases, especially in the first two cases. Kansas and Houston are on less sure footing. The Jayhawks are 9-14 against top-100 teams, and four of those wins came against Connecticut, North Florida (twice) and Stony Brook. Houston, already in precarious bubble position to begin with, was swept at UCF last week and lost six of its past nine games. The most important thing for the Jayhawks and Cougars may be hoping teams like Louisiana-Lafayette and Massachusetts don't lose in conference tournaments, thereby shrinking the available at-large spots.
RPI Nos. 46-50: Wisconsin, Purdue, Hofstra, Northwestern, Arkansas
This is where a weak bubble appears. Hofstra (Colonial) and Georgia Southern (Southern) are strong bets to earn automatic bids but don't have the top-50 wins to jump over teams in the at-large fray. Northwestern needs to win six of its final seven games to reach .500 and be eligible, while Big Ten rival Illinois is 23-23 with six games to play, including three at Northwestern. Arkansas is itself flirting with .500 and didn't qualify for the SEC tournament. Purdue has the best at-large case, particularly after taking the series against Wisconsin.
Still lurking: Fresno State (No. 58), Nebraska (No. 60), South Alabama (No. 53)
Fresno State (No. 58) did itself no favors in dropping all three games at Hawaii last week, but the Bulldogs are still 12-12 against RPI top-100 teams and a respectable 6-9 against top-50 teams, including a win against UCLA. … Nebraska trails five Big Ten teams in RPI, but a closer look reveals a strong at-large profile than that suggests. Its 13 top-100 wins and six top-50 wins are among the most for a team outside the top 40, and that includes a win against Arizona. … Short of a team other than Louisiana-Lafayette winning the Sun Belt conference tournament, the league's hopes for multiple NCAA tournament bids rest on South Alabama sweeping two games from Troy this weekend. Troy is only one spot behind South Alabama in the RPI, but losing three at home last weekend against North Texas sealed its fate. South Alabama has wins against Florida State, UAB and Purdue out of conference.
Games to watch


Arizona at UCLA: It might not be the weekend series with the most national implications, but this rivalry always matters as much as any series in softball. Arizona is looking to improve its standing enough to potentially host a super regional, and UCLA would surely like to improve its standing enough to avoid any potential super regional trips to familiar foes California or Arizona State. However, those aren't the motivations that will fuel the intensity in Westwood, Calif. Like Michigan and Ohio State in football and Duke and North Carolina in basketball, that comes from territory and pride.


Boise State at San Diego State: The Broncos saw their 28-game home winning streak, second only to Louisiana-Lafayette's among active streaks, end last week against New Mexico. Now they need to do some work on the road to keep their hopes alive for a conference title -- and prevent San Diego State from clinching an automatic bid to the NCAA tournament. The Aztecs are in if they sweep three games and would be a near lock with two wins.


Florida at Alabama: If Florida sweeps, it wins an outright SEC regular-season title. If Alabama wins two games, it wins the title. If Florida wins two games, it shares the regular-season title with Alabama and Tennessee. Got all that? SEC title implications aside, it's also a showcase for two national title contenders with some question marks. No team in the top 10 is more reliant on a single pitcher than the Crimson Tide are on Jackie Traina, while Florida's inconsistent offense showed up in three losses last week against Kentucky and LSU in which the Gators scored a combined one run against good pitching.


Massachusetts at Fordham: It may not be the last meeting for the top two teams in the Atlantic 10, but it's the last guaranteed meeting between Massachusetts ace Sara Plourde and Fordham ace Jen Mineau. Currently unbeaten in the league at 15-0, Massachusetts can wrap up the outright regular-season title with a two-game sweep. Plourde is almost a lock to finish the season with 500 strikeouts and 200 walks, a rather astounding combination.


Missouri at Oregon: The red-hot Ducks apparently don't get enough grueling competition in the Pac-12, so they will spend their conference bye week playing three games against a national title contender from the other side of the Rockies. It's tough to imagine a team with Chelsea Thomas going into the NCAA tournament unseeded, but given the most recent RPI release that had the Tigers at No. 17, they could use a positive weekend on the road to lock in a seed.


Texas at Oklahoma: Fresh off taking two of three in its final meeting with rival Texas A&M, Texas will look to make its move toward a Big 12 title in a rivalry that isn't ending anytime soon. Anything short of a three-game sweep probably won't get it done for the Longhorns. (The Sooners finish with three games at cellar-dwelling Iowa State next week, while the Longhorns play one more game against Baylor.) Sooners ace Keilani Ricketts has pitched just 10 1/3 innings against Texas in her career, all last season, allowing 10 hits and six earned runs.


Tulsa at UAB: The SEC isn't the only conference staging on championship drama in Alabama this week. Conference USA leader Tulsa travels to Birmingham with a one-game lead on UAB entering the final weekend of league play. And like the Alabama-Florida series, there is a third party lurking in the wings. UCF could claim a share of the title if it sweeps Marshall and UAB wins two of three against Tulsa, leaving all three teams at 18-6 in league play.
Player of the year watch
Chanda Bell, Kentucky

Stock up: The math went from impossible to merely difficult. Fighting to get to .500 and qualify for the NCAA tournament at-large bid that would likely come their way, the Wildcats took two of three on the road at Florida, and Bell had more to do with it than anyone. The senior opened the series with a four-hit shutout, striking out eight in a 2-0 win, and closed the weekend by allowing just one earned run and striking out 13 in a 5-1 win.
Kailee Cuico, Oregon

Stock up: In some ways, she's here as the representative of Oregon's entire torrid lineup. Cuico helped the Ducks take two of three on the road from Arizona (the second year in a row they managed that). She finished the series with four hits, including two home runs, four walks and five RBIs. For the season, she's hitting .304 with a .548 slugging percentage, but those figures include a .362 average and .724 slugging percentage in conference play.
Chandler Hall, Texas State

Stock up: The Southland Conference leaders clinched at least a share of the regular-season title with a perfect 4-0 week, led by Hall. She has yet to lose in league play, improving to 10-0 with a 0.69 ERA and 70 strikeouts against nine walks in 71 1/3 innings. She didn't allow an earned run in 16 total innings in two appearances last week. Just for good measure, she also picked up six hits and drove in two runs at the plate on the week.
Jolene Henderson, California

Stock up: Bring on the Texas Rangers. Henderson is ready for a bigger challenge. UCLA may have its share of issues when it comes to pitching and defense, but the Bruins can hit against any lineup in the country. But they didn't hit much of anything against Henderson. Cal's ace blanked UCLA with a three-hit shutout in last weekend's series opener, earned a save with two innings of scoreless relief in the second game and went the distance for the win in the finale. All told, she allowed three earned runs and just 10 hits in 16 innings.
Adrienne Monka Q&A
Northwestern first baseman Adrienne Monka Northwestern isn't out of the postseason running just yet. But whenever the season ends for the Wildcats, the curtain will close on one of the most productive offensive careers in recent memory. Last weekend, Adrienne Monka became the first player to hit the roof of McGaw Hall, the building beyond left field at Sharon J. Drysdale Field, twice in a career. She led the nation with a .707 on-base percentage in 2011 and ranks among Northwestern's career leaders with 52 home runs. The All-American slugger talked about her time in Evanston, Ill.
Graham Hays: You became the first person to hit the roof [of McGaw Hall] twice in a career. Does the contact on the ball on a hit like that feel different at the plate?
Adrienne Monka: Obviously, you have to hit it really hard to get it up there, but I think it's all based on the trajectory of the ball. I don't know if those have been my hardest hits, but they happened to have the right flight on them to get up there.
GH: Do you remember what the hardest ball you've hit was?
AM: I think it was my freshman year, I hit a ball that was a line drive to left field against Michigan. I'm pretty sure it was the hardest one I've hit -- it was kind of a knuckling one. I think it one-hopped the fence, but the contact on that ball was probably the hardest one I've hit.
GH: You don't get many pitches to hit, ranking among the all-time leaders in walks [per game]. Is there a frustration level for you that comes with having to maintain that kind of patience?
AM: I think there is a little bit, just not getting as many pitches as any hitter would like to get. But I think it's good to have that respect, and it's good that if they want to pitch to the hitters behind, they're awesome, too. So they can pick their poison of who they want to pitch to.
GH: How much of an influence on you has [Northwestern hitting coach] Caryl Drohan been?
AM: Caryl is awesome. She's helped me so much with little things, with big adjustments, all throughout my career. She's probably one of the best hitting coaches in the country, and she's helped my power so much. I wasn't a big power hitter before I came here, and she's helped me with little things that took me to the next level. I credit all my stats to her.
GH: You've faced both [Arizona State's] Dallas Escobedo and [Cal's] Jolene Henderson this season. If those games aren't just a blur to you at this point, what do you remember about those pitchers? What stands about those two?
AM: I think just their presence on the mound. They have such confidence about them that they can throw any pitch, anytime, wherever they want to. They can change your eye level, go up and down, side to side. Jolene Henderson's changeup is probably the nastiest pitch in the country to hit. When you have that and that confidence and that swagger in the circle, I think they're hard to beat because of that.
By the numbers
15: Georgia senior pitcher Erin Arevalo struck out 15 in a 1-0 win against LSU on Friday. The 15-inning game was the longest in school history for Georgia. Arevalo gave up just one hit, a double in the 11th inning.
17: After sweeping UCLA this past weekend, California has 17 wins against ranked opponents this season.
22: After hitting two home runs against Oklahoma State last Wednesday, Oklahoma freshman Lauren Chamberlain now holds the Sooners' single-season home run record (22) and is in fourth on the Big 12's single-season list. Through Sunday's games, Chamberlain has hit the third-most home runs in the country this season, trailing only UTEP's Camilla Carrera (29) and Loyola Marymount's Sam Fischer (23).
.459: UCLA's Stephany LaRosa has the highest batting average, .459 (72-for-157), by a freshman in the country. LaRosa has started every game for the Bruins and leads the team in home runs (15).
.467: Texas junior Torie Schmidt is hitting .467 (21-for-45 ) against ranked opponents this season.
-- Erin Quinn