Fresno State's Wright led softball to new heights
Short of winning the WAC conference tournament and earning an automatic bid, it appears increasingly likely that Fresno State could miss the NCAA tournament this season for the first time ever. It does not feel like the way things should end for head coach Margie Wright, who announced this week that she will retire at the end of the campaign after 27 seasons at Fresno State.
And yet for a coach with more wins than anyone in the sport's history, it's somehow perfectly fitting.
By the example she set as NCAA softball came of age over the past three decades, Wright made her own job ever more difficult.
[+] Enlarge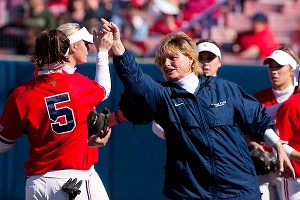 Keith Kountz/Fresno StateMargie Wright enters this week's WAC tournament with 1,454 wins in 32 seasons at Fresno State and Illinois State.
She helped build the sport to a point at which the competitive margin of error was small enough to potentially claim even her team. And the rest of softball owes her a debt of gratitude for it.
"I think after almost 40 years of going from August to August, with coaching, with school, with recruiting, with all those things -- that's a lifetime," Wright said at a press conference. "It's probably one of the most difficult things I've ever had to do, and still is. And I'm sure this is going to take me a while to get used to, and to try to wrap my arms around it, but I don't have any regrets at all."
Tennessee co-coach Ralph Weekly shared a dugout with Wright when they were assistant coaches on the United States Olympic team that won gold in 1996, the first Olympics in which softball was contested.
"She's a fantastic coach; she's an even better person," Weekly said. "What she's done for women's softball is amazing, especially standing her ground on some issues and winning some rights for women. I don't think they come any better and I'll be very sad to see her leave."
Wright retires with plenty of statistical evidence of her impact. She enters this week's WAC tournament with 1,454 wins in 32 seasons at Fresno State and Illinois State, more than 100 wins clear of any coach in any division of NCAA softball. She is one of just four Division I coaches, along with Arizona's Mike Candrea, Cal's Diane Ninemire and Michigan's Carol Hutchins, to win both 1,000 games and a national championship. Wright's 1998 title broke a decade-long stranglehold on the trophy by Arizona and UCLA (three of those championships were won at Fresno State's expense in the title game) and unofficially ushered in an era in which those two giants have at least been forced to share the stage with other powers on a regular basis.
But in a way that cannot be true for future generations of coaches, her legacy has as much to do with creating an environment as thriving in one. The Bulldogs, who finished second in the first NCAA softball tournament in 1982 under the direction of coach Donna Pickel, were a known softball commodity by the time Wright arrived in 1986 after five years at Illinois State, her alma mater. But Wright took that foundation and built a dynasty -- a program with more NCAA tournament wins than any school but Arizona and UCLA -- and a brand name in the sport.
Long before programs in the SEC and elsewhere started building stadiums with thousands of seats, suites and countless other amenities, Fresno State was a softball paradise in California's Central Valley. From its debut in 1996, Bulldog Diamond has averaged nearly 2,000 fans per game. And the stadium was built because Wright had already constructed a program that demanded it. Several years before the facility opened, Rachel Lawson and her University of Massachusetts teammates played at Fresno State, where the Bulldogs averaged more than 1,000 fans per game as early as 1989. Lawson's eyes opened wide on that visit. Today, she is one of the rising stars in coaching at the University of Kentucky, which didn't even compete in softball until 1997.
"It was one of the few places that already had a crowd, and they were just doing everything the right way," Lawson said of her visit. "I thought it was just such an honor to be out there. At the time, I didn't really think about going into coaching, but then here was this woman who is in front of me, and she was such a strong coach, and it really gave me a role model to look at and somebody who [made me think], 'You know, I could do this; I could create a program where there is a great fan base and a winning tradition and all that sort of stuff.'"
Not unlike another coaching giant who stepped away recently, Pat Summitt, Wright was a picture of intensity in competition She was demanding, uncompromising and the seat of absolute power in her program, traits that assuredly helped her succeed and hurt her at times. But she was always willing to fight for what she felt was fair. (In 2008, she and the university settled a gender-discrimination complaint related to pay discrimination and gender-equity issues within the athletic department, with the school agreeing to pay her more than $600,000.)
You can't tell the story of how college softball got here without including Margie Wright, which is why she'll remain a part of the story of where it goes from here.
"Margie Wright's one of my role models," Lawson said. "When you have women like that in the sport, it really opens the door for the rest of us in our age bracket. And hopefully we'll be able to return the favor and pass that along to the younger generation."
The NCAA tournament will be better this season if Wright makes it one last time. The tournament is what it is because of people like her.
Cal, Arizona St. could preview bigger matchup
It's entirely possible that in addition to settling the Pac-12 title, this weekend's series between No. 1 California and No. 2 Arizona State is a preview of coming attractions, the most concentrated collection of stars this side of "The Avengers" serving as a three-game trailer for the championship series in the Women's College World Series.
But whatever happens in Oklahoma City a month from now, we will see a lot more of a lot of the players on the field this weekend.
The two best teams in college softball at the moment hold those positions in part because both have bright futures.
[+] Enlarge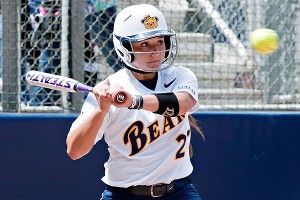 Tom Smedes/Icon SMICal and Arizona State playing for the Pac-12 title is a fitting end to the regular season.
If recent games are any indication, there could be as many as seven freshmen in the starting lineups this weekend (although, as always, projecting Sun Devils coach Clint Myers' lineup card for any given game is a fool's errand). Both teams lean heavily on familiar names -- Katelyn Boyd and Dallas Escobedo among those for Arizona State and Valerie Arioto and Jolene Henderson among those for Cal -- but youthful inexperience has served them well.
The Bears returned everyone who played a significant role last season, and added Arioto back to the fold after the All-American missed the entire 2011 campaign with an injury. Nonetheless, freshmen Cheyenne Cordes, Danielle Henderson (Jolene's sister) and Breana Kostreba have combined to make 145 starts out of a possible 150. They've also combined for 32 home runs in 50 games, which is only two fewer than the number of home runs the entire team hit in 58 games last season.
Cal's greatest strength coming off its run to last season's World Series (before falling short) was its continuity, but the newcomers ensured that never morphed into complacency.
"They are three impact players that have come up to the plate and hit home runs and played great defense," Cal coach Diane Ninemire said earlier this season. "And to have three players come in in one year and start and be impact players, now that doesn't happen every year. You might be lucky if you get one or two players that come in with your recruiting class that are able to break into that bubble and really be key people. But those three have added a great wealth of strength to our team this year. I think it's really pushed the players that were starters last year. …
"Competition breeds success because now everybody's got to start working extra hard."
Arizona State had more holes to fill after winning the national championship last season with seniors in four of the first six spots in the batting order in the championship series against Florida, but complacency was still an issue. The Sun Devils needed freshmen to step in and produce, and Elizabeth Caporuscio, Amber Freeman and Haley Steele have done that. Caporuscio and Freeman rank third and fourth, respectively, on the team in slugging percentage, while Steele has committed just three errors in extensive time at third base and has shown power at the plate. More than that, the freshmen and sophomore first-time starter Bailey Wigness have helped the Sun Devils do what every defending champion talks about doing -- measure themselves against the present and not the past.
"I think that they do a really good job of keeping us humble and keeping us hungry," Arizona State senior Hillary Bach said. "It would be easy to settle because of last year, but they want it just as bad as we do. We are a new team, and they do a good job of reminding us of that."
Games to watch
Player of the Year ballot
1. Valerie Arioto, California
She's second in the nation in on-base percentage (.626) and third in slugging percentage (1.009); both marks are the best among players from the six major conferences. She's the best hitter on the nation's No. 1 team and has 13 fewer home runs in 111 at-bats than the entire Cal team had in 1,490 at-bats last season. On those credentials alone, Arioto might merit player-of-the-year honors. But she also happens to be 19-2 with a 1.29 ERA.

2. Katelyn Boyd, Arizona State


It turns heads when a slapper hits .458 for a team in a conference like the Pac-12. To do that while also piling up 34 extra-base hits, including 19 home runs, en route to a .979 slugging percentage borders on the ridiculous. One of three finalists for USA Softball Player of the Year last season, she's at least as good, if not better, this season. With one more home run and two more stolen bases, she'll reach the 20-20 club. She's also as good a defensive shortstop as there is in the country.

3. Jolene Henderson, California


She might be the best pure pitcher this season. Playing in the nation's best conference, she's 15-0 with a 1.23 ERA in Pac-12 play. That's nearly a run better in ERA than any other pitcher and nearly a run and a half better than any other conference ace operating with the same kind of workload. She proved her durability and mental toughness in throwing 333 innings last season; this season she's showing how good she can be when those abilities are channeled into a more manageable workload. And for what it's worth, she's also hitting .284.

4. Keilani Ricketts, Oklahoma


Ricketts isn't quite as prolific as Arioto at the plate, but she's still No. 14 nationally in slugging percentage (.852) and No. 8 in on-base percentage (.563), both marks best in the Big 12. And hitting isn't even her true calling card. Given the level of competition, no pitcher is more statistically dominant than Ricketts. She began the week as one of just five hurlers with 300 strikeouts and is eighth in the nation in ERA.

5. Jackie Traina, Alabama


You don't need to be a two-way threat to win this award (see Ashley Hansen last season), but it sure doesn't hurt. Traina may be the single most valuable player in the nation in much the same way it was made apparent last season in the NFL that no player meant more to a team than Peyton Manning. Traina essentially is Alabama's pitching staff, and a 31-2 record suggests that works for her. She has a flair for the dramatic at the plate, too, with moments like a walk-off, extra-inning home run against Tennessee, part of a 1.178 OPS as a hitter.
Between Arizona State visiting California in the de facto Pac-12 championship series and the SEC's best teams gathering in Tuscaloosa for the league tournament, the rest of the softball world will operate in a bit of a shadow this week. But there are some intriguing conference tournaments to keep an eye on.

America East: Boston University dropped a midweek game out of conference at Massachusetts last week but clinched the regular-season America East title, and the right to host the conference tournament, by sweeping UMBC. With an RPI of 47 and wins against South Florida, Syracuse, Illinois and Maryland, the Terriers would be on the iffy side of the NCAA bubble if they fall short this weekend.

Atlantic 10: Every bubble team in the country will be rooting for Massachusetts, which has probably done just enough at No. 38 in the RPI rankings to earn an at-large NCAA bid if it falls short in the conference tournament in St. Louis. Fordham remains the obvious spoiler and is coming off the high of upsetting Alabama on Monday, but ace Jen Mineau left that game after getting hit by a batted ball. The Rams, who aren't in range for NCAA at-large consideration, obviously need her this week as they chase the automatic bid.

Conference USA: Tulsa claimed the outright regular-season title by taking two of three games at second-place UAB last week, but didn't get to take the title back home to celebrate. With the conference tournament at UAB, the Golden Hurricane stuck around Birmingham this week. Along with Tulsa, UAB seems in safe territory for the NCAA tournament even without an automatic bid, but Central Florida put itself in some jeopardy by losing three at Marshall last week. The quarterfinal between UCF (RPI No. 41) and Houston (RPI No. 43) isn't necessarily an NCAA bubble elimination game, but the loser is going to spend a long, nervous weekend waiting for the draw.

Southern: Which team will be the poster child for why one-bid conferences shouldn't hold conference tournaments that spend three or four days erasing the work of a regular-season champion? Georgia Southern, along with Hofstra (Colonial) and Radford (Big South), is in the running if it doesn't win the Southern tournament in Boone, N.C. All three of the regular-season champions mentioned have slipped to the uncomfortable side of 50 in the RPI, meaning it's likely each will need the automatic bid to reach the NCAA tournament.

Sun Belt: Louisiana-Lafayette knows it is going to the NCAA tournament regardless of what happens this week in Boca Raton, Fla. But after slipping to No. 13 in this week's RPI, it would behoove the Ragin' Cajuns to win a conference tournament that isn't going to help their RPI to ensure they land one of 16 national seeds in the NCAA tournament.
By the numbers
2.75: Jackson State leads the country in stolen bases per game with 2.75 (151 steals in 55 games). Two of its players have stolen more than 40 bases this season: senior Wendi Reed (45-for-49) and junior Tayler Nave (43-55).
50: By beating St. John's twice Saturday, Louisville recorded its first 50-win season in program history. Six Louisville starters are hitting over .300, and the pitching staff has a 1.33 ERA with 367 strikeouts in 353.1 innings.
3: All three IPFW pitchers have an ERA under 2.00. The trio's combined ERA of 1.65 ranks 14th nationally, and senior Courtney Cronin's 1.22 ERA ranks 12th nationally.
3: Three Pac-12 teams ranks in the top six nationally in runs per game: Arizona State (7.58), California (7.08) and UCLA (6.92).
80: Against Nevada on Friday, BYU senior Delaney Willard broke a 14-year-old WAC record when she recorded her 80th RBI of the season. She now has 83 RBIs, which ranks second in the country behind Louisiana-Lafayette's Christi Orgeron (89).
-- Erin Quinn