Gators' confidence high after comeback win
By Edward Aschoff
ESPN.com
OMAHA, Neb. -- Hours before Florida and Texas took the field at TD Ameritrade Park, the ticket line for Saturday's prime-time matchup stretched a block and a half.
People of varying fan bases waited for the chance to see two college baseball giants face off. One a historical behemoth. The other with a more recent rise to fame.
[+] Enlarge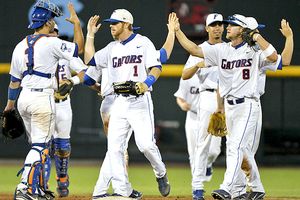 AP Photo/Ted KirkFlorida is feeling confident after its comeback win over Texas Saturday in its opening game at the College World Series.
The tournament's nightcap didn't disappoint, either, as the Gators rallied from an early 3-0 hole to take down the Longhorns 8-4 to complete the first day of the College World Series.
"I was awfully proud of how we battled back," Florida coach Kevin O'Sullivan said. "We kept chipping away.
"It was good to get the first one, but obviously, we have a long way to go."
The Gators arrived in Omaha as one of the favorites to leave with the championship, but started that journey in an unorthodox manner.
O'Sullivan adjusted his lineup to fit Brian Johnson, who was back after he missed all of the postseason with a concussion.
O'Sullivan put Johnson, who hit .312 with five home runs and 27 RBIs this season, in as the designated hitter. He sat first baseman Vickash Ramjit, replacing him with right fielder Preston Tucker, and put former DH Daniel Pigott in right field to keep his bat in the lineup, leaving Tyler Thompson in left.
Got all that?
The lineup that got the No. 2 national seed to Nebraska outscored opponents 55-22 in the postseason, but O'Sullivan took a chance with Johnson.
Fortunately for the Gators, it worked, as Johnson delivered the knockout punch in the bottom of the seventh when he launched Nathan Thornhill's 1-0 pitch over the right-center field wall for what appeared to be a three-run homer. Instead, the umpires ruled it a two-run double, after the ball bounced back onto the field.
A long umpire powwow and pleading from O'Sullivan and Johnson didn't overturn the decision, but it didn't matter, because Florida didn't need the extra run to advance to the winner's bracket.
NCAA umpire coordinator Gene McArtor later issued a statement apologizing for the call.
Things started off rough as a Nolan Fontana error and a bobble by Tucker put two Longhorns on in the third. A single and two sacrifice flies later and Texas was up 3-0.
An inning later, that lead disappeared as one of the nation's top pitchers, right-hander Taylor Jungmann, lost all control, walking two and skipping a ball past his catcher to help the Gators make it 3-2.
An inning later, back-to-back RBI doubles gave the Gators a lead they wouldn't relinquish.
Equally helpful was the fact that starter Hudson Randall calmed down after his forgettable third inning, retiring 13 straight Texas batters through the middle innings.
"[O'Sullivan] always tells you if you give up one don't give up another -- always stop the bleeding where it's at," Hudson said.
"They weren't getting really good swings on me throughout the game so I just trusted my stuff, throwing strikes and tried to get out with the least damage as possible."
The win helped ease the sting from last year's unsuccessful Omaha experience. The Gators are older, wiser and now have a little momentum on their side.
Pigott said he could feel the fight in his team when Texas sprinted ahead. He never doubted his team and he now senses that the Gators have the right mindset to make the run they set out for at the beginning of the season.
"It was a very, very big win for us," he said. "We came here last year and were very disappointed with two-and-done, so to start out this way, have a great game, good pitching, solid hitting, it was very, very big for us. It's definitely going to give us a lot of confidence going through the tournament."
Vanderbilt first through the Dore
By Edward Aschoff
ESPN.com
OMAHA, Neb. -- It was all about firsts for Vanderbilt on Day 1 of the College World Series.
Not only were the Commodores playing in the opening game but it was the first game at the tournament's new home -- TD Ameritrade Park -- and it was the first appearance for Vanderbilt in Omaha.
Leadoff batter Tony Kemp christened the park with its first hit -- a bunt down the third base line. He was even a part of the first error, when his slow roller forced North Carolina pitcher Patrick Johnson to badly overthrow Jesse Wierzbicki at first, advancing Kemp to second.
[+] Enlarge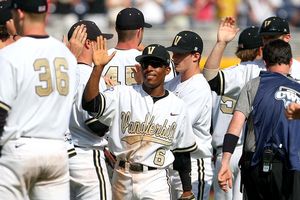 Brace Hemmelgarn/US PresswireVanderbilt's Tony Kemp scored the first run of the College World Series at its new home at TD Ameritrade Park as the Commodores beat North Carolina.
Two batters later, Kemp made history again when he scored the first run on Aaron Westlake's sacrifice fly to give the Commodores the first lead at 1-0.
Kemp later became the first player to walk twice in an at-bat at the new venue when plate umpire Mike Conlin got the count wrong during his at-bat.
More importantly, he was a part of the first win in college baseball's new postseason home after the Commodores slipped by North Carolina with a 7-3 win. And with firsts being so prevalent Saturday, it made sense that the win was made possible by the park's first College World Series home run -- a two-run blast to left from sophomore center fielder Connor Harrell to put Vandy up 5-3 in the sixth inning.
"Sometimes you never know how you're going to react out here for the first time, but I think the kids were very comfortable during [batting practice] today and when we started the game," Vanderbilt coach Tim Corbin said.
The Commodores were supposed to come out shaky. Their first appearance in Omaha was supposed to frighten them and leave them wide-eyed during their short stay. Playing a North Carolina program that has made five College World Series appearances in six years, no one would have been shocked by a nerve-wracking debut.
But Vandy overcame some early, yet minute, jitters and guaranteed an extended stay with Saturday's victory.
"Coach Corbin told us to prepare like it was just another game, just another SEC home opener," said Kemp, who was 3-for-4 at the plate.
"Everyone was loose, making jokes, laughing; just like they do every game. Luckily, we were able to get the 'W' today, so it was a good job by the team."
Vanderbilt had every reason to cave in Saturday's opener. The Commodores struck in the first inning, only to see a quick turnaround by the Tar Heels, who tied the game in the bottom half of the inning when Chaz Frank came around to score after a leadoff triple.
Both teams traded runs until North Carolina took a 3-2 lead in the fourth when a Colin Moran hit-by-pitch brought in a run with the bases loaded.
Kemp, labeled as a catalyst for Vanderbilt's success by his coach and an "absolute pest" [in a good way] by UNC coach Mike Fox, said the team momentarily tightened up but felt the ultimate wave of momentum when Harrell belted his eighth homer of the season.
"I felt like I helped the team, which I hadn't in my first two at-bats," Harrell said. "It's exciting for me to come in and bring those runs in, but more importantly the fact that we had a lead, we had some momentum going into those last three innings."
In those innings, the Commodores kept their composure, while the Tar Heels continued to struggle manufacturing runs. North Carolina left 16 runners on with nine coming after its final run in the fourth.
Saturday was an electrifying experience for the Commodores and a humbling moment for the playoff veteran Tar Heels.
Follow ESPN.com's college sports coverage on Twitter @ESPN_College and on Facebook.
Highlights: Vanderbilt-UNC
Odds and ends
• With wins by Florida and Vanderbilt today, the SEC went 2-0 on the opening day. It is the fifth time since 2002 that a conference went 2-0 in one day during the opening round. The others include 2009 (Arkansas and LSU), 2007 (Arizona State and Oregon State), 2006 (Clemson and North Carolina) and 2002 (Georgia Tech and Clemson).
• Both of Saturday's winning coaches -- Tim Corbin and Kevin O'Sullivan -- were assistants at Clemson before getting their current positions. Corbin was an assistant for the Tigers from 1998 to 2002 before getting his post at Vanderbilt in 2003. O'Sullivan came to Florida in 2008 after being at Clemson from 2002 to 2007.
• Florida earned its 51st win of the season, tying the 1991 Gators for the single-season school record. UF's 1991 squad finished 51-21 and tied for third at the College World Series.
• Tonight's loss was the Longhorns' first to Florida, as Texas swept the 2005 CWS Championship Series in their only previous meetings. All three contests between the two schools have taken place in Omaha.
• Taylor Jungmann's outing of 4 1/3 innings was his shortest start of the season. He entered the weekend with 11 outings of eight-plus innings and five complete games. In the NCAA tournament, Jungmann is 0-3 with a 5.89 ERA, allowing 15 runs (12 earned) in 18 1/3 innings. Prior to the tournament, he was 13-0 with a 0.95 ERA.
• Vanderbilt is the only first-time qualifier among the 2011 CWS field and became the second straight school to be a first-time winner, joining TCU, which won its opener in 2010 (also the 2010 CWS opener).
-- Courtesy of NCAA stats>
Florida coach Kevin O'Sullivan
Florida and Vandy will meet again
Breaking down Taylor Jungmann
Vanderbilt coach Tim Corbin
Augie Garrido on Longhorns' loss