Tyler Wilson comes through for Virginia again
OMAHA, Neb. -- Virginia called on Tyler Wilson for three years to stop the bleeding, to enter from the bullpen and, well, do what relief pitchers do.
[+] Enlarge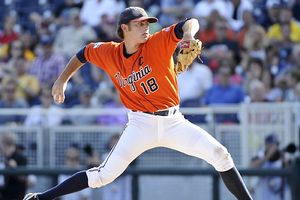 AP Photo/Eric FrancisTyler Wilson improved to 4-0 this season following Virginia losses.
He did it well. And it served as great training for Thursday night -- all season, in fact.
Wilson, the senior right-hander from Midlothian, Va., quieted upstart California for 7 2/3 innings as his top-seeded team beat the Bears 8-1, advancing to a Friday rematch with South Carolina.
Before a record crowd at TD Ameritrade Park, Cal managed just five hits off Wilson, now 10-0, and scored its lone run, charged to Wilson, after the starting pitcher left in the eighth.
For the year, in starts after four of Virginia's 11 losses, he's 4-0 with a 0.95 ERA. Wilson has allowed three earned runs in those games on 14 hits over 28 1/3 innings, striking out 34.
"When he knows his team needs him the most, he's at his best," Virginia coach Brian O'Connor said. "Some guys would back down from that kind of situation. He's better."
O'Connor wasn't finished.
"I'll say this, in all my years of coaching, this guy is as good of a leader as I've ever seen," he said. "He does things the right way. And the fact that he decided to come back for his senior year and [make] the conversion from being a relief pitcher to a starting pitcher and now he's 10-0, he's just your perfect teammate."
So perfect, O'Connor said, that he made the decision to hold Wilson for Thursday after Virginia won its opening game over Cal on Sunday. If the Cavaliers were 2-0 and playing to make the championship series, O'Connor wanted Wilson on the mound.
If they were 1-1 -- as it happened after a Tuesday loss to South Carolina -- he wanted Wilson to bring his team back.
The reliever mentality helps Wilson, he said. Out of the bullpen, he pitched with unchecked emotion. And after a loss, a little emotion goes a long way.
"I still approach the start in the same way," Wilson said, "but after a tough loss, it's important to set a tone as a pitcher. It's important for me to let the guys know I'm going to be in there for the long run."
He started Thursday by working around two-out hits in the first and second innings, then settled in to retire 11 straight.
"He just steps up every time and gets the job done," Virginia shortstop Chris Taylor said.
Added second baseman Keith Werman: "He's a warrior. He goes out and competes. He just does it every day, and you couldn't ask for anything better."
The Bears, despite getting a look at Wilson on Sunday, left Omaha only with words of praise for the pitcher. He beat them twice, throwing 2 1/3 innings of relief in the first game.
"He kept us off balance to the point where we were popping up a lot of balls, which is pretty uncharacteristic of our team," Cal designated hitter Tony Renda said.
"Against a guy like him, you've just got to take advantage of his mistakes, and he didn't make too many tonight."
Wilson returned for his senior year after the Cincinnati Reds drafted him in the 35th round a year ago. He jumped to the 10th-round this year, selected by the Baltimore Orioles.
More than to improve his draft position, though, he said he wanted return for another chance to experience a college season. Wilson's parents followed him to Omaha. He beat Cal for the first time on Father's Day, less than a week after his dad's birthday.
And if Virginia beats South Carolina on Friday, a spot in the three-game finals is at stake on Saturday -- his mother's birthday.
So far, it's been that kind of a storybook season for Wilson. And there's nowhere better to finish this run of success than in Omaha.
"It's the College World Series," he said. "How can you not pitch with adrenaline every time you step on the mound? The atmosphere is incomparable to anything else you'll ever [experience] at this level."
Hultzen ready, if called upon
OMAHA, Neb. -- It didn't require much of a look to see inside Danny Hultzen's head after Virginia beat California 8-1 on Thursday night to stay alive at the College World Series.
The junior All-American stood to the side of the team huddle outside the first-base dugout at TD Ameritrade Park. He listened to coach Brian O'Connor speak but practiced his left-handed pitching motion at the same time.
Hultzen likely wants the baseball Friday as Virginia faces South Carolina in a win-or-go-home game for the Cavaliers.
But will he get to pitch?
O'Connor, asked about his plans in the postgame news conference, said he'd decide in the morning.
He later clarified, saying he would confer with Hultzen, who threw 113 pitches in a no-decision Sunday.
"I'm just going to need to get his honest opinion on his strength level and know if we put him out there that he's going to be at his best," O'Connor said. "If not, I'll hold him off for another day."
Of course, there may not be another day.
If Hultzen isn't ready, O'Connor said, Virginia would start sophomore right-hander Whit Mayberry, 5-0 with a 3.03 earned-run average in 16 appearances this year.
He's started just two games.
Hultzen, the No. 2 draft pick of the first round this month by the Seattle Mariners, has started 16. He's 12-3 with a 1.41 ERA and ranks as Virginia's career leader in pitching victories.
Virginia coaches pulled Hultzen away from an interview after the game Thursday before he answered a question. Clearly, the Cavaliers weren't ready to reveal anything more about their plans for Friday than what O'Connor offered.
Others expressed confidence in Hultzen.
"I'd be happy to pitch out of the bullpen if he started every day, but we'll see what happens," said Tyler Wilson, the winning pitcher in both Virginia victories at the CWS. "I don't know who's going to start, but I know he's going to leave everything out there. It's win or go home."
Not for South Carolina, the defending national champion, which needs a win Friday or Saturday over Virginia to advance to the best-of-three championship series.
The Gamecocks plan to choose between starting pitchers Michael Roth, their ace, and freshman Forrest Koumas.
Vanderbilt and Florida play in the early game on Friday (ESPN, 2 p.m. ET) with the Commodores in need of a win to force a rematch Saturday.
Follow ESPN.com's college sports coverage on Twitter @ESPN_College and on Facebook.
Odds and ends
• Virginia's Keith Werman's sacrifice bunt in the third inning was his 25th of the season, which leads the nation in that category.
• With the win over Cal, Virginia is now 39-2 when scoring five or more runs.
• With Virginia's win over Cal, it will be only the second time in the past eight seasons that a national seed is guaranteed to win a national title.
• Virginia starter Tyler Wilson improved to 10-0 on the season with Thursday night's win. He matched his career high with 7.2 innings pitched.
• Tyler Wilson has allowed one run or less in each of his past five starts.
• Virginia pitchers now have a 1.69 team ERA in nine NCAA tournament contests and have allowed two runs or less in all seven of its NCAA wins (allowed 13 runs in its two losses).
• Virginia's Chris Taylor was hit by two pitches Thursday night, one shy of the CWS single-game record.
• The only other national seed to win a national title since 2004 is LSU (No. 3 seed) in 2009.
• Three of the top five ERAs in the country after Thursday's action, including national leader Virginia (2.25, first), Vanderbilt (2.38, third) and South Carolina (2.53) remain in the CWS.
• Virginia's eight runs ties for the highest single-game total by any team in the CWS. The last time no team reached double figures in any CWS game was in 2005.
• All nine Virginia starters had at least one hit against California.
-- Courtesy of NCAA stats>