Alabama draws crowds to Northern Iowa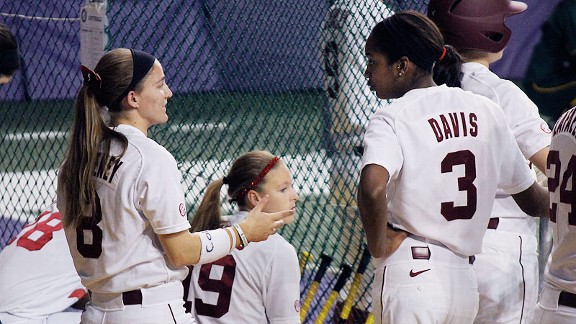 Graham Hays/espnW.comAlabama picked up where it left off, filling holes with a freshman and an experienced senior.
CEDAR FALLS, Iowa -- If you build it, well, you know the rest when it comes to ball fields in this state.
Almost 40 years after the University of Northern Iowa built a dome in Cedar Falls, about an hour west of a certain diamond cut out of a cornfield, people most definitely came to see college softball's reigning national champions open a new season. A crowd of 5,084 came indoors for the UNI-Dome Classic's showpiece game between Alabama and host Northern Iowa. Plenty of the home team's purple dotted the stands, but whether the fans came to see Alabama or to see Northern Iowa play Alabama, history suggests the common denominator was the team from Tuscaloosa.
History in that when the event took place in Cedar Falls two seasons ago, Northern Iowa's game in the Friday evening slot drew a crowd of 147 people.
Alabama routinely draws better than any team when it plays at home, and it has played before record postseason crowds in the Women's College World Series, but even players used to those sights were surprised by what they saw Friday night in what was almost certainly the largest crowd ever to watch a regular-season college softball game. (The NCAA tracks only single-date attendance records, not single-game marks, but even the former is only 5,724 for two ends of a doubleheader.)
"I'm not going to lie; I kind of was [surprised]," Alabama All-American infielder Kaila Hunt said. "I think you kind of realize how widespread our support is. We get the support in Alabama, and that's kind of unspoken. But to come all the way out to Iowa and get the same support? You just kind of realize it's widespread all over the country."
But if the crowds came in part because of what Alabama accomplished a season ago, the Crimson Tide spent much of the weekend showing off the means by which they hope to remain atop the college game. The usual suspects did their part. Kayla Braud hit .429 and was perfect in six stolen-base attempts, Hunt hit a pair of home runs and drove in six runs, and Jackie Traina picked up three wins and struck out 24 batters in 14 1/3 innings.
The stars, however, were a senior who waited to climb to the top of the depth chart and a freshman who wasted no time living up to comparisons to former Alabama All-American and Olympian Kelly Kretschman.
Senior Keima Davis hit six home runs in limited playing time her first three seasons. She hit three in three days in Iowa. The display included a grand slam in the opener against Illinois, a walk-off in the run-rule finale against North Dakota State and her biggest blast, a three-run homer in the seventh inning against Green Bay to give her team a 10-7 lead and awaken the Phoenix from dreams of a historic upset.
There have always been whispered stories about the show the slightly built Davis regularly puts on in batting practice, but she never found steady playing time in a crowded outfield. No one need whisper anymore.
"You look at Keima and you don't think home run hitter," Hunt said. "She's a skinny little thing that's supposed to be fast, but she can hit the ball over the scoreboard and one-hop the fence in the Brickyard [beyond right field in Tuscaloosa]. She's got a lot of whip and a lot of torque behind that body, and you would not think it with how skinny she is."
Freshman Haylie McCleney singled in her first at-bat as a collegian, stole second and came around to score on a wild pitch and an error. She spent the rest of the weekend trying to get around the bases even more quickly. She finished the tournament hitting .722 with two home runs, two doubles, a triple and five stolen bases. Twice she put a ball in play and didn't stop running until she crossed home plate, one a true inside-the-park home run and the other scored a double and a two-base error. For good measure, she added two diving catches in center field as good as any of her hitting exploits.
"She's going to be really special," Alabama coach Patrick Murphy said.
A younger generation phrased it another way.
"She's a freaking stud," Hunt offered.
The question entering the season was how Alabama would replace one of its best senior classes. After Murphy started every player on his roster at least once in Iowa, the conundrum is changing. Now it's a matter of who sits.
"We have 19 starting players that could start almost anywhere in the country," said senior third baseman Courtney Conley. "We have so much depth. To have everyone on one team, it's amazing. And it's crazy the way we connect. We have really good team chemistry. You would think with so many good, good players -- highly recruited freshmen coming into a team that just won a national championship -- there would be egos. But there's not.
"Like Haylie McCleney, she could have a head the size of freaking Texas and California combined, but she doesn't. She's very humble. That's what it's about. It's about being a team."
A team that people will most definitely come see.
Players of the Week
Lauren Chamberlain, Oklahoma: You can't pitch around her because of the rest of the lineup, but how can you pitch to her? Chamberlain reached base in her first 10 plate appearances this season and hit four home runs on the weekend. She finished her stay in Arizona with a 1.727 slugging percentage and .800 on-base percentage.
Dallas Escobedo, Arizona State: True, the Sun Devils rarely play the toughest schedule while hosting the Kajikawa Classic, but those were still Division I batters who tried and failed to get the ball in play against Escobedo. The junior went 4-0 on the weekend and struck out 39 batters in 24 2/3 innings. Equally impressive? She piled up those strikeouts against one walk and one extra-base hit. That's the start she needed in an important legacy season.
Alex Hugo, Kansas: Add Hugo to the list of impressive freshmen. Kansas missed out on a perfect 5-0 start when it lost to NC State in the finale of a tournament in Miami, but Hugo was close to perfect at the plate. She finished with a .667 batting average (10-of-15) that included three home runs, two doubles and a triple, which leaves her just 16 extra-base hits shy of the team lead for the entirety of last season. She also caught another strong debut, starting behind the plate for freshman teammate Kelsey Kessler's 1.15 ERA and 20 strikeouts in 18 1/3 innings.
Keilani Ricketts, Oklahoma: Credit Northwestern for getting to her in Sunday's finale in Arizona and making her final numbers a bit more modest, but that shouldn't detract from what Ricketts did in starting the season with back-to-back no-hitters against ranked Pac-12 opponents in Stanford and Oregon. She struck out 24 batters in 12 innings in those two wins and added a home run at the plate in the win against the Cardinal.
Kelsey Stewart, Florida: Alabama's McCleney had a debut for the ages, but Florida's star recruit wasn't far behind, if she trailed at all. Stewart reached base in 13-of-21 plate appearances, was perfect in five stolen-base attempts and showed power with two home runs, two doubles and a triple while primarily holding down second base.
Opening Statements

Florida: No team enjoyed a more fruitful opening weekend than the Gators, and not just on the mathematical grounds of a 5-0 record, including wins against Arizona, California and Oregon at the Kajikawa Classic in Tempe, Ariz. This was a program in disarray by the end of last season, eliminated at home in an NCAA tournament regional after three starters were dismissed from the team following the SEC tournament. In the wake of that turmoil, the Gators opened the season with just three players -- Ensley Gammel, Kelsey Horton and Hannah Rogers -- who had more than one season of experience in Gainesville. But if this is coach Tim Walton's version of rebuilding, he puts any contractor to shame. Starting four freshmen and a junior transfer in all five games, Florida hit eight home runs, stole 14 bases and committed three errors. Ace-worthy work from Rogers completed the ideal page turning.

Kentucky: The Wildcats will become the latest SEC program to open a spiffy new facility in a few weeks, and while the results from the first weekend were mixed (notably a loss against Portland State), they may have a product worthy of the new park. Kentucky went 4-2 at the Kajikawa Classic, with two of the wins against California and Stanford. Freshman pitcher Kelsey Nunley went 3-0 with 19 strikeouts in 17 1/3 innings, a key development for a team looking to replace Chanda Bell and Rachel Riley, two pitchers who recorded a lot of innings in the circle the past four seasons.

Mississippi: Granted, it was a tough weekend overall for Mississippi, which went 2-4 in a tournament in Hawaii, but junior college transfer Shelby Jo Fenter likely turned some heads in the SEC. The newcomer struck out 23 batters in 16 innings, including 12 in 5 2/3 innings against host Hawaii. Fenter piled up strikeouts for Volunteer State Community College and could team with Memphis transfer Carly Hummel to make Ole Miss a tougher out.

Ohio: The MAC program polished its credentials as a sleeper. The Bobcats didn't pull off any stunners in a below-the-radar tournament hosted by East Carolina, but a 4-1 weekend in which they outscored the opposition 28-12 and beat the host school twice is a solid start. It's pitching that makes them particularly intriguing. A season after breaking the school's single-season strikeout record as a freshman, Lauren McClary struck out 14 in 11 2/3 innings. Freshman Savannah Jo Dorsey did her one better when she fanned 15 in 11 2/3 innings.

Texas A&M: Aggies coach Jo Evans said this shaped up as the most powerful lineup she's had in College Station, and it looked the part in scoring 33 runs in a 4-0 start, including a 7-6 win in extra innings against UCLA at Easton Stadium. Nicole Morgan did the heaviest lifting with four home runs and 10 RBIs, and Meagan May, Mel Dumezich, Cassie Tysarczyk and freshman Cali Lanphear each hit two home runs. Dumezich also went 3-0 in the circle.
Key Games
Friday
No. 1 Oklahoma at San Diego State
DePaul vs. No. 6 Texas
Fresno State vs. No. 7 Missouri
Nevada vs. No. 8 California
North Carolina at No. 10 Texas A&M
Northwestern at No. 14 Georgia
No. 22 Kentucky vs. No. 16 Washington
No. 23 Hawaii vs. No. 18 UCLA
Nebraska at No. 19 Arizona
Arkansas vs. No. 25 Hofstra
No. 25 Hofstra vs. Tulsa
BYU vs. Oregon State
Saturday
No. 1 Oklahoma vs. No. 22 Kentucky
No. 1 Oklahoma vs. No. 16 Washington
No. 4 Tennessee at No. 12 South Florida
No. 6 Texas vs. Houston
Fresno State vs. No. 7 Missouri
No. 23 Hawaii vs. No. 9 Oregon
North Carolina at No. 10 Texas A&M
Northwestern at No. 14 Georgia
No. 16 Louisville vs. Ohio State
No. 25 Hofstra at No. 21 Florida State
Long Beach State vs. Oregon State
Sunday
DePaul vs. No. 6 Texas
Maryland vs. No. 13 Michigan
Massachusetts vs. No. 13 Michigan