Trio deserves national recognition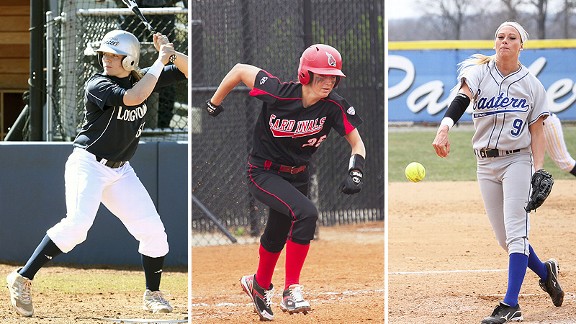 Courtesy of Longwood, Ball State, and EIUFrom left: Longwood's Megan Baltzell, Ball State's Jennifer Gilbert and Eastern Illinois' Hanna Mennenga were glaring omissions from the player of the year finalists.
As busy as the past week was on the field, the biggest news came off the field with the release of the 25 finalists for USA Softball Player of the Year. The list will be trimmed twice more before a winner is announced on the eve of the Women's College World Series, but this first cut sets the terms of the debate. And it will be a familiar debate.
All but five of the finalists play in the Big 12, Pac-12 or SEC. The other five play in the Big East or Big Ten. Alabama and Oklahoma alone account for seven finalists between their two rosters.
That's understandable. The best teams should, by and large, have the best players. In the cases of Arizona State's Cheyenne Coyle and Missouri's Nicole Hudson, even the list of 25 omitted worthy candidates. And in the interest of transparency, while this space endeavors to reach beyond the top tier, analysis would surely reveal a similarly hefty percentage of words devoted to those same few teams and players at the top of Division I.
But it's difficult to envision a scenario in which 25 players are having better seasons, and not merely more visible seasons, than Longwood's Megan Baltzell, Ball State's Jennifer Gilbert and Eastern Illinois' Hanna Mennenga.
Signing day isn't the last word on a player's ability. As Longwood coach Kathy Riley said, "There is some luck to recruiting, being in the right place at the right time."
The coach who has quietly done a remarkable job unearthing sleepers and shepherding Longwood through the transition to Division I and independent status into its new home in the Big South might have missed Baltzell, too, if the player had been another name on a long list to try and see at one of the large travel ball tournaments that play such outsized roles in the recruiting game. Instead, tipped off about a player a few hours away from Longwood's campus outside of Richmond, Va., Riley went to watch Baltzell practice. She saw a kid with a powerful 5-foot-10 frame who was nonetheless one of the best athletes on the field, someone with bat speed but also foot speed. (As a freshman at Longwood, Baltzell doubled up and played basketball as a walk-on when injuries left that team short-handed.)
Baltzell, who noted she was the first person in her family to attend college, had some interest from Georgia as a possible walk-on but otherwise little more than Division II offers from any school but Longwood.
"So much of it is getting on one of those [travel] teams that actually has connections or goes to good tournaments," Riley said. "If kids that aren't in those situations are playing, I think there are a lot of good athletes in those areas that are playing for teams that people just don't know about."
As a freshman, Baltzell hit .344 with a 1.070 OPS and 25 extra-base hits against a schedule that included a total of 19 games against Alabama, DePaul, Fordham, Louisville, North Carolina, North Carolina State, Ohio State, Purdue, South Carolina, Virginia and Virginia Tech -- the competitive equivalent of a passable major conference schedule. And yet the statistic that got her attention was 45 strikeouts.
"To be honest, I was quite embarrassed with all the strikeouts that I had last year," Baltzell said. "I've never struck out that much in a single season. I was embarrassed. I did have a good batting average and good doubles, but the strikeouts really hurt my ego a little bit. So I worked really hard on my discipline and fixed some kinks in my swing."
We should all be so good at self-improvement. She has 12 strikeouts through 42 games this season, a season in which she's hitting .413 with 19 home runs, 53 RBIs, a .525 on-base percentage and a .968 slugging percentage.
Longwood plays a doubleheader at Virginia Tech on Wednesday, then travels to Florida for three games in two days against that SEC power. Whatever the outcome, Baltzell belongs on the field.
Jennifer Gilbert, Ball State: A Texan who plays internationally for Canada (she was born in Saskatoon, Saskatchewan), Gilbert already had numbers worthy of finalist consideration when ballots were due last week. She finished the week with numbers that make her something of a glaring omission.
The junior hit six home runs in five games for the Cardinals, who remain unbeaten in the MAC. She is tied with Baltzell for second place nationally with 19 home runs, two fewer than Oklahoma's Lauren Chamberlain. With 52 career home runs, Gilbert is a realistically manageable 19 shy of a place in the top 10 in NCAA history, a feat no player who played college softball in the Midwest or Northeast has achieved. She also set a MAC record for career RBIs, with a season still to play beyond this one. Gilbert is hitting .500 with a 1.032 slugging percentage, ranking second and third nationally, respectively.
Hanna Mennenga, Eastern Illinois: She may not be among the finalists for national individual honors, but there are several potential national seeds in the region fervently hoping Eastern Illinois doesn't earn the Ohio Valley Conference's automatic bid to the NCAA tournament. It's not going to be any fun to face Mennenga in May.
The 5-foot-11 junior, who spent her first season at Heartland Community College, entered the past week ranked fourth in the nation in strikeouts per seven innings and then went out and backed it up with a signature performance against Illinois. In just five innings of work in a run-rule win, Mennenga struck out 12 Big Ten batters. On the season she's 19-4 with a 1.30 ERA, 237 strikeouts in 150 2/3 innings and a 6-to-1 strikeout-to-walk ratio.
espnW.com
Graham Hays covers college sports for espnW, including softball and soccer. Hays began with ESPN in 1999.
Players of the Week
Lauren Chamberlain, Oklahoma: Seriously, folks, enjoy this while it's here. We're watching the hitting equivalent of what pitchers like Monica Abbott and Cat Osterman did not so long ago at the college level. Chamberlain hit home runs in all three games of a weekend series at Texas Tech to push her total to 21 this season and 51 in a career still in its first half. Only five players in history hit as many as 80 career home runs. Only one of them did so playing the entirety of her career after 2000. Chamberlain could reach 80 by the end of her junior season.
Haley Outon, Houston: When a team puts up 37 runs in three games, as Houston did sweeping UTEP, there are going to be offensive accolades to go around. But on the earlier subject of players with legitimate claim to national honors, Outon's big weekend against UTEP was just the continuation of a phenomenal year. After a three-strikeout midweek game against Jackson State, she drove in 11 runs in three games against the Miners, including eight in one game in which she hit two grand slams. For the season, she has a 1.358 OPS.
Kaitlyn Richardson, Minnesota: It had been eight years since Minnesota earned a Big Ten player of the week honor, and it had a pair of candidates in the same week. Shortstop Tyler Walker split that conference honor with Iowa's Megan Blank after hitting three home runs in a three-game sweep of Illinois, but Richardson was right there with her teammate. Tenth in the nation in on-base percentage before the series, Richardson then went out and walked seven times and registered hits in three of four official at-bats, including a home run and double.
Staci Rodriguez, New Mexico State: You know it was a good week for Rodriguez when in just about the only game in which she wasn't a force at the plate, her team still knocked off Arizona to split a midweek doubleheader. Hitless in that game (with a walk), Rodriguez hit .727 (8-for-11) in her team's other four games, including a weekend sweep against Texas-San Antonio. She finished the week with three home runs, a double and seven RBIs for the WAC leaders.
Jordan Wallace, Louisiana-Lafayette: Does Wallace make the list on the strength of one game? Not entirely, but it might have been enough. The team's ace closed the weekend with 18 strikeouts in a complete-game, one-hit shutout against Middle Tennessee State. Only 17 pitchers ever struck out more batters in a seven-inning game. Overall, Wallace went 4-0 with 37 strikeouts in 18 innings on the week.
Weekend notes

1. Oklahoma was the only team to place two pitchers among the 25 finalists for player of the year, Keilani Ricketts and Michelle Gascoigne, but Oregon isn't giving up its claim to the best combination.
Senior Jessica Moore earned her place among the finalists, but freshman Cheridan Hawkins continues to shine, as well. The two teamed up in the first game of a three-game sweep against Arizona, then took turns trying to top each other in run-rule wins. Hawkins struck out 11 in her no-hitter Saturday, but Moore answered with a perfect game in Sunday's finale.
Opponents have just 45 hits in 101 2/3 innings against Hawkins. That's a stingier batting average against than Ricketts, Gascoigne, Moore, Cal's Jolene Henderson, Missouri's Chelsea Thomas or just about anyone else.

2. Speaking of going a long time without allowing a hit, we come to Texas ace Blaire Luna. The senior allowed a single in the second inning of Sunday's finale of a three-game series against Iowa State. That's noteworthy because it ended a streak of 20 1/3 consecutive hitless innings from Luna. In four career starts against Oklahoma, which visits Austin this weekend for one of the Big 12's top series, Luna is 1-2 with a 4.14 ERA, 27 strikeouts and 20 walks.

3. Rare is the .500 week that demands mention, but UAB did a lot more than break even in posting a 2-2 record. The Blazers took a short bus ride to endure a long evening in an 11-0 loss at Alabama on Wednesday, but that just set the stage for a show of resiliency over the weekend. After a loss in the opening game of a three-game series on the road against Conference USA leader Tulsa, UAB rallied for back-to-back wins and sole possession of first place. UAB (13-2), Tulsa (12-3) and Houston (12-3) remain locked in a fascinating conference race. Beyond the regular-season title, the prize for finishing first is avoiding a potential conference tournament semifinal against one of the others.

4. The toll too heavy a workload can take on a pitcher was evident when Missouri dropped a series at home against Arkansas, with Thomas unavailable at the end of a wild finale. This makes what Cal's Henderson did and continues to do all the more remarkable. Henderson threw a total of 421 pitches in three games against UCLA, a series in which all three games went extra innings. On the hook for a ninth-inning loss in each of the first two games, she not only went all 10 innings in the finale but also hit a three-run home run in the 10th inning to make sure her team got out of Westwood with at least one win. There isn't a tougher pitcher in the world at the moment.
Games of the Week
Wednesday
Florida at Florida State
Houston at Louisiana-Lafayette (DH)
Kansas at Nebraska
Oklahoma vs. Oklahoma State
USC-Upstate at Georgia
Thursday
UCLA at Arizona (ESPN2, 10 p.m. ET)
Friday
Mississippi State at Alabama
Missouri at LSU
Ohio State at Wisconsin
Oklahoma at Texas
Stanford at Washington
Texas A&M at Georgia
UCLA at Arizona (ESPNU, 8 p.m. ET)
Saturday
Florida State at Virginia Tech
(ESPNU, 12 p.m. ET)
Mississippi State at Alabama
Missouri at LSU
Ohio State at Wisconsin
Oklahoma at Texas
Stanford at Washington
Texas A&M at Georgia
Tulsa at Houston (DH)
UCLA at Arizona
Sunday
Florida State at Virginia Tech
Mississippi State at Alabama
(ESPN3, 2 p.m. ET)
Missouri at LSU
Ohio State at Wisconsin
Oklahoma at Texas
Stanford at Washington
Texas A&M at Georgia
Tulsa at Houston