Nicole Hudson helps save Mizzou's season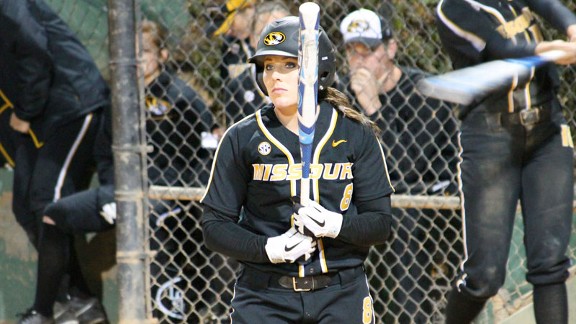 Graham Hays/espnWNicole Hudson's college softball career is ending, but the senior, who has been overlooked for major awards, gave her all to help the Tigers to a series win at LSU last weekend.
Roughly a quarter of the college softball universe knows exactly how Missouri senior Nicole Hudson feels as a life without cleats approaches.
"It's something that I worked for my entire life," Hudson said earlier this season of her college softball experience. "And now to kind of sit back and realize it's about to be over, you really start to cherish every second because it's easy to take things for granted and get swept away. I'm just really taking it one game at a time and realizing it's not worth it to get upset because it's almost over. But it's definitely been the most rewarding experience of my life."
The difference is she is better equipped than most of her peers to do something about ensuring the experience lasts an additional week or two.
Missouri traveled for a three-game series against LSU last weekend giving off every signal of a team teetering on the brink of a tailspin. It was a team that had dropped back-to-back SEC series, the first an understandable setback on the road at Alabama but the second a more perplexing defeat at home against Arkansas. Pitching ace Chelsea Thomas was ineffective in the series finales against the Crimson Tide and Razorbacks, a development that seemed reasonable to connect to her increased workload after No. 2 pitcher Bailey Erwin left the team for undisclosed reasons. All of this as Missouri headed to a place where the fans were ready and waiting to remind the visitors how last season's super regional between the two teams ended.
For a team that was already No. 18 in adjusted RPI when the week began, the wrong side of a sweep or even a pair of losses at LSU would have made earning one of the 16 national seeds and a chance to host a regional in the NCAA tournament that much less attainable. But Missouri made a stand, and Hudson was one of its architects in ways obvious and not so obvious.
She hit two home runs and drove in all three runs in Sunday's 3-2 series clincher, more runs than Missouri scored in two games against LSU ace Rachele Fico in last season's super regional. Hudson also made a less glorious but similarly critical contribution by pitching the second game in Baton Rouge. LSU beat her 8-0, her struggles exacerbated by a bevy of errors behind her, but Thomas didn't throw a pitch that day. In the two games the ace did pitch, she allowed just seven hits and three earned runs, struck out 23 batters, walked one and became the program's all-time leader in wins.
On at least the last one, give Hudson an assist. And not just for the run support.
She leads Missouri regulars in on-base percentage in SEC play despite the fact she ranks last in batting average among regulars, an indication of the care opponents are taking with a player who was her team's best run producer out of conference. Her .818 slugging percentage remains the best on the team and fourth in the SEC behind Tennessee's Lauren Gibson, Georgia's Geri Ann Glasco and Texas A&M's Cali Lanphear.
Hudson was not on the preseason All-SEC team. She wasn't on the preseason watch list for USA Softball Player of the Year or the more recent list of 25 finalists for the award. All of which means she remains regrettably overlooked.
"It's been fun to watch her grow," Missouri coach Ehren Earleywine said before the LSU series. "The key is this -- a lot of kids play for us that don't ever really get better. They don't make jumps; they don't make strides. And so the credit has to go to the kids like Nicole, who are intellectual enough to trust the coaches and who are willing to fail trying something new. Here's a kid who is the all-time [high school] home run leader in the state of Missouri. It's very hard when you have that kind of success to listen to a new theory. Very hard."
Hudson will do what is asked. She will do whatever it takes.
Adversity is what Hudson saw her hometown of Joplin, Mo., go through in the aftermath of a devastating tornado two years ago. One of the two pizza restaurants her father owned was destroyed, fortunately without loss of life to its employees. Pitching in to deliver pizzas from the remaining restaurant that summer, she saw for herself the toll rebuilding took on the town, the toll it took on her dad. Those were tough times.
What Hudson is doing now, even in the midst of saving a season that appeared to be unraveling, is just trying to play a little more softball.
Among the weekend's other headlines ...
1. It didn't look right to see Jolene Henderson credited with 6 2/3 innings in the box score of Sunday's 1-0 loss against Oregon State. Cal's ace didn't allow an earned run, struck out six and didn't walk anyone, so it was an immediate red flag that one of the most durable pitchers in the sport didn't finish what she started. And indeed, she didn't leave of her own accord. Henderson injured her left knee fielding a ball in the top of the seventh. As of Monday evening, there was no word on the extent of the injury, but any bad news would leave college softball without its most effervescent personality, one of its best pitchers and Cal's best hope for postseason success.
For one small measure of the particular esteem and affection the softball world has for Henderson, consider the tweets her opponents sent her way after the injury (here, here, here and here).
2. It turns out beating UCLA was just the beginning for Utah. In winning two of three games and the series against Arizona State, the Pac-12's newest member did something just one other conference team has done in the past three seasons -- longer than the Utes have been a part of the proceedings, in fact. The Utes are 5-4 at home in conference play this season, no small feat against Arizona, Arizona State and UCLA. With one series still to play in Salt Lake City against Washington, they have made their home a place the rest of the league can't take for granted.
espnW.com
Graham Hays covers college sports for espnW, including softball and soccer. Hays began with ESPN in 1999.
Players of the Week
Ally Carda, UCLA: The stakes weren't those to which we've grown accustomed when UCLA and Arizona meet, but Carda turned in a performance worthy of the history involved. The two-way threat took a tough loss in the circle for UCLA in the opener, felled by a walk-off home run after eight innings of shutout relief. But she finished the weekend with three home runs at the plate and a complete game win in the circle in the run-rule finale. For the series, she allowed just one earned run in 14 innings and struck out 16 batters against three walks. With 20 wins and 178 strikeouts, she's all but a lock to become the first Bruins pitcher with at least 20 wins and 200 strikeouts since Jelly Selden in 2008.
Lauren Gibson, Tennessee: The All-American and national team standout opened a weekend series at Mississippi with two doubles, a home run and four RBIs in a win. Clearly, she was slacking. Or at least it seemed that way after the slugging second baseman followed that with three home runs, a double and nine RBIs in the second game of the series. She added two RBIs in the series finale to finish with 15 RBIs in a series that lasted just 16 innings because of run-rule wins. Throw in a midweek win against Appalachian State and she totaled five home runs, 18 RBIs and hit .818 for the week.
Kaia Parnaby, Hawaii: What are another couple of thousand miles when you've come this far? Hawaii's Australian ace, Parnaby tied, broke and extended the Rainbow Wahine's single-season record for wins during a three-game sweep on the mainland at Cal Poly. She struck out 10 and allowed just three hits in a complete-game shutout to open the series and tie the record with 32 wins. She turned around and pitched a four-hitter without allowing an earned run later the same day. Just for good measure, she won No. 34 on Sunday by allowing just one earned run in her third complete game.
Stephanie Tofft, Florida: Last week's notebook looked at mid-major players with major talent, and Longwood's Megan Baltzell lived up to the billing with four home runs and a double in five games against Virginia Tech and Florida. But her team lost three times against the Gators in part because another player with mid-major ties stole the show. The 2011 MAC Freshman of the Year at Northern Illinois, Tofft transferred to Florida this season and is second on the team in RBIs. She finished the week, including a win against Florida State, hitting .769 with three home runs, six extra-base hits and nine RBIs.
Weekend stock report

Georgia: Stock rising. Missouri wasn't the only SEC team that needed the weekend in a big way. Georgia began last week at No. 39 in the RPI and with series remaining against Texas A&M, Florida and LSU. Then the Bulldogs went out and lost to USC-Upstate on Wednesday, a good foe but not a loss the SEC team could afford. But a three-game sweep against Texas A&M means, at least for now, all is right with the world in Athens. Everyone chipped in: Freshman Chelsea Wilkinson pitched a gem in the opener, Morgan Montemayor picked up wins in the next two with extended excellent relief appearances, and the offense scored more runs than in all but one other conference series.

Illinois State: Stock falling. The RPI in general, and adjusted RPI in particular, loves Illinois State, affection earned by way of one of the most challenging nonconference schedules out there (a sampling: Arizona State, Baylor, DePaul, Louisiana-Lafayette, Louisville, Michigan, South Florida, Texas A&M). The Redbirds were No. 41 in last week's adjusted RPI. That was potential at-large territory for the NCAA tournament, but losing even one of three against Wichita State (RPI No. 171), on top of a series loss at Drake the previous week, is the wrong kind of momentum.

NC State: Stock rising. It may take first-year coach Shawn Rychcik a few years to put his full stamp on the program, but the coach who turned Boston University into a perennial offensive juggernaut has NC State headed toward the NCAA tournament. The Wolfpack swept Virginia and have won 12 of their past 14 games. While the Cavaliers aren't a huge prize this season, remaining games against RPI drags Elon and Boston College made a sweep crucial. Sophomore Emily Weiman, the team's first, second and sometimes third option in the circle, allowed one earned run and nine hits in 20 innings to pick up all three wins, while shortstop Renada Davis joined the 20-home run club.

South Florida: Stock rising. Go ahead and pair this with falling stock for DePaul, although the margin between their respective fates is wafer thin. It took 13 innings in the finale and required a force out at the plate in the bottom of the 12th inning, but South Florida won two of three games at DePaul. That's big because both teams began the week with stellar Big East records but on the wrong side of 40 in the RPI. Sara Nevins worked 13 innings in Sunday's marathon game and struck out 14 batters. She allowed one hit in 6 2/3 innings to win the opener.

Texas A&M: Stock falling. The sweep in Georgia could have ramifications beyond a long flight home. Texas A&M began the week No. 12 in adjusted RPI, with no shortage of would-be climbers behind it. The results in Athens make it suddenly conceivable that the Aggies could end up unseeded in the NCAA tournament and forced to hit the road. (Surely the committee wouldn't send them to Austin, would they?) There are opportunities. A series at Mississippi and a home series against Mississippi State are manageable. But a lot is going to depend on the health of Mel Dumezich, who didn't pitch against the Bulldogs because of what AggieSports.com reported as a shoulder injury.
Games of the Week
Wednesday
Louisville at Kentucky
Northwestern at Wisconsin (DH)
Tulsa at Oklahoma State
Western Kentucky at Missouri (DH)
Thursday
Alabama at LSU (ESPN2, 8 p.m. ET)
Friday
Alabama at LSU
Arizona at Oregon State
Arkansas at Tennessee (ESPN3, 7 p.m. ET)
Ball State at Central Michigan (DH)
Cal at Arizona State (ESPNU, 10 p.m. ET)
Georgia at Florida
Long Beach State at Hawaii
Michigan at Nebraska
Missouri at Kentucky
Oregon at UCLA
Utah at Stanford
Saturday
Alabama at LSU
Arizona at Oregon State
Arkansas at Tennessee
Cal at Arizona State
Georgia at Florida (ESPNU, noon ET)
Long Beach State at Hawaii (DH)
Michigan at Nebraska
Missouri at Kentucky
North Carolina at Maryland (DH)
Notre Dame at DePaul (DH)
Oregon at UCLA
Utah at Stanford
Sunday
Arizona at Oregon State
Arkansas at Tennessee
Cal at Arizona State
Georgia at Florida (ESPN3, noon ET)
Michigan at Nebraska
Missouri at Kentucky
North Carolina at Maryland
Notre Dame at DePaul
Oregon at UCLA