Edwards sisters help revive Huskers program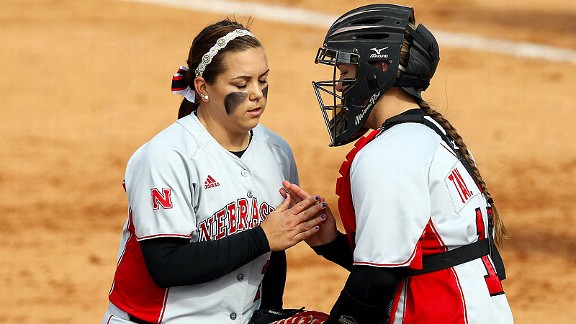 Scott BruhnTatum Edwards, left, and sister Taylor are battery mates and best friends who have led Nebraska to a 37-11 record this season.
Nebraska's preparations for the biggest series of the Big Ten season began long before Michigan arrived in Lincoln looking to maintain its mark of conference perfection.
A test like three games in late April against the Wolverines was part of the reason the Cornhuskers played one of the nation's toughest schedules in February and March.
It's why they lost a close one against California and a not-so-close one against Oregon, why they played Oklahoma three times and handed their former Big 12 rival its first loss of the season in the process. Those games bolstered the postseason résumé, yes, but they also gave young players the closest thing to postseason experience that's possible to get. The result was a team that won two out of three games against Michigan in what felt like a super regional.
But the weekend ending with Tatum Edwards in the circle and twin sister Taylor Edwards behind the plate was also a reminder that Nebraska coach Rhonda Revelle had been preparing far longer than a few months.
Years before Nebraska even shared a conference with Michigan, Revelle received a phone call one day while in her car. That she remembers the scene even now with a documentarian's detail is the first hint it wasn't just any call. A Nebraska fan who had relocated to Southern California wanted to let her know about twin sisters in the area who could restore the glory for a program with 50 NCAA tournament wins.
The only catch? The twins were 12 years old.
Still, Revelle filed away the names. By the time the twins were sophomores in high school, they would call her weekly on the commute through Southern California traffic to Tatum's pitching lessons. And she gradually got to know the personalities that were hardly identical (nor are the twins physically identical, Taylor an inch taller).
"Something might fire [Tatum] up and you're going to see it in her, whereas Taylor, it's going to be internal and you're going to feel it from her," Revelle said. "I think part of it is the demeanor goes along with the positions. Taylor is receiving everything, and Tatum is delivering everything. So their personalities fit. And Tatum is the first born, and as I learn about twins, that's kind of common, where the first born is a little more alpha.
"And yet they blend so well together, and they truly are best friends."
Taylor was an immediate star in college. She hit 18 home runs and slugged .738 as a freshman. How big a deal was that? In six seasons between 2005-10, or about the gap between when Revelle first heard of the twins and when they arrived, the entire Nebraska lineup averaged just 26.5 home runs per season. In that context, Tatum's 14 home runs as a freshman also represented a smashing success. But asked to play multiple positions and slowed in the circle by surgery that limited her innings, she was, to some degree, in her sister's shadow.
Taylor is still at it. Her 1.150 OPS, 11 home runs, 13 doubles and 47 RBIs lead the team this season. But Tatum is no longer in anyone's shadow. She trails her sister by just a single home run, her most recent effort a key two-run shot after her team fell behind 4-0 in Sunday's decisive third game against the Wolverines. She even has an edge on her sister in slugging percentage this season. And she is indispensable in the circle, accruing a 23-8 record and 1.94 ERA.
Tatum went the distance in a 6-1 win to open the series against Michigan. She allowed just two hits, although she walked nine and hit a batter. In February, she allowed just two hits but walked nine and hit a batter in 2-0 loss against Oklahoma, which is to say, she can be a bit of a high-wire act. For Tatum and the team to reach their full potential, she needs to be a little less free with the free bases. At the same time, Revelle saw plenty of evidence during her time as an assistant at San Jose State that some pitchers can do all right in turning the ball loose.
"The one thing about [former Cal All-American and United States Olympian] Michele Granger is I think she's the original in our sport of saying 'effectively wild' where that's really a compliment," Revelle said of a San Jose State nemesis. "The fact of the matter is because she throws hard, hitters couldn't really dig in on her because they didn't know exactly where the ball was going. With Tatum, I'm not going to say that -- she'd be the first to tell you she'd love to reduce her walks and hit batters. But at the same time, some of her effectiveness is that she's got a lot of movement on her pitches, and sometimes the movement runs in the zone."
It helps to have a defense that ranks among the best in the country at turning double plays, like the one that ended Sunday's finale after a leadoff walk from Tatum in otherwise clutch relief. And there is plenty of talent beyond the twins, from co-ace Emily Lockman to freshman shortstop Alicia Armstrong, a gifted athlete who is worth the price of admission simply to watch play shortstop, to senior slugger Brooke Thomason. Nebraska emerged from the Michigan series with legitimate hopes of a top-eight national seed in the NCAA tournament and a potential home super regional because it has a full array of components. It just happens that two of the best arrived in this world together.
"They can be the first to kind of get after each other," Revelle said. "But if anybody else tries to get after them, watch out. The other one is going to protect them. It's a very special bond."
It was a long wait, but one that came with twice the reward.
espnW.com
Graham Hays covers college sports for espnW, including softball and soccer. Hays began with ESPN in 1999.
Players of the Week
Renada Davis, NC State: How prolific were the Wolfpack over the past week? Leah Jones hit .750 with three home runs and eight RBIs and didn't make this list. Neither did Scout Albertson, who hit four home runs and drove in 11 runs. They were edged out by Davis in a week that saw NC State score 51 runs in four games, all wins, to wrap up the regular season. So what did Davis do to get the nod? How about hit .667 (10-for-15) with four home runs, a double and 10 RBIs. The sophomore has 24 home runs on the season, which ties her for the national lead with Longwood's Megan Baltzell.
Kelsey Dominik, Temple: The freshman began the week with five career home runs. She finished it with 11 home runs, so you do the math. Softballs were flying all over the place in Sunday's doubleheader between Temple and Massachusetts -- the teams combined to hit 15 home runs -- but nobody channeled her inner Mike Schmidt quite like Dominik. She hit four home runs on the day, two in each end of the doubleheader. She hit .333 for the week, and six of her seven hits went for four bases. For the season, she's slugging .585 and has a 13-5 record as a pitcher.
Olivia Galati, Hofstra: It was just another week at the office for Galati, who manages one of the heaviest workloads in the sport. She earned four complete-game wins and a save in Hofstra's five games this past week. She allowed just six earned runs in 28 innings and struck out 28 batters. She saved her best for the biggest moments. Facing James Madison in a series between the top two teams in the Colonial Athletic Association, and two teams in the RPI top 50, Galati pitched both ends of Saturday's doubleheader. She struck out 19 and allowed just three hits in back-to-back shutouts.
Shelby Pendley, Oklahoma: If not for the fact that teammate Lauren Chamberlain was already on pace to shatter the NCAA career home run record, it would be time to start talking about Pendley's pace. For that matter, it still is. In the process of driving in 16 runs in four games this past week, the Arizona transfer hit three more home runs to bring her season total to 18 and her career total to 37, almost halfway to the current record. Even Jessica Shults, still the Big 12's career leader in home runs as she plays her final season, hit a mere 34 home runs in her first two seasons.
Hanna Winter, Stanford: As with Davis, it's another case of picking your poison. The Cardinal's Kayla Bonstrom hit .667 (6-for-9) with two home runs and nine RBIs in a three-game sweep of Utah, but her teammate gets the nod. Winter hit for the cycle in the series, a home run, triple, double and four singles contributing to nine RBIs. The home run was the first of a career already 107 starts old for the speedster more often asked to set the table. She entered the weekend with six RBIs on the season.
Weekend stock report

Iowa: Stock falling. There is no way a team that dropped to 5-15 in the Big Ten after losing two of three games at home against Penn State over the weekend should be in the running for the NCAA tournament. There is no way a team that beat Houston, Kentucky, Louisiana-Lafayette, Louisville, Oregon State and Stanford out of conference should be in danger of missing the NCAA tournament. The Hawkeyes are both and a giant puzzle because of it. Iowa checked in at No. 22 in adjusted RPI last week and had more top-50 wins than Arizona, Baylor and Hawaii, among others. The contrast is in a 2.42 team ERA out of conference and a 5.17 team ERA in Big Ten games.

Long Beach State: Stock rising. While Long Beach State's postseason prospects remain dicey, they're better because of two wins in three games at Hawaii. The road wins help, although perhaps not enough to move a team that was ranked No. 71 in RPI last week into at-large range. Hawaii still controls its own fate as far as the league's automatic bid (but played the final two games against Long Beach State without ace Kaia Parnaby, who was hit in the face by a ball during the series opener). All the same, behind Shayna Kimbrough's seven runs and three RBIs, the 49ers made up ground in Honolulu, and that isn't easy.

Oregon State: Stock rising. A season after breaking an extended postseason drought, Oregon State all but assured it will return to the NCAA tournament for the second season in a row when it swept three games from Arizona. That it swept the Pac-12's last-place team (and did so via a play at the plate in the opener and an eight-inning rally in the finale) is less important than that it swept what was a top-30 RPI team. Senior Tina Andreana allowed 12 hits in 15 innings en route to two complete-game wins. With eight RPI top-50 wins, Oregon State's résumé should be solid enough to withstand any results the next two weeks against Oregon and UCLA.

South Carolina: Stock rising. Too little, too late? Maybe, but it's still progress for second-year coach Beverly Smith. South Carolina swept three games at Mississippi State, which entered at No. 25 in adjusted RPI. Junior Ashlyn Masters hit two home runs, her second and third of the season, and drove in six runs in the sweep. That's the good news for a South Carolina team with a top-50 RPI of its own. The bad news is it's still likely going to take a win, and maybe two, against Florida next week to make the SEC tournament and make a run at the NCAA tournament bubble.

Western Kentucky: Stock rising. The Sun Belt was sixth in conference RPI last week, two spots ahead of the Big East and the best of any of the supposed mid-major conferences. That's good news for Western Kentucky, whose best results entering the week came in winning conference series against South Alabama and Louisiana-Lafayette. But a midweek doubleheader split at Missouri, the win earned behind a four-hit shutout from Emily Rousseau, provided another important boost to the résumé (even if the win came in the game Chelsea Thomas didn't pitch). The Sun Belt looks like almost a lock for three NCAA bids.
Games of the Week
Wednesday
Loyola Marymount at UCLA
Friday
Arizona State at Arizona
Florida at South Carolina
Kentucky at Alabama
LSU at Georgia
Mississippi State at Texas A&M
Northwestern at Michigan
Oklahoma at Kansas (DH)
Oregon State at Oregon
Stanford at Cal
Tennessee at Missouri
Texas at Oklahoma State
Washington at Utah
Saturday
Arizona State at Arizona
Florida at South Carolina
Kentucky at Alabama
LSU at Georgia
Mississippi State at Texas A&M
Northwestern at Michigan
Oklahoma at Kansas
Oregon State at Oregon
Stanford at Cal
Tennessee at Missouri (ESPN, 7:30 p.m. ET)
Texas at Oklahoma State
UAB at Houston (DH)
Washington at Utah
Sunday
Arizona State at Arizona
Florida at South Carolina
Kentucky at Alabama
LSU at Georgia (ESPN, 3 p.m. ET)
Mississippi State at Texas A&M
Northwestern at Michigan
Oregon State at Oregon
Stanford at Cal
Tennessee at Missouri
Texas at Oklahoma State (ESPN, 1 p.m. ET)
UAB at Houston
Washington at Utah