Courtney Ceo realizes dream with Ducks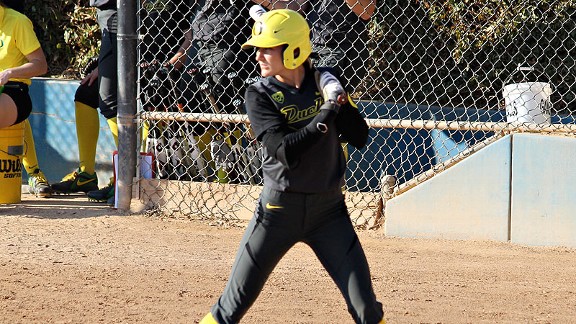 Graham Hays/espnW Courtney Ceo and her Oregon teammates clinched the program's first conference title.
Growing up in California, Courtney Ceo dreamed of winning a Pac-12 championship. Helpfully, Oregon competes in the Pac-12. Ergo playing softball for the Ducks presented her with an opportunity to live out just such a scenario.
Why make the equation more complicated than that?
Never mind that Oregon went its first 26 seasons in the Pac-12 without winning a title. Never mind that Ceo and her teammates weren't alive the first and only time Oregon had posted a winning conference record. Never mind that she and the rest of the current Oregon juniors and seniors signed with a program that went 55-155 in conference play and finished in last place six times between 2000-09. Oregon could, in theory, win a Pac-12 championship.
Sunday, it did.
The Ducks clinched their first title with a week to spare in one of the sweeter ways possible, a three-game weekend sweep against in-state rival Oregon State. Like the rest of the Ducks, their junior shortstop is now part of the best team in a conference that has long dominated the sport and produced 23 NCAA championships.
"It's just a goal that I personally have had since I was a little girl," Ceo said. "I wanted to go play in the Pac-12 and then getting to do so. And the two years leading up to this, having great teams and this year having just an amazing team and having all your teammates striving for the same goal -- and then to finally get it a week earlier than we had planned -- just turned out too awesome. It's a wonderful feeling of accomplishment, but we're not done yet."
As might be expected of a team that is 45-7 overall and 18-3 in the league entering its final series this week at Arizona State, there is reason to think she's right about the last part. Now in its fourth season under coach Mike White, Oregon is working on a streak of three consecutive NCAA tournament super regionals, the first in program history. Last season, the Ducks did that one better and reached the Women's College World Series for the first time since 1989.
A conference championship seemed more suited to dreams when most of the upperclassmen signed, but it now fits in a progression that points toward competing for a national championship in a few weeks in Oklahoma City.
Where so many other national contenders seem to be fighting off potential pitching problems, trying to keep an ace healthy and rested enough to make it to June, Oregon is flush with arms. Senior ace Jessica Moore won a pair of starts against Oregon State, including the conference clincher, and allowed just four hits in 12 innings on the weekend. Freshman Cheridan Hawkins, who earned a win in the middle game of the Oregon State series with nine strikeouts in four innings, pitched a midweek no-hitter against Seattle University in which she struck out 17 batters in seven innings. The team's 1.58 ERA is more than half a run better than any other team in the Pac-12.
The balance extends to the plate, where there is Alexa Peterson, the junior catcher who leads the Pac-12 in on-base percentage and ranks second in slugging percentage. And junior outfielder Janie Takeda, who leads the conference in batting average and stolen bases. And the middle of the order trio of Kailee Cuico, Kaylan Howard and Samantha Pappas, who have 32 home runs and 29 doubles among them. And Ceo, whose presence near the top of the lineup in May marks one more difference from a season ago and whose story is a reminder of just how difficult it is to get all the puzzle pieces to come together as they have for Oregon this season.
The Ducks made it to the WCWS a season ago without Ceo, who was hitting .378 with a .431 on-base percentage when she sustained a season-ending injury midway through the Pac-12 schedule. Without her, and with Moore tiring at the end of season in which she threw more than 300 innings, Oregon lasted three games in Oklahoma City but was gone before the semifinals.
"It was a little bittersweet at the end, being in postseason," Ceo said of watching it unfold while injured. "That's somewhere I always wanted to be and play in front of all those fans. That's something you dream of. ... I still was supporting my team, their biggest cheerleader on the bench. It was just a little bittersweet. But I wouldn't change it for the world, watching my teammates play and fight for the dream we all have."
Ceo originally committed to Oregon under the previous coaching regime. Her first conversation with White came on her way to the hospital after she tore her ACL in a summer travel ball tournament. She knew he had been watching as he evaluated the recruits he was to inherit, and she worried what the injury might mean for her future with the program.
"I felt sick to my stomach," White said. "Not just because of losing a player, but just because of how much agony she was in. And it's not so much because of pain; it's thinking that she may lose her scholarship or maybe that her career was over. We had a really, pretty touching moment after the game because we still met, and I told her, 'You're going to come back as strong as ever. You're not going to let this beat you. And we're definitely going to honor your scholarship because I believe in you.' And she did; she came back strong as ever."
After last season, she came back again. Ceo ranks third in the Pac-12 in batting average and second in stolen bases. Despite a few miscues against the Beavers, she is one of the best defensive assets for a team that can fairly be labeled above average in the field, a significant improvement on what had been the program's Achilles' heel.
So, rapid as the program's ascent has been, nothing about a first Pac-12 championship happened overnight.
And as Ceo noted, the Pac-12 champions aren't done yet.
"Definitely, we have something to prove to every team that we play," Ceo said. "That's our goal this year, is to prove to them that we do belong up at the top and that we are a great team."
espnW.com
Graham Hays covers college sports for espnW, including softball and soccer. Hays began with ESPN in 1999.
espnW Players of the Year
The list of finalists for USA Softball Player of the Year gets trimmed to 10 this week. So in lieu of players of the week, here is one ballot for the top 10 players of the season:
Keilani Ricketts, Oklahoma: The Sooners are the prohibitive favorite to win the national championship, but an even safer bet is Ricketts repeating as player of the year. Fresh off a 17-strikeout performance against Kansas, she is 25-1 with a 1.14 ERA and 264 strikeouts in 172 innings as a pitcher. Oh, and she's hitting .389 with a 1.289 OPS, 11 home runs and 38 RBIs.
Lauren Chamberlain, Oklahoma: She's cooled off ever so slightly since midseason, when it appeared her hitting alone might give Ricketts a run for her money. Of course, the phrase "cooled off" is relative (and laughable) when you consider the sophomore is hitting .423 with a 1.601 OPS, 22 home runs and 11 doubles, not to mention a team-best 12 stolen bases in 13 attempts.
Lauren Gibson, Tennessee: The second baseman for Tennessee and Team USA leads the SEC in slugging percentage and is second in on-base percentage and fourth in batting average -- the last one behind three hitters who spend a lot of time slapping. She is also three stolen bases away from matching a career high and remains one of the best infield gloves in the game.
Blaire Luna, Texas: The senior ace leads the nation in strikeouts per seven innings, and it's not even close. The gap between her and second place is wider than the gap between second and 10th. The watered-down Big 12 is a consideration, but she's 25-5 with a 1.24 ERA and 336 strikeouts for a team that sits solidly in the RPI top three. That's exceptional.
Jolene Henderson, California: It's unfortunate, but much like the Indianapolis Colts in the season Peyton Manning was injured, nothing highlights Henderson's value quite like Cal's fortunes without her. But when you consider Henderson was already 29-8 with a 1.21 ERA and 236 strikeouts in 249 2/3 innings before her knee injury, it's impossible to leave her off this list.
Raven Chavanne, Tennessee: The SEC's leading hitter with a .473 batting average is working on a career-best slugging percentage and has already surpassed her home run total from her first three seasons. And even when the speedster does slap her way on for a single, it's as good as a double; she's a perfect 37-for-37 on stolen base attempts.
Haylie McCleney, Alabama: The freshman of the year debate has to include Oregon's Cheridan Hawkins, Texas A&M's Cali Lanphear and Georgia's Geri Ann Glasco, but it may come down to Michigan's Sierra Romero and McCleney. The Alabama freshman owns a 1.214 OPS and is perfect on 27 stolen base attempts. Yet you could argue that defense in center is her best pure skill.
Taylor Hoagland, Texas: The Big 12 leader in on-base percentage isn't Ricketts or Chamberlain. It's Hoagland (.618 OBP), and it isn't like the senior third baseman is doing her work one base at a time. With 26 extra-base hits and 40 RBIs, the only question may be why opposing teams have walked her only 62 times in 51 games.
Sierra Romero, Michigan: Her defense has, at times, been a work in progress at shortstop, but the last freshman to make an impact like this at the plate was Oklahoma's Chamberlain last season. That's nice company to keep. Romero is hitting .397 with a 1.431 OPS, 22 home runs and 66 RBIs in 53 games. The home runs are a single-season program record.
Amber Freeman, Arizona State: The numbers game leaves the list without Oklahoma's Shelby Pendley and Missouri ace Chelsea Thomas, who has been brilliant but doesn't have the innings of some peers, but how do you leave off Freeman? The junior catcher is hitting .415 with eight home runs in conference play, and she's one of only three Sun Devils to start all 52 games.
NCAA tournament stock report

Kentucky: Stock rising. Look who is sitting at No. 8 in the most recent adjusted RPI release. Is it possible Kentucky could really host the SEC tournament and both an NCAA tournament regional and super regional in the first season of its new stadium? There is some work to do for that to become reality for the Wildcats, who may be eighth in the RPI but are just the No. 7 seed in the SEC tournament that begins Wednesday in Lexington. But the program's stock is at an all-time high after winning two of three games at Alabama, its first wins in Tuscaloosa.
Freshman ace Kelsey Nunley shut out the Tide in Friday's opener. Her numbers may not have been as sparkling in Sunday's finale, but she showed a lot of poise to hold on against a determined Tide comeback and an inconsistent strike zone in an extra-inning win. Her 24 wins are already a single-season program record.
"The one thing she has is she has incredible command," Kentucky coach Rachel Lawson said. "She puts the ball where she wants to. I think that's her best asset. She's been pretty steady all year. She certainly had a few moments where she needed to learn the game a little bit. [Her hometown of] Soddy-Daisy, Tenn., is a little bit different from the SEC. But she's a very smart ballplayer. She knows what she wants to do, so as she's gained experience, she's also been able to close the door against some very outstanding hitters."

Stanford: Stock rising. The Cardinal were swept in their first Pac-12 series of the season against Oregon, but they are 12-6 in conference play since that setback, a run capped last weekend by their first season sweep of rival Cal that saw Jenna Rich become the program's all-time RBI leader. They aren't helping their cause with midweek losses -- the most recent against UC Davis last week -- but the success in the league has the team up to No. 18 in adjusted RPI, with a case to slide ahead of the likes of Louisville, Texas A&M and Cal and potentially host a regional.

Arizona State: Stock falling. One huge opportunity still remains with three games at home against Oregon, but the seeding math that looked like a potential problem a month ago looks even dicier now. After losing two of three games against rival Arizona, the Sun Devils slipped to No. 12 in adjusted RPI. The selection committee won't necessarily just take the top eight teams when it seeds the NCAA tournament, but Arizona State is in danger of a road super regional. All of its WCWS appearances under Clint Myers came via home super regionals.

Notre Dame: Stock rising. No team needed wins last weekend more than Notre Dame. The Fighting Irish remain a bubble team, but they are also the Big East regular-season champions after taking two of three games against Louisville. The problem for Notre Dame is it entered that series with just two wins against teams in the top 50 of the adjusted RPI, both against fellow Big East bubble resident DePaul. Two wins against a team ranked No. 14 in adjusted RPI is a significant résumé boost, but it still adds up to just 19 games against top-100 opponents. That's the same number as James Madison and fewer than Illinois State, mid-major sides in the bubble race.
Conference tournaments to watch
Big Ten: The Big Ten tournament returns for the first time since 2008, with No. 2 seed Nebraska hosting the 12-team, single-elimination event. Top seed Michigan is close to a top-eight seed in the NCAA tournament, while Nebraska can likely secure a home NCAA regional by avoiding a stumble. Northwestern and Iowa are in the most NCAA bubble trouble, meaning both need to win opening-round games Thursday before the top seeds get involved.
CAA: Regular-season champion Hofstra hosts the four-team, double-elimination field and looks like a lock for the NCAA tournament with an adjusted RPI of 23. The team to watch is James Madison, which has played a lot of games outside the RPI top 150 but would be in strong bubble contention if it reaches the CAA final.
Conference USA: UAB enters as the No. 1 seed ahead of No. 2 Houston and No. 3 Tulsa, which hosts the eight-team tournament. All three teams have strong NCAA tournament résumés and the conference's best pitching, but No. 4 Marshall could play spoiler behind ace Andi Williamson (29-16, 2.16 ERA, 332 strikeouts).
SEC: Florida, Tennessee, Missouri and LSU are the top four seeds, respectively, as 10 teams gather in Lexington, Ky., for the single-elimination tournament. Both defending national champion Alabama and host Kentucky are in the top eight in national adjusted RPI but are seeded low enough that they have to play in Wednesday's opening round. Missouri and Tennessee would love to leapfrog those two teams in RPI and receive a chance to host NCAA super regionals. All nine games are on ESPNU or ESPN.
Sun Belt: No. 7 seed Troy hosts one of the few eight-team, double-elimination conference tournaments still in use at the high end of Division I. All the attention will be on No. 1 Western Kentucky, No. 2 South Alabama and No. 3 Louisiana-Lafayette. All appear in good shape for NCAA tournament at-large bids if needed, but the Hilltoppers could most use the assurance of the automatic bid.
Elsewhere: Oklahoma will play one fewer game than Texas in the Big 12, but two wins in three games this weekend against Oklahoma State would assure the Sooners a superior winning percentage and the title, even if Texas beats Baylor in its regular-season finale. ... While the Pac-12 championship is settled, plenty of NCAA seeding remains on the line as Cal visits Washington, Arizona visits Stanford, UCLA visits Oregon State and Oregon visits Arizona State. ... In the Big West, Hawaii needs just one win in three games against Pacific to clinch the championship in its new home.