Can Kentucky keep up winning ways?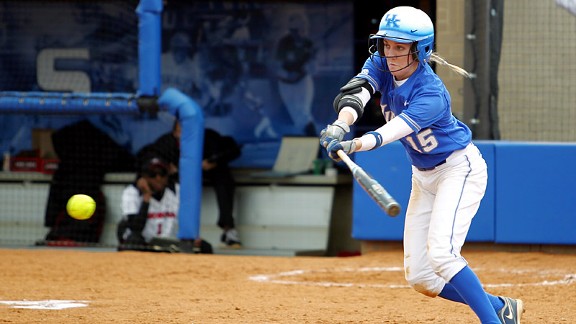 University of KentuckySlugging shortstop Kara Dill is one of just two seniors on Kentucky's roster.
If college softball coaches ever got to play in a tournament, Kentucky would be in it to win it. Head coach Rachel Lawson and associate head coach Kristine Himes were standouts in the not-so-distant past at Massachusetts and Ohio State, respectively. But the squad would also boast the fresh legs of student assistant Chanda Bell, volunteer assistant Brittany Cervantes and third-year assistant Molly Johnson.
In those three players alone -- Bell (a strikeout pitcher) and Cervantes and Johnson (both infield sluggers) -- you find a reasonable accounting of how a moribund program transformed into one coming off its fourth consecutive trip to the NCAA tournament. But with Bell, Cervantes and the rest of last season's senior class no longer on the field, the challenge for Kentucky becomes maintaining and improving upon success rather than building it from scratch.
A lot of programs get good for a short time. Fewer successfully manage the transition to what comes next.
"We're kind of starting a new era with Kentucky softball," Lawson said.
At least the Wildcats are easing into it. Or not.
Kentucky's schedule in the first two weeks was as ominous as any in the nation. First at the Kajikawa Classic in Tempe, Ariz., and this past week at the Campbell-Cartier Classic in San Diego. Opponents have included Arizona State, California, Cal Poly, Oklahoma, Oregon State, San Diego State, Stanford and Washington. The Wildcats stand at 8-3, including wins against four Pac-12 teams and San Diego State on its home field.
They took their lumps against Arizona State and Oklahoma, two teams likely to apply them with regularity this season, but they also answered the skepticism that left them unranked to start the season.
"It was a very tough schedule, but it's exciting to get to play those teams," senior shortstop Kara Dill said. "We are in one of the best conferences, so we play Alabama, LSU, Tennessee, Georgia. We play them all the time. So to get to play some Pac-12 teams and some Big 12 teams, it's a different game. We understand SEC softball, but it's just a different game playing those teams. It's exciting.
"You want to be where those teams have been. We want to be in the World Series, and they've been there."
A three-year starter who hit .377 with 20 stolen bases as a sophomore and .351 with 21 stolen bases as a junior, Dill is the rare veteran and one of two seniors on this team. Few regulars remain from the 2011 team that reached a super regional. Even those with experience, such as junior Lauren Cumbess, find themselves cast in more significant roles.
Cumbess pitched nine innings in an extra-inning game to beat Cal in the season opener a week ago (she also delivered the winning hit), and had the big hit in Friday's 3-2 win against Washington. The two-run home run was her second of the season, leaving her one shy of her career total just 11 games into the season.
"It's definitely a natural progression; Lauren's always been a great pitcher and a great hitter," Lawson said. "She's so physically strong now, and she's a lot tougher mentally. Just having the SEC experience, I think all of that is paying off and you're starting to see it now that she's in her junior year. And I think if you look at a lot of the players that have gone through our program, you really see them shine when they get into their junior or senior year."
Not that she is averse to freshmen contributing, particularly in the circle.
In her first two weeks of college softball, Kelsey Nunley struck out eight and allowed one earned run against Stanford, struck out seven in a shutout against San Diego State and didn't allow an earned run in six innings against Washington. No single thing will slow a program's momentum like missing on a pitching recruit, leaving seasons where the circle is a liability. In Bell and Rachel Riley, Kentucky had four years of reliable pitching. Cumbess is a big part of keeping things going in expanded innings, as is fellow junior Ellen Weaver. But if Nunley is anything like the pitcher she has appeared to be very early, it's a gift for program stability.
Even if her coach isn't yet sure what her "out" pitch is.
"That's something she's still trying to figure out and still trying to develop," Lawson said. "But the one thing is she locates as well as anybody I've seen, which is quite impressive for somebody so young. She locates and she's mentally tough. She doesn't break; she keeps at it and keeps at it."
Awaiting Kentucky at home is a new softball complex, expected to be ready for the opener on March 6. Lawson is proud the complex came after the program had success and fans started filling what little seating there was at the old field, not the other way around, with money fueling results. One look at her staff explains how it came to be. Now it's a question of what comes next.
"As much as it's not really, technically, our stadium because we didn't bring it here," Dill said, "hopefully we'll be able to do something that will leave a mark to kind of honor those who gave us the stadium."
Players of the Week
B.B. Bates, UCLA: Freshman Paige McDuffee hurled the 102nd no-hitter in UCLA history at a tournament hosted by UNLV, which provides one more measure of how much history we deal with when it comes to this program. It also provides some context in saying Bates turned in one of the best weekends in the program's history. The senior outfielder was simply unstoppable. In five games, she hit eight home runs, drove in 19 runs and hit .647 overall against Hawaii, San Jose State, Seattle, Louisiana-Monroe and Ohio.
Rachele Fico, LSU: Senior seasons can't start much better than this. LSU's ace has allowed just two earned runs in her first seven appearances, with a 10-1 strikeout-walk ratio. This past weekend included a one-hit shutout against North Dakota State, a four-hit shutout against Virginia and 1 2/3 innings of perfect relief to earn a win against Memphis. Total for the tournament at home: 13 2/3 innings, 20 strikeouts, no earned runs.
Nicole Hudson, Missouri: The senior third baseman must have been rested and ready after Missouri waited an extra week to begin its schedule. Hudson steamrolled the competition at a tournament in Santa Barbara. In five games against Fresno State, San Diego and host UCSB, she drove in 11 runs. Missouri's opponents scored just seven runs. Hudson finished the weekend with five home runs among her seven hits, one home run shy of her total from a season ago. And even if she wasn't perfect in her lone start in the circle, her first since 2011, she still picked up a win against Fresno State.
Sarah Purvis, Georgia Southern: Purvis, who a season ago beat Kentucky and two-hit Georgia in defeat, very nearly had the most memorable weekend. As it was, it was darn good. The junior pitched a perfect game against Southern Illinois on Friday, striking out 11 of the 21 batters faced. She also closed out a weekend tournament with 1 1/3 innings of relief and a win against host Florida Gulf Coast. But her best line came in defeat against No. 2 Alabama. She went inning for inning over eight scoreless frames against Jackie Traina before the Tide rallied for a 2-1 win in the ninth.
Jordan Wallace, Louisiana-Lafayette: There is plenty of uncertainty about the state of things in Lafayette, following coach Michael Lotief's resignation and return as a volunteer assistant, but pitching doesn't seem to be much of a question mark. In three wins, two against Texas State and one against Mississippi Valley State, Wallace struck out 28, walked five and allowed just one earned run.
Lindsey Ziegenhirt, California: Talk about making your senior season count. Cal's senior catcher has five hits this season. She has yet to break out of a trot. All five hits went for home runs, including four this past weekend in wins against Nevada, San Jose State and Portland State. She drove in 10 runs with that quartet of home runs, including six RBIs in a 9-2 win to close the weekend.
Pitchers lead Golden Hurricanes

Kentucky had a difficult first two weeks to navigate, but only one team in the nation came away from this past weekend with three wins against ranked teams.
And if you guessed Oklahoma, you at least had the state right.
Tulsa won four of five games at Florida State's Unconquered Invitational, including all four games in which it pitched one of its co-aces, Aimee Creger and Lacey Middlebrooks. The Golden Hurricanes beat No. 21 Florida State twice and No. 25 Hofstra once, in addition to splitting with unranked Arkansas, to improve to 7-3 this season.
Having already faced a considerable amount of quality pitching against those teams in Tallahassee, and LSU and North Carolina a week earlier, Tulsa's offensive numbers look worse for wear at the moment. But as the results suggest, the lineup hasn't needed to produce many runs with Creger and Middlebrooks in the circle. That duo makes this team particularly compelling.
Dominant as a freshman in 2011, when she went 24-3 with a 1.05 ERA and 256 strikeouts in 193 innings, Creger hurt her back late that season and wasn't able to generate the same movement, particularly on her rise ball, while wearing a back brace last season. Tulsa coach John Bargfeldt said Creger looks more and more like the freshman version of herself these days, and the proof seems to be a 4-0 record with 40 strikeouts in 29 innings.
"I think she's able to get underneath that pitch," Bargfeldt said of the rise ball. "You don't see too many pitchers that can throw in the zone and get movement. Only the best ones can do it. Her rotation can be so pure that you can see it jump, even if it's in the zone. She's able to achieve that type of spin with her pitch this year."
Watching the World Series play out not far from Tulsa last June, Bargfeldt found himself thinking about the talent he had returning and feeling for the first time like the sum of the parts was equal to Oklahoma City.
"There's no limit on you guys," Bargfeldt told the team before the season. "There's no reason why, after seeing the top eight teams last year, there wasn't anybody out there that in any facet of the game that was decidedly different than what we have. And I think going out and playing very well against some teams early in the season has kind of reaffirmed in their minds, and of course it reaffirms in mine a little bit, that we can go out and play against quality competition."
Key Games
More than 80 college games will be played over four days in the Mary Nutter Collegiate Classic near Palm Springs, Calif., and that doesn't include an exhibition between Washington and National Pro Fastpitch's USSSA Pride. Here are 25 of the best games one of college softball's signature weekends has to offer.
Thursday
Arizona vs. Oklahoma
Arizona vs. Long Beach State
Georgia vs. Oklahoma
Long Beach State vs. Tennessee
Missouri vs. San Diego State
Friday
California vs. Georgia Tech
Florida vs. Missouri
Florida State vs. Washington
Georgia vs. Stanford
Nebraska vs. Oklahoma
Northwestern vs. Tennessee
Oklahoma State vs. Stanford
Tennessee vs. UCLA
Saturday
Arizona vs. LSU
California vs. Maryland
Florida vs. Georgia Tech
Florida State vs. Oklahoma
Georgia vs. Washington
Georgia Tech vs. Oregon State
Nebraska vs. Oregon
Oklahoma State vs. UCLA
Sunday
California vs. Nebraska
Florida State vs. Stanford
LSU vs. UCLA
Oregon vs. San Diego State