UCLA back in the limelight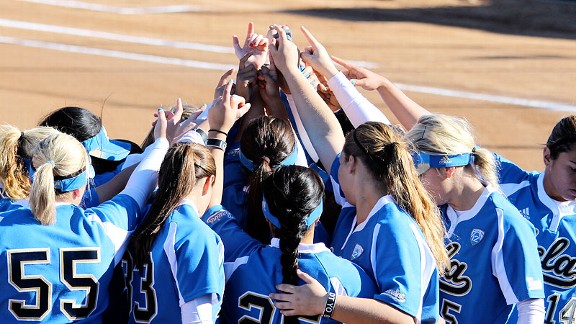 Courtesy of Graham HaysUCLA hasn't advanced past regionals the past two seasons, but the Bruins look like they might have a chance to do some serious celebrating this year.
CATHEDRAL CITY, Calif. -- Inch by inch, shuffled step by shuffled step, the throngs crept closer as UCLA coach Kelly Inouye-Perez spoke to her team in the aftermath of Saturday's doubleheader sweep of Maryland and Oklahoma State in the Mary Nutter Collegiate Classic. The crowd of mostly young girls started out a respectful distance from the huddle of Bruins but moved closer and closer in anticipation of an autograph or picture when the meeting ended.
The most famous program in the history of softball remains something people want to see up close.
That's partly because the tournament takes place in UCLA's backyard in Southern California, but it's also because, like Notre Dame's in football or North Carolina's in women's soccer, UCLA's name is still synonymous with an entire sport.
And yet the team with the most national championships hasn't advanced beyond regionals since winning the most recent of those titles, in 2010. And a program whose blue uniforms were as much a part of the Oklahoma landscape around Memorial Day as the state's red dirt has missed three of the past four Women's College World Series.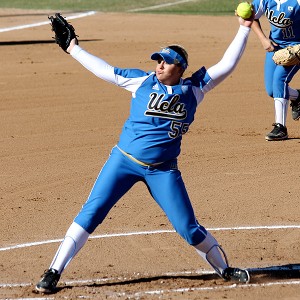 Graham Hays/ESPNFreshman Paige McDuffee, 4-0 with a 0.58 ERA, is a big reason for UCLA's vastly improved pitching.
The name on the uniforms will continue to attract fans. Ally Carda, Jessica Hall and Paige McDuffee did their best in Cathedral City to prove that the players wearing those uniforms are ready to put more recent history behind them.
There isn't an official winner of the tournament in Cathedral City, which included 12 teams in the Top 25, but the Bruins won the weekend. They beat Tennessee, their second win in the past 11 games away from home against current SEC teams. They added another SEC win against LSU on Sunday, a team that entered neck and neck with UCLA for the most impressive performance. Five games turned into five wins for the Bruins, with a 26-8 scoring margin.
In 33 combined innings in the circle, Carda, Hall and McDuffee allowed just 21 hits and struck out 30 batters.
UCLA led the Pac-12 in batting average, on-base percentage and slugging percentage a season ago. What the Bruins didn't have, what they haven't had in a long time (save for a few weeks in 2010 when they handed the ball to Megan Langenfeld and went as far as she could take them), was consistent, elite pitching. Only Pac-12 newcomer Utah had a worse ERA among league teams last season. A lot was asked of Carda and Hall, who accounted for almost all of the team's innings as a freshman and a sophomore, respectively.
"At the end, they did not perform to their capability, of what I believe they could have done last year," Inouye-Perez said of Carda and Hall. "They didn't, and they'd be the first to admit it, too. So they've gotten work. And the object in the circle is to be able to have a great presence, to be able to have your ability to work ahead. So you've got to be able to compete and throw strikes. You've got to be able to stop bleeding, so if anything does happen -- because anyone can get a hit in this day and age -- it's what you do right after that counts."
Carda came on in relief of Hall in the seventh inning of the game against Maryland, a move that continued the team's season-long trend of using the bullpen, but then worked herself into trouble with walks. The Bruins escaped with a 4-3 win. Less than an hour later, Carda was back in the circle. She pitched a complete-game gem to beat Oklahoma State, just as she had in a five-inning stint a day earlier against Tennessee.
"My mindset is a little different," Carda said of her sophomore season, in contrast to a freshman season in which she said she tried to process too much information from too many people. "I'm trying to take in everything as possible, but only use what's going to benefit me and just be positive all the time. And just going after things, just going for it. Not worrying about anything else, not worrying about the noise."
It helps that there is an extra arm around. The national player of the year as a junior in high school in Texas, McDuffee didn't pitch as a high school senior in 2012 after undergoing surgery for a compartment syndrome in her pitching arm. The Bruins aren't likely to let her pile up triple-digit pitch counts for the foreseeable future, but she needed just 96 pitches to throw a complete-game shutout against LSU to improve to 4-0 with a 0.58 ERA.
With Stephany LaRosa, B.B. Bates, Georgia transfer Gracie Goulder and a long list of other hitters, UCLA again has the offensive talent to play deep into the postseason. That puts the burden back in a familiar place for the Bruins. One excellent weekend in the circle doesn't provide an answer (although it comes closer than the 34 runs UCLA allowed in Cathedral City last season). It does put them back in the discussion.
"I actually think it's less on our shoulders this year," Carda said. "I think we have three very strong pitchers, and we've kind of been tag-teaming this whole year. Someone will start and someone will come in and finish, which is very nice. [The depth builds] a lot of confidence that if I don't do it, I know my pitchers have my back. So we've got that going for us. We're very competitive, but we know the next one is right behind us if we need it."
The other team on the field in what turned out to be the weekend's biggest game, LSU didn't stumble into a World Series appearance last season. No team traveled a more difficult path to Oklahoma City, as the Tigers were forced to beat Texas A&M in College Station and Missouri in Columbia in the postseason. That said, LSU reached the biggest stage with one of the most anemic offenses in recent memory.
How anemic? When freshman Sandra Simmons hit a grand slam against BYU on Thursday -- the first day of the new season's third weekend -- it matched the 2011 team's home run production for the entire season, 65 games in all.
Pitching ace Rachele Fico was very good last season in tandem with Brittany Mack. She has been sensational this season as the team's clear No. 1, including pitching a no-hitter Friday against Ohio State. Even on a day when she struggled to find her control against the Bruins, she gave up just three hits and gave her team a chance. The offense couldn't pick her up against McDuffee, but the lineup showed in wins against Arizona, BYU, Ohio State and UNLV that a mix of improved returnees and powerful freshmen like Simmons and Bianka Bell make this a much better team than one that went all the way to Oklahoma City last June.
"I think we have players that are into our system now," second-year LSU coach Beth Torina said. "They're a lot more comfortable with their swings. They have a year under their belts, and they understand what we're asking them to do. I think it was a big change philosophically, what we asked them to do, so they made that change. And I think these freshmen are unbelievable. When you get one kid who steps up there and swings out of her shoes, it's a lot easier for the next one to do the same thing."
Mary Nutter Classic roundup

1. As if Oklahoma needed another asset. The No. 1 team already has the most fearsome lineup and the most dominant ace in Keilani Ricketts. Now it appears the Sooners have the best No. 2 pitcher in the nation. Ricketts struck out 34 batters in 23 1/3 shutout innings in Cathedral City and improved to 7-0 with a 0.78 ERA on the season, but the All-American isn't even the strikeout leader on her own team. That distinction goes to fellow senior Michelle Gascoigne, who has 82 strikeouts in 42 2/3 innings, along with a 7-0 record and 0.82 ERA.
One inning over the weekend showed off her evolution. The Sooners were in command of a game against Arizona, but a leadoff triple gave the Wildcats a chance to break up Gascoigne's shutout. Instead, she struck out the next three batters, throwing just one ball.
"When it's crunch time, I've seen her rise above, where normally she would take on the pressure too much," Oklahoma coach Patty Gasso said. "She's really found confidence and gets herself out of some big jams."
If the Sooners get back to the Women's College World Series, it would be a surprise to see anyone but Ricketts in the circle in Oklahoma City. But the way Gascoigne is going, Oklahoma's ace should be well rested.

2. That Northwestern's biggest margin of victory in five games in Cathedral City came in a game that went nine innings tells you something about the Big Ten team's penchant for drama. The Wildcats were one of only five teams in the field to go 5-0, along with Oklahoma, Oregon, Oregon State and UCLA. Considering they scored 15 runs in the seventh inning or later, they might just as easily have gone 0-5 -- which is exactly what they did in their first tournament of the season. They weren't as bad as that weekend's record, and they may not be as good as this past weekend's record. But they do look good enough to make a return to the Top 25, if not this week then soon.
From Garland Cooper and Tammy Williams to Michelle Batts and Adrienne Monka, Northwestern turns out hitters in good times and bad, and it's more of the same with Marisa Bast (seven RBIs on the weekend, including a home run against previously unbeaten Tennessee). The Wildcats also got strong starts from Mari Majam, Anna Edwards and Andrea DiPrima. But the allure this season is the potential of sophomore Amy Letourneau in the circle. If she harnesses the part of her game that has fueled 76 strikeouts in 52 innings this season, including 23 strikeouts in Cathedral City, and manages the part responsible for 40 walks and 10 hit batters in the first three weekends, it could be a fun season in Evanston.

3. Arizona State was the only Pac-12 school that didn't participate in the tournament, and Cal, Oregon, Oregon State, Stanford, UCLA, Utah and Washington combined to go 31-1-1 (Utah and Cal Poly were forced to abandon a tie game Sunday because of travel concerns). Arizona finished with a 2-3 record that could have been worse, save for a two-out, seventh-inning rally against Long Beach State. Coach Mike Candrea said ace Kenzie Fowler is pain-free following offseason back surgery, but there isn't any timetable for her return. He also didn't rule out a redshirt season for the senior.
Players of the Week
Mel Dumezich, Texas A&M: Not every team made the trip to the Mary Nutter Classic. Texas A&M stayed in College Station to host its own tournament and rolled through five wins against Texas-San Antonio, Purdue and Southeastern Louisiana, in addition to a midweek doubleheader sweep against Stephen F. Austin. All told, Dumezich pitched a pair of no-hitters and didn't allow an earned run in the circle, and drove in seven runs and totaled six extra-base hits at the plate.
Natalie Hampton, Oregon State: Oregon State was the official host school for the tournament in Cathedral City until this season, but Hampton made herself at home in the desert all the same. The freshman led all players in the tournament with four home runs, drove in seven runs and totaled six hits and four walks. The Beavers won all five of their games in California, extending their overall winning streak to 11 games. It's no coincidence that Hampton has 13 RBIs during the streak.
Jolene Henderson, California: California played one fewer game than most teams in Cathedral City, but it didn't stop Henderson from doing more work than most of her peers. She won all three of her starts, beating Georgia Tech, Illinois and Nebraska, and did so with style. In 23 shutout innings across those starts and one relief appearance, she struck out 24 and allowed just eight hits and two walks. For good measure, she hit a double and a home run and drove in four runs.
Kelsey Stevens, Stanford: The Cardinal looked good against a tough schedule in Cathedral City, a loss against Oklahoma State more than balanced out by wins against Georgia, Virginia, Florida State and Syracuse. Stevens was the biggest reason. A perfect game against Virginia in which she struck out 10 was the highlight, but she also started and beat Georgia and Florida State without allowing an earned run. She hasn't allowed an earned run since the season's first weekend.
Alison Owen, Mississippi State:
It hasn't been a perfect start for Mississippi State, which lost to Belmont on Saturday, a week after losing to Northwestern State. But Owen has been as good as advertised after sitting out last season following her transfer from Georgia. She set a school record with 15 strikeouts in seven shutout innings against Wichita State on Saturday, then went out and broke the record with 16 strikeouts in seven shutout innings against SIU-Edwardsville.