Baylor's Whitney Canion taking it slow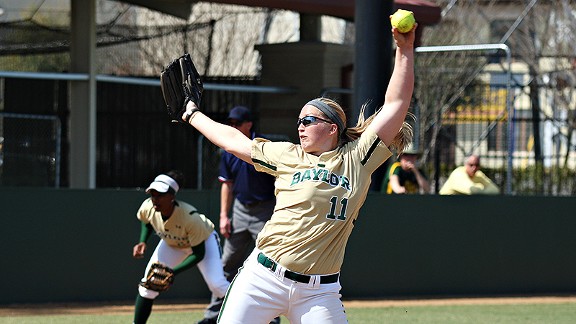 Baylor University Whitney Canion outdueled Arizona State ace Dallas Escobedo to pick up a 6-2 road win Sunday.
What a difference a year makes.
On March 3, 2012, Baylor's Whitney Canion sat in a training room in Waco, Texas, during the middle of a physical rehabilitation session and watched on her laptop as her team played UCLA at a tournament in Florida. Days earlier, still on crutches after she tore her ACL running the bases the previous weekend, she hobbled up the first two steps of the team bus to say goodbye to the team on its way to the airport. Baylor coach Glenn Moore handed her the microphone so she could say a few words. She didn't get through even that many before her emotions got the best of her.
"That was the worst feeling I have ever had was watching my team leave," Canion recalled.
Watching from afar as her team played UCLA proved equally difficult. It wasn't much fun for the Lady Bears, either. Without their All-American ace, they surrendered nine runs in the first two innings and lost 10-6.
Exactly one year later, Canion was in the circle Sunday when Baylor faced No. 3 Arizona State on that team's field. In a duel of aces against Dallas Escobedo, Canion came out on top in a 6-2 win. The fifth-year pitcher struck out 11 Sun Devils and allowed just four hits and no earned runs. It was one of three weekend games in which a top-five team suffered its first loss, but it was the only one in which that previously unbeaten team started its No. 1 pitcher.
It was a good weekend for Baylor, which dropped a game against North Carolina to open its stay in Arizona and then won four in a row to improve to 19-3 on the season. It was a better weekend for a very veteran pitcher who hopes a second comeback ends with a second Women's College World Series appearance.
"She's one I really feel the girls respect enough to listen to," Moore said. "I think she's got tremendous credibility there. My relationship with her is almost as [if] she's a colleague. She's been through almost as much as my memory will take me back for. The older I get, I remember less. It's hard to remember back before Whitney Canion was here."
Canion made a strong first impression. She won 27 games as a freshman and struck out 415 batters, good enough to rank her third nationally and propel Baylor to a super regional. A lingering forearm injury shut her down during that series against Michigan, and, after a false start the following spring, forced her to redshirt the 2010 season. Finally healthy again the following season, she won 31 games and struck out 339 batters for a Baylor team that reached the Women's College World Series and then she spent the summer throwing for Team USA. But instead of building on that momentum, she found herself sidelined again by the knee injury.
After the elbow injury, she added a double major (management and marketing) to make use of her extra time on campus. After the second injury, and after the NCAA granted her a sixth year of eligibility for 2014, she applied for the MBA program at Baylor. At this rate, she may have tenure by the time she's done. And she will be older than some of the participants eligible for an alumni game.
At 23 years old, she's already aware of the differences between her and freshmen who sometimes make her cringe by doing exactly what she knows she did when she was 18 years old.
"It seems like everyone respects me and who I am, but I can sometimes be boring because I can be the team mom," Canion said. "I get made fun of as the grandma on the team but that comes with it. And at the same time, they know I love this game and I will give everything I can for these next two years, whether or not I'm six years older than these freshmen."
Moore said before the season Canion was unlikely to throw many innings early, and he hasn't deviated from that plan. Over the weekend, she started one game Friday and the Arizona State game Sunday, but made only a brief relief appearance in the team's two games Saturday, a light workload by the standard of most aces. The goal is to have her at full strength in May. Baylor knows all too well what the postseason feels like with and without her.
Not that Canion was a one-woman show. Baylor hit four home runs against Arizona State. For some perspective, it took Baylor 17 games at the start of last season to hit four home runs.
Like LSU, which matched last season's anemic home run production within three weeks this season, Baylor is putting last season's power woes behind it. The third home run against the Sun Devils matched the team's total in 56 games last season. The fourth home run of the day, off the bat of freshman Robin Landrith in the Tucson native's home state, moved the lineup ahead of last year's total. Led by true freshman Sarah Smith and redshirt freshman Linsey Hays, 10 of the 15 home runs have come from players who didn't play last season.
"I think to a fault we are a little bit speed heavy in typical years," Moore said on the eve of the season. "This year is different. … You're going to see from top to bottom, a little less speed overall and a good bit more power."
Players of the week
Megan Blank, Iowa: In the kind of weekend that could make all the difference when it comes time to fill a bracket for the NCAA tournament, Blank was Iowa's biggest bat. The sophomore shortstop had at least one hit and drove in at least one run in all four of Iowa's games, including wins against Stanford and Oregon State. She finished with eight RBIs on six hits, including two doubles, a home run and a triple. She drove in four runs in the upset win against the Beavers. And on a busy weekend for Iowa's infielders, she committed just one error against 19 assists.
Courtney Ceo, Oregon: Several Ducks have cases for inclusion here, but it's tough to top what Ceo did at the plate. The junior finished the weekend with a .632 batting average (12-for-19), hit two home runs, drove in five runs and stole four bases. The more and more power she shows off, the more and more you have to wonder what the Ducks could have done in last season's World Series had she not missed the final month-plus with an injury. The well of Pac-12 shortstops that included Jenn Salling, Katelyn Boyd and Ashley Hansen in recent seasons may not be dry.
Olivia Galati, Hofstra: Even Ernie Banks thinks Galati needs a day off. But in the meantime, perhaps the busiest pitcher in softball made the most of her workload this past weekend and reversed a slow start to the season for last year's surprise super regional participant. Galati started all five games the Pride played in Florida and came out with four wins, including an upset against Texas and wins against Penn State and Maryland. In all, she allowed just three earned runs in 31 innings and struck out 33 batters.
Cheridan Hawkins, Oregon: Did we mention it was a good weekend for Oregon? Hawkins and the rest of Oregon's staff had plenty of run support, but the freshman hardly required it. She allowed one earned run in 15 2/3 innings and struck out 29 batters against just two walks. That pushes her to 76 strikeouts on the season while splitting innings with Jessica Moore.
Devon Wallace, Arkansas: The best hitter in the SEC may not be on one of the league's familiar powers. Wallace hit .636 in the Woo Pig Classic (which, as you may have guessed, Arkansas hosted) and totaled seven hits, eight walks, seven RBIs, three home runs and two doubles. The junior first baseman owns a .982 slugging percentage and .659 on-base percentage through 22 games and has already walked 27 times. For good measure, the sophomore first baseman is also perfect in four stolen-base attempts.
Weekend roundup
After a weekend of upsets, only Alabama remains unbeaten, and that, too, will be tested with a midweek nonconference game against Florida and three conference games against Tennessee this weekend.

1. Nebraska came as close to beating Oklahoma as any team did the first three weeks of the season when it lost a 2-0 decision at the Mary Nutter Classic, a game in which the Sooners scored twice in the final inning. The teams played twice more this past weekend, and after a 10-3 win for Oklahoma in the first game of Saturday's doubleheader, Nebraska came up with the 1-0 stunner in the second game behind a shutout from freshman pitcher Emily Lockman. Nebraska's five losses this season came against Arizona, California, Oklahoma (twice) and Oregon, with three of those games decided by two or fewer runs.

2. Michigan was responsible for Texas A&M's first loss, a 9-2 result at the Citrus Classic in Florida. That was the highlight of an up-and-down weekend for the Wolverines -- and another busy weekend for Sara Driesenga. With Haylie Wagner still out of action with an undisclosed injury, Driesenga started all five games in the circle for Michigan. She gave up some runs against LSU and Oregon, as have a lot of pitchers, but she also had perhaps the best single day of any player in the nation over the weekend. On top of beating the Aggies with 10 strikeouts Friday (and driving in two runs at the plate), she struck out 15 batters to shut out Georgia Tech earlier in the day. As a freshman, Driesenga struck out 63 batters in 124 1/3 innings. She already has 100 strikeouts in 97 1/3 innings this year.

3. Momentum may be real, but it's difficult to define ahead of time. Case in point: Long Beach State. The 49ers had Arizona on the ropes last week in the Mary Nutter Classic, leading 3-1 with two outs in the top of the seventh inning. The Wildcats rallied for three runs and walked away with a 4-3 win. Surely, it was the type of loss that would leave Long Beach with the wrong momentum, right? Not so much. The Big West side won its next three games in Cathedral City and swept five games at the San Diego State Classic this past weekend, including wins against San Diego State, BYU and Fresno State. The team is slugging .453, up from .380 a season ago, and junior Erin Jones-Wesley has 86 strikeouts in 63 2/3 innings, at least giving her the ability to work herself out of occasional trouble (eight home runs and 31 walks).

4. Ranked teams lost 17 times last week against teams either unranked or lower ranked, so there was some competition for the biggest upset. Top honors probably get split between College of Charleston, which knocked off Tennessee behind a four-hit complete game from pitcher Hope Klicker, and North Dakota State, which beat Georgia with a strong pitching performance from senior Whitney Johnson. The Bison are postseason regulars and reached a super regional not so long ago, but it was still the program's first win against a ranked team in the regular season (its two other such wins came in the NCAA tournament).
Games of the Week
Wednesday
Florida at Alabama
Louisiana-Lafayette at Texas (DH)
Oklahoma State at Tulsa
Friday
Alabama at Tennessee
Long Beach State vs. UCLA
LSU at Mississippi State
Michigan at Louisville
Texas A&M at Missouri
Oregon at Fresno State
Oregon vs. San Diego State
Oregon State at Fresno State
UCLA vs. Virginia Tech
Saturday
Alabama at Tennessee
California at Fresno State
California vs. San Diego State
LSU at Mississippi State
Purdue at Baylor (DH)
South Alabama vs. UCLA
Texas A&M at Missouri
Sunday
Alabama at Tennessee
LSU at Mississippi State
Notre Dame at Arizona State
Oregon State vs. San Diego State
Purdue at Baylor
Texas A&M at Missouri