Lauren Chamberlain no ordinary hitter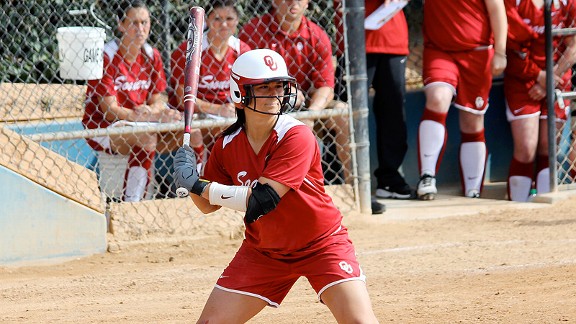 Graham Hays/ESPN If she keeps up with her current pace, Oklahoma's Lauren Chamberlain could be the NCAA's all-time home runs leader by the time she finishes her Sooners career.
It's almost unfair to ask Oklahoma sophomore Lauren Chamberlain if she remembers the first home run she ever hit. The conversation might more fairly begin with testing her recall on a slightly more manageable number. Like remembering the first time she yawned. Or maybe her first text message.
A lifetime of home runs get a little jumbled for a hitter who is one of a kind in a lineup in which that shouldn't be possible.
Her philosophy of hitting, on the other hand, remains refreshingly unchanged from her earliest days.
"I've always prided myself on swinging hard and giving the fans what they want to see," Chamberlain said.
Oklahoma's Keilani Ricketts is the reigning national player of the year in large part because of her dominance in the pitching circle but also because she hit 17 home runs last season with the kind of slugging percentage and on-base percentage that would have made her an All-American solely for her work with the bat. Sooners teammate Jessica Shults is the career home run leader in the entire Big 12.
And yet the name that ought to cause opposing pitchers the most sleepless nights is the one that comes first on coach Patty Gasso's lineup card. An unconventional leadoff hitter? Sure. Unstoppable? Also accurate.
"What I love about Lauren in the leadoff is that pitchers are immediately uncomfortable," Gasso said. "First pitch of the game, they're uncomfortable because they know if they miss, it's going to be gone."
No hitter dispatches pitches quite like Chamberlain. The California native hit five home runs in Oklahoma's four games this past weekend, two wins each against Drake and Northern Colorado. That gives her 13 home runs this season and 43 in a career that is only 87 games old. With at least two months left this season, and likely a month of postseason play beyond that, she is near the halfway mark in the chase to catch former UCLA All-American Stacey Nuveman, the NCAA career record holder with 90 home runs.
Even with a semi-conservative estimate of 60 games per season the rest of her time in Norman, Chamberlain is on pace to hit 121 home runs.
The rest of the numbers are equally silly. Chamberlain is hitting .500 this season with 20 extra-base hits in 23 games. She's walked 23 times and struck out just five times. And when the NCAA released its first batch of statistical leaders Monday, there was Chamberlain at No. 1 in slugging percentage (1.242) and No. 2 in on-base percentage (.648). She's the best hitter in college softball. So much for opponents figuring her out the second time around.
"She's just dominant," Gasso said. "She doesn't strike out a lot. If she does, you're going to hold your breath because she's going to take a massive swing. She's a great two-strike hitter. She just doesn't have a lot of weaknesses."
The competition is about to get considerably more difficult than Drake and Northern Colorado. Oklahoma travels to Chamberlain's native state this weekend for the Judi Garman Classic, a trip that includes the second game of the season against Arizona. And a 16-day stretch at the end of this month and the beginning of April includes series against Louisville, Louisiana-Lafayette and Baylor. But Chamberlain hit top-25 caliber pitching out of the park during the first four weekends of the season, just as she did when she hit three home runs as a freshman in the Women's College World Series.
Her approach sounds almost maddeningly simple, the physics of all that power and the precision of her plate discipline boiled down to a hitter's thesis. See the ball; hit the ball -- hard.
"To be honest, I just wanted to swing hard when I was younger," Chamberlain said. "It gets challenging sometimes [to keep things simple] because the level is higher, the pitchers are better and you start having to think about different things, not just getting a good pitch -- because a good pitch could be their best pitch. It definitely does get a little more challenging. But at the same time, I feel like if you keep your base approach at just sticking with good pitches and putting your best swing on it, then I think it all falls into place."
Even in this golden age of power hitting in college softball, the result of better athletes, better bats and myriad other factors, she's doing something that stands apart. We might as well settle back and enjoy each tape-measure blast as it comes. She certainly will. The gold standard for childlike joy brought to life on the field is California All-American Jolene Henderson, but Chamberlain isn't that far behind.
And the more laid back she is, the more uptight a nation of pitchers becomes.
"I knew that I had a passion for the game when I was young," Chamberlain said. "It was a way that I could express myself on the field. I was always having fun, and I think I'm still doing that, letting people know that the game is still fun and it's not as crazy as people make it out to be."
Players of the Week
Aimee Creger, Tulsa: The good news for opponents eyeing a matchup against Tulsa is there were a couple of weeks this season when Creger wasn't named Conference USA's top pitcher. After she threw three innings of shutout relief for the save in a midweek win against Oklahoma State, Creger pitched a pair of shutouts in her team's conference-opening sweep against Marshall. All told, she struck out 31 batters in 15 scoreless innings on the week.
Rachele Fico, LSU: Not that there was much doubt LSU's ace was good, but Fico is becoming one of the stories of the young season. Bouncing back from a weekend of rare mixed results in Florida a week ago, she earned a pair of complete-game wins to lead LSU to a series win against Mississippi State in SEC play -- except that she really pitched three complete games. In the series opener against the Bulldogs, Fico went all 14 innings in a 1-0 win and struck out 22 batters. The strikeouts tied the conference record set by former Tennessee All-American Monica Abbott.
Shelby Pendley, Oklahoma: Even with five home runs, Lauren Chamberlain arguably wasn't Oklahoma's best bat last week. Pendley continued a recent tear at the plate by hitting .778 with six extra-base hits, including four home runs and 13 RBIs in the games against Drake and Northern Colorado. Hitting in front of Ricketts and Shults is a heck of a way for the Arizona transfer to get comfortable in her new surroundings.
Taylor Thom, Texas: As a freshman last season, Thom had two home runs and 11 extra-base hits in 60 starts. After two home runs in the same game this past week against a ranked Louisiana-Lafayette team, she's sitting on eight home runs and 16 extra-base hits this season. She drove in eight runs in four games for the week, including two wins against the Ragin' Cajuns and two more against always potentially pesky Texas State.
Lauren Young, Arizona: Boise State was a good team a season ago, but the Broncos had no answer for Young this past weekend. In Saturday's doubleheader alone, Young had six hits in six at-bats, including four home runs, and drove in nine runs. All of that after she opened the three-game series with a home run Friday. She entered the weekend with two home runs on the season; she left with seven round-trippers and second place in slugging percentage and total bases.
Weekend roundup

1. The start of SEC play saw Tennessee win a series against Alabama for the first time since Abbott was in Knoxville. That's a bit misleading, as the two schools split doubleheaders the past two seasons without opportunity for a rubber match, but it's still a strong showing at home for the Lady Vols after a couple of missteps in recent weeks. Cheyanne Tarango had one of the weekend's big hits with a three-run home run in the opener, while Lauren Gibson reached base 60 percent of the time in the series.
Florida missed out on a perfect week when it dropped the middle game of its three-game series against Auburn, but factor in a midweek nonconference win in Tuscaloosa against Alabama and it's unlikely too many people in Gainesville will complain. The Gators stole eight bases in those four games. That pushes them to 68 on the year, just eight shy of last season's total, most of which was compiled by Michelle Moultrie and Sami Fagan. This team can still mash -- its 92 extra-base hits put it well ahead of pace to best last season's total of 138 -- but the power-speed balance coach Tim Walton has talked about building appears to be on full display.

2. Just as Tennessee did something it hadn't done since the days of Abbott, Virginia Tech turned back the clock to the days of All-American Angela Tincher and made the week's biggest statement. The Hokies built a successful record without a great deal of substance through the month of February, but a 2-1 win against UCLA in California on Friday marked the team's first win against a top-10 team since Tincher won both ends of a super-regional doubleheader to send the team to the World Series in 2008. The win against the Bruins came a day after a win against Long Beach State. Freshman Kelly Heinz, who threw a no-hitter in her first college start and ranks in the top 25 in strikeouts per seven innings, got the win in relief against the 49ers, then shut down the Bruins with a three-hit complete game.

3. Another season and another strong start for Louisville. Maybe there's something to this. A week after beating LSU and Georgia Tech in the Citrus Classic in Florida, balanced against a loss to Texas, Louisville beat Michigan at home in the signature game of its own Red & Black Classic. Caralisa Connell got the win against the Wolverines, a week after she put up good numbers in the loss against the Longhorns. She was 19-1 last season as essentially a No. 2 starter, but she has 85 strikeouts in 79 2/3 innings this season, a noticeable uptick in her strikeout rate compared to 2012.

4. Oregon State saw arguably its marquee game wiped out by weather this past week, an encounter with Fresno State at a tournament on that team's field, but the Pac-12 team still managed a win against San Diego State among a 3-0 stay. In recent seasons, it has been a race to stockpile nonconference wins before suffering through long conference seasons. Perhaps that's still the case with a pitching staff that isn't posting dominant numbers, but first-year coach Laura Berg sure does have this team hitting. It scored 23 runs in wins against San Diego State, Iowa State and Saint Mary's and is slugging .534, up from .396 last season and .307 the season before that.
Games of the Week
Wednesday
Baylor vs. California
Georgia at Georgia Tech
Thursday
Arizona vs. Notre Dame
Arizona vs. Virginia Tech
Arizona State vs. Texas
California at Hawaii
Michigan vs. Virginia Tech
Michigan vs. Washington
Friday
Arizona vs. Michigan
Arizona State vs. Michigan
Arizona State vs. Virginia Tech
Kentucky at LSU
North Carolina at Louisville
Tennessee at Florida
Texas vs. Washington

Saturday
Arizona vs. Oklahoma
Baylor at Hawaii
Kentucky at LSU
Louisiana-Lafayette at South Alabama (DH)
Tennessee at Florida (ESPNU, 11 a.m. ET)
Sunday
Kentucky at LSU
Louisiana-Lafayette at South Alabama
Tennessee at Florida