Virginia Tech team awakens memories of '08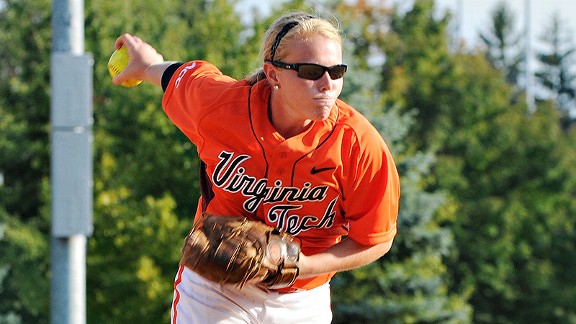 Dave Knachel Hokies freshman Kelly Heinz has been rebuilding her strength after a surgery cost her her senior season in high school. Still not 100 percent, her results have nonetheless been impressive.
Like an actor asked to recite the phrase that made him famous in a long-ago role, there was a hint of resignation in the voice of Virginia Tech coach Scot Thomas when a question was posed about that day five years ago.
Or perhaps it was just the fatigue of canceled flights and an unplanned night in Chicago at the end of a long road trip. Time waits for no man, but we all wait on the airlines from time to time.
It will probably pass uneventfully in most of the sports world, but March 26 marks the five-year anniversary of one of the most remarkable upsets in the history of sports. Seriously, a result that ranks alongside the Miracle on Ice, Buster Douglas dropping Mike Tyson to the canvas in Japan and anything else you care to submit for sheer improbability. That was the day an unranked college team beat the United States Olympic softball team 1-0 on what amounted to Team USA's home field in Oklahoma City. It was the first loss for the national team after 185 consecutive wins in pre-Olympic exhibition games.
And Virginia Tech's Angela Tincher didn't just beat Team USA. She threw a no-hitter, one walk shy of a perfect game.
The Hokies weren't unknown for long after that. They eventually made it to the Women's College World Series that season after Tincher, the lightly recruited local product who finished ranked among the NCAA's all-time strikeout leaders, beat fourth-seeded Michigan twice in one day in Ann Arbor in a super regional.
That season and that day in Oklahoma City, not to mention Tincher a pitcher, were experiences any program would dream of having, but they also make for a tough encore.
"I wouldn't say it's a like a ghost just hanging around," Thomas said. "It's not really like that. It's more like you've just got to be proud of your past and continue to use that as somewhat maybe of a benchmark to continue to try to get back to. But I guess there's some double-edged sword to it."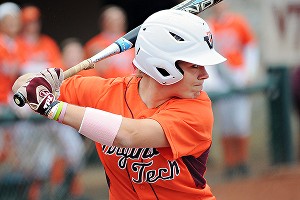 Dave Knachel Courtney Liddle leads a stacked Virginia Tech squad that returned nearly its entire lineup from a season ago.
For the first time since Tincher moved on after that memorable season, Virginia Tech returned to the NCAA tournament last spring and came within a win of a super regional. They returned almost the entire starting lineup this season, led by senior Courtney Liddle and sophomores Lauren Gaskill and Kelsey Mericka, hitters with the kind of slugging percentages and run production the 2008 team often lacked in support of its All-American ace.
With a reliable veteran pitcher in Jasmin Harrell, the current team also added an in-state pitching prospect in freshman Kelly Heinz, who didn't pitch her senior season in high school after undergoing surgery for an ulnar nerve condition.
A week ago, the Hokies beat UCLA 2-1 in Long Beach, Calif., as Heinz allowed just three hits in a complete game. It was the program's first win against a top-10 team since, you guessed it, the 2008 season. This past weekend at the Judi Garman Classic in Fullerton, Calif., they picked up wins against Arizona and Michigan on the same day. Heinz again went the distance with a four-hitter against the Wildcats and picked up a save against the Wolverines.
"She's not back exactly where she was, but she's close," Thomas said of a pitcher he noted could hit 68 and 69 miles per hour regularly before surgery. "I think she's going to get better. I do think it's pretty exciting, if she's here now, where can she be in the future? Right now, I'll take what I'm getting right now. But I think the possibility of her getting a little better -- it's possible. We'll kind of see how that goes."
It wasn't a perfect weekend for a team that was routed by Arizona State and lost to Fullerton, but after the successful stint in California, Thomas brought up that 2008 team with his current players. He told them that a few weeks before the game against Team USA that made softball history, that team went west and lost to Arizona and UCLA. He told them they had done something even that team never did.
"You've got to talk about it, obviously," Thomas said. "But then again, we're making our own name for ourselves at this point. These girls are doing a great job of that."
The Michigan team Virginia Tech beat in a rematch of the super regional five years ago had a good weekend of its own in Fullerton, that result notwithstanding. The 3-2 setback against the Hokies turned out to be the only loss for the Wolverines, a schedule highlighted by wins against Arizona, Arizona State and Washington in the span of little more than 24 hours.
In the 6-1 win against the Huskies, freshman shortstop Sierra Romero hit a pair of home runs. In a 5-4 comeback win against the Sun Devils, just that team's second loss this season, Romero reached base and scored. And in a 9-1 win against the Wildcats, she hit a solo home run and drew a bases-loaded walk. Sensing a theme yet? Like Oklahoma's Lauren Chamberlain a season ago, Romero is making an impact that bears little correlation to her experience. With the pitching situation in good hands -- sophomore Haylie Wagner is working her way back to full health, while classmate Sara Driesenga enjoys a breakout season under the tutelage of pitching coach Jennifer Brundage -- Romero (1.161 OPS) has solidified a lineup that had its hands full trying to replace All-American Amanda Chidester.
"Sierra Romero is one of those special kids who has a lot of talent, but she has a lot of confidence," Michigan coach Carol Hutchins said. "She believes in herself -- and she's had some bad games this year. She's had a lot more errors than we would have liked her to have, than we think she should have, but she just looks at you and says 'Yeah, I know I'm better than that.' And she believes it.
"Having that self-confidence is what makes the good players great. And she's one of them; she's one of the great ones."
espnW.com
Graham Hays covers college sports for espnW, including softball and soccer. Hays began with ESPN in 1999.
Weekend roundup

1. Michigan is poised to maintain its birthright near the top of the Big Ten standings, but the conference isn't just about the Wolverines. It isn't even just Michigan and Northwestern, the latter the other Big Ten team to reach the World Series in the past decade and a team that looks good this season after surviving a typically brutal early schedule. From Nebraska to Iowa, there are intriguing teams popping up across the still-chilly Midwestern landscape, but none is more intriguing at the moment than Wisconsin.
The Badgers missed out on a chance for a high-profile win when Sunday's game against Louisville was canceled because of weather, but they open conference play with a 22-3 record. That includes a 4-2 win last Friday against then-ranked North Carolina, which itself had wins against Stanford and Notre Dame. Trying to make it a new era for a program that last made the NCAA tournament in 2005, Wisconsin hitters are slugging .481 with a .393 on-base percentage.

2. Mississippi State's Alison Owen walked a batter during the weekend. One game later, she walked another. Wait, how deep are we digging for things to write about, you might ask? That sequence actually represented one of the week's more notable moments, at least from a statistical standpoint. Even with those two free passes, Owen has walked just four batters, compared to 124 strikeouts, in 90 innings. You don't see 31-to-1 strikeout-to-walk ratios every day.

3. Speaking of pitching statistics bordering on the absurd -- and we've seen this kind of thing before out of a certain tall southpaw who used to pitch in Austin -- Blaire Luna is piling up strikeouts for Texas. The Longhorns senior began last week as the nation's leader in strikeouts per seven innings, then went out and struck out 40 in 20 innings in the Judi Garman Classic. There are only five instances of a pitcher averaging 14 strikeouts per seven innings for a season, and three of them were turned in by Cat Osterman, but Luna is hovering around 14 at the moment.

4. We're a week away from the next installment of Total Access Alabama, but as part of the weekend series against archrival Auburn, Alabama will host an exhibition game this Saturday between an all-star team of former Crimson Tide greats from a variety of sports and the Wounded Warriors amputees softball team. Throw in the fact that it's the day set aside for All-American outfielder Kayla Braud's senior celebration (each Alabama senior is honored separately throughout the season) and it's a big day in Tuscaloosa.
Players of the Week
Brittany Fowler, South Alabama: Louisiana-Lafayette using Sun Belt opponents to garner accolades like this is a familiar sight, but Fowler turned the tables on the perennial power and helped South Alabama stake an early claim to conference bragging rights. The team leader in slugging percentage as a sophomore and junior, she hit three home runs and drove in seven runs as the Jaguars took two of three games against the Ragin' Cajuns to improve to 23-4 overall.
Lauren Gibson, Tennessee: The game in question ultimately didn't go Tennessee's way, but Gibson lent more evidence to the case that she is the person you most want at the plate with the game on the line. The hero several times over for Team USA last summer, her two-out home run in the seventh inning against Florida on Friday allowed the game to go to extra innings. For the weekend, she hit three home runs and drove in six runs. She has three home runs in 12 at-bats against the Gators. The rest of the country has 13 in 761 at-bats.
Lauren Haeger, Florida: It's only fair to include Haeger along with Gibson. As good as the Tennessee slugger was, Florida came out with two extra-inning wins in a series in which all three games went beyond regulation. In the finale, she hit two home runs, one to tie the game in the bottom of the sixth and one to win it in the bottom of the eighth, drove in all five of her team's runs and picked up the win in relief. She finished the weekend with three home runs.
Jolene Henderson, California: It's not her first appearance here, and it probably won't be her last. Henderson allowed seven hits in 21 innings against quality competition in Hawaii, picking up wins against Baylor, Hawaii and Syracuse on consecutive days (she had the day off when the Orange scored an 8-1 upset win against the Bears in the finale). On the season, she's allowed18 earned runs in 142 2/3 innings as a pitcher and driven in 17 runs in 67 at-bats as a hitter.
Kaia Parnaby, Hawaii: The Australian set the bar high, opening her week with 15 strikeouts in a one-hitter against Syracuse. Parnaby earned six wins, her only loss a pitching duel against Henderson, and struck out 76 batters in 51 innings. For a point of reference, there were only 27 pitchers in the nation who had even 100 strikeouts for the season when the week began. She finished with a flourish, striking out 17 in another game against Syracuse.