Wisconsin set for home opener, finally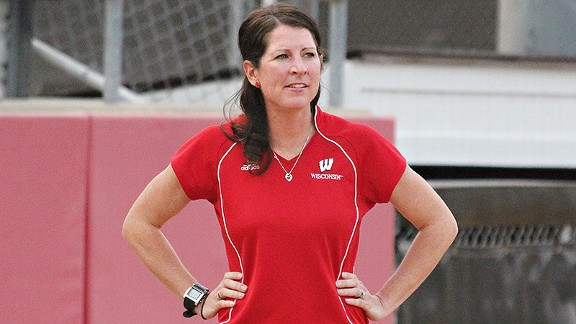 University of Wisconsin Yvette Healy has turned around the program at Wisconsin since taking over prior to the 2011 season.
There is all the difference in the world in college softball between the have-not and have-not-yet.
When Yvette Healy looked at the University of Wisconsin, a program most would have placed among the have-nots in the world of big-time college softball, she saw one that could have almost anything with a little work.
Well, other than home games for the first month of the season. Or on occasion, the first two months. There's not much she can do about the winters in Wisconsin.
In her third season in charge of the Badgers, Healy enters April with a team that owns a 27-4 record. Among teams ranked in last week's Top 25, only Oklahoma, Arizona State, Florida, Cal and Missouri have fewer losses. Those five teams are a combined 66-5 at home entering play Tuesday. Wisconsin is winless at home. And also undefeated there.
Weather willing, the Badgers will play in front of the home faithful for the first time April 10; they played their first game on Feb. 8. Despite the weather issues, their third-year coach is sunnily optimistic.
"I've seen it happen in the Midwest," said Healy. "I'm a firm believer that you can have a strong program. Even though it's cold, even though you're not going to have as many home games, that you can compete nationally from here."
To be fair, she hasn't just seen it happen, she helped make it happen. A Chicago native, she was a star on the field for DePaul, one of the sport's cold-weather success stories with four appearances in the Women's College World Series. Her college career ended in 1999. By 2004, she was the head coach at Chicago's Loyola University. That experience taught her that while a school like Wisconsin might lack some climate amenities, it had natural advantages.
"Taking over a head coaching job at a young age, you really have no idea what you're up against at that point," Healy said of Loyola. "So it was definitely kind of getting thrown to the wolves. It makes you humble and it makes you realize what it is for a good majority of the country, when you don't have a fully funded program, when you don't have a full staff. You don't realize what the haves have until you're battling for some things on the other end of it."
Which is not to say the program in Madison was something other than a fixer-upper. She arrived before the 2011 season at the end of a three-season span in which the Badgers were more than 60 games under .500. The program last made the NCAA tournament in 2005. Her first team went 30-23, a distinct improvement over a 20-31 record the previous season.
"It was more about just really giving people a great fight and being tenacious and battling and coming back from behind and winning some games," Healy said. "But year to year, you've got to keep making strides. Enthusiasm and energy aren't going to get you into the Top 25 alone."
You can, however, get into the Top 25 with a team that is fourth in the nation in stolen bases per game but also ranked in the top 50 nationally in slugging percentage. The Badgers have a workhorse in the circle in junior Cassandra Darrah, 16-2 this season and 54-25 in her career, but their success is also evidence that offense can be the foundation.
Healy knows all about small ball. Her run for DePaul in the 1999 Women's College World Series eliminated Arizona, ending that school's run of eight consecutive championship-game appearances. The only run in that 1-0 win, it came after she singled and advanced to second on a sacrifice bunt, typical of a World Series in which a team scored more than three runs in a game just once and five games ended in 1-0 scores. She still values the art of manufacturing runs, hence all the stolen bases. Programs like Alabama and Arizona State still do that, too. But sitting in the stands at the Women's College World Series a few years ago, she spotted a graphic about the offensive prowess of all the teams in Oklahoma City. It hit her, she said, like a slap in the face. Teams can't play for one or two runs anymore, not when it feels like everyone else is scoring five or six runs a game.
When she got the job at Wisconsin, she convinced Randy Schneider, the most successful coach in Valparaiso history and a hitting guru, to leave that job and join her staff in Madison.
"He's come in and brought some really fun offensive philosophies and strategy, and I think it makes the offense really dynamic," Healy said. "You need that. I think everybody wants that dominant pitcher, but again, it's a tough world in recruiting, when you're building a program you don't always get the marquee kid. So you've got to find a way to narrow the gap."
The results are right there in the numbers posted by junior Mary Massei (.704 slugging percentage, .508 on-base percentage) and senior Whitney Massey (.660 slugging, .441 on-base). Four starters are slugging at least .500. Seven have on-base percentages of at least .400. And the team has outscored its opponents 172-60.
A season ago, Wisconsin went 34-19 but missed the NCAA tournament. That seems unlikely this time around, especially with early wins against Notre Dame (twice), Stanford and North Carolina. But more than anything, the Badgers have become a team worth going to see.
Weather permitting, of course.
espnW.com
Graham Hays covers college sports for espnW, including softball and soccer. Hays began with ESPN in 1999.
Players of the Week
Cheyenne Coyle, Arizona State: File Coyle's weekend under the heading of maximizing contact. The junior had a modest two hits in a three-game series against Oregon State, but she drove in eight runs. It helped that both hits were home runs from a player who continues to thrive in new surroundings. The Florida transfer has a narrow lead on teammate Amber Freeman (who hit two home runs in the series finale) for the team lead in home runs, RBIs and slugging percentage.
Amy Letourneau, Northwestern: The sophomore opened Northwestern's series against Minnesota by throwing a no-hitter -- one in which she also allowed 11 runners to reach base on nine walks and two hit batters. A day later, she hit a home run and drove in four runs at the plate in a defeat. And in the finale, she hit another home run and pitched a complete-game five-hitter to clinch the series -- while walking eight batters.
Angela Randazzo, Missouri: The sophomore third baseman was like a traffic cop rushing to meet a monthly quota for speeding tickets -- and about as much fun for visiting South Carolina. Randazzo bolstered her March power numbers with a double, three home runs and nine RBIs in the span of Saturday's SEC doubleheader. She also walked twice and singled in the opener and finished the weekend with five hits in seven official at-bats. Only one player slugged better than .500 for Missouri a season ago; Randazzo is one of three currently topping .900.
Emily Rousseau, Western Kentucky: After a midweek nonconference win against ranked LSU, it set up as a perfect week for South Alabama to cement Sun Belt supremacy. One problem: Rousseau. The junior pitcher beat South Alabama twice on that team's home field to give Western Kentucky the series win and first place in the Sun Belt. In 14 innings across two starts, she struck out 20 batters and allowed just one walk. What does she do for an encore? Western Kentucky visits Texas this weekend.
Devon Wallace, Arkansas: This is why teams don't pitch to Wallace. After six losses in a row on the road to open conference play, Arkansas put itself back in the postseason picture by sweeping a home series against Georgia, its first sweep against a ranked opponent in 13 years. Wallace was literally the difference in one game, hitting a walk-off grand slam in a 5-2 win. Continuing to make a case that she's the SEC's best hitter, she finished the series with three home runs, seven RBIs and five walks. She has a .636 on-base percentage this season.
Scouting bracket busters


Basketball bracket in tatters? Worry not; we'll have a softball bracket to play with in fewer than six weeks. Even now, as the list broadens out beyond Arizona and UCLA simply trading trophies, national championships are the province of mostly a few elite programs. But teams like South Florida and LSU a season ago can reach the Women's College World Series and a supposed outsider like Northwestern can reach the championship series, as it did in 2006. It's not pure parity, but it's at least an entertaining substitute. The common denominator more times than not? Pitchers like the Wildcats had in Eileen Canney or LSU had in Rachele Fico and Brittany Mack.
Which is why it's time to wonder if James Madison and Loyola Marymount may be entering golden eras.
When USA Softball last week announced the roster for the junior national team that will compete this summer in the junior world championship in Canada, all the usual suspects were represented -- two players each with ties to Alabama, Florida, Michigan, Oregon and UCLA, along with players from other perennial powerhouses. And then there was James Madison freshman Jailyn Ford, representing a school which went winless in its only NCAA tournament appearance four years ago.
The Dukes improved to 6-0 in the CAA and 24-7 overall this past weekend with a three-game sweep against Drexel. Ford started twice and finished with 13 strikeouts in 9⅔ innings. She's splitting innings almost equally with Heather Kiefer for coach Mickey Dean, who worked with plenty of elite pitchers in National Pro Fastpitch, but she's 12-1 with 121 strikeouts in 86⅓ innings on the season.
Ford entered the past weekend 11th in the nation in strikeouts per seven innings, but there were two freshmen ahead of her. One was Oregon's Cheridan Hawkins, getting plenty of attention while splitting innings with Jessica Moore for a championship contender in Eugene, but Loyola Marymount's Sydney Gouveia was the top freshman on the list, and fourth overall, at 11.5 strikeouts per seven innings. Rated a top-20 recruit nationally by some recruiting analysts, Gouveia went the distance in a 10-inning win against Santa Clara this past weekend, striking out 12 while allowing five hits and a single unearned run. Overall, she's 11-2 with 167 strikeouts in 104⅓ innings (a total that includes a 10-strikeout four-hitter in a win against Northwestern).
Games of the Week
Tuesday
Cal at Arizona (DH)
Stanford at Oregon State (DH)
Washington at UCLA (DH)
Wednesday
Cal at Arizona
Louisiana-Lafayette at Oklahoma (DH)
LSU at Florida State (DH)
Stanford at Oregon State
UCF at Florida
Washington at UCLA
Thursday
Louisiana-Lafayette at Tulsa
Friday
Baylor at Oklahoma
LSU at Arkansas
Mississippi State at Florida
Missouri at Alabama
Ohio State at Michigan
Tennessee at Georgia
Saturday
Arizona State at Stanford (DH)
Baylor at Oklahoma
LSU at Arkansas
Mississippi State at Florida
Missouri at Alabama
Ohio State at Michigan
Oregon at Cal (DH)
Tennessee at Georgia
Sunday
Arizona State at Stanford
Baylor at Oklahoma
LSU at Arkansas
Mississippi State at Florida
Missouri at Alabama
Ohio State at Michigan
Oregon at Cal
Tennessee at Georgia