Utah coming to grips with Pac-12 rigors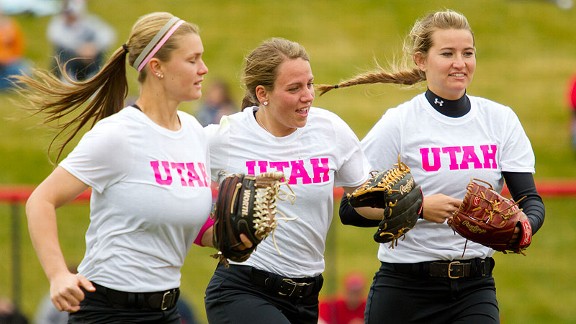 University of UtahKate Dickman, left, and Chalese Fankhauser, center, have upped their offensive production while Marissa Mendenhall, right, has posted a .275 average and started every game for Utah.
A whole bunch of adjectives all at once.
That's how Utah coach Amy Hogue adroitly explained what went through her mind when she learned her softball program would leave the Mountain West, a conference that sponsored the sport, for the Pac-12, a conference that defined it.
"Then I was scared to death," Hogue said. "Then I thought about what do we need to do first? A little bit of panic, then back to excitement. I think we've stayed on the excitement, mostly. That's been the most common response."
There was plenty of reason for excitement Sunday. In the midst of its second season in its new league, Utah beat UCLA 8-3. That win came a day after the two teams split a doubleheader. And that meant the Utes clinched a conference series for the first time in 12 tries, and against the sport's most iconic program, no less.
Utah, which also took a game off Arizona a week ago, is 3-9 in the Pac-12. That isn't going to get them in the NCAA tournament discussion, but for a team that started 0-16 in the league a season ago, it's progress.
For all the sports and all the programs affected by the rash of conference realignment in recent years, it's possible none faced quite so daunting a challenge as what confronted Utah in softball. Schools like Missouri and Texas A&M found themselves in what seems to be universally considered the nation's toughest football conference in the SEC, but the Big 12 from whence they came wasn't light years behind in its level of competition. Utah, on the other hand, jumped from softball oblivion to a league responsible for 20 national championships and 77 Women's College World Series appearances.
"I knew the level of play was going to be extremely difficult, but I didn't know how hard it was going to be on my little heart," Hogue said. "I'm someone that takes every loss so hard. I'm not that great of a wife or a mom right after a loss. I head straight home, and I drive kind of slow, try to chill out before I get home. I'm a sore loser."
Utah is still short on the pitching that could help it gain a firmer foothold in the conference. The Utes are eighth in the conference in ERA and last in strikeouts by a whopping margin -- with 94 strikeouts in 246 2/3 innings, while the next-to-last team has 176 in 245 innings. But they are increasingly competitive at the moment because of an offense that hasn't suffered a decline in run production since moving to the conference portion of its schedule.
The recruits who once rebuffed Utah are now more willing to visit Salt Lake City, but the current team remains populated with players recruited to play in the Mountain West. Yet the same hitters who were overmatched last season are holding their own. Kate Dickman and Chalese Fankhauser combined for 21 hits and eight RBIs in 24 conference games in 2012. Through 12 this season, they have 31 hits and 16 RBIs.
Senior Jackie Sweet already has more hits in Pac-12 play this season (19) than she did all of last season.
"She's a kid that decided to buy into a few things, I think, recently," Hogue said of Sweet, named Pac-12 Player of the Week for her effort against Oregon and UCLA. "She's a kid that came in and wanted to play the game with her same swing, her same comfort zone. We're playing at a level where you can't go up there and not have a plan at the plate and think you're going to have success against Jolene Henderson. You're just not."
Utah had become a pedestrian Mountain West team by the time Hogue arrived, registering losing records in five of six seasons preceding her arrival in 2008, but it wasn't always this way. When she played as an All-American under her maiden name of Amy Timmel, Utah won 51 games and reached the 1994 World Series, where it was eventually eliminated by UCLA.
She made a point of scheduling Pac-12 schools out of conference when she returned to her alma mater and went 2-16 against them in four seasons prior to joining the conference. Even that, though, was hardly preparation for playing those teams over and over and over again for nearly two months.
"I'm one that refuses to lead my team off of the bus without completely believing that we have a chance to win the game," Hogue said. "And I've told them that for years. And yet there were times [last season] where I thought, 'I can't get off the bus yet. I'm not sure yet if I actually believe it, so how can I convince them that we have a chance to win this game?' So that's what was harder. It was harder to recover day in and day out, getting closer and closer to winning a game."
It's going to be awhile before Utah can expect to seriously compete in a conference where doing so puts you in contention for national championships. But it no longer seems that Hogue's team is out of its league in the Pac-12.
espnW.com
Graham Hays covers college sports for espnW, including softball and soccer. Hays began with ESPN in 1999.
Players of the Week
Alexandria Anttila, Georgetown: Anttila is one of the players of the week, but the Georgetown junior turned in the line of the season in the first game of a doubleheader against Rutgers on Saturday. She became the third player in NCAA history to hit four home runs in a game, joining Jill Iacono from Canisius in 2002 and Rebecca Magett from Hampton in 2010. Anttila is the first to accomplish the feat from a major conference. (The Big East may not deserve that label, but it's still a step up from the MAAC and MEAC, which produced the first two performances.) She nearly doubled her place in the record book. Her 10 RBIs fell one short of matching the NCAA single-game record, accomplished most recently by Louisiana Tech's Dacia Hale last season. The Hoyas ultimately lost the series, but Anttila made the lone win one to remember.
Mary Connolly, DePaul: Only in comparison to her Big East counterpart above does it seem like it took Connolly a long time to get to double-digit RBIs. The sophomore was the backbone of DePaul's recent surge and finished the week with 12 RBIs as a result of a .643 batting average that included two home runs, a triple and a double. The Blue Demons played five games and needed just four innings more than the minimum to win all five, outscoring Seton Hall and Syracuse by a combined 65-17.
Molly Fichtner, Alabama: The Crimson Tide won a series against Missouri, and Fichtner may have clinched the catching job. The Texas-San Antonio transfer hardly looked overmatched in a big series that featured aces who spent last summer with Team USA. Fichtner went 7-for-8 against Missouri's Chelsea Thomas, including a three-run home run in Sunday's series-clinching win. Fichtner also made one of the plays of the game in the series-opening win, diving to catch a pop foul behind home plate.
Olivia Galati, Hofstra: The ace nearly threw a shutout. Not for a game. For the week. The senior started all five of her team's games against Marist and Drexel and allowed just one earned run in 31 innings. She struck out 48 batters and pitched a no-hitter against the Red Foxes and a perfect game versus the Dragons. With two one-hitters, she nearly did even more than that. For the season, she has 240 strikeouts and 10-to-1 strikeout-to-walk ratio.
Jessica Moore, Oregon: It's not so much about the numbers for Moore, although those aren't bad. It's the context. Two of Moore's four wins last week came in a weekend series at California in games she started opposite All-American Jolene Henderson. She went the distance in the opener, allowing just one unearned run and striking out six, and then turned around and struck out eight in five innings in the finale. Series wins at Cal and at Washington are bold statements by the Ducks.
Dispatch from Tuscaloosa


It's not often you find two pitchers with national team experience matched against each other on a college field. It's even less frequent -- if it had ever happened before this weekend -- that two sets of such former teammates square off on the same day. But on Friday and Sunday, Baylor's Whitney Canion pitched against Oklahoma's Keilani Ricketts (Team USA teammates in 2011) and Missouri's Chelsea Thomas pitched against Alabama's Jackie Traina (teammates in 2012). Surprisingly enough, there wasn't really a pitching duel among the four games, Alabama's 4-1 win against Missouri on Friday the only game in which the winning team failed to score at least eight runs.
That 4-1 loss presented Missouri coach Ehren Earleywine with an interesting dilemma. When No. 2 pitcher Bailey Erwin left the team for personal reasons in early March, it left the Tigers with Thomas and little else in the circle. Star slugger Nicole Hudson, who had pitched little since high school before this season, is now second in line, with Lindsey Muller pressed into service as the emergency third pitcher, or as Earleywine put it, the sacrificial lamb.
Down four runs on the road against another ace in Traina, Earleywine said he was tempted to pull Thomas and save her arm. One more run for Alabama and he might have. Instead, she went the distance.
"As long as the game is close, we're going to give her the ball," Earleywine said. "She's said she wants the ball. I feel confident that she's not going to get injured. We have some things that are red flags when she starts to get injury prone. We have a grip tester we do on her, and when those numbers start to go down, we know she's getting fatigued, overused. That's when the stress fracture arrived a couple of years ago. So I think we have the checks and balances in place to keep on throwing her a lot the rest of the year, except when the game's out of hand."
Missouri's season ended short of the Women's College World Series a season ago when it was upset at home by LSU in a super regional, Thomas clearly laboring as she tried to throw both ends of a doubleheader against LSU co-aces Rachele Fico and Brittany Mack in scorching, energy-sapping heat. Maybe it was just a bad day for Thomas against a very good lineup, but it has to worry folks in Columbia that Thomas gave up 11 hits, eight walks and 11 earned runs in the series finale, her third start. How much is too much to ask of her physically and mentally? On Friday, Earleywine remained optimistic.
"My hope is not only do we just kind of get by, but her pitching more will get her in better pitching shape," Earleywine said. "I saw it so much with the guys that I played with [on the United States men's fast-pitch national team]. The more they threw, the better shape they got in. When we got to world tournament time, those guys could throw six, seven games in four or five days like they needed to."
Games of the Week
Wednesday
Florida State at South Alabama
South Florida at Florida
Thursday
UCLA at Cal (ESPN2, 11 p.m. ET)
Friday
Arizona at Oregon
Arkansas at Missouri
Florida at Kentucky
LSU at Texas A&M
Michigan State at Michigan
Oklahoma State at Baylor
UCLA at Cal
Washington at Arizona State
Saturday
Arizona at Oregon
Arkansas at Missouri
Florida at Kentucky (ESPNU, 1 p.m. ET)
LSU at Texas A&M (ESPN, 5 p.m. ET)
Michigan at Michigan State
Oklahoma State at Baylor
UAB at Tulsa (DH)
UCLA at Cal
Washington at Arizona State (ESPN2, 10 p.m. ET)
Sunday
Arizona at Oregon
Arkansas at Missouri (ESPNU, 3 p,m. ET)
Florida at Kentucky
LSU at Texas A&M
Michigan at Michigan State
Oklahoma State at Baylor
UAB at Tulsa
Washington at Arizona State