National seeds take the field on Day 2
OMAHA, Neb. -- UC Irvine and Vanderbilt advanced on Saturday with victories as the College World Series opened.
The Anteaters and Commodores will play Monday night at 8 ET for control of Bracket 1 and the inside track to the championship series. Texas and Louisville meet at 3 p.m. in an elimination contest.
On Sunday at TD Ameritrade Park, Big 12 rivals TCU and Texas Tech play at 3 p.m., followed by Virginia and Ole Miss at 8 p.m.
Keep an eye on these storylines: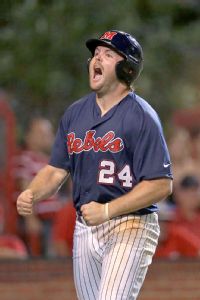 AP Photo/Gerald HerbertOle Miss' Sikes Orvis ranks seventh nationally in home runs with 14.
National seeds in action: Just two of the top eight teams, as seeded by the NCAA, advanced to Omaha. Both are playing on Sunday: No. 7 seed TCU and No. 3 Virginia, the trendy pick to walk away with the big trophy on June 24 or 25. Both of the national seeds survived drama in the best-of-three super regional round. Virginia rebounded from an opening-game loss to Maryland, and TCU need a two-run, ninth-inning rally to defeat Pepperdine in the decisive third game. Still, the Horned Frogs and Cavaliers enter Sunday as favorites -- in part because of the newness factor for Texas Tech, which has never qualified for the CWS, and Ole Miss, here for the first time since 1972.
Don't get behind against the Frogs: TCU pitchers have hurled 14 shutouts this year. That's two out of every nine games, hence the nation-leading 2.19 team ERA. Just as impressive, TCU has held its opponents to two runs or fewer in 41 of 63 games. And the TCU bullpen, anchored by closer Riley Ferrell, has allowed two runs in 28 1/3 innings in the NCAA postseason. Combined with its .978 fielding percentage (11th nationally) the numbers indicate that TCU might be perfectly built for pitcher-friendly TD Ameritrade Park. The key for Texas Tech, therefore, will be to score early. The Red Raiders jumped to sizable leads through four innings in two March wins over TCU. The other two times they played, TCU won by shutout.
Power restored: No surprise that TD Ameritrade Park did not yield a home run on Saturday. With the wind howling from the south at 30 mph all day, just one ball reached the warning track in the air. Virginia and Ole Miss may make a run at the fences. In particular, keep an eye on Ole Miss first baseman Sikes Orvis, who leads everyone at the CWS with 14 home runs this season, though Cavs starting pitcher Nathan Kirby has allowed just one long ball in 104 innings pitched this season. For Virginia, first baseman Mike Papi, center fielder Brandon Downes and right fielder Joe McCarthy possess the power to make a dent in the outfield seats.
ESPN Staff Writer
Nebraska/Big Ten/Recruiting reporter.
Joined ESPN in 2011.
Graduated from the University of Nebraska.
Five things to know
Look out for these things as the College World Series rolls on:
1. UC Irvine won its opening game with an eighth-inning rally against Texas, but that might not be a good thing for Mike Gillespie and the Anteaters. In Gillespie's four trips to the College World Series with USC, he won two openers and lost two openers. The Trojans won a title and lost in the championship game after opening with losses, but went 0-4 after opening with wins.
2. The other winner Saturday was Vanderbilt. The Commodores have won the opener in both of their CWS appearances and are 3-0 all time against non-SEC teams (both of their losses in 2011 were to Florida).
3. The losing teams Saturday were Louisville and Texas. The Cardinals' loss means that this year will be the first since 2010 that the national champion is not undefeated in the NCAA tournament, while the Longhorns will look to avoid going 0-2 in the CWS for just the fifth time in 35 CWS appearances on Monday.
4. Texas Tech makes its College World Series debut Sunday afternoon, and it has a chance to do something that has been done only once before. The Red Raiders look to join St. John's in 1968 as the only teams to throw four consecutive shutouts in the NCAA tournament.
5. Texas Tech will face TCU in the early contest Sunday. The Red Raiders enter the CWS with 19 more wins than last season, tied for the biggest improvement in Division I, while the Horned Frogs are just behind with an 18-win improvement.
6. The nightcap Sunday features Ole Miss and Virginia, with one school snapping a long drought and the other looking to snap one as well. The Rebels are in the College World Series for the first time since 1972, while the Cavaliers hope to become the first ACC school to win the College World Series title since Wake Forest in 1955.
CWS Schedule & Scores
All times p.m. ET.
Saturday, June 14
UC Irvine 3, Texas 1
Vanderbilt 5, Louisville 3
Sunday, June 15
3: Texas Tech vs. TCU (ESPN2)
8: Ole Miss vs. Virginia (ESPN2)
Monday, June 16
3: Texas vs. Louisville (ESPN2)
8: UC Irvine vs. Vanderbilt (ESPN2)
Tuesday, June 17
3: Game 7 (ESPN2)
8: Game 8 (ESPN)
Wednesday, June 18
8: Game 9 (ESPN)
Thursday, June 19
8: Game 10 (ESPN)
Friday, June 20
3: Game 11 (ESPNU)
8: Game 12 (ESPN)
Saturday, June 21
3: Game 13 (if necessary) (ESPN2)
8: Game 14 (if necessary) (ESPN)
Monday, June 23
8: CWS finals: Game 1 (ESPN)
Tuesday, June 24
8: CWS finals: Game 2 (ESPN)
Wednesday, June 25
8: CWS finals: Game 3 (if necessary) (ESPN)
Conde Talks Big Victory
ideo1>
Mitch Sherman speaks with junior shortstop Vince Conde about Vanderbilt's 5-3 win over Louisville and his key run scored in the seventh inning.
ICYMI: Gillespie, Garrido still have it
OMAHA, Neb. -- Dave Peterson turns 80 in December. He runs marathons. Started when he was 65.
On Saturday, Peterson, a retired insurance agent from Council Bluffs, Iowa, walked the concourse at TD Ameritrade Park with his 4-year-old great-grandson, Broxton, as two fellow septuagenarians led their teams below in the opening game of this College World Series.
"I am so proud," Peterson said of 75-year-old Texas coach Augie Garrido and UC Irvine's 74-year-old Mike Gillespie, "seeing them with the enthusiasm that they still have."
Peterson pointed to his heart.
"They have it here," he said. "When I see those guys, it does something for me, too."
The average age of the other six coaches here is 45. Garrido got his first job as a college head coach at San Francisco State 45 years ago. Five national championships in 15 visits to this event and more than 1,900 wins later, he's still full of spunk.
After Irvine struck for three runs in the eighth inning to beat Garrido's Longhorns 3-1, the coach stopped short -- though just barely -- of predicting that Texas would romp through the bracket and leave Omaha with a national championship 11 days from now. Full Story »