Control over Bracket 2 will soon be decided
OMAHA, Neb. -- Back to Bracket 2 on Tuesday, starting with an elimination game at 3 p.m. on ESPN2 between College World Series newbie Texas Tech and Ole Miss.
TCU and Virginia, the only national seeds to qualify for this CWS, meet on Tuesday night at 8 on ESPN, with the winner to get the inside track to the championship series next week.
Keep an eye on these items: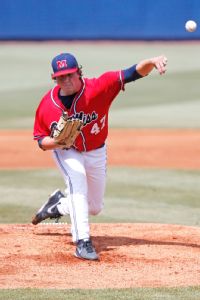 AP Photo/Rogelio V. SolisTuesday will feature three left-handed starters, including Ole Miss sophomore Christian Trent.
Bring the bats: Ole Miss must do much better than the one hit it mustered on Sunday against Virginia's Nathan Kirby and Artie Lewicki. Interesting that Texas Tech will bypass unbeaten freshman left-hander Dylan Dusek on Tuesday for right-hander Ryan Moseley, another freshman. Moseley has started just four games in 21 appearances this year, and the Rebels' lineup against Virginia included five left-handed hitters. Ole Miss plans to counter with unbeaten lefty Christian Trent, who finished 6-0 in SEC play. Tech has scored four runs in its past three games, so expect a duel on the mound.
The heavyweights: Vanderbilt may have something to say about this, but the winner on Tuesday night may assume status as the favorite to win the national title. Virginia came to Omaha as the team to beat, but TCU will be confident after its string of recent dramatic wins. If any team is to break the home run drought through three days, Virginia looks like a good bet. And perhaps Mike Papi's walk-off double to the warning track on Sunday will spur the Cavaliers to knock one out of the park. Papi is hitting .483 (14-for-29) in the postseason, and he leads Virginia with 11 homers this year.
Lefty alert: The nightcap will feature a pair lefties on the mound. TCU junior Brandon Finnegan, a recent first-round draft pick of the Royals, is set to face sophomore Brandon Waddell of Virginia, who earned victories in his NCAA tournament starts against Arkansas and Maryland. The hard-throwing Finnegan is particularly intriguing, rebounding from a 2013 season in which he went 0-8 in 15 starts despite tossing two complete games and posting a 3.18 ERA. He dropped that figure to 2.12 this year to help anchor the Horned Frogs' staff, which leads the nation in that category.
ESPN Staff Writer
Nebraska/Big Ten/Recruiting reporter.
Joined ESPN in 2011.
Graduated from the University of Nebraska.
ICYMI: Gwynn's death felt at CWS
OMAHA, Neb. -- In 1977, two years after his first of 15 trips to the College World Series, Augie Garrido met a skinny kid out of Long Beach Polytechnic High School on his recruiting trip to Cal State Fullerton.
The Titans' basketball coach introduced Garrido to the prospect, who wanted a shot to play two sports in college.
Garrido, Cal State Fullerton's baseball coach, was skeptical.
Fullerton played a full schedule of baseball in the fall. By the time basketball season concluded in mid-March, Garrido remembered telling the recruit, "you'd have to be one helluva baseball player to make the team."
"We're already in conference," the coach said, "and the lineup's been set. He took that as a no."
The kid was Tony Gwynn.
"Biggest recruiting mistake I ever made in my life," Garrido said. Full Story »