College baseball back with a bang
By
Eric Sorenson
| ESPN.com
We've waited long enough, people. It's been 233 days since we saw UCLA quiet a Mississippi State-heavy crowd in two straight wins over the Bulldogs on Omaha's grand stage. That dogpile is now a distant memory. Time to get the bats and balls out again and get this 2014 season started.
This year's preseason chatter has centered on the lower-seam ball that the NCAA will use in the postseason starting in 2015, with the goal being to bring more offense back to the CWS. Many are saying the dead ball is hurting the popularity of the game, but as the video explains, our sport has never been more popular, with record-breaking crowds in Omaha and this year's unprecedented number of games that the ESPN networks will televise. Our game is as healthy as it's ever been, so let's revel in it.
Here we go. Play ball.
Five teams that missed Omaha but should be there this year

1. South Carolina
Yes, that Super Regional exit was an off year.

2. Cal State Fullerton
Only 10 losses last year, too bad two of them were to UCLA in June.

3. Florida State
The CWS just isn't the CWS without FSU coach Mike Martin.

4. Virginia
Linebacker-sized hitters will abuse the power alleys for the next four months.

5. Vanderbilt
The Commodores never seem to make it when they're supposed to.
Five teams you'll know by June

1. Mercer
You just don't see senior-heavy teams like this anymore. Lots of arms, lots of capable bats and the best defense in the country return.

2. Louisiana Lafayette
If the heavily experienced pitching staff clamps down a bit more, the Regional finals will be merely a stepping stone this year.

3. Washington State
If the Pac-12 wasn't so loaded, this team would be saddled with much higher expectations.

4. UNC-Wilmington
A loaded team, sure. But with a pitching staff that has names like Mat Batts and Blaze Tart, this team
needs
to go further this year.

5. Western Carolina
Very quietly, the Catamounts have 10 seasons of 30-plus wins since 2000. This year, they'll get 45.
Five teams in rebuilding mode

1. UCLA
First came rebuilding the weekend rotation. Now the injury bug has already hit the Bruins.

2. North Carolina
Careful now, coach Mike Fox has shown even in rebuilding years that 40-plus wins is likely.

3. Louisville
Losing all three weekend starting pitchers won't be impossible to overcome, but the Cardinals will miss their consistency.

4. Ole Miss
Rebels fans hate hearing this, especially given that their hated in-state mates are all the rage right now.

5. Oklahoma
New pitching staff. New head coach. New stadium renovation. The Big Red will be bowed-up in 2015.
Five teams that better win now

1. Texas
Last-place finishes in the Big 12 don't sit well with that rabid fan base. Augie Garrido has one last chance.

2. TCU
Like the Longhorns, this team was way too talented to have such a pedestrian season in 2013.

3. Florida
The Gators went to the NCAA tournament, sure, but a losing record? Don't expect it to last.

4. Arizona State
The Sun Devils' last two teams won merely 36 and 37 games. Not good enough for the Sun Devils tradition.

5. UC Irvine
With programs like UC-Santa Barbara and Cal Poly on the rise, the Anteaters can't get lost in the Big West shuffle.
Five Best Weekend Series
1. The Phoenix Area
You can't swing a cactus without hitting an interesting college baseball story down in the Valley of the Sun this weekend.


• Baylor at Arizona State: This is a battle of teams looking to make rebounds from below-par (for their discerning standards) 2013 seasons. ASU came up short in the Fullerton Regional, and BU had a 27-28 overall record. The Saturday tribute to Pat Murphy will be a nice added touch.

• The Husker Classic: Thankfully, this is not being played in Lincoln but rather in Tempe's Diablo Stadium. Nebraska will have Oregon State, Gonzaga and Pacific in a four-team tournament. The Huskers are expected to challenge for the Big Ten title in Darin Erstad's third year, and Oregon State is an Omaha team with a bevy of returning arms. Keep an eye on Gonzaga, which won the West Coast Conference and should have made the NCAA tournament last season but lost some big-time star power.
• BYU-Kansas, two sleeper teams in the WCC and Big 12, respectively, will play each other in Peoria, the spring training home of the Mariners and Padres.
• Minnesota will play fellow snowbird Northern Illinois at Camelback Ranch in Glendale, which is the spring home to the White Sox and Dodgers.


2. No. 15 Rice at No. 25 Stanford
Ah, the smart boys of college baseball. Should be a great showdown of good pitching and timely hitting. The Cardinal lost some certified star power off a team that underachieved last season, so they'll be out to prove a point in Week 1. Keep an eye on how Rice's Zech Lemond (31 appearances, 14 saves last season) and Stanford's Sam Lindquist (24 appearances, five saves) are used. Both could take on different roles due to losses in the bullpen.


3. No. 9 NC State at UC-Santa Barbara
This series was in jeopardy of being canceled due to snow and sleet that blanketed North Carolina on Wednesday. Let's hope the series can be salvaged because it's going to be a good one. The Pack are a second-week-in-Omaha-type team with a great ace in Carlos Rodon and a fire-starter in Trea Turner (30 steals in 2013). But the Gauchos reached the Regionals last season, and coach Andrew Checketts has done a great job of elevating the program. How big would it be to pull a stunner or two here to jump-start their season -- or even take the program's next step?


4. Washington State at No. 1 Cal State Fullerton
Fullerton might be No. 1, but don't sleep on the Cougars. They return their entire rotation and ubertalented Jason Monda, who is a favorite for the John Olerud Award, which is given to the nation's best two-way player. The Titans will pitch out of this world with all three weekend pitchers back as well as incoming 10th overall draft pick Phil Bickford. But the key for the Titans is, can they hit? WSU can nearly match them on the mound and might even hit better. Either way, look for the Cougars to give Fullerton the first-week jitters.

5. The Hughes Brothers Challenge
Teams: No. 6 Virginia, Kentucky, VMI, UNC-Wilmington
A good four-team roundup as mid-major UNCW hosts a pair of big-conference bullies from the ACC and SEC. The Cavaliers are prohibitive favorites, given their bludgeoning offensive attack and depth of pitching. The Wildcats were a top-10 preseason team last year but fell apart after a 22-6 start. They're out to make an early statement and build confidence. Although they sit just outside of the Top 25, being a member of the CAA means that Wilmington won't have a lot of chances to pull big RPI-friendly wins, so the onus is on the Seahawks this weekend more than anyone else.
Top 25 Scoreboard
Stay up to date with how every Top 25 team is playing with the ESPNU scoreboard.
Scores » | TV schedule »
Mid-Major Spotlight
New Mexico at San Diego



Both teams are worth keeping an eye on this season as they both took heavy losses to All-American players like Kris Bryant and Michael Wagner for the Toreros and D.J. Peterson and Mitchell Garver for the Lobos. But both coaches have built their programs to another level and are confident of the talent on hand. The winner gets an upper hand on a great jump-start to the season.
Upset Alert!
No. 8 Vanderbilt at Long Beach State



It's a perfect storm for the Dirtbags as they welcome in the Commodores of the SEC. The Beach has been bellowing its impending improvement to anyone who would listen, and coach Troy Buckley has indeed amped up the talent on the roster, including getting three All-Big West talents who sat out 2013 with injury in OF Johnny Bekakis, RHP Ryan Strufing and RHP Kyle Friedrichs. The 'Dores have only two starters returning to the field and many holes in the pitching staff. Also, don't underestimate the weather factor as Nashville has had a terrible February that kept the Commodores inside most of the preseason. And it seems like Southern California hasn't seen rain in decades. Tread lightly, VU.
Former ASU Coach Honored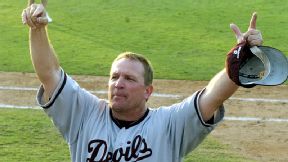 Reuben Canales/Getty Images
If there is a man in college baseball who needs redemption, it's Pat Murphy.
He is considered a legend in Arizona State baseball lore, but it was the ASU athletic department that unceremoniously kicked him to the curb in the fall of 2009 amid investigation by the NCAA's Division I Committee on Infractions that eventually led to postseason probation. Scapegoated, he left ASU bitter at the way his exit was handled by the NCAA, whose case against him showed a minuscule amount of evidence of wrongdoing.
Four years after that ugly time, a rejuvenated Murphy will finally get his due this weekend from the program he so loved, and some long-burned bridges will be crossed at the same time. Full story »
Countdown to CWS
College World Series: June 14-25