Important noncon series highlight the weekend
By
Eric Sorenson
| ESPN.com
If there was a big takeaway from last week's opening weekend, it's that you should expect a lot of upsets. The mid-majors of our sport took it out on the big boys in every corner of the country, from Maine to Washington State and from Jacksonville to Portland U. I know we've had our recent Stony Brooks, Kent States, Louisvilles and Indianas in Omaha, but the leveling of the playing field in college baseball has never been more pronounced.
Stay tuned, stitched-ball fans. We're only into our second week of this 2014 season and it's already getting fun.
Top Five Places to be This Weekend
1. Cal Poly (4-0) at UCLA (3-1)


Is this the biggest series in Cal Poly coach Larry Lee's tenure in San Luis Obispo? Let's not get too drastic here; this isn't Ali versus Frazier, or anything. But a series win here could catapult the Mustangs into the top 10 or 15 of the rankings and play a big role in postseason jockeying come June.
Watch the Friday night mound matchup of Cal Poly's Mike Imhof versus the Bruins' James Kaprielian. Imhof struck out 14 Kansas State batters in his seven innings of work last Friday and Kaprielian K'd seven in five innings against Portland but got no offensive support.
2. Florida (4-1) at Miami (2-2)


This is a great rivalry series in the Sunshine State that matches the SEC and ACC. We need more of these.
Both teams were Saturday upset victims of snowbird programs as Maryland took a 9-7 win at Florida and Maine beat Miami 3-1. Both teams also rebounded with Sunday wins to take the series. Two great leadoff hitters are emerging in UF's Richie Martin (.429, 2 BBs, 2 SBs) and The U's Dale Carey (.455, 3BBs, 3SBs). This should be fun.
3. Stanford (2-2) at Texas (3-2)


These are two programs looking for instant redemption. The Cardinal lost 2-of-3 at home to Rice, and the Longhorns, who played in the Bay Area, split a four-game series at Cal.
Texas is coming off of two straight shutouts and appears to have a deeper pitching staff than Stanford. If the offense can muster some early runs and force Stanford to go to the bullpen early, look for Texas to come out on top here. Nathan Thornhill looked in midseason form in Sunday's win by lasting eight innings and giving up just four hits in the 5-0 blanking.
4. The Big Ten/Pac-12 Challenge (Surprise, Ariz.)
Teams: Oregon State (4-0), Washington (2-1-1), Utah (2-2), Michigan State (2-1), Nebraska (2-2), Indiana (2-2)
You have to love these conference challenges; they're great early-season fare. Oddly, the Big Ten boys won't be at much of a disadvantage since they will be facing three programs from the Pac-12's northern region.
Obviously, the top-ranked Beavers are worth their salt and should make that Sunday game against Indiana a lot of fun. The Hoosiers are looking for redemption after last week's 1-3 performance at Texas Tech. Sunday's Nebraska-Washington matchup should be interesting, too, since both teams are on a lot of dark horse lists for making the postseason last year.
5. Caravelle Resort Baseball at the Beach tournament (Myrtle Beach, S.C.)
Teams: Coastal Carolina (1-2), Wichita State (4-0), Connecticut (0-3), George Mason (3-0), Illinois (1-2)
This is a pretty big hoedown for a lot of mid-majors looking to get into the national conversation. Host program Coastal Carolina has the most to gain after falling in 2-of-3 at home to Pitt last weekend and giving up 22 runs in the process. Speaking of offense, watch out for George Mason, which hit .398 as a team at the Spartanburg Classic last weekend.
Keep an eye on Wichita State, as well. The Shockers are ready for new horizons with Todd Butler as head coach, replacing the legendary Gene Stephenson.
Hey, Coach: Tim Tadlock
By
Eric Sorenson
| ESPN.com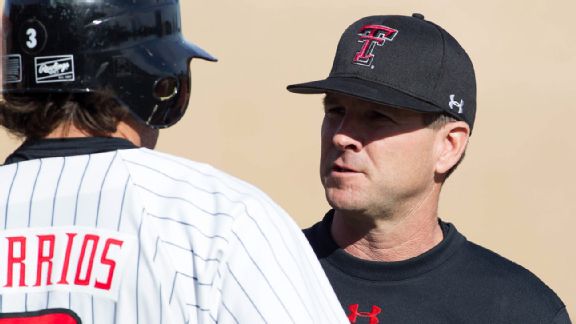 Courtesy of Texas Tech Athletics CommunicationsTexas Tech coach Tim Tadlock has his team off to a fast start with three wins over top-5 Indiana.
Texas Tech coach Tim Tadlock is a man in high demand. After his team beat highly ranked Indiana three games to one to open the season, everyone wanted to talk to the second-year head coach. Luckily, I was able to catch up with the new rising star in Lubbock, Texas.
Eric Sorenson: With nearly 9,000 fans for the four sessions last weekend, you had to appreciate the crowds you guys got for Indiana?
Tim Tadlock: We did. They were great crowds. It didn't get unruly, rowdy or anything. Our students didn't break out the "Raider Power" chant on them. But it was great crowds all weekend and the players certainly heard them and appreciated all the support we got.
ES: What did you see in your team back in the fall that was different from previous years?
TT: Well, we knew we had great leaders coming back and it showed in the fall. We knew we had a lot of experience returning, which would pay off this season. We have a lot of guys back that just love to play baseball. They don't care how long they're out on the field, they love to be out there and love to be in the batting cages for hours.
ES: So your team is a pretty mentally tough team?
TT: I think so. I mean, as we go forward I think you'll get a better answer on that. We're going to be challenged this year. I asked our guys to accept that challenge of playing good competition, and they have. Now, were we mentally tough in the series versus Indiana? Yes, I think in the three games we won, we had control all three games. The one we lost, I thought we lost that control a little bit. So there is still some room to improve our mental sharpness.
ES: You guys led the nation in double-plays last year. How comforting is it to have Tim Proudfoot (Shortstop) and Bryant Burleson (second base) in the middle infield?
TT: Well, you know they're going to have great effort and try to make every play. That's just how they are. They are both quiet leaders. And it's nice to have guys like that who have been around a while and know what to expect when we go on the road and play in tough environments. They are both very solid guys, the kind of guys who just love to play baseball.
ES: What would you like to see your team do before Big 12 play kicks in?
TT: Just stay focused. That's the big thing. We have a tough road in the Big 12 this year, three of our first four weekends will be on the road, so getting the confidence of beating Indiana is a big help, but we've got a long way to go. It was just one weekend. I tell our guys all the time, prepare to be champions every day, and that means in every detail.
ES: So I assume you like how far this team can go?
TT: Long way to go. Long way. We talk about Omaha all the time when we recruit kids to play here. But we don't talk about Omaha on a day-to-day basis at practice. However, I do think there's a nucleus of guys in our clubhouse that have that dream, though. And that's the biggest thing, just put together a group of guys who have that dream. We'll let the results take care of themselves.
Top 25 Scoreboard And Schedule
Stay up to date with how every Top 25 team is playing with the ESPNU scoreboard. Scores »
---
College baseball on ESPN
All times p.m. ET
Friday
3: Appalachian State at NC State (ESPN3)
4: Maine at Clemson (ESPN3)
4: Georgia at Florida State (ESPN3)
7: Florida at Miami (ESPN3)
Saturday
1: Appalachian State at NC State (ESPN3)
2 Maine at Clemson (ESPN3)
2: Georgia at Florida State (ESPN3)
7: Florida at Miami (ESPN3)
Sunday
1: Georgia at Florida State (ESPN3)
1: Florida at Miami (ESPN3)
Upset Alert!
Maine (1-2) at Clemson (2-1)


Clemson just didn't seem like the top-15 team it was supposed to be in its 2-1 series win over Eastern Michigan. The Eagles managed 30 hits and 16 runs in the three games, which included a 6-5 Friday win over the Tigers.
Now, coach Jack Leggett's alma mater comes to town, fresh off a win at Miami and looking for more. If Friday ace Tommy Lawrence can find his comfort zone (he walked six Hurricanes batters in five innings), the Bears will have more bite.
Mid-Major Spotlight
W. Carolina (2-2) at Washington St. (1-3)


A lot was made of the performance of these two teams despite their 1-2 weekends. Western Carolina was able to go to Mississippi State and ruin its Friday night opener (a 3-2 win), and Washington State came inches away from a series win at Cal State Fullerton (including a 9-7 Saturday win). Those outings came with some serious props from the college baseball community.
Wazzu looks for revenge from last year's trip to Cullowhee, N.C., where the Cougars lost three straight to WCU. But they'll have to overcome Jeremy Null, the architect of that Friday upset in Starkville, Miss., where he went eight innings and struck out 12 Bulldogs while giving up just three hits. The Catamounts' staff is proving formidable, too, averaging 11 K's a game so far. That deserves a "Wow."
Under The Radar
Kansas (4-0)

When Jayhawks head coach Ritch Price heard that his team was picked to finish eighth in the Big 12 this year, allegedly his reaction was something like, "Good. Let them underestimate us."
Well, opening weekend saw KU take four straight games from what is expected to be a pretty good BYU team from the West Coast Conference, including a pair of big routs on Friday and Sunday. Watch for the emergence of OF Connor McKay, who is a former 21st-round draft pick and looks ready to finally reach his potential as a junior. In the two blowout wins, McKay had seven RBIs and two home runs.
Countdown to CWS
College World Series: June 14-25