College baseball's best week on the horizon
By
Eric Sorenson
| ESPN.com
ideo1>
There must be red circles drawn around this weekend on calendars everywhere. This is the one we've been waiting for, the most intriguing of the nonconference season, with big matchups all over the map. The only thing that could put a crimp in our weekend plans is a little intrusion from an angry Mother Nature. Otherwise, enjoy the top-flight baseball that is about to come our way. It's a good time to be a college baseball fan.
Top five places to be this weekend
The best of the many great weekend showdowns in college baseball
1. Cal State Fullerton (4-3) at Oregon (8-0)



This is the quintessential master-versus-pupil matchup. Oregon coach George Horton welcomes his protégé, Cal State Fullerton coach Rick Vanderhook, to Eugene in what should be a Tom Emanski-like clinic of stellar pitching and solid defense. The Titans have a 78-to-11 strikeout-to-walk ratio; the Ducks are 71-to-24, with an opponents' batting average of .205. Remember, when it comes to these two West Coast-style teams, it's not how many hits they get; it's the "timely hits" that will be huge here.
2. Clemson (6-1) vs. South Carolina (7-0)



It doesn't get much bigger than this, the Palmetto Showdown. This is quite possibly the best rivalry in college baseball. The Gamecocks' pitching staff goes into the home-neutral site-home series having strung together five straight shutouts and has an unfathomable 0.86 ERA. The Tigers' offense will be a great test, with a .322 team batting average, led by Tyler Krieger's .500 in 24 at-bats. Unstoppable force, meet immovable object.
3. Miami (4-3) at Florida State (6-0)



After taking two of three from Florida last week, this is the Hurricanes' next big assignment. The onus falls on Miami's pitching staff this weekend, as its offense has hit just .233. Starters Bryan Radziewski (1.69 ERA), Chris Diaz (3.00) and Andrew Suarez (3.75) will have to eat up innings. The Seminoles have been all over "SportsCenter" lately for Jameis Winston's two plate appearances versus the Yankees in an exhibition game, but the bigger news is the Heisman Trophy winner has made three appearances on the mound and earned one save already.
4. Stanford (4-4) at Vanderbilt (7-2)



All eight of Stanford's starting assignments on the mound have been handled by freshmen, and it has shown. The staff as a whole has issued 41 walks to only 35 K's. And believe me, Vanderbilt's Hawkins Field is no place to get the heebie-jeebies, because the Commodores will make you pay dearly. They don't have an unstoppable offense, but it is dangerous, led by Zander Wiel's .364 average. The pitching staff is ridiculous, holding opposing hitters to .170 and posting 89 K's in 81 innings.
5. Cal Poly (7-1) at USC (7-1)



If the rains hold off long enough, this is going to be a huge series for both teams. After a Friday loss, the Mustangs passed their UCLA test with two blowout wins -- Slater Lee pitched a complete-game two-hitter on Saturday, and three pitchers combined for a six-hitter in the getaway game. Incredibly, the rejuvenated Trojans have won four of their games on the last swing of the bat. Two of those were by center fielder Timmy Robinson, who also leads the Men of Troy in hits, RBIs (tied with Dante Flores), total bases (tied with Jeremy Martinez) and at-bats.
Hey, Coach: Jack Leggett
By
Eric Sorenson
| ESPN.com
On the eve of the biggest nonconference series of the season, Jack Leggett's Clemson Tigers owe their in-state tormentors some payback. The past few seasons have seen South Carolina get the best of his teams. But every new season is an opportunity to prove your worth, and Leggett and his team are champing at the bit to get a few W's this weekend against the Gamecocks. Here's what Leggett had to say in the days leading up to the big series.
Eric Sorenson: What does the Clemson-South Carolina series mean to you?
Jack Leggett: Obviously it's a big rivalry. Both of our programs have had a lot of success, and they're both strong programs, so you like playing an opponent like that. It represents the state. Both are hard-working teams, and it means a lot to each program. This series has a way of sort of dictating how your season is going to go. But even though it's a big series, we still try to keep it in perspective. It's a long season, and win or lose, it's not going to change how we prepare and work for the rest of the year.
ES: Do you like the home-neutral-away format for this series?
JL: Yeah, I like it. It's good. Greenville's Fluor Field is a great neutral site for the middle game, and Charleston had hosted it before and that was a great atmosphere as well. We get great crowds, and it's always a full stadium with a lot of electricity in the air. The best part is that the tickets are sold 50/50, so each team will have a lot of fans there.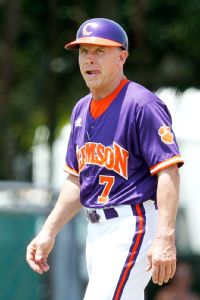 Joel Auerbach/Getty ImagesCoach Jack Leggett has his team at 6-1 heading into this weekend's rivalry series with South Carolina.
ES: What do you tell people who have never seen the Clemson-South Carolina series?
JL: Put it this way: If you came in to see it in person, it will change your life.
ES: Do you prepare any differently for the South Carolina series?
JL: No, you really can't treat it any different. All the usual things are the same, such as looking at the scouting reports and making sure the team is ready. But most of the talk leading up to it is about pitchers and the matchups they will face. Of course, the other side of it is that you do have to play better. The games are always tight and it can easily come down to whoever executes better when the pressure is on. So you kind of know that going into the weekend.
ES: What concerns you about your team going into this weekend?
JL: Well, really it's just the usual things you worry about. Are we prepared for our opponent? Are we in the right mindset? South Carolina has really good pitching. I mean, they've strung together five straight shutouts because they are an experienced pitching staff. We'll need to solve that, and then we have to do a good job on mound ourselves. We know we've got really good athletes that can compete with anyone. We just need to relax and play like we're capable.
ES: Were fall camp and preseason practices a lot easier with all the experience you had coming back this year?
JL: It certainly helped. We had the older guys around to help us get our priorities right. But you always have a mix of young kids in there, so there's always a learning curve to figure out. If they have a good baseball aptitude it'll go smoother. The bottom line is that the older guys are going to play like they belong. They key is developing more confidence, especially in the younger guys and in the bullpen.
ES: What would you like to see from your team in the next few weeks and into ACC play?
JL: We need to develop a fifth starter on the mound. We need another guy to step up. We feel good about our defense and have some athletes that will serve us well. We just want our guys to be ready and have that energy to play the right way. Athletically and depth-wise we are in a really good place. But we must be consistent against what will be a lot of challenges ahead of us.
Top 25 Scoreboard And Schedule
Stay up to date with how every Top 25 team is playing with the ESPNU scoreboard. Scores »
---
College baseball on ESPN
All times p.m. ET
Friday
4: Miami (Fla.) at Florida State (ESPN3)
4: Cincinnati at Virginia Tech (ESPN3)

Saturday
2: Miami (Fla.) at Florida State (ESPN3)
3: Houston Baptist at Kansas (ESPN3)

Sunday
1: Houston Baptist at Kansas (ESPN3)
2: Cincinnati at Virginia Tech (ESPN3)

Mid-Major Spotlight
Alabama (4-2) at Louisiana-Lafayette (8-1)


Kudos to both teams for setting up this intriguing series at Tigue Moore Field in Lafayette, La. It's not often you see an SEC team make a trek to a mid-major's stadium. The Ragin' Cajuns are fresh off a mid-week win over LSU, so you know they won't be intimidated. If anything, that Moore Field crowd could be a factor if the Cajuns can grab early leads. Shortstop Blake Trahan is already doing what he does best, with seven walks, two hit-by-pitches and a .436 on-base percentage. Bama will need to play more disciplined baseball, as it has lost each of the past two Friday games versus Saint Louis and Stephen F. Austin, respectively, in its own friendly confines.
Upset Alert!
Michigan in the Irish Classic (Cary, N.C.)

Michigan may be 1-5-1, but this is easily the best 1-5-1 team in the country. Eric Bakich's Wolverines have done the near-impossible: They have scored the same number of runs as their opponents despite winning just one game. Yep, the Maize and Blue have lost four games by a single run. And the other loss? It was a 10-inning, white-knuckler against Washington that was ended by a two-run homer. Don't be surprised if NC State and UCLA get ambushed by an angry bunch of Wolverines this weekend. You do remember the movie "Red Dawn," right?
Under The Radar
Sam Houston State (8-1)

While a lot of teams in the Lone Star State have made big rebounds already early in the season, including Texas, Houston and Texas A&M, it's the Bearkats who will be the most intriguing team in this weekend's Houston College Classic. This will be their big chance to pull some big "upsets" over the likes of TCU, Texas Tech and Texas. That word is in quotes because the Kats already have beaten No. 10 Rice, and their deep pitching staff gives them an advantage over just about anyone. Also, they might have the best 9-hole hitter in the country: Second baseman Ryan Farney has gone 12-for-24 (all singles) with five walks and is a perfect 6-for-6 in stolen bases.
Countdown to CWS
College World Series: June 14-25