Say hello to some names to know
By
Eric Sorenson
| Special to ESPN.com
video1>
This weekend there are a number of series that aren't high profile, but feature teams that have gotten off to much better starts than expected. Other than the Kansas Jayhawks and FIU Panthers, who you'll read about in the top five weekend series section, here are a few more to keep an eye on:
Washington (10-4-1)


Best wins: at Texas State, vs. Michigan State
This week: at Arizona State
The skinny: The Huskies are on a seven-game win streak. During the streak, the pitching staff has a 1.48 ERA. Before that, the team ERA was 6.00.
Maryland (10-4)


Best wins: at Florida, at Florida State
This week: at North Carolina
The skinny: Mike Shawaryn is 4-0 with a 0.75 ERA and owns the two wins on the mound versus Florida and Florida State.
Memphis (12-4)


Best wins: at Mississippi State, at Ole Miss
This week: at St. Louis
The skinny: After beating Ole Miss last week, the Tigers have gone 1-3 since. Back-to-back trips to Houston and Louisville await at the end of the month.
Seton Hall (9-3)


Best wins: at Oklahoma, at Arizona (3 wins)
This week: vs. Manhattan
The skinny: Staff ace Josh Prevost is 4-0 and has twice been named Big East Pitcher of the Week. The offense is hitting .340, led by D.J. Ruhlman's .435.
College of Charleston (13-3)


Best wins: at North Carolina (2)
This week: Home tournament hosting Kent State, Michigan, Appalachian State
The skinny: Head coach Monte Lee picked up win No. 200 this week. His charges have committed just 13 errors and are fielding at a solid .977 pace.
Indiana State (12-1)


Best wins: Connecticut, Ohio State (2)
This week: at UNC-Wilmington
The skinny: This 2014 team is off to the best start in school history and currently has a 12-game win streak. Freshman Ryan Keaffaber has six saves already.
Fresno State (13-4)


Best wins: at UC Irvine (2), Texas A&M (3)
This week: vs. New Mexico
The skinny: Don't fall behind vs. the Bulldogs. Relievers Derick Velazquez and Jake Shull have given up two runs in 25.1 innings over 15 appearances.
Georgia Southern (15-2)


Best wins: at Georgia (2), Georgia Tech
This week: at Elon
The skinny: Those big smiles on the Eagles' faces is because they have beaten both Georgia and Georgia Tech already this season.
Pepperdine (12-4)


Best wins: at UCLA, at USC, Houston
This week: vs. Pacific
The skinny: If you don't know about Aaron Brown, introduce yourself. The two-way star is hitting .354-2-15 and is 3-0, 2.93 on the mound.
Hey, Coach: Dave Esquer
By
Eric Sorenson
| Special to ESPN.com
There are very few coaches in the country willing to play anybody and everybody, home or away, like Cal head coach Dave Esquer. Even though the rigors of the Pac-12 are more than tough enough, the Bears' mentor still goes out of his way to schedule teams like Baylor, San Diego, Texas, Auburn and this past weekend's opponents at the Cal Baseball Classic -- Arkansas, Tulane and San Francisco. I got a chance to catch up with the Bears' head man in between games at Evans Diamond over the weekend.
Eric Sorenson: First off, you've still got a couple of guys from that 2011 College World Series team around. How big is having those guys back?
Dave Esquer: It's huge. The fact that we've got Derek Campbell, Vince Bruno and Devon Rodriguez all back after redshirting last year and all of them are at the top of the order for us is a great luxury. They're all such great leaders and set a good example for our younger guys. These are guys who know what it takes to get to Omaha and set a great example on the field and in the locker room.
ES: But you guys are also really young in other areas, right?
DE: We pitched a freshman on Friday night, Daulton Jefferies. We've got Alex Martinez, a freshman, pitching on Saturdays right now and another freshman, Alex Schick, has started a few games for us, so we're still a little on the young side on the mound. We've also got Ryan Mason in the bullpen now; he was our Friday starter last year as a freshman. If he can stay there, it will give us a strong arm at the end of the game. But if I have to move him back to the starting role, then so be it. But that's how we're handling it.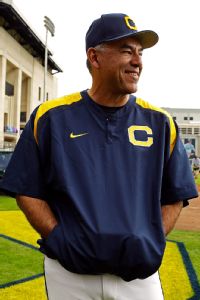 AP Photo/Ben MargotCal coach Dave Esquer is known for scheduling tough nonconference series.
ES:
What do you make of all these early-season upsets we've seen?
DE: The way our game is now, it has really nothing to do with who, on paper, should win. The bats have evened it out enough and there's enough parity out there. I mean, when you see some of the teams that are beating other big teams out there -- Yale beating LSU, Sacred Heart beating Tulane, Canisius beating NC State -- it's become, "OK, today we played a better game of baseball than you, it doesn't matter if you're better than us." It all comes down to one-on-one confrontations.
ES: You're playing a lot of four-game weekends this year. Why is that?
DE: We've tried to play more four-game weekends in our preconference this year. Our thinking is we play four games now and that will get us ready for Pac-12 play, when we play three-game weekends. So hopefully these four-game series will help us find the answers when we go to playing three-game series. And it helps with the development of our pitching, too. We audition four starters, keep three for conference play. And if we only find two, then we'll bring Mason back to a starter's role.
ES: I liked this past week where you brought in Arkansas, Tulane and San Francisco. Interesting field.
DE: I like the diversity of each of these tournaments we've played in. I want to give our guys new experiences by going on the road to new places and playing good teams. We played in a tournament at Auburn; we also went down to San Diego and played them and Baylor. And this tournament of ours was supposed to be played at AT&T Park in downtown San Francisco, but the Giants' people backed out of the deal. But [Arkansas] coach [Dave] Van Horn was really great about it. He just said, "Who cares? We'll come out and play out your place anyway."
ES: I've always liked your philosophy on scheduling, playing anyone and everyone.
DE: We always try to find a couple high-RPI opponents from an SEC or Big 12 or ACC to play early on. It tells you way more about your teams. To be honest, I want to be like Georgia a few years ago. They were 31-30 and had a 20 RPI, and yet, there was no question that they would get into the NCAA tournament. They were having a down year. I want that to be our "down year" right there. That's how I want to schedule. And this year is a good year for us schedule-wise because I don't think we have a low-RPI game on our schedule the rest of the year.
ES: What are your feelings on the RPI and how the West often gets the short end of the stick?
DE: I don't know how it works, but in the Pac-12 you're punished for an average year. Look at Stanford and Arizona last year, they won 32 and 34 games and sat home for the playoffs. Sometimes I think the committee just thinks, "Well, they're not the same as they usually are, let's get someone else in there." In the Pac-12, we feel we're punished for an average year. We have five coaches in our conference that have won national titles. No other conference has more than one. We need to promote that more. We're filled with guys who know how to win it all and know how good our conference is. Our hope is that we get more of a benefit of the doubt from time to time or we change something in the RPI to better reflect our strength.
Top 25 scoreboard and schedule
Stay up to date with how every Top 25 team is playing with the ESPNU scoreboard. Scores »
---
College baseball on ESPN
All times p.m. ET
Friday
3: Campbell at Liberty (ESPN3)
5:30: Pittsburgh at Virginia Tech (ESPN3)
6: NC State at Florida State (ESPN3)
6: Notre Dame at Duke (ESPN3)
7: Miami (Fla.) at Georgia Tech (ESPN3)
7: Ole Miss at South Carolina (ESPN3)
Saturday
Noon: Mississippi State at Georgia (ESPN3)
1: Notre Dame at Duke (ESPN3)
2: Campbell at Liberty (ESPN3)
3:15: LSU at Vanderbilt (ESPN3)
4: Ole Miss at South Carolina (ESPN3)
6: NC State at Florida State (ESPN3)
7:30: Miami (Fla.) at Georgia Tech (ESPN3)
Sunday
1: NC State at Florida State (ESPN3)
1: Miami (Fla.) at Georgia Tech (ESPN3)
2: Campbell at Liberty (ESPN3)
Top five weekend series
1. LSU (16-2) at Vanderbilt (16-2)

The biggest matchup of the year is here in Nashville this weekend. Talk about high-quality: LSU's team ERA is 1.54, Vandy's is 1.29. Can't beat that. LSU has the edge offensively, with the 10th-best team average in the country at .319 and has more experience. But the depth of the Commodores' arms corps is almost unreal. The Dores have a 9.9 K's-per-9 and hold opponents to a ridiculous .168 average. Saturday and Sunday starters Jared Miller (4-0, 0.36) and Tyler Ferguson (3-0, 1.50) and closer extraordinaire Carson Fulmer (0-0, 1.33, 5 saves) will give the Commodores the edge through the rest of the weekend.
2. NC State (14-2) at Florida State (14-2)

This could be the best matchup in the ACC this year, even though it's only in the second week of conference play. The best pitching staff in the ACC features Carlos Rodon (2-2, 2.40) and Logan Jernigan (3-0, ACC-best 0.73), who will have their work cut out for them as they look to handcuff a Seminoles offense that is very comfortable hitting in their band box park. FSU thumper D.J. Stewart is a man among boys, hitting .396 with seven doubles and 17 walks so far.
3. Ole Miss (16-2) at South Carolina (16-0)

Lots of quality baseball on the field at Carolina Stadium this weekend. Like Aaron Nola above, Rebels hurler Chris Ellis is also sporting a 0.00 ERA through 27.2 innings while also holding opponents to a .138 average. But this Gamecocks batting order is nothing close to what the Rebels' arms have seen so far, lead by Grayson Greiner (.373, .608 slugging) and Connor Bright (.418, 8 doubles). Also, keep an eye on the back end of games as Ole Miss has yet to earn a save on the season. SC's Joel Seddon has five saves and no hits in his eight appearances.
4. Rice (12-6) at FIU (16-1)

This is the chance the Golden Panthers have been waiting for. Off to an incredibly hot start, they also have the distinction of owning six shutouts already. The Panthers have a team ERA of 1.46, compared to this time last year where they had a 5.41 ERA after 17 games. Give credit to new pitching coach Sam Peraza. The Owls have won five of their last six games but are hitting just .503 offensively. Good thing the Owls have kept their pitching sharp, posting a 2.12 team ERA with a .209 opponent average.
5. Kansas (12-4) at Texas (14-4)

The Jayhawks and Longhorns will kick off Big 12 conference play. KU looks to right the ship after narrowly missing a series win at Stanford, including a pair of tough one-run losses. The Hawks come in with a .300 team average, but you know what they'll be facing here in Austin, right? Parker French (2-1, 1.07) and Nathan Thornhill (3-0, 1.21) are two of the top three pitchers in the conference in ERA and are part of another high-level arms corps for the Longhorns. As you know, good pitching will beat good hitting.
Countdown to CWS
College World Series: June 14-25