Is it safe to use that 'parity' word yet?
By
Eric Sorenson
| Special to ESPN.com
video1>
Have you heard enough of the word "parity" yet?
Last weekend sneaked up on all of us. How could we possibly have predicted that topflight teams like South Carolina, Vanderbilt and Florida State would go on the road and suffer blowout losses Friday night, giving up double-digit hit totals? Last weekend caused us all to take a couple steps back and do some re-evaluating.
Just like last weekend, there aren't a lot of high-profile series this upcoming weekend, but there are plenty of games to keep an eye on for possible upsets. No reason to think all these surprising results are going to stop now, right? The SEC looks to be at the tip of the baseball spear this weekend with a few ranked-vs.-ranked showdowns.
Top Five Places To Be This Weekend
1. No. 19 Kentucky at No. 5 Vanderbilt


By the numbers:
UK: 18-7, 3-3 SEC, No. 5 RPI, No. 67 strength of schedule
Vandy: 21-5, 3-3 SEC, No. 8 RPI, No. 94 SOS
Wow, this will be interesting. Let's see who has a reversal of fate, as Kentucky took two of three vs. South Carolina and Vandy lost two of three at Mississippi State last week. The Cats come in hitting .315, which is ninth-best in Division I. But counter that against a Commodores arms corps that is as deep as the Pacific and has a team ERA of 1.94, good for sixth nationally. UK two-way threat A.J. Reed is fourth in the country with 32 RBIs and third nationally with nine home runs. What do you think the chances are he'll have a yard call at Hawkins Field this weekend?
2. No. 21 Tennessee at No. 3 South Carolina


By the numbers:
UT: 19-4, 3-3 SEC, No. 32 RPI, No. 181 SOS
SC: 21-3, 3-3 SEC, No. 2 RPI, No. 126 SOS
These two teams both need major league rebounds after disappointing weekends. Tennessee took two on the chin vs. Auburn, and the same goes for the Gamecocks in their trip to Kentucky. A great matchup, South Carolina relies on brute and brawn (second in SEC with .431 slugging percentage and 17 home runs) and Tennessee relies on speed and pressure (fourth nationally with 57 steals). But be sure to note the Friday showdown, as Gamecocks ace Jordan Montgomery has lost his last two starts and given up 16 hits and 15 runs in his last eight innings of work.
3. No. 14 Texas at No. 24 Texas Tech


By the Numbers:
UT: 20-6, 1-2 Big 12, No. 10 RPI, No. 27 SOS
Tech: 21-7, 3-3 Big 12, No. 19 RPI, No. 27 SOS
All hail the Great Augustus! Longhorn coach Augie Garrido won his 1,894th game Tuesday vs. Texas State, making him the winningest coach in all divisions of college baseball. His pitching-rich Longhorns will put their 1.91 team ERA on the line against Tech's 3-4-5 gauntlet of Jake Barrios (.303), Adam Kirsch (.330, 15 doubles) and Eric Gutierrez (.326, 18 walks, nine HBPs) at wind-blown Rip Griffin Park. But the Longhorns can counter with one of the best hitters in the country in Mark Payton, who's stroking at .420 with five triples. However, the Horns hit only .256 as a team, so if the Raiders score four or five runs, it could be curtains for UT.
4. No. 12 Cal State Fullerton at Wichita State


By the Numbers:
CSUF: 13-8, 0-0 Big West, No. 34 RPI, No. 13 SOS
WSU: 14-9, 2-1 MVC, No. 61 RPI, No. 60 SOS
Both of these teams can be a little Jekyll and Hyde-like, beating really good teams then going into a shell against beatable opponents. But give both credit, they have played good preconference schedules. Wichita State might need this more since Missouri Valley Conference play will have an anchor effect on its SOS the rest of the way. But don't tell that to Titans head honcho Rick Vanderhook, who has been bristling over his team's inconsistent play from time to time this year. The Shockers batting order is athletic and versatile enough to beat you in many ways. As you know, Fullerton has a lockdown pitching staff (10th nationally with a 2.09 ERA) and needs to be on point against WSU.
5. No. 22 Clemson at Maryland


By the numbers:
CU: 15-9, 6-3 ACC, No. 27 RPI, 63 SOS
UMd: 16-6, 5-4 ACC, No. 6 RPI, No. 69 SOS
This is one of those "last chance" weekends for the Tigers and a "prove last week wasn't a fluke" weekend for the Terps. Maryland is coming off an impressive three-game weekend sweep of NC State and, like last season, is curiously ranked high in the RPI. A series win will help the Terrapins keep their ranking high. The remainder of Maryland's ACC slate is very winnable (at Wake Forest, at Virginia Tech, Georgia Tech, at Boston College, Notre Dame and at Pitt), so keep an eye on the Terrapins as they may actually challenge Florida State in the Atlantic Division. But again, first they have to prove themselves here.
Mid-major spotlight: MWC
By
Eric Sorenson
| Special to ESPN.com
The Mountain West has gone through a little reshuffling over the past few years, losing top dog TCU and gaining Fresno State and Nevada. What was expected to be a shot to the gut by losing the high-profile Horned Frogs may be turning into a renewed surge for the remainder of the conference. So far this season, the top four of UNLV, San Diego State, New Mexico and Fresno State has pulled some marquee wins.
Here is how the MWC's best teams stand.
UNLV: 17-7, 9-3 MWC, No. 16 RPI
Best wins: West Virginia, series wins vs. New Mexico and San Diego State
This weekend: at Nebraska
New Mexico: 17-8, 6-3 MWC, No. 67 RPI
Best wins: San Diego, Arizona State, Kansas, series win at Fresno State
This weekend: at Air Force
San Diego State: 18-6, 5-4 MWC, No. 39 RPI
Best wins: Loyola Marymount, West Virginia, San Diego
This weekend: vs. Fresno State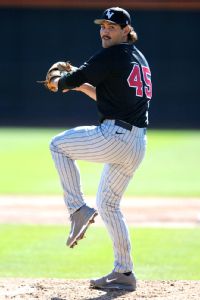 Tony Farlow/Four Seam Images via AP ImagesUNLV's pitching staff leads the Mountain West with a combined ERA of 2.22.
Fresno State: 15-10, 5-4 MWC, No. 75 RPI
Best wins: UC Irvine, Cal, swept Texas A&M
This weekend: at San Diego State
The big key for the Mountain West has been the improved pitching from each team, as UNLV leads the loop with a 2.22 team ERA and 188 strikeouts in 24 games. Fresno State (2.97 ERA), San Diego State (3.57 ERA) and New Mexico (3.81) all have improved on the mound in 2014. It doesn't hurt that big-time MLB-like arms Michael Cederoth of SDSU, Erick Fedde of UNLV and Derick Velazquez of Fresno State are leading the resurgence on the bump.
Another big factor in the rise of the Mountain West? These are all teams that have climbed the peaks and navigated the valleys before, as UNLV, SDSU and Fresno State are all senior-dominated squads.
"All three of them have big-time arms," New Mexico coach Ray Birmingham said of his three MWC rivals. "San Diego State has the best offensive team they've had in 10 years, and nobody has had better clutch hitting than UNLV."
Clutch or not, the Rebels lead the conference with six regulars hitting .311 or better. San Diego State's Ty France leads the circuit with an even .400 average with 12 doubles and four home runs.
Birmingham isn't shy about his youthful team's chances against all those senior-dominated squads, though, despite the fact that he lost three of the top 25 hitters in the country last year.
"We lost Hank Aaron [D.J. Peterson], Thurman Munson [Mitchell Garver] and Lou Pinella [Luke Campbell]," Birmingham said, rather tongue-in-cheek. "These were three of the top hitters in the country. We also lost our ace, Sam Wolff, who will be pitching in the big leagues by the end of this year. But we love our new guys and know we will win our share and be right at the top of it all at the end of the year."
Top 25 scoreboard and schedule
Stay up to date with how every Top 25 team is playing with the ESPNU scoreboard. Scores »
---
College baseball on ESPN
All times p.m. ET
Friday
6: Miami (Fla.) vs. NC State (ESPN3)
6: North Carolina vs. Duke (ESPN3)
7: Oklahoma vs. Kansas (ESPNU)
7: Texas A&M vs. Georgia (ESPN3)
7: VMI vs. Gardner-Webb (ESPN3)
7:30: LSU vs. Florida (ESPN3)
8: Sacramento St. vs. New Mexico St. (ESPN3)
Saturday
1: Texas A&M vs. Georgia (ESPN3)
1: Miami (Fla.) vs. NC State (ESPN3)
1: North Carolina vs. Duke (ESPN3)
1: Missouri vs. Auburn (ESPN3)
3: W. Kentucky vs. Louisiana-Lafayette (ESPN3)
3: Oklahoma vs. Kansas (ESPN3)
4: Texas-Arlington vs. South Alabama (ESPN3)
7: Mississippi vs. Alabama (ESPN3)

Sunday
1: North Carolina vs. Duke (ESPN3)
1: Miami (Fla.) vs. NC State (ESPN3)
2: Kentucky vs. Vanderbilt (ESPN3)
2: Oklahoma vs. Kansas (ESPN3)

Upset Alert!
Memphis (15-9) at No. 17 Houston (20-4)
The Cougars have certainly been one of the bigger surprises in the country, sitting atop the RPI rankings going into this weekend. But the No. 1 Cougs have a classic trapdoor weekend ahead against the capable Tigers.
After an impressive series sweep of Charleston last weekend, Houston has games with Texas A&M and a series against Louisville ahead of it. But make no mistake, the Cougars can't overlook this weekend's American opener. The Tigers already have wins over Mississippi State and Ole Miss and love to pressure teams into fits, having stolen 45 bases this season in a conference-high 67 attempts.
Memphis has yet to hit up to its potential, at just .266. But if the Tigers find their bats and keep their patience at the dish (98 walks so far), this could become an interesting weekend.
Brawl Breaks Out At FSU-UF
Countdown to CWS
College World Series: June 14-25