Conference title races tighter than ever before
By
Eric Sorenson
| Special to ESPN.com
Remember the old Miller Lite commercial where NFL great Bubba Smith claimed he used to just grab the entire backfield and pick out players one by one until he found the one with the ball? Well, that's probably a pretty good way to describe how you might go about predicting a regular-season champion for every big conference race in college baseball.
This season has been a muddled mess all the way around. Just when you think a Florida State or a South Carolina or an Oregon State is a dominant team, a trapdoor weekend befalls it, bringing it crashing back down among the mortals.
Who in their right mind would've guessed that halfway through SEC play, Vanderbilt and Mississippi State would have losing records in conference play? Same goes for Kansas State and Oklahoma in the Big 12. Ditto with Arizona and Stanford in the Pac-12. NC State and North Carolina in the ACC? Yep, no winning records there either.
Then again, while these teams struggle, they are just a by-product of the fact that there just aren't any dominant teams out there in power conference-land for 2014.
The ACC has three teams at 14-4.
Texas is going through a big resurgence, but there are still four teams within three games of the Longhorns.
Alabama and Ole Miss were picked third and sixth in the West in the preseason SEC poll. Going into this weekend, they occupy the top two spots. Florida, considered too inexperienced with its bonsai freshman class, leads the SEC East over South Carolina and Vanderbilt.
Washington, of all teams, leads the Pac-12. Not a typo.
That's just the state of college baseball right now. Parity is a phrase that is always thrown around, but there is something much more tangible about it this time.
The effects of the deadened bats are helping Jack climb the beanstalk and slay the Giant much more often than we're used to seeing. Without the specter of the home run, the have-nots are realizing that playing good defense and pitching well will result in more and more close games against the haves, leaving a better chance for an upset.
But also consider the rule that was implemented a few years ago which required at least a 25 percent scholarship to 27 players on a roster. Before that, the big boys could stockpile players and coaches could decide the amount of financial help a player could receive, with some receiving as little as 5 percent for books and that's it. But now, instead of having 35 guys on partial scholarship, programs can keep only 27, so those eight extra players are going elsewhere.
Thus the rise of the Stony Brooks, the Kent States, the Indianas and this year's bevy of giant-killers such as Houston, Cal Poly, Louisville, Louisiana, Washington and UC Santa Barbara. All this hints at what should be a wild postseason come June.
Looks like Bubba Smith will need bigger hands to grab all the contenders this year.
Hey, Coach: Rick Vanderhook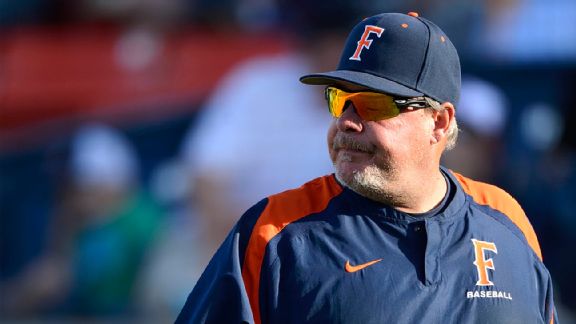 Matt Brown/Cal State Fullerton AthleticsNow in his third season, Rick Vanderhook is aiming for the Titans' third straight Big West crown.
One of the things I love about Cal State Fullerton coach Rick Vanderhook is that there is never a filter on him. Most coaches do a good job of using carefully chosen "coachspeak" with the media, which you can understand. But not Hooky. He is truly tell-it-like-it-is, completely unabridged.
I caught up with him after Sunday's gut-punching 2-1 loss at UC Santa Barbara, which dropped the Titans to 5-5 in their past 10 games and 10-10 in their past 20. Playing .500 ball is not what we're used to seeing from Fullerton, and its team batting average of .253 is uncharacteristic as well. Vanderhook was audibly vocal with his team in the postgame huddle, but more than happy to answer a few questions about what happened and what's ahead for his team.
Eric Sorenson: Coach, I heard you being very "animated" with your team in right field after the game, what did you say to them?
Rick Vanderhook: Dude, the offensive guys are just in fear of failure, and that's what I told them. All we do is swing to touch the ball, then when we get two strikes and we just clam up. We had two innings in a row today where we had a total of five swings. You can't hit the ball if you don't swing at it. And you are allowed to swing at the ball and miss it. It's not a rule that you have to hit the ball every time you swing. For some reason, we're just tentative.
ES: We're just past the halfway point of the season, what is your take on the team right now?
RH: They're soft. They're a soft group. And if they keep doing what they're doing, they're going to be the first team from Fullerton not to play in the postseason in 26 years. And I would hate to be them coming back to an alumni game and have to look all the other guys in the face and say they were the team that didn't make it.
ES: But your pitching has been great, right?
RH: Oh, sure. We're as good of a pitching staff as anyone in the country. We know that. It's just other areas that have been the problem.
ES: You have to be happy with the way your freshman Phil Bickford pitched today [6.1 IP, 2 earned runs].
RH: Bickford was wonderful today. He made a mistake and hit a guy [to load the bases] and they ended up scoring a couple runs, but he pitched as good as anybody on either team this weekend. I was happy with the way he competed. He's been outstanding, just like the rest of our staff for the most part.
ES: Do you like your team's work ethic? Is that a problem?
RH: Oh, they work at it. Yeah, that's not a problem either. But they're scared when the bell rings. Did you watch the fight last night?
ES: No, sorry I didn't.
RH: Okay, well [Manny] Pacquiao beat the crap out of [Timothy] Bradley. He beat the crap out of him. And Bradley said, "Well I was trying to knock him out." And he had another excuse, "I hurt my leg in the second round." That's what these guys are, the human excuse. As an example, J.D. Davis has a guy on second base three times and strikes out every time. And him, [Matt] Chapman and [Tanner] Pinkston are the only guys who hit on this team, so when we get guys on and we move them over, those guys have to actually hit. And they haven't done that.
ES: Talk about the leadership of the team.
RH: There is none. That is the problem. There is no leadership.
ES: So you'd say that this is the biggest problem then?
RH: Yes. There's no accountability on this team. Nobody to hold anyone else accountable here, especially the offense. They don't say a word to each other. We have a guy try to stretch a single into a double and gets out by 10 feet. Then after that we get a couple base hits, but we don't score a run. That's three base hits in one inning and we don't score.
I've seen guys make mistake after mistake after mistake. And I say, "Which one of you are going to say something to these guys? Does it always have to be me?" That's not the case with any other baseball team I've been on or coached. But again, not one person will say a word.
ES: Looking forward, how big is the Cal Poly series this weekend?
RH: I just hope we don't get no-hit. Because with the pitching they've got at Cal Poly, we could go hitless if we don't change course and start doing things the right way and taking good swings. We've got our work cut out. If we throw a shutout, which we have the capability to do against anybody, we have a chance. But we have to change. If we go 1-2 in the Big West three weeks in a row, we're going to be fighting an uphill battle the rest of the season.
Top 25 Scoreboard And Schedule
Stay up to date with how every Top 25 team is playing with the ESPNU scoreboard. Scores »
---
College baseball on ESPN
All times p.m. ET
Thursday
7: TCU at Texas (LHN)
7:30: LSU at Ole Miss (ESPNU)
8: Seattle at New Mexico State (ESPN3)

Friday
6: Clemson at Pittsburgh (ESPN3)
7: Charleston Southern at UNCA (ESPN3)
7:30: Georgia at Florida (ESPN3)
9: UC Davis at UC Riverside (ESPN3)
Saturday
1: North Carolina at Virginia (ESPN3)
1: Kennesaw State at USC Upstate (ESPN3)
2: LSU at Ole Miss (ESPN3)
3: Seattle at New Mexico State (ESPN3)
3: Clemson at Pittsburgh (ESPN3)
4: Georgia State at Texas State (ESPN3)
4: UC Davis at UC Riverside (ESPN3)
4: TCU at Texas (LHN)
6:30: Boston College at NC State (ESPN3)
7: Notre Dame at Miami (FL) (ESPN3)
7: Vanderbilt at Arkansas (ESPN3)
7: Georgia at Florida (ESPN3)
8: Baylor at Kansas State (ESPNU)

Sunday
Noon: Georgia at Florida (ESPNU)
Noon: Clemson at Pittsburgh (ESPN3)
1: Vanderbilt at Arkansas (ESPN)
1: Boston College at NC State (ESPN3)
2: South Carolina at Auburn (ESPN3)
5: TCU at Texas (LHN)
7: Notre Dame at Miami (FL) (ESPN3)

Primetime Pitching Matchup
UNC's Trent Thornton vs. UVa's Nathan Kirby
This Friday night showdown should be some kind of cool. Two of the hottest pitchers in the country square off in Charlottesville, Va., as Thornton, a righty, takes on Kirby, a lefty, in a battle of sophomore aces. Here's how each hurler has done in his past three starts.
Thornton (7-1, 1.50 ERA)
• 25.0 innings
• 14 hits allowed
• 2 earned runs
• 18 strikeouts
• 7 walks
Kirby (7-1, 1.23 ERA)
• 21.1 innings
• 8 hits
• 3 earned runs
• 29 strikeouts
• 5 walks
Both can hit the low 90s on the guns. Thornton has tossed an ACC-best 66.0 innings and Kirby threw an 18-strikeout no-hitter at Pitt two weeks ago. Davenport Field will be a big stage this Friday night. Let's see who stays hot.
Five Places To Be
1. No. 8 LSU at No. 12 Ole Miss
Tigers: 28-9-1, 8-6-1 SEC, No. 17 RPI, No. 112 strength of schedule
Rebels: 29-9, 9-6 SEC, No. 6 RPI, No. 86 SOS
How electric will the atmosphere in Oxford, Miss., be? Statistical oddity: Both teams come into this weekend having won eight of their past nine. LSU's streak includes a dominating sweep of Mississippi State, while the Rebels won a road series against the Bulldogs last weekend. The Rebels have the league's best batting average (.310) and stolen base count (66). They also boast the second-best pitching staff (2.19 team ERA). Keep in mind that the Tigers have yet to prove they can win consistently beyond Friday ace Aaron Nola.
2. No. 19 Cal State Fullerton at No. 3 Cal Poly
Titans: 18-13, 3-3 Big West, No. 46 RPI, No. 10 SOS
Mustangs: 31-5, 8-1 Big West, No. 14 RPI, No. 97 SOS
It could be said this is nearing panic time for the Titans. Fullerton seems to be a splintered, dispirited team, and it could really use some positive results. It's been a spiraling season so far as the Titans have played .500 ball in their past 20 games. They need this. The big question is whether or not the Titans can hit their way out against the Mustangs' formidable arms, as they are batting just .253 as a team. But there is no doubt they can go pitch for pitch with Cal Poly.
3. North Carolina at No. 1 Virginia
Tar Heels: 22-15, 9-9 ACC, No. 75 RPI, No. 126 SOS
Cavaliers: 31-6, 14-4 ACC, No. 5 RPI, No. 147 SOS
Last chance for the Tar Heels? Their RPI can't really take on too many more losses with weekends vs. Virginia Tech, Florida State and Miami to follow. But as crazy as this sounds, this is a winnable series for UNC, which has the second-best pitching staff (2.84 ERA) going up against the ACC's best (2.06 ERA) in UVa. The two offenses are pretty even as the Heels hit .272 and the Cavs hit .278. But it's the defense where the big difference lies as UVa has the ACC's best unit with a .984 fielding percentage compared to UNC's .963 mark. Also, watch for UNC's freakout factor, as it enters a volatile environment.
4. No. 9 Louisville at UCF
Cardinals: 27-9, 7-2 American, No. 32 RPI, No. 121 SOS
Knights: 23-15, 10-2 American, No. 70 RPI, No. 148 SOS
For the second week in a row the Cardinals face a rigorous road test in conference play. Last week, they passed with flying colors, sweeping then No. 7 Houston. This time it's the under-the-radar Knights, who are on a 14-3 run since mid-March. Great matchup of styles here. Watch for the running game to be the key as the 'Ville is second nationally with 78 stolen bases and the Knights have allowed an AAC-low 24 thefts. Beware the late lead as Louisville relief ace Nick Burdi has seven saves and 30 K's in 17.1 innings and has yet to allow a run.
5. UAB at No. 16 Rice
Blazers: 24-13, 10-5 C-USA, No. 81 RPI, No. 138 SOS
Owls: 26-13, 13-5 C-USA, No. 12 RPI, No. 18 SOS
It's a No. 1 vs. No. 2 Conference USA showdown at Reckling Park. UAB is another off-the-radar success story, but had a pair of heartbreaking one-run losses to Southern Miss last week that the Blazers would like to make amends for. Two pitchers to watch for here, UAB's Chase Mallard (6-0) is eighth in the country with a 0.95 ERA in 66 innings while Rice's Blake Fox (8-0) is 10th with a 1.00 ERA over 63 innings. Fox is the reason Rice is 9-1 on Saturdays. The pitching depth favors the Owls here.
RPI and strength of schedule rankings courtesy of boydsworld.com
Countdown to CWS
College World Series: June 14-25