The NCAA tournament bubble is filling up
By
Eric Sorenson
| Special to ESPN.com
e NCAA baseball tournament selection show is three Mondays away. It's win-or-else time for college baseball's bubble teams. Using Jeremy Mills' Bracketology as our guide, here are 10 teams really under the microscope as we count down the final few weeks of the season.
San Diego State
Numbers: 33-16, 13-11 MWC; No. 51 RPI

Pluses: The Aztecs are an impressive 20-5 in nonconference play. Plus, this is Tony Gwynn's team. The committee would love a story in which Gwynn's boys make the NCAAs while their coach is sidelined because of cancer treatments.
Minuses: Sitting in fourth place in the Mountain West standings won't reflect well to the committee. The light will have to be on the marquee nonconference wins, banking heavily on series wins over West Virginia and UC Irvine.
What they must do: This weekend will be a key to the Aztecs' postseason hopes. If they can win the series vs. No. 28 UNLV, that will be a big feather in the cap. Short of winning the MWC tournament, racking up a few wins and avoiding an early exit is a must.
Tennessee
Numbers: 28-18, 10-14 SEC; No. 30 RPI

Pluses: Though series wins over Vanderbilt and Kentucky will help, it's the impressive nonconference series wins over UNLV and at Arizona State that will be even louder. The Volunteers' strength of schedule is No. 37, according to Boyd's World.
Minuses: The Vols are just 10-14 in SEC play and 4-6 in their last 10 games. With Mississippi State and Florida in the final two weekends, getting over .500 is just not going to happen.
What they must do: First, don't wear down. UT has a trip to Mississippi State and home vs. Florida left. If the Volunteers can at least go 3-3, they will stay in the hunt. They have to hope the NCAA committee can overlook their losing record in conference play.
North Carolina
Numbers: 29-19, 13-11 ACC; No. 58 RPI

Pluses: Although it's been an uneventful season for the Tar Heels, their two remaining weekends of ACC play are vs. Florida State and at Miami. Redemption can come quickly if they can pile up more wins than losses here.
Minuses: This team saw its RPI plummet from No. 42 to 58 last week after playing just one game, a loss to East Carolina. North Carolina trails Duke in the Coastal Division and lost all three to the Devils.
What they must do: It's pretty obvious, get as many wins as they can vs. FSU and Miami and don't get swept in either series, because that would mean a possible sub-.500 finish in ACC play. It might also help to somehow overtake Duke in the Coastal standings.
Stanford
Numbers: 22-20, 9-12 Pac-12; No. 31 RPI

Pluses: The nation's No. 1 schedule, according to Boyd's World, is paying some dividends. The Cardinal own nonconference wins over Rice, Texas and Kansas and conference series wins over Oregon, Arizona State and UCLA.
Minuses: Dangling precariously over the .500 mark is never a sexy look to the selection committee. Although series vs. Arizona, Washington State and Utah will help their win column, it will also drag down their RPI a bit.
What they must do: Don't lose any of the remaining series and the Cardinal should get in. No faceplants. Also, Stanford probably has to hope the NCAA selection committee has a kind eye for the West like it did last season.
Long Beach State
Numbers: 23-23, 9-6 Big West; No. 56

Pluses: The past three weekends have seen the Dirtbags win series vs. UC Santa Barbara, Cal Poly and Cal State Fullerton. They also took two of three from Indiana, which is sitting at No. 4 in the RPI.
Minuses: Like Stanford, the near-.500 record is a treacherous walk for the Dirtbags. Trips to Hawaii and UC Riverside are going to be tough but won't help their RPI all that much.
What they must do: Unlike the Cardinal, the Dirtbags really can't afford to lose one of their last three series. Getting at least two wins at UC Irvine on the final weekend might be necessary, given their 50-plus RPI.
High Point
Numbers: 25-19, 12-9 Big South; No. 49 RPI

Pluses: To be honest, there are not many pluses, although the Panthers are the second-highest-rated Big South team in the RPI.
Minuses: The strength of schedule is No. 145 (Boyd's World). The committee may look at the Panthers' RPI and lack of any real marquee wins, say, "Ah, this must be a mathematical aberration," and move on.
What they must do: After losing to Clemson on Wednesday, anything short of going unbeaten the rest of the regular season could sink their hopes.
Arkansas
Numbers: 30-20, 11-13 SEC; No. 54 RPI

Pluses: Series wins over Vanderbilt, South Carolina and Alabama show they can play with anyone. Only seven teams in the country have more top-50 wins than the Razorbacks.
Minuses: Sitting at sixth in the SEC West, the Hogs have work to do. A series loss to either Texas A&M or Missouri could be fatal. SEC teams with RPIs above 40 usually don't get the benefit of the doubt.
What they must do: A sweep against either the Aggies or Tigers will be huge, if not necessary. The SEC tournament always allows some borderline teams to make up ground, so feel free to go on a good run there. Also, hope the committee rewards their wins more than admonishes their losses.
UC Santa Barbara
Numbers: 27-14-1, 7-11 Big West; No. 52 RPI

Pluses: The Gauchos have been hanging in and around the Top 25 all season. A pair of wins vs. Mississippi State and series wins over Fullerton and Wichita State have helped the cause.
Minuses: Curses for that snowstorm, which kept NC State from making the trip out west for opening weekend. And those mind-numbing one-run losses to Cal Poly. Arrrgh! Sitting in sixth place in the Big West must change between now and Selection Monday.
What they must do: The Gauchos have only six Big West games left, so getting them to the .500 mark in Big West play will require a 5-1 record vs. CSUN and UC Davis. A 7-3 record in their last 10 games would help get them inside the top 45 of the RPI.
USC
Numbers: 25-20, 13-11 Pac-12; No. 65 RPI

Pluses: The Trojans have some ground to make up, but with Cal and Oregon State as their final two weekends, a 3-3 or better record will be a big help. Besides all that, the Pac-12 needs to get at least five teams in, right?
Minuses: The Men of Troy were all the way up to No. 48 in the RPI until last week's two losses to Washington State sent them tumbling. Another weekend result like that could cost the Trojans too many brownie points.
What they must do: The most important weekend of the season should be that OSU visit for the final three games. If USC can win a pair and stay above .500 in Pac-12 play, it will have a fighting chance.
Duke
Numbers: 30-18, 15-9 ACC; No. 74 RPI

Pluses: This can also be viewed as a minus, but the Blue Devils will have Miami and FSU as their final two opponents in ACC play, so some major style points can be earned here. The committee likes a hot team, and a month ago the Devils were 17-16 overall.
Minuses: The committee knows the history of the ACC and how the RPI slightly overrates it, so will Duke be just another ACC school with a decent ranking that doesn't get in? Other than going 5-1 vs. North Carolina and NC State, there are no real marquee wins for the Blue Devils.
What they must do: They will pick up some points win or lose, but if they can split or even somehow win a series against Miami or FSU, they could be in striking distance. Oh, and making a deep run in the ACC tournament will help as well. Otherwise, their RPI is too high for true consideration.
Hey, Coach: Steve Rodriguez
By
Eric Sorenson
| Special to ESPN.com
One of the bigger mid-major matchups of the 2014 season will take place in one of the best college baseball settings in the country as Pepperdine, the leader of the West Coast Conference, hosts second-place San Diego in Malibu, California, this weekend. Here's a quick back-and-forth with Waves coach Steve Rodriguez, who give his thoughts on his team, the program and the WCC.
Eric Sorenson: Your teams are perennially one of the best in pitching and defense in the conference and in the country. What's been the key to this consistency?
Steve Rodriguez: Obviously, we work on it a lot and it's a point of emphasis. The biggest thing for us is having guys on defense who are consistent and who understand the game. That's half the battle right there.
Our defense makes pitching easier. Our guys know they can pitch down in the zone, and it puts them at ease on the mound. And even when there is contact, they know our defense is probably going to get to the ball and make a play. We have to do our job in the field because you don't want the offense to feel the pressure of having to come up with a couple of runs each inning. We're not geared for that type of game.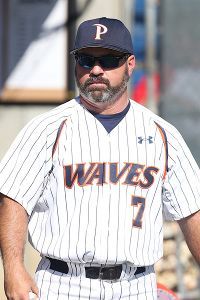 Courtesy of Jeff GoldenSteve Rodriguez's Pepperdine team has a big weekend series planned with San Diego, which sits just behind the Waves in the West Coast standings.
ES: You have beaten some really good teams in midweek games this season. How much emphasis do you put on those games?
SR: The biggest thing for us is that it's a game and it counts. I know that sounds simple, but we have to do our best to win those games with what we have. And the truth is, we go all-out to win those games because, with the teams in this area, we know they are usually big games against good teams with good RPIs. So we know how much those midweek games can help us.
ES: Your pitching rotation of Corey Miller, Aaron Brown and Matt Maurer are three of the top four pitchers in the WCC. Is this the best rotation in your years at Pepperdine?
SR: I don't know if they are better than some of our past rotations, but they're definitely right up there with them. And the thing is, they've been pretty consistent, and we haven't had that kind of consistency in a rotation in quite a while. They've matched up very well for us no matter who we've played. But the thing they do best is make sure we're going to be in the game in the seventh inning and give us a chance to win. If something goes haywire with them, there is no panic switch because we know they're going to settle down for us and keep us in every game.
ES: Miller was a 16th-round pick last June, but he decided to come back for his senior year. How big was getting him back for 2014?
SR: Oh, it's humongous. To have that quality of person and pitcher is really incredible. His competitiveness on the field and his leadership in our clubhouse are irreplaceable. He's been a huge factor for our success this year and has done everything a coach could ever want.
In fact, I was talking to him two or three weeks ago and I asked him his feelings on coming back for his senior year, and he told me, "It's been the best decision I've ever made." And on top of that, now he's going to be coming out as a big name. He's not just one of the names on the board. He's helped his draft status incredibly, and he's much more of a known commodity now. That makes a big difference as he goes onto pro ball later on this year.
ES: You have one of the best two-way players in the country in Brown. How has he been getting it done on the mound and at the plate?
SR: He's a special talent. He doesn't get fazed by anything, and he's completely even keel, whether he's pitching or hitting. He's just a natural athlete too. He can run a 6.4[-second] 60[-yard dash], he can throw a 93 mph fastball, he can hit for average and for power. He's got it all.
ES: Your RPI is at No. 38 now. Do you ever mention the RPI to your team?
SR: You know, I don't think I've ever mentioned those letters to our team. I cannot remember ever saying "RPI" to any of my teams. I might've said something like "That was a good RPI win for us," but I've never talked to the team about that. To be honest, there are so many good teams out here, I think they know. You don't have to tell them that this win will help our RPI; it's understood.
ES: Why is the WCC seemingly underrated year-in, year-out by the RPI?
SR: In the past, this conference has been really, really good. We've had a ton of great pitching, plus guys like Kris Bryant at San Diego, Zach Vincej, the Brooks Wallace Award winner we had two years ago, the Zimmer brothers up at San Francisco, Marco Gonzalez at Gonzaga. It's been a pretty impressive array of talent we've had come through here. From a talent standpoint, we have had just as many big-time players as anyone has. Now, we don't have all the hoopla and facilities that go with those football conferences and maybe that's what has hurt our perception, but we've played all those teams and we've fared pretty well against them over the years. So we know we're on their level regardless of what the rankings say.
ES: Do any of your players know you hit a grand slam off Brooks Kieschnick in the 1992 College World Series?
SR: Sadly, I don't know if any of these guys know who Brooks Kieschnick is. I don't think kids these days collect baseball cards and keep up with players and their stats like they used to. So they probably have no idea what happened in Omaha over 20 years ago, much less what happened 20 days ago.
ES: Well, it was one of my favorite College World Series moments.
SR: Mine too.
Top 25 Scoreboard And Schedule
Five Places To Be This Weekend
1. Ivy playoffs: Dartmouth at Columbia
By the Numbers:
Big Green: 18-19, 11-9 Ivy; No. 165 RPI
Lions: 25-17, 15-5 Ivy; No. 48 RPI


The first bid to the Big Dance will be handed out at Satow Stadium, just a couple blocks north of the 207th Street stop on the A-line in Manhattan. This is a rematch of the 2013 finale. The Big Green will be looking for revenge after last year, when they entered the playoffs with a glitzy 32-7 mark but were upset twice by the Lions. Considering its RPI, could Columbia actually have a chance at an at-large bid if it loses this one?
2. No. 10 Vanderbilt at No. 8 Florida
By the Numbers:
Commodores: 36-13, 14-10 SEC; No. 5 RPI
Gators: 33-16, 18-6 SEC; No. 2 RPI


The Gators are sitting in a little better position as far as national seed hopes go, especially with a hearty four-game lead on Vandy in the East. But the Commodores might be the hungrier team. A series win here would put them in a better spot for the postseason. Can the Gators young arms and lineup deal with the hypertalented Vandy rotation?
3. No. 24 UC Irvine at No. 5 Cal Poly
By the Numbers:
Anteaters: 33-14, 14-1 Big West; No. 33 RPI
Mustangs: 39-9, 14-4 Big West; No. 19 RPI


Granted, the Anteaters have played the softer side of the Big West so far, but things get serious from here. UCI's dynamic duo of starter Andrew Morales (8-0, 0.91 ERA) and closer Sam Moore (22 saves, 1.38) will have a huge showdown with Mustangs starter Matt Imhof (8-3, 2.47) and closer Reed Reilly (eight saves, 1.46). Who has the depth in the arms corps here?
4. No. 12 Oregon at Arizona State
By the Numbers:
Ducks: 35-14, 13-8 Pac-12; No. 23 RPI
Sun Devils: 24-20, 12-9 Pac-12; No. 38 RPI


For whom the bell tolls? That would be the Sun Devils. After last week's 0-3 skunking at Oklahoma State, ASU sank into the low 30s of the RPI, which is not good for a major conference team. It will need this weekend to help push it back up. The Ducks still have hopes of hosting a regional, so a series win will be huge.
5. San Diego at Pepperdine
By the Numbers:
Toreros: 33-17, 15-9 WCC: No. 64 RPI
Waves: 32-13, 15-6 WCC: No. 35 RPI


A showdown of the West Coast Conference's best offense (San Diego: .322 average, 37 home runs, 115 doubles) against the league's best pitching and defense (Pepperdine: 2.19 ERA, .977 fielding percentage). But the Toreros need this more, considering their RPI currently sits outside the buffer zone.
CWS Bracketology
The biggest changes since last week come out West, especially in the Big West.
Cal State Fullerton goes from last five in all the way to the bottom of the bubble after dropping another series. The Titans have lost the benefit of the doubt after entering the season as the top-ranked team in the country.
They are replaced in the field by Long Beach State. The Dirtbags would have been under consideration last week with a top-60 RPI but were under .500 overall. A winning record against such a difficult schedule should snap a five-year tournament drought for LBSU.
Full story »
Countdown to CWS
College World Series: June 14-25