Trends and tendencies in the regional round
By
Eric Sorenson
| Special to ESPN.com
First pitch is almost here, people. You can sense the excitement in the air: It's June Madness. Prepare yourself for the wildest 64-team ride through the NCAA tournament in the past few years. Parity is everywhere, and it should carry into baseball's version of the Big Dance. This demolition derby will be a wild ride. Let's start this thing off right. Here are a few knick-knacks to watch for in the 2014 tournament.
Non-national seeds winning the national title: Eight of the past 10 national title winners have not been nationally seeded. In other words, the selection committee's top eight has been horribly wrong for most of the past decade. Only in 2009 (No. 3 national seed LSU) and 2011 (No. 4 national seed South Carolina) did a top-eight team win the big brass ring. In fact, the overall No. 1 seed hasn't won it all since Miami in 1999. No pressure, Oregon State.
Keep an eye on ACC home teams: The ACC has had an unfortunate skein of home-team meltdowns in postseason play. Of the past nine national seeds from the ACC, six have lost before getting to Omaha, including both Virginia and Florida State at home in their super regionals last year.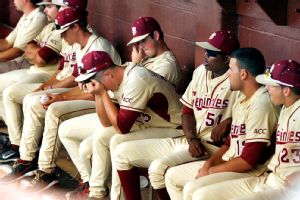 MCT via Getty ImagesFlorida State, this season's No. 5 national seed, ended last season with a super regional loss at home to Indiana in which it surrendered 22 runs.
Most intriguing possible super regional: Mississippi State at Ole Miss
You know the entire Magnolia State wants to see this one pan out. To get there, Mississippi State needs to take down 53-7 Louisiana at Tigue Moore Field. Not an easy task. But with their postseason experience taken into account, don't count the Bulldogs. The Rebels will have a sneaky-tough No. 2 seed in Washington's Huskies to hold off as well, so nothing is promised for these two. But we can still dream, right?
Upsets: You didn't think we'd leave this page without mentioning this, did you? Looking at the regular-season results, parity is rampant in our game. In fact, according to ESPN research guru Jeremy Mills, there were 2,201 one-run games in college baseball this season, meaning 27 percent of the 2014 games ended in a proverbial coin flip. With that many close games, upsets seem likely to spike in the high-pressure postseason.
Three Locks
If you have some extra pocket change hanging around, these are the teams with the best chance for doubling your winnings in Vegas.
LSU: On May 13, the switch was clicked into the "on" position in a rain-shortened 27-0 no-hit win over Northwestern State. Since then, the Tigers have gone 7-0, outscoring their opponents 60-8 in the process. Getting Houston, Bryant and Southeastern Louisiana in their regional is a welcome mat, considering those teams' relative inexperience in postseason play.
Oregon State: With Ben Wetzler, Andrew Moore and Jace Fry pitching as well as they have and as consistently as they have, this team needs just a couple of hits and a run or two to win any game against any opponent.
Indiana: The Hoosiers drew the weakest No. 4 seed (Youngstown State), an overrated No. 2 in Indiana State and a freshman-heavy No. 3 in Stanford. As regional fields go, IU should be sitting pretty come Monday without losing too much sweat.
One through four
The most intriguing things about four seeded teams.
1-seed: Danger Gators
Florida garnered the No. 2 national seed despite having racked up 21 losses on the season. Only six other 20-plus-loss teams in history have been awarded national seeds. (Ironically, four of those six teams advanced to Omaha.) But the Gators have a couple of factors going against them. One, they have the toughest No. 4 seed to face off with in College of Charleston. And even if the Gators get through that, red-hot Long Beach State and the uber-experienced North Carolina Tar Heels await them. Secondly, Florida is a young team. Freshman ace Logan Shore is 7-3 with a 1.99 ERA but has never pitched in a high-pressure game like an NCAA opener.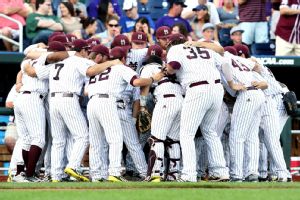 Stephen Dunn/Getty ImagesMississippi State made an improbable run to the championship series a season ago, and the Bulldogs may have what it takes to do it again.
2-seed: Return of the bench mob
Mississippi State has everything it needs to make another big run to the national title, including a showdown with a Louisiana team that is not used to this kind of spotlight. If the bottom of the Bulldogs' order can get a few more hits, pitchers such as Trevor Fitts and Ross Mitchell can get them enough outs to advance to Omaha. Experience. Experience. Experience.
3-seed: The soap opera
Cal State Fullerton has been a roller coaster all season long. The good. The bad. The ugly. But now, the Titans have gone on a spree, getting coach Rick Vanderhook back from suspension and winning seven straight, including a no-hitter for Justin Garza in a 3-0 win over Cal State Northridge. If the rotation of Garza, Thomas Eshelman and Grahamm Wiest is still on lockdown mode (the Titans lead the nation with a 2.03 team ERA), the Titans can make a run at this in June.
4-seed: The best No. 4 in years?
College of Charleston has an RPI of 53, easily the best of the No. 4 seeds. The Cougars have proved they can play with big-money teams like North Carolina (after taking two of three to start the season), have gone on a 17-5 run down the stretch and have a staff ERA of 2.80, good for 19th nationally. Yep, they're certainly good enough to leave Gainesville with a regional title.
Five key players this weekend
Here are the star players who could have the biggest impact on how far their teams go in the postseason.
LSU pitcher Jared Poche
The left-handed No. 2 starter has developed into a solid arm to give the Tigers more punch behind ace Aaron Nola. Poche, a freshman has won his past three decisions, and coupled with their hot bats, he could help push the Tigers into Omaha again.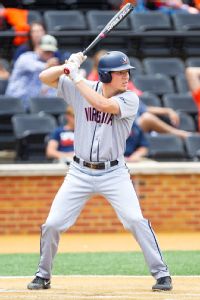 Brian Westerholt/Four Seam Images via AP ImagesVirginia junior Nick Howard does a little bit of everything in the field and has also made 26 appearances on the mound.
Virginia two-way player Nick Howard
It could be argued that Howard is the nation's top closer. The 97 mph flinger has 18 saves on the year and has held opposing batters to a .180 average. Any lead beyond the seventh inning will be safe for UVa. He's a big reason the Cavs have won 14 one-run games.
Mississippi State 1B Wes Rea
The Bulldogs have a lot of formidable weapons in Brett Pirtle (.341), Gavin Collins (.325) and CT Bradford (.311). But if Rea, the team leader, can get away from his season-long slump (.247), imagine what this offense could do.
Kentucky LHP/1B A.J. Reed
The SEC Triple Crown leader (.351-23-70) on offense also has 11-2, 2.10 numbers on the mound. Question is, can UK afford to save him for a possible game vs. Louisville in Round 2 and not start him on the mound Friday vs. Kansas? That's a tough call.
Pepperdine LHP/OF Aaron Brown
Although he might not get the publicity that Reed does, Brown was just as important a part of his team, as he went 11-1 in 15 starts, holding opponents to a .220 average. He also hit .320 with 12 home runs. He'll be a formidable obstacle for Arizona State on Friday.
Five mid-major teams to watch
Besides the Houston Cougars, mentioned above, who should the big boys be fearing this weekend? Here are five more teams, some known, some unknown, that could cause Excedrin headache No. 9 to major conference programs.
1. Louisiana
Yes, Cajuns fans, despite your gaudy 53-7 record and No. 1 national ranking, you are still a mid-major. But a mid-major no one wants to play, that's for sure. They are assured of home field all the way to Omaha, so Mississippi State, San Diego State, Ole Miss, Washington and Georgia Tech, the road to TD Ameritrade goes through Lafayette.
2. Louisville
You're not in the ACC yet, Cardinals, but you could get a taste of what's in front of you as a potential matchup with Florida State looms in the supers. But first, getting past Kentucky and Kansas will be no picnic. Oh, and did we mention a team named Kent State (MAC tournament winner) is up first? A regional title is doable but won't be easy.
3. Liberty
The big key to the Flames' confidence is how they played in the regionals last year, eliminating Clemson and getting to the finals against South Carolina. This year, LU has an experienced squad led by ace Trey Lambert (11-2, 2.10), closer Ashton Perritt (12 saves) and top bat Ryan Seiz (.362-12-42). Arkansas (Friday, 7 p.m.), you've been warned.
4. Kennesaw State
The Owls are on a remarkable 23-1 run since April 6. At the same time, their first-round opponent, Alabama, is stuck in a 6-11 skid. So this might not even be considered a major upset if KSU downs the Tide. Now, can they do it to Florida State as well?
5. Dallas Baptist
Another mid-major with lots of postseason experience. The Patriots' Achilles' heel is they don't swing it well, hitting just .260 as a team. But beware of any lead they get. Relievers Brandon Koch (8-0, 0.48, 9 saves), Josh Urban (3-0, 2.78, 2 saves) and Joseph Shaw (4-4, 2.85, 4 saves) combined for 74 appearances, 136 2/3 innings and just 33 earned runs.
Tournament Schedule & Scores
All times p.m. ET.
Regional Round
Weekend scoreboard

CORVALLIS | STILLWATER | HOUSTON |
BATON ROUGE | TALLAHASSEE | LOUISVILLE | NASHVILLE | BLOOMINGTON | GAINESVILLE | CORAL GABLES | SAN LUIS OBISPO |
FORT WORTH | LAFAYETTE | OXFORD | COLUMBIA | CHARLOTTESVILLE
CORVALLIS REGIONAL
Reser Stadium
Friday, May 30
11: UC Irvine vs. UNLV (ESPNU)
5: Oregon State vs. North Dakota State (ESPN3)
STILLWATER REGIONAL
Allie P. Reynolds Stadium
Friday, May 30
1: Cal State Fullerton vs. Nebraska (ESPNU)
7: Oklahoma State vs. Binghamton (ESPN3)
HOUSTON REGIONAL
Reckling Park
Friday, May 30
4: Texas A&M vs. Texas (ESPNU)
8: Rice vs. George Mason (ESPN3)
BATON ROUGE REGIONAL
Alex Box Stadium
Friday, May 30
3: LSU vs. Southeastern Louisiana (ESPN3)
8: Bryant vs. Houston (ESPN3)
TALLAHASSEE REGIONAL
Dick Howser Stadium
Friday, May 30
Noon: Kennesaw State vs. Alabama (ESPN3)
6: Florida State vs. Georgia Southern (ESPN3)
LOUISVILLE REGIONAL
Jim Patterson Stadium
Friday, May 30
2: No. 3 Kansas vs. Kentucky (ESPN3)
6: Louisville vs. Kent State (ESPN3)
NASHVILLE REGIONAL
Hawkins Field
Friday, May 30
1: Clemson vs. Oregon (ESPN3)
8: Vanderbilt vs. Xavier (ESPN3)
BLOOMINGTON REGIONAL
Bart Kaufman Field
Friday, May 30
2: Stanford vs. Indiana State (ESPN3)
7: Indiana vs. Youngstown State (ESPN3)
GAINESVILLE REGIONAL
McKethan Stadium
Friday, May 30
1: North Carolina vs. Long Beach State (ESPN3)
7: Florida vs. College Of Charleston (ESPN3)
CORAL GABLES REGIONAL
Mark Light Field
Friday, May 30
2: Columbia vs. Texas Tech (ESPN3)
7: Miami (Fla.) vs. Bethune-Cookman (ESPN3)
SAN LUIS OBISPO REGIONAL
Baggett Stadium
Friday, May 30
4: Pepperdine vs. Arizona State (ESPN3)
9: Cal Poly vs. Sacramento State (ESPN3)
FORT WORTH REGIONAL
Lupton Stadium
Friday, May 30
3:30: SHSU vs. Dallas Baptist (ESPN3)
8: TCU vs. Siena (ESPN3)
LAFAYETTE REGIONAL
M. L. Tigue Moore Field
Friday, May 30
2: San Diego State vs. Mississippi State (ESPN3)
7: Louisiana vs. Jackson State (ESPN3)
OXFORD REGIONAL
Swayze Field
Friday, May 30
4: Georgia Tech vs. Washington (ESPN3)
8: Ole Miss vs. Jacksonville State (ESPN3)
COLUMBIA REGIONAL
Carolina Stadium
Friday, May 30
1: Old Dominion vs. Maryland (ESPN3)
7: South Carolina vs. Campbell (ESPN3)
CHARLOTTESVILLE REGIONAL
Davenport Field
Friday, May 30
2: Virginia vs. Bucknell (ESPN3)
7: Liberty vs. Arkansas (ESPNU)
Format for following regional games:
Saturday, May 31
Game 3: Game 1 loser vs. Game 2 loser
Game 4: Game 1 winner vs. Game 2 winner
Sunday, June 1
Game 5: Game 3 winner vs. Game 4 loser
Game 6: Game 5 winner vs. Game 4 winner
Monday, June 2
Game 7: Game 6 winner vs. Game 6 loser (if necessary)
#CWS25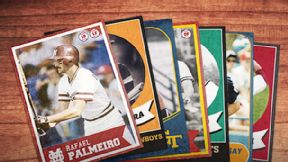 ESPN.com is counting down the top 25 big leaguers who have affected college baseball and the College World Series for the 25 days leading up to Omaha. #CWS25 »
Countdown to CWS
College World Series: June 14-25