A different kind of roll call to this year's Sweet 16
Who are these guys? Where are the Tigers? The Bulldogs? The Hurricanes? The Wildcats? Heck, even the Gamecocks? Where are the familiar names?
The NCAA baseball championship super regional round has no LSU, no Florida State, no South Carolina. None of these names we've become accustomed to in recent years advanced past the round of 64.
Instead we have Anteaters, Waves, Horned Frogs and Ragin' Cajuns. Tell me, what on earth is a Terrapin?
This list of teams you don't recognize is another byproduct of parity. Kennesaw State, Pepperdine, College of Charleston -- not only are these bizarre names for baseball teams, this is a completely new venture for these guys. Louisiana-Lafayette, Maryland and Houston. They're nice places to visit, sure, but now these teams are 54 outs away from playing on the grand stage in Omaha. Yep, that's a fact, Jack.
It's been as wild a ride as ever in getting to the final 16 teams still playing for a shot at the national championship. The regional round saw nine of the No. 1 seeds fall by the wayside. Five of those No. 1 teams were national seeds, too. This is what you get when 11.7 scholarships, deadened bats, scholarship distribution rules and a mid-major facilities upgrades take place: pure postseason chaos. And it's cool.
In case you need a quick refresher course, this weekend we've got 16 finalists vying for eight spots in the College World Series, which begins June 14. All series are a best-of-three games format, with one game each day. The four super regionals on the left side of the bracket will start Friday, and the four on the right side will start Saturday.
LEFT SIDE
Stanford at Vanderbilt
What to know: Freshman All-American Cal Quantrill (7-5, 2.69 ERA, 93 K's) and fellow freshman Brett Hanewich (4-4, 3.42, 43) lead a youthful Stanford pitching staff. In fact, 43 of the Cardinal's 58 games have had first-year starters on the mound.
Vanderbilt has not had good luck at home in the postseason, losing in the regional round as the No. 1 overall seed in 2007 and also getting swept by Louisville in the 2013 Nashville Super Regional. The Dores did sweep both rounds on their way to Omaha in 2011, however, and swept their regional last weekend.
Who to watch: Alex Blandino is a right-handed power bat for the Cardinal, having blasted 12 home runs (would've been more if not for Sunken Diamond's big field and tall fence). That 310-foot short porch in left field at The Hawk in Nashville will be a huge target for him.
Beware if the Commodores get a little walk-happy. Their top four starters -- Tyler Beede, Carson Fulmer, Walker Buehler and Tyler Ferguson -- are world-class talents who can shut down any opponent, but in 50 combined starts, those four have accounted for 128 walks.
Houston at Texas
What to know: The Cougars have been here before, but it's been a long while. The last super appearance for Houston was in 2003. It lost a super regional at Texas in 2002, winning Game 1 2-0 before being shut down 17-2 and 5-2 by the Longhorns.
After winning the regional title game versus Texas A&M on Monday, Texas coach Augie Garrido improved to 26-11 in NCAA tournament elimination games. That's a winning percentage of .703 when the season is on the line and third-best in NCAA tournament history.
Who to watch: Kyle Survance hits .320 and leads Houston with 31 stolen bases. Speed will be a factor as the Cougars have stolen 85 bases on 111 attempts this year. Considering how big that Disch-Falk outfield is, look for singles to be stretched into doubles and doubles stretched into triples.
Senior Mark Payton, who sports a .318 average, is the most advanced hitter on the Longhorns' squad. He is coming off a great Houston Regional in which he earned MVP honors after culling four hits, four runs scored and five walks.
Kennesaw State at Louisville
What to know: The Owls are cauldron-hot, winning 26 of their last 28 since April 6. Seven of those wins have been one-run games, so this team doesn't lack confidence when it gets to crunch time.
Head coach Dan McDonnell has the Midas touch with this Louisville program, leading the Cardinals to their fourth super regional appearance in the last eight years.
Who to watch: It all starts with KSU All-American Max Pentecost, who is second nationally in batting average (.423) and has nine home runs, 58 RBIs. And despite his position as Kennesaw State's catcher, Pentecost leads the Owls with 17 stolen bases, as well.
On the Louisville side of things, the top two starters, Kyle Funkhouser (13-2, 1.68) and Anthony Kidston (8-0, 3.30), are stout, but they will have to carry the load with Saturday starter Jared Ruxer (7-1, 2.27) out for the remainder of the postseason.
UC Irvine at Oklahoma State
What to know: The Anteaters went to the College World Series in 2007 but have been a hard-luck story since. In both 2008 and 2011, they were one strike away from returning to Omaha, but fell to LSU and Virginia in heartbreaking fashion both times.
The Cowboys' last trip to Omaha was in 1999. But it's been a steady climb back under second-year head coach Josh Holliday, who led them to 41 wins and the regional finals last year and 48 wins so far this year.
Who to watch: The combination of starting pitcher Andrew Morales (10-2, 1.64, 128 K's) and saves ace Sam Moore (23 saves) for UC Irvine will be hard to beat Friday. It's a must-win for the Anteaters with those two on the hill.
OSU has come from behind in 26 of their 48 wins this season. A good reason is that they allow very few late-inning runs, thanks to Brendan McCurry, who is 5-0 with a 0.39 ERA and 19 saves in 34 appearances.
RIGHT SIDE
Maryland at Virginia
What to know: Although you could barely tell from their confident play in Columbia last weekend, this is uncharted territory for Maryland, having never played in a super regional and going to the postseason for the first time since 1971.
Meanwhile, the Cavaliers are now veterans of postseason wars. This is their 11th straight year at NCAAs and fourth super regional appearance in the last five years.
Who to watch: The Game 1 pitching matchup should be unreal with UVa's Nathan Kirby going up against Maryland's Jake Stinnett, who only went 7-6 but held opposing batters to a .192 average with 130 punchouts and four complete games this season.
Look up power arm in the dictionary and you'll likely see Virginia bullpen stud Nick Howard. The Cavs stopper throws his 97 mph BBs to the tune of 19 saves and an amazing 50 K's in just 29.1 innings.
College of Charleston at Texas Tech
What to know: Yep, you heard right. College of Charleston is just the fourth No. 4 seed in history to make the super regional round. They've got history on their side, too, as two of the previous three No. 4s made it to Omaha in Fresno State (2008) and Stony Brook (2012).
Tech is entering uncharted waters, as well. The Red Raiders have made nine NCAA tournament appearances, but none since 2004, and they have never played in a super regional.
Who to watch: Charleston had the best pitching staffs in the Colonial with a team ERA of 2.78. They are paced by a pair of 10-game winners in Bailey Ober (10-2, 1.55 ERA, 81 K's) and Taylor Clarke (10-3, 2.62, 89).
Tech had the best offense in the Big 12, led by power sticks Eric Gutierrez (Big 12-best 12 home runs) and Adam Kirsch (10 home runs and 20 doubles). The Raiders also led the loop with 23 triples on the year, most of them coming in their own Rip Griffin Park.
Pepperdine at TCU
What to know: After winning the 1992 national title with now head coach Steve Rodriguez at second base for the Waves, Pepperdine has gone to the NCAA tournament 12 times but never been this close to returning to Omaha.
This has been a redemption season for the Frogs after going just 29-28 in 2013 despite being ranked in the preseason top 10 by some outlets. Now they are two wins away from their second CWS appearance.
Who to know: Pepperdine has the Aaron brothers. OK, they're not really brothers, but Aaron Brown is the best two-way player in the country not named A.J. Reed, and Aaron Barnett is a Freshman All-American who leads the Waves with a .373 average.
TCU counters with arguably the best pitching rotation in the country in Preston Morrison (9-3, 1.24), Brandon Finnegan (8-3, 2.07) and Tyler Alexander (10-3, 1.94). Plus Riley Ferrell (0.75, 14 saves) is one of the best closers in the field of 16.
Ole Miss at Louisiana-Lafayette
What to know: Unlike most of the rest of the super regional field, these two will be highly offensive teams. The Rebels do a little bit of everything, hitting .304 as a team, flashing some power with 39 home runs and stealing 90 bases.
The Cajuns are trying to recapture the magic of the 2000 season, when they came out of nowhere to play in Omaha. But this time they are in the favorite role and are expected to make it. That might explain their tightness in the loss to Jackson State in the first game of their regional last week.
Who to know: While their offense is dangerous, the Rebs also have nine everyday pitchers who sport a sub-3.00 ERA, led by the one-two combo of Chris Ellis and Christian Trent, who went a combined 19-1 with 135 strikeouts between them.
The Cajuns have the No. 2 offense in the country and use the versatility of Caleb Adams (.387 AVG, 11 HRs, 45 BBs) and Jace Conrad (.377, 9 HRs, 22 SBs) to set the tone early and make their opponents play catch-up all game long.
Tournament Schedule & Scores
#CWS25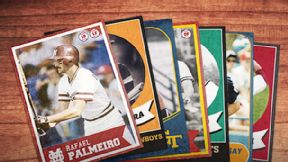 ESPN.com is counting down the top 25 big leaguers who have affected college baseball and the College World Series for the 25 days leading up to Omaha. #CWS25 »
Countdown to CWS
College World Series: June 14-25