It's all or nothing at all in the CWS
The field is set, the lines are chalked and the teams are here at TD Ameritrade Park in downtown Omaha ready to rumble for the next 10 to 11 days as we search for a national champion.
As the past few years have shown, trying to predict a winner is impossible. Both UCLA and Mississippi State last year were far from the best teams in their respective conferences, yet got hot at just the right time and rode that momentum to the championship series in the second week. Two years ago, we saw Kent State eliminate No. 1-ranked Florida. And, of course, we are just six years removed foam Fresno State coming in as a 4-seed and making everyone wonder if what just happened really happened.
In this age of parity, every team has reason to believe it can win the big, brass ring. But at the same time, every team also has a soft underbelly that makes it vulnerable. Here is how this year's field of eight stacks up in the goods and bads department as we head toward first pitch.
UC Irvine (40-23)
HOW TO WIN IT ALL
Keep playing fearlessly: The Anteaters were a team on a mission, unencumbered by playing a super regional at Oklahoma State. They executed their game plan to perfection and put the right amount of pressure on the Cowboys.
Big performances from their stars: First baseman Connor Spencer (.370) and third baseman Taylor Sparks (.307-5-34) must continue to clean up the basepaths and set a contagious tone for the offense. Also, leadoff hitters will help key the offense all week.
HOW TO GO 0-2
The freak-out factor: This is obviously new territory for the Anteaters, who haven't been in Omaha since 2007. If they get wowed by the big stage and play tentative, it'll be a short trip.
If the offense turtles up again: The Eaters are a light-hitting team with a team average of .272. They score just 4.4 runs per game, and they put up just nine runs in their six-game skid to end the regular season. If those weak sticks return this week, it'll be all she wrote.
Texas (43-19)
HOW TO WIN IT ALL
Small-balling it: No big surprise here, UT leads the nation in sac bunts with 96. Although they'll be facing another small-ball team in UCI (checking in at No. 2 nationally with 88 sac bunts), if the Horns make a deep run, it'll be because their fundamental play is clicking.
The pitching, of course: Though the Longhorns have a team ERA of 2.32, they've cranked things up in the postseason with a team ERA of 1.15. It's a no-brainer. When the Horns' pitchers are dealing, they won't get beat.
HOW TO GO 0-2
Live by the sword, die by the sword: The Longhorns will face a team that mirrors their style of play exactly in UC Irvine, who also has a Hall of Fame coach in Mike Gillespie. There will be pressure to execute with perfection and not turn this into a dose of their own medicine.
If the crowd plays a role: Although Omahans have long been Augie Garrido fans, Texas isn't well revered in the Cornhusker State. If the fans get charged up against the Horns, momentum will swing to UCI's, Louisville's or Vanderbilt's side.
Vanderbilt (46-19)
HOW TO WIN IT ALL
Play to the talent level: It's pretty simple for the Commodores, who are probably the most talented team in the field. If they continue to swing it well (8 runs per game in NCAA tournament play) and don't get in trouble early, a title run is imminent.
Somebody new must step up each game: This team is so talent-laden, even when Dansby Swanson, Bryan Reynolds or Vince Conde has an off day, somebody will step in and make the big hit -- like Ro Coleman did versus Oregon or John Norwood versus Stanford. That's got to be a comforting factor for coach Tim Corbin.
HOW TO GO 0-2
If they get walk-happy: The one thing about a lot of these multitalented pitchers the Dores throw out there is they have a knack for issuing free passes. Doing that against steal-happy Louisville, patient-as-can-be Texas or UCI will be deadly.
Get out of their element: No team faces a bigger challenge defensively than the Commodores do this week. The West Coast style of play which both UCI and Texas use can wear a team down and the speed game of Louisville can wear a team out. VU hasn't dealt with these kind of teams too often this season.
Louisville (50-15)
HOW TO WIN IT ALL
Use last year as a learning experience: We've seen it plenty of times before: A team goes to Omaha one year and loses quickly, then comes back the next year and goes on a run (Oregon State 2005 and 2006). After going two-and-out last season, expect a much more business-like Cardinals team this time around.
Stay unbeaten: Yes, that's obvious, but the Cards are the only ones still unbeaten in the NCAA tournament so far, going 5-0 through the first two weekends. Here's a hint: Each of the past three national champions have gone 10-0 through the postseason. Good omen.
HOW TO GO 0-2
Go to the bullpen early: The Ville has some talented arms, but without starter Jared Ruxer, who suffered a late-season injury, the Cardinals can ill-afford to burn up arms in the bullpen. The starters must go long and be efficient. That first trip to the losers' bracket could be costly.
The offense goes stagnant: UofL is 39-0 when scoring five or more runs. But put these guys in a low-scoring, tight battle and they are just 11-15. Everybody can claim a need to score early and get ahead as a key, but in the Cards' case, it really is vital.
Texas Tech (45-19)
HOW TO WIN IT ALL
Keep pitching like they have been: The Raiders may not be in the top 25 of team ERA like the rest of the field, but they gave up just 10 hits in two super-regional shutouts of College of Charleston. They also posted two shutouts against a dangerous Miami team in the regionals.
The chip on their shoulders: As you might've seen, the Red Raiders have an aura about them that they don't care who you are, they're going to shut you down. They didn't get a No. 1 seed in the NCAA tournament and they've used that as motivation.
HOW TO GO 0-2
They get in a rut: Tech actually lost back-to-back games seven times this season. So they've shown a lack of clutch from time to time already.
The bats stay cold: You can't rely on beating everybody 1-0, like they did twice versus Charleston. TD Ameritrade Park is a tough place to hit already, so a cold batting order would sound a death knell to Double-T's chances here.
TCU (47-16)
HOW TO WIN IT ALL
Keep the clamps on: If pitchers Brandon Finnegan and Preston Morrison are stout, a 2-0 start is easily attainable, both here and in the title series next week. The Frogs have posted 14 shutouts this year and have held their opponents under two runs 41 times.
Spark a little fire: With possibly the deepest pitching staff in the field of eight, as long as they hit a little bit better than their .283 average, you have to like the Horned Frogs' chances.
HOW TO GO 0-2
Get behind early: The Frogs have a knack of getting in ruts and staying there. The win-loss mark when trailing after six innings is just 3-13. So if they get down early, it's trouble.
Run themselves out of innings: Coach Jim Schlossnagle likes to be aggressive on the basepaths, but the Frogs have also been thrown out 37 times when trying to steal and were nabbed a handful of times versus Pepperdine.
Virginia (49-14)
HOW TO WIN IT ALL
Nathan Kirby has three quality starts: Friday ace Nathan Kirby had one of his worst outings in the Maryland opener, going just 4.2 innings and giving up five runs. Before that? He threw eight shutout innings versus Arkansas. If he throws BBs like that a couple of more times, it's the Hoos' title to lose.
Better at-bats from the bottom: The Cavaliers are full of big-hit potential. But some of the guys lower in the order need to pick it up. If Brandon Downes (.233), Daniel Pinero (.266) and Nate Irving (.236) can get hot, this offense will be hard to stop.
HOW TO GO 0-2
Opponents' aggressive hitting: It seemed like when Maryland jumped on early pitches, the Terrapins had more success. So if opponents can get hits early in counts, the Cavs are beatable.
A poor mindset: There's a bit of pressure on UVa, being the highest ranked team remaining and also having three first-round draft picks in Nick Howard (19th overall), Derek Fisher (37th) and Mike Papi (38th). Seemingly, the only thing that could stop these guys is if they aren't focused on the task at hand.
Ole Miss (46-19)
HOW TO WIN IT ALL
Keep the edge: Nobody had a tougher super-regional assignment than the Rebels did, going to Louisiana-Lafayette and winning in that zoo-like atmosphere. So the Rebs are battle-tested like no one else, which should help when the pressure is on.
The bullpen must stay hot: Scott Weathersby and Josh Laxer came up huge for the Rebels in the supers. Aaron Greenwood and Preston Tarkington also have sub 2.00 ERAs in their 39 combined appearances. If Chris Ellis (10-2, 2.45) and Christian Trent (9-0, 2.21) should falter, there are plenty of back-end arms to help them out.
HOW TO GO 0-2
Become the kings of pop: Ole Miss has the most raw power in the field of eight. But anything that is hit in the air at TD Ameritrade just dies on the warning track. So if they get pop-up happy, the offense will suffer.
No shootouts: The Rebels must put the clamps on teams early and often. When opponents have scored six runs or more, the Rebels are just 2-10 this year. Conversely, the Rebs are 29-4 when they score six or more.
CWS Schedule & Scores
All times p.m. ET.
College World Series
Saturday, June 14
3: UC Irvine vs. Texas (ESPN2)
8: Louisville vs. Vanderbilt (ESPN2)
Sunday, June 15
3: Texas Tech vs. TCU (ESPN2)
8: Ole Miss vs. Virginia (ESPN2)
Monday, June 16
3: Game 5 (ESPN2)
8: Game 6 (ESPN2)
Tuesday, June 17
3: Game 7 (ESPN2)
8: Game 8 (ESPN)
Wednesday, June 18
8: Game 9 (ESPN)
Thursday, June 19
8: Game 10 (ESPN)
Friday, June 20
3: Game 11 (ESPNU)
8: Game 12 (ESPN)
Saturday, June 21
3: Game 13 (if necessary) (ESPN2)
8: Game 14 (if necessary) (ESPN)
Monday, June 23
8: CWS finals: Game 1 (ESPN)
Tuesday, June 24
8: CWS finals: Game 2 (ESPN)
Wednesday, June 25
8: CWS finals: Game 3 (if necessary) (ESPN)
Eight players to key an eye on
UC Irvine RHP Sam Moore
The nation's leader in saves with 23, Moore has been a little shaky down the stretch, not getting a save in his past four appearances.
Texas OF Mark Payton
The Longhorn All-American has a streak of 101 consecutive games of getting on base. To put that in perspective, the MLB record is 84 by Ted Williams in 1949.
Vanderbilt RHP Carson Fulmer
Despite an underwhelming effort versus Stanford, this big gun No. 2 starter is the one who can win the Commodores' way into the title round and into the national championship with his lockdown ability.
Louisville RHP Nick Burdi
Any lead going into the eighth inning for the red & black is a near certainty with this 100 mph-flinging righty manning the bump. Burdi was taken in the second round by the Twins in the recent MLB draft.
Texas Tech SS Tim Proudfoot
An energizing force for the Raiders, Proudfoot hits .317 and teams with second baseman Bryant Burleson to form the best double-play combo in Omaha this week.
TCU RHP Riley Ferrell
Already with four saves in the postseason, Ferrell has been nearly unhittable. If Preston Morrison and Brandon Finnegan can go seven innings, the Frogs are a sure bet with Ferrell behind them.
Virginia 1B/DH/RHP Nick Howard
Opponents would be wise to not get behind these guys. Howard's 98 mph heater on the mound late in games has been a sure thing nearly all season, so late-game leads are safe.
Ole Miss 1B Sikes Orvis
Pardon the Mississippi State reference here, but he is this year's Wes Rea. He doesn't have the best batting average (.295) but his 14 home runs and 36 walks lead the team and make him a tough out.
#CWS25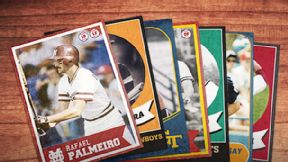 ESPN.com is counting down the top 25 big leaguers who have affected college baseball and the College World Series for the 25 days leading up to Omaha. #CWS25 »
Countdown to CWS
College World Series: June 14-25