Thrills and spills in the season's final days
By
Eric Sorenson
| Special to ESPN.com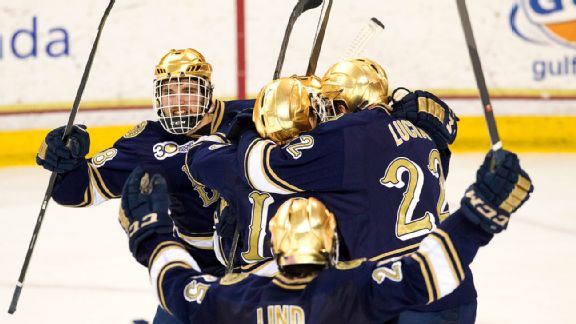 Richard T Gagnon/Getty ImagesNotre Dame pulled off a feat no one has been able to since Nov. 29 by beating Boston College.
Breathe deeply, puck fans. We're quickly drawing to a close of the 2013-14 season, even though we don't want it to end. Three of the six Division I conferences have ended their regular seasons and will start conference tournaments later this week.
The ECAC, Atlantic Hockey and Hockey East tournaments will drop the puck first in this postseason, with preliminary rounds of play getting under way on Friday.
Two of the three other conferences will be determined in the final weekend of regular-season play. The NCHC has North Dakota and St. Cloud State tied at the top with 42 points each after splitting a pair of games this past weekend. The top of the WCHA is deadlocked with Ferris State and Minnesota State both sporting 38 points, although the Bulldogs are 18-6-2 and the Mavericks have a 19-7 mark, giving them the tiebreaker with more wins.
In the Big Ten, Minnesota has a commanding lead over second-place Wisconsin, but the Badgers also have a big lead over third-place Michigan. Look for the Gophers and Badgers to finish as the top two teams and get the first-week bye in the Big Ten tournament as a result.
Here are some highlights and lowlights from the last few days of Division I action.
Top shelf
The best from the college hockey weekend.
1. Irish fight back


Nobody made a bigger jump in the PairWise Rankings this weekend than Notre Dame (20-12-2), and it came on the heels of just one game. Then again, when you go and beat No. 1-ranked Boston College (25-5-4) in Conte Forum, ending the Eagles' 19-game unbeaten streak, you deserve some big-time gloss. Notre Dame got an overtime goal from Vince Hinostroza to hand BC its first loss since Nov. 29. The win also allowed the Irish to spring up from No. 14 to a more comfortable No. 10 in the PairWise.
2. North to Alaska
That big whooshing sound you heard this weekend probably came from Fairbanks. The Alaska Nanooks (16-12-4) hosted then-No. 4 Ferris State (23-9-3) and swept both games. In Friday's 4-1 win, goaltender Sean Cahill saved a career-best 36 shots on goal. Then in Saturday's getaway game, the Nanooks scored two goals in the final four minutes of a 5-3 win. Alaska entered the weekend in fifth place in the WCHA standings, but bypassed Alaska-Anchorage and is now tied with Michigan Tech for third place with one weekend left.
3. Providential response


Going up to Maine's (15-13-4) Alfond Arena and taking two games is no small feat. The Black Bears had lost only once all season in their home abode prior to this weekend, when Providence (19-9-6) got ahold of them. The Friars notched 4-2 and 3-2 wins in Orono and, in doing so, increased their win streak to four straight, moving them into third place in the Hockey East standings. That means they'll get that all-important bye for the first round of the conference tournament.
Off the crossbar
The downside of the college hockey weekend.
1. Maine's last (home) stand


Don't tell the Black Bears that there's no place like home. Not after this weekend. Considering that their primary bugaboo had been going on the road, where they've won only once this season, it was stunning to see Maine lose twice to Providence in Alfond Arena. The losses caused the Bears to drop from No. 17 to No. 23 in the PairWise, and barring a big run in the Hockey East tournament Maine will be sitting at home for the NCAA tournament.
2. Northeastern gets bitten


Facing a team that had come in with a nine-game winless streak and hadn't even scored a goal in more than 172 minutes, you'd figure Northeastern (18-12-4) would be in good shape to add a few more W's to the ledger. Instead, NU played flat against the hobbled Boston University Terriers (10-20-4) and suffered stunning 4-1 and 4-2 losses, dropping the Huskies into a fourth-place tie with New Hampshire in the Hockey East. They now must travel to Durham, N.H., for the quarterfinal-round best-of-three. Also, the Huskies dropped to shaky ground in the PairWise, down to No. 14.
3. A not-so-Ferris statement
It wasn't a total Hindenburg weekend for the Ferris State Bulldogs. They made the long trek to Fairbanks and got jobbed 4-1 and 5-3 in two games, and that, coupled with Minnesota State's (21-13-0) sweep at Lake Superior (16-17-1), means those two teams are now tied atop the WCHA with one weekend left.
But there are two bits of good news: In this upcoming final weekend, the Bulldogs get eighth-place Lake Superior at home, meanwhile Minnesota State has to tussle with fourth-place Michigan Tech. The Bulldogs also still sit at No. 6 in the PairWise Rankings.
Off The Radar
The big helper
On Saturday, Trinity (Conn.) College's 9-1 win over Wesleyan in D-III NESCAC tournament play was highlighted by junior forward Jackson Brewer's six assists, which tied the program record for helpers in a game with William Bullard's six feeds against Quinnipiac in 1978. Brewer also broke the 36-year-old conference mark for assists in a season held by George Brickley, who tallied 40 for that same 1977-78 team. Brewer now has 42 assists as the No. 6-ranked Bantams advance to the semifinals for the second straight season.
Top Plays From Last Weekend