What to watch this postseason
By
Eric Sorenson
| Special to ESPN.com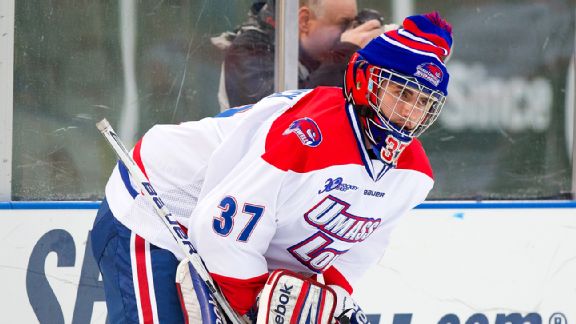 Richard T Gagnon/Getty ImagesUMass Lowell goalies, including Conner Hellebuyck, have given up the second fewest goals in Division I.
The postseason is here. So you know that means there is no tomorrow, no excuses and no mercy. You either show up to play or grab your golf clubs.
Thirteen Division I teams have already closed up shop for the season and many more casualties are coming up in the next few days. It's conference tournament crunch time for our fair sport, with an eye tilted toward the NCAA tournament in the coming weeks. It doesn't get any better than this time of year on the frozen pond.
Five teams to watch in postseason
Minnesota (24-4-6)
OK, a little obvious since Minnesota is the No. 1 team in the country. But you know how a hot goalie can carry a team? Adam Wilcox had 71 saves and gave up just one goal this weekend.
St. Cloud State (21-8-5)
Fresh off its NCHC regular-season title, this is a team playing with confidence right now. It has go-to guys in senior captain Nic Dowd (19 goals) and Jonny Brodzinski (20 goals), too.
UMass Lowell (21-9-4)
The RiverHawks can lean on the experience of their 2013 postseason run. Plus, goalies Connor Hellebuyck and Doug Carr and a sound defense are the reasons UML is second nationally in goals against, giving up just 66.
Notre Dame (21-12-2)
Sure, the Irish must face Boston College this week, but they did beat the Eagles two weeks ago for a huge PairWise jump. And Steven Summerhays has been unconscious in net lately and leads the country with seven shutouts.
Mercyhurst (19-12-7)
The Lakers have been scorching the nets, averaging nearly five goals a game in their six-game unbeaten streak. They are second nationally with 135 total goals, so if they force teams to play their pace, advantage Lakers.
Best and worst of the weekend
By
Eric Sorenson
| Special to ESPN.com
Top shelf
The top things that happened in college hockey this weekend.
1. Game 3s
Four conference tournament quarterfinals went to a third and deciding game on Sunday, making for some white-knuckle, winner-take-all finales. Holy Cross and Robert Morris out of the Atlantic Hockey Association and Clarkson and Dartmouth out of the ECAC advance with tight Sunday wins.
Side note: Shouldn't the NCAA tournament be best-of-threes throughout?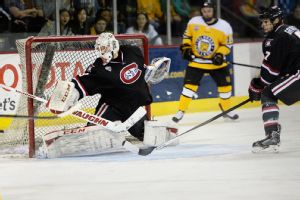 AP Photo/The Gazette/Christian MurdockRyan Faragher stopped 20 shots in St. Cloud State's NCHC regular-season-clinching victory.
2. St. Cloud State's championship
The Huskies won the first NCHC regular-season crown and Penrose Cup. Their 4-1 win over Colorado College at World Arena in Colorado Springs, Colo., coupled with North Dakota's stunning loss to Western Michigan, allowed SCSU to win its second straight conference title. Prior to last season's WCHA co-championship, the Huskies hadn't won a conference title in 25 years as Division I program. They played this past weekend without star defenseman Andrew Prochno and assists leader David Morley, who both should be back in time for next week's first-round best-of-three versus Miami.
3. Save your travel points; the battle for Alaska is on
In an almost serendipitous occurrence, Alaska-Anchorage's 3-1 win over Alaska on Saturday night means that the conference tournament pairings are set in the WCHA and it'll be the two Last Frontier teams matching up. Alaska comes in as the 3-seed and UAA will be the 6-seed. So no, Northern Michigan, you don't have to make that arduous trek to the big state this coming weekend, as many had projected.
Off the crossbar
The bottom things that happened in college hockey this weekend.
1. No hardware for North Dakota, yet
Oh, this is painful. I'm not sure anyone could've seen a shorthanded goal becoming the deciding factor in the NCHC regular-season title chase, but here we are. On Saturday night, Western Michigan's Colton Hargrove scored a shortie at the 7:56 mark of the third period, giving the Broncos the win over UND. It will be interesting to see how UND responds in the postseason, be it in a positive way or still tripping over its lip.
2. Finishing with a whimper
Boston University has seen better days on the ice. A proud program, the Terriers saw their season end with a 3-2 loss at Notre Dame on Saturday. It will be a contentious offseason, as they'll have to gnaw on the fact their 10-21-4 record is the program's worst (percentage-wise) since the 1961-62 season. But all is not lost as the Terriers were painfully young this season and will bring in a top-notch recruiting class for next season.
Top Plays From Last Weekend
Off The Radar
Yale is finally getting its White House visit
In case you don't recall, Yale won the 2013 national title way back on April 13 of last year. So it's been almost 11 months and the Bulldogs are just now getting their White House visit? On Monday, the Yale men's team and the Minnesota women's team will be among 19 NCAA champions from the 2012-2013 season to get their presidential visit. Look, I know these politicians are busy, but these things should be more timely, right?