Shortcuts and bumps on the road to Philly
By
Eric Sorenson
| Special to ESPN.com
>The regional rounds had a little bit of everything -- rivalries, hat tricks, extra periods, upsets and a couple of epic meltdowns. Let's break it down.
Top shelf
The best of the college hockey weekend
1. Not so kind to the legacy builders
Excuse Union if it wasn't in the sharing mood with its former coaches. On Friday, the Dutchmen took down Vermont 5-2, eliminating their former coach Kevin Sneddon. Then Saturday, The U eliminated Providence and its head coach Nate Leaman, whose previous stop was also in Schenectady, N.Y. Sneddon said after the loss on Friday that a few of the Union players thanked him in the handshake line for building the program.
"Considering they were probably just a couple years old at the time, I still thought it was a classy thing for them to say," he said.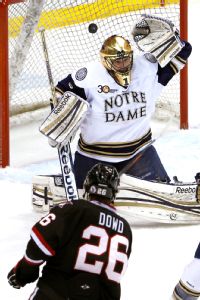 AP Photo/Ann HeisenfeltNic Dowd sent St. Cloud State to the West Regional final with an overtime goal.
If you are wondering if the same sentiments were shared with the Friars head man, think again. Coach Leaman was asked in the postgame news conference if any of the Union players thanked him in the handshake line, and his answer was rather terse.
"No, nobody did," he said.
2. Postseason overtimes
Is there anything more likely to make a hockey fan's heart race than a sudden-death finish in overtime? One unlucky bounce or one misplayed puck and a season comes to the most painful end imaginable.
We got two such matches in the regional round, starting when St. Cloud State beat Notre Dame 4-3 on Nic Dowd's goal 17:21 into the extra frame. The extended game might have had an effect on SCSU, as it fell flat against Minnesota the next day in a 4-0 loss in the title game of the West Regional. The Huskies got outshot 35-24 in the process. The second sudden-death finish of the weekend was epic. North Dakota, badly outshot all night long, finally found the back of the net on Connor Gaarder's shot 2:28 into the second overtime. The goal gave North Dakota the 2-1 win over Ferris State and a spot in the Frozen Four.
3. Just make it to the postseason
It's about time to give a shout-out to North Dakota head coach Dave Hakstol. His UND hockey team came into the weekend as the No. 4 seed in the Midwest and stormed to a pair of wins over No. 1 seed Wisconsin and No. 2 seed Ferris State to advance to the Frozen Four. Hakstol has now led North Dakota to the Frozen Four as a 1-seed, a 2-seed, a 3-seed and a 4-seed in his 10 seasons in Grand Forks. That proves it doesn't matter what seed you are, just get in the field of 16 and let it play out.
Off the crossbar
The down side of the college hockey weekend.
1. In this case, one really is the loneliest number
Despite a spirited effort in a back-and-forth game with North Dakota, Wisconsin has the indignity of being the only No. 1 seed not to win its regional this weekend, by a 5-2 count with two empty-netters. The Badgers' high-scoring group of seniors led the nation coming into the weekend, posting 4.83 points per game, but were held to just two. Ironically, it was Wisconsin's come-from-behind win over Ohio State in last week's Big Ten tournament that allowed North Dakota to make the tournament in the first place.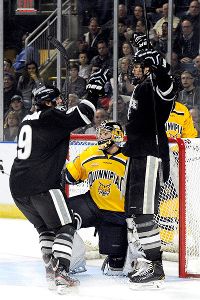 AP Photo/Fred BeckhamQuinnipiac laid an egg in its first-round loss to Providence.
2. The end of the downward spiral
With Friday's 4-0 skunking at the hands of Providence, Quinnipiac saw its promising season flame out unceremoniously. On Feb. 3, the Bobcats were 19-4-5 and ranked No. 3 in the country. Since then, it's been a series of potholes as they've limped to a 5-6-1 finish.
3. A whole lotte of Motte
Well, you can't blame Hobey Baker Award finalist C.J. Motte for Ferris State not making it to Philadelphia. The Bulldogs goalie did his part to the hilt, playing 142 minutes in the two games and giving up just two measly goals. In regulation play, Motte blocked 59 shots and allowed only one goal. He played an integral role in giving his team a shot at the Frozen Four to begin with, coming up big time in Friday's 1-0 clampdown of Colgate by stopping all 35 shots that came his way.
Meet The Teams
The Frozen Four field has been set. On To Philadelphia. In the order in which they won, here's who is packing their hockey bags for Rocky Balboa-town in two weeks.
Union College
East Regional champion
Region wins: Vermont, 5-2; Providence, 3-1
Note: The Dutchmen are on a nation's best 15-game unbeaten streak and have won 10 in a row.
North Dakota
Midwest Regional champion
Region wins: Wisconsin, 5-2;Ferris St., 2-1
Note: In the last 202-plus minutes of play, UND goalie Zane Gothberg has 91 saves and only three goals allowed.
Minnesota
Midwest Regional champion
Region wins: RMU, 7-3; St. Cloud St., 4-0
Note: Coach Don Lucia earned win No. 650 vs. the Huskies, making him 10th all-time in NCAA coaching wins.
Boston College
Northeast Regional champion
Region wins:Denver, 6-2; UMass-Lowell, 4-3
Note: The line of Johnny Gaudreau, Bill Arnold and Kevin Hayes combined for 19 points as Eagles won their 24th regional.
Semifinal matchups
Union-BC (5:00 p.m. ET on ESPN2/WatchESPN)
UM-UND (8:30 p.m. ET on ESPN2/WatchESPN)
It's a battle of neighboring state rivals and a battle of the Northeast. If Herb Brooks were still here, he'd be smiling. He did a pretty good job of bringing Northeasterners and Midwesterners together and making magic happen. UND and Minnesota are old rivals (UM holds a 145-130-15 edge since 1930) and have actually met each other three times in the last 10 years in NCAA play. UND won the first two, but Minnesota took the last showdown in 2012, 5-2, to send itself to the Frozen Four. Union and BC have nearly no history, only facing each other one time before, which was in last year's East Regional semifinals which the Dutchmen won 5-1.