Cerione comes up big for Georgia, puts Dawgs in CWS driver's seat
AP Photo/Eric Francis
Where The Wild Things Are
By Curt McKeever, Special to ESPN.com
OMAHA, Neb. -- Good luck finding someone tougher on Georgia's baseball team than Matt Cerione.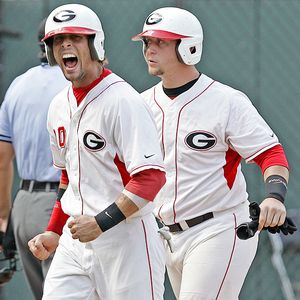 AP Photo/John Bazemore
Matt Cerione, left, helped Georgia knock Stanford out of the winners' bracket Monday.
The Bulldogs' sophomore center fielder lists playing in this year's SEC tournament as one of his top two highlights ever on a baseball diamond.
By the way, he knocked himself out of that event in the first game -- and out of action for a week -- while making a sensational catch against Mississippi just before running into the wall.
"I had a headache for about three, four days after [where] I felt like I was going to throw up," Cerione said Monday.
Some highlight.
"Yeah, it's huge," he continued. "I wish it would've ended a lot better, but you can't control that. It was [still] fun to be there. I had a great time. It's a great place to be."
Cerione's other highlight was winning a state championship at Chattahoochee (Ga.) High School. That, and his run-in with the wall at the SEC tourney, may soon be topped -- if they weren't already -- at the College World Series Monday night.
Cerione's two-run single with two outs in the seventh inning erased a 3-2 deficit to lift the Bulldogs to a 4-3 win over Stanford -- their second straight late-inning victory. With it, Georgia, which scored four ninth-inning runs on Saturday to beat Miami 7-4, grabbed the driver's seat to advance from their four-team bracket into the championship series.
Since his brush with the wall 11 games ago, Cerione, who also drove in a run with a fourth-inning double, has gone 19-for-36 to raise his average from .273 to .309.
On Monday, he got his eighth and ninth RBIs of that stretch after watching Bryce Massanari just miss slicing a three-run homer off the bottom of the right-field foul pole in Rosenblatt Stadium. The ball landed inches shy in foul territory.
"I was definitely excited," said the 6-foot-2, 190-pound Cerione, who came to the plate with the bases loaded after Austin Yount hit Massanari with the pitch following the long foul. "Once he got hit, I was thinking, 'Look the other way, stay on my legs.' One thing I didn't want to do was get out in front and roll over something."
The left-handed-hitting Cerione took a changeup for a strike before driving a curveball into center to score Gordon Beckham and Rich Poythress, who started the two-out rally with a single and a walk, respectively.
"I'm starting to get my swing back and I'm happy to be out there playing well," Cerione said.
Hairy Situation
By Curt McKeever, Special to ESPN.com
OMAHA, Neb. -- It's seems silly, really, for Dennis Raben to give in to superstition.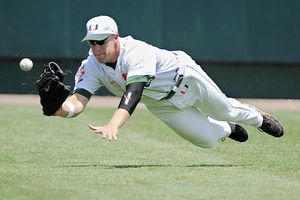 AP Photo/Ted Kirk
Dennis Raben's catch in the sixth inning may have been even more important than his two-RBI single.
The University of Miami junior right fielder, though not in the kind of offensive groove he'd like to be at the College World Series, has the kind of tools that made him a second-round pick of Seattle in the MLB draft.
But as Raben's roommate and Hurricanes center fielder Blake Tekotte wryly notes, "Hey, this is baseball, man. Everybody's superstitious."
As superstitious measures go, Raben's spikeless mohawk haircut -- something he received from Tekotte after he went 0-for-9 in the first two games of the Hurricanes' NCAA regional in Coral Gables, Fla. -- leans heavily on the mild side.
But don't be surprised if you see some of his teammates rubbing that scalp, looking for whatever magic it is he produced Monday to help keep the nation's top-ranked team's national title hopes alive.
The scoreboard in Rosenblatt Stadium read: Miami 7, Florida State 5.
For the Seminoles, owners of a nation-leading 54 victories, it spelled an all-too-common end for skipper Mike Martin, who, after 13 trips to Omaha, is still looking to drink his first championship toast.
Without Raben, though, the Hurricanes -- who blew a ninth-inning lead for the first time this season Saturday while being knocked off by Georgia 7-4 -- could have been going home 0-2 for the first time in their past 20 trips here.
It was in the third inning, with two outs, when Raben came to the plate with the bases loaded and Miami up 2-1. At the time, the 6-foot-3, 220-pound left-hander was batting all of a buck-54 in the NCAA tournament, so the Noles had to feel good about getting back in their dugout without suffering further damage.
For the complete story, click here.
CWS Soundtrack: O.A.R.'s "This Town"
STOCK UP/stock down
MONDAY
PLAYER
TEAM
POS
STOCK
Jason Castro
Stanford
C
Stanford's All-American led the way for the Cardinal, going 2-for-3 with a home run, walk and two RBIs. He is also 3-for-3 in throwing out runners attempting to steal during the CWS.
Matt Cerione
Georgia
CF
Cerione drove in three of Georgia's four runs, finishing the day 2-for-3 with a double and a walk.
Closers
It was a rough day for closers at the College World Series. Even the most heralded -- Miami's Carlos Gutierrez and Georgia's Josh Fields -- were touched up in their teams' wins.
Stephen Dodson
Georgia
RHP
In his second relief appearance of the season, Dodson tossed 3.2 innings of shutout relief. In his two appearances combined, he has tossed seven shutout innings.
Buster Posey
Florida State
C
The consensus player of the year finished his collegiate career with an impressive performance at the plate: 4-for-5 with a double, walk and an RBI.
Dennis Raben
Miami
RF
Raben's single to center kept Miami's rally in the third inning going and drove in two runs. He came up bigger in the field -- and you'll most likely see part of his performance on SportsCenter's Top 10 Plays.
Jemile Weeks
Miami
2B
Jemile Weeks has just two hits in the College World Series, but he's made them count: both have been home runs.
Postgame Extra: Miami
By The Numbers
By ESPN Research
8 Monday's Miami-Florida State game marked the eighth consecutive year in which teams from the same conference have played each other in the College World Series.
17 Florida State left 17 men on base against Miami, tying the record for stranded players in a nine-inning game. The last time a team left that many on base was in 1951, when Springfield college stranded 17 in a loss to Oklahoma.
231 Tonight's game was the 231st CWS game decided by one run -- but the first since UC Irvine's 8-7 win over Arizona State in 2007.
Postgame Extra: Georgia
On Tap At The CWS
All times Eastern
Tuesday, June 17
Game 7 -- Rice vs. LSU, 2 p.m. (ESPN2/ESPN360)
Game 8 -- Fresno State vs. UNC, 7 p.m. (ESPN2/ESPN360)
Wednesday, June 18
Game 9 -- Miami vs. Stanford, 7 p.m. (ESPN2/ESPN360)

For the full schedule, click here.