Fresno State's Cinderella run continues with defeat of UNC
AP Photo/Eric Francis
Wild Card
By Curt McKeever, Special to ESPN.com
OMAHA, Neb. -- Don't let the aw-shucks appearance that Danny Muno gives off fool you.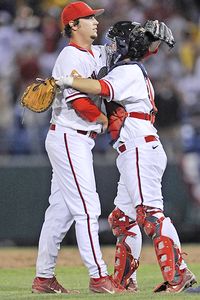 AP Photo/Dave Weaver
Fresno State is 2-0 in the College World Series after beating UNC.
Fresno State's 19-year-old true freshman shortstop, who looks like he could go a week without shaving, is hardly your typical College World Series rookie.
Ask him what he was doing this time last year, and you'll begin to understand why he's been so cool coming through for the Bulldogs under the bright lights in crammed Rosenblatt Stadium.
"I was playing at Dodger Stadium for the CIF championship for Southern California," Muno said after Fresno State's 5-3 victory against North Carolina here Tuesday moved the Bulldogs one win from the CWS championship series. "A little experience helps, but you've just got to treat it like another game. You can't think about the fans or the situations of the games."
As the only No. 4 regional seed ever to advance to Omaha, Fresno is the darling of this field. Clearly, though, the Bulldogs are proving that they're more than just happy to be here.
Tuesday's outcome put Fresno in a coveted position. Sixteen of the past 18 College World Series champions have started the event 2-0.
The Bulldogs took a 4-3 lead Tuesday on Alan Ahmady's two-run single off reliever Brian Moran with one out in the fifth inning. Moran was trying to bail right-handed junior Adam Warren out of a bases-loaded, no-out jam. But Warren would end up with only his second loss in 24 career decisions.
"I wouldn't describe them as playing with nothing to lose," North Carolina coach Mike Fox said of Fresno, which in its past four wins has beaten the Nos. 2, 3 and 6 national seeds. "When you get here, everyone's equal."
Muno, who during Sunday's 17-5 win against Rice hit his third homer of the season and drove in five runs, was on base all five times Tuesday. For the series, the WAC Freshman of the Year is 5-for-9 (.556).
"I always dreamt about coming here," said the 5-foot-7, 170-pounder from Thousand Oaks, Calif. "Amazing feeling."
Kind of like the one he had this time last year.
And just in case you don't know how Muno's Loyola High team fared in Dodger Stadium, here's the skinny:
"We won," he said. "Even there, we were the underdogs. We were a wild card going in."
Ninth Lives
By Curt McKeever, Special to ESPN.com
OMAHA, Neb. -- LSU designated hitter Blake Dean is trying to focus on picking out a fastball from Rice's super stopper Cole St. Clair that he can turn on in the ninth inning at the College World Series here Tuesday.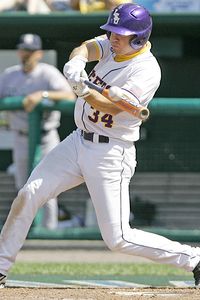 AP Photo/Dave Weaver
Blake Dean's three-run double in the ninth inning extended LSU's season.
Amid this defining moment for both teams at the College World Series -- and with a Rosenblatt Stadium crowd of 19,103 at its most deafening pitch -- Dean still keeps replaying the heartfelt speech Paul Mainieri delivered to him and his teammates when things weren't nearly as magical for the Tigers back in late April.
Mainieri's club had the second-worst league record in the SEC, and time was definitely not on its side.
"Coach came in one day and sat us down in the locker room. We were kind of in a slump -- 6-11, I think -- and he just told us, 'I just want you guys to know that I believe in you. It's not over, let's go out there and go game by game,'" Dean recalled. "He kind of just spilled the beans to us what he thought and felt, kind of personal.
"That showed us how much he cared about us, and that just flipped the switch and it all went from there."
As sophomore catcher Sean Ochinko noted, where the Tigers are today defies logic.
LSU was held to just two hits and trailed Rice 5-0 entering the seventh inning. The sleepwalking Tigers, still down 5-2 with no one on base and one out in the ninth, watched Dean cap a four-run uprising with his three-run double off the left-field wall.
For the complete story, click here.
Highlights: LSU's Dramatic Comeback
STOCK UP/stock down
MONDAY
PLAYER
TEAM
POS
STOCK
Jared Bradford
LSU
RHP
Bradford recorded 10 strikeouts against Rice, a season high. He had only 10 strikeouts over his past six appearances (16 innings of work), dating back to May 15.
Cole St. Clair
Rice
LHP
Rice's senior closer didn't have his best performance in the loss to LSU (2.2 IP, 7 H, 4 ER), but that shouldn't tarnish an otherwise outstanding collegiate career.
Blake Dean
LSU
DH
Dean went 2-for-4 with two doubles and three RBIs against Rice and is hitting .441 (15-for-34) with a homer, five doubles and seven RBIs in eight NCAA tournament games.
North Carolina
UNC entered Tuesday's game as the only undefeated team in the tournament and was averaging 9.8 runs and batting .359 as a team in tourney games. The Heels mustered just three runs against Fresno State.
Holden Sprague
Fresno State
RHP
Sprague offered the Bulldogs 2.2 innings of scoreless relief, scattering three hits and tallying three strikeouts in the win.
Postgame Extra: LSU
By The Numbers
By ESPN Research
5 The last five national champions were all teams that had traveled the road to Omaha the previous season. Entering this year's CWS, North Carolina and Rice held a distinct experience advantage over the rest of the field. After tonight's games, only UNC remains in the hunt, but the Heels must win three more games to get to the CWS finals.
14 Stanford is seeking the 14th NCAA team championship for the Pac-10 this academic year, which would tie the record for any conference (set by the Pac-10 in 1996-97). The Cardinal have already won the women's cross country title.
37 LSU's win on Tuesday marks the 37th time a game has been won in the bottom of the ninth inning and the first since the 2005 College World Series. It was also the third game in this CWS decided on a team's last at-bat (the others: Stanford and Georgia on Day 1).
Highlights: Fresno State's Upset
On Tap At The CWS
All times Eastern
Wednesday, June 18
Miami vs. Stanford, 7 p.m. (ESPN2/ESPN360)

Thursday, June 19
LSU vs. UNC, 7 p.m. (ESPN)

For the full schedule, click here.