Cinderella season continues for Fresno State
AP Photo/Eric Francis
Dogs' Day
By Curt McKeever, Special to ESPN.com
OMAHA, Neb. -- The beginning of the end for Fresno State's 2008 baseball team could have come on the opening weekend of the season, when the Bulldogs split a four-game series with UC Davis, a new NCAA Division I program.
"Oh yeah. I was thinking 'How did this happen?' I mean, we're supposed to be something this year," junior second baseman Erik Wetzel said.
Perhaps now -- with Fresno having not only become the first No. 4 regional seed to make the College World Series but now about to play Georgia in the best-of-three championship series that begins Monday night (ESPN2, 7 ET) -- we should understand Wetzel's reaction Saturday after North Carolina's Chad Flack hit a two-run homer in the eighth inning to deliver the Bulldogs a crushing 4-3 defeat.
"There's nothing to be demoralized about because that's a good team in the other dugout," Wetzel said. "We're not thinking about our backs being to the wall. We're just going out and playing baseball."
But, come on. To continue its Cinderella story, Fresno, a team that had suffered its 30th loss of the season, would have to somehow find a way to stop a rolling boulder and win a second game against a team full of players who'd been to the championship series the past two seasons.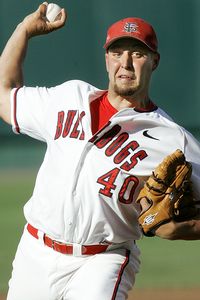 AP Photo/Nati Harnik
Clayton Allison kept Carolina's bats at bay.
And the person put in charge of starting that task, senior right-handed pitcher Clayton Allison, hadn't thrown since June 8 because of tendonitis in his shoulder.
When Allison left Sunday's game after six innings, he'd reduced the Tar Heels to bits, giving up just one run on six hits. His teammates then saluted that effort by scoring two more runs in the bottom half of the sixth inning to put a cap on a 6-1 victory.
Indeed, there's more left to this fairy tale.
"That was a gusty performance when we needed one the most," Fresno State coach Mike Batesole said. "What Allison did today was really, really special. That was a mental win. It didn't have much to do with what he had physically."
If the Bulldogs aren't the most-charmed team in the country right now, they're probably the strongest mentally.
No team with 30 losses has ever made it to where they stand. (Stanford won the 1988 title with 23 losses, the same number that Georgia has this season.)
In the regular season, Fresno State won two games against nationally ranked competition, but all eight of its NCAA tournament victories have come against clubs in the Top 20.
If the Bulldogs can add two more to that total, they'll be the fifth straight team that wasn't a top eight national seed entering the NCAA tournament to win the crown.
"This win's a little bit sweeter, knowing that we were facing elimination for the first time in this tournament and knowing that we're going to be one of two teams now fighting it out for a national championship," said right-handed senior Brandon Burke, who gave up just two hits while finishing off Carolina over the final two innings. "I mean, if you look at the way we started, where we're at now is just inconceivable. It's just been an amazing season."
And to think, Fresno has been able to create its late-season magic with its plow horse pitcher, second-round Major League draft pick Tanner Scheppers, in the barn with a slight rotator cuff tear.
"We miss him dearly, but having everyone group together and work as a team together is bigger than any one player," Wetzel said. "Everyone's doing something."
Every starter has scored at least two runs in the Series.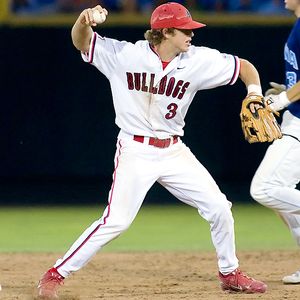 Robert J. Meyer/US PRESSWIRE
Eric Wetzel and the Bulldogs expected to be successful this season.
The No. 3 hitter Wetzel, a 15th-round draft pick, is 9-for-19 (.321). Sophomore first baseman Alan Ahmady, who hits fifth, is 6-for-14 (.300) with five walks. Freshman leadoff hitter and shortstop Danny Muno is 6-for-15 (.286). And sophomore third baseman Tommy Mendonca is 5-for-16 (.238) with seven RBIs out the sixth spot.
On Sunday, Mendonca drove in four runs to bring his NCAA tournament total to a team-high 16. His first two came in the third inning on a single during a nine-pitch at-bat, during which he watched Ahmady get caught too far off first by catcher Tim Federowicz for the second out.
"When Ahmady got picked, it kind of got their hopes up," Mendonca said. "But we always have a good two-strike plan, and it worked out. You could say we got lucky, you could say it was good, but we did what we had to do."
It was all the run support his pitchers would need facing a Tar Heels team that before Sunday had scored at least two runs in all but two of its 67 games.
The Bulldogs were just getting started, though, applying pressure in each of the first six innings (and scoring in four of those) against a staff that had compiled the nation's best earned-run average.
"These guys are worn down, they're ground down and they still find a way to focus for nine innings," said Batesole, whose club played its last home game on May 11.
Since then, the Bulldogs won the Long Beach (Calif.) Regional by beating San Diego one day after losing to the Toreros 15-1, and then sealed its first trip to Omaha since 1991 by defeating No. 3 national seed Arizona State twice in Tempe, Ariz., after dropping the opening game of that super regional 12-4.
"We haven't been playing with any pressure on ourselves, any way, so why start now?" Wetzel said. "I think we're pretty stubborn. We're still thinking that we are 'The Cinderella.' "
Batesole isn't about to change that perception, either, as his squad tries to become the first from outside a power conference to win the national title since Rice did it in 2003.
"You look at the two clubs on paper," he said of Fresno State and Georgia, "and you'd have to think that."
The thing is, his bunch doesn't know any better than to keep dancing.
"We've got plenty left," Batesole added. "I'm a little concerned about who's going to pitch tomorrow, or Tuesday. Wednesday, we might be able to rally the troops a little bit. But you might see six or seven guys go out there both tomorrow and Tuesday.
"It's not going to be a typical try to roll your starter out there for seven innings. It's probably going to be a bunch of guys trying to get three outs. This team has a way of finding a way. They found their way this far."
Fan-demonium
By Elizabeth Merrill, ESPN.com

OMAHA, Neb. -- The morning commute crawls up the road while Little Dingerville sleeps. You know it's been a long night when Mr. Edgar is still in bed at 7 a.m., when the sanitation truck rumbles and beeps in to change the porta-potties. Normally, this is Edgar Guilbeau's favorite time of the day. He'll put on a pot of coffee, his folding chair perched in the shadow of Rosenblatt Stadium, and take in the scene while the fellas are snoring in the RV.
For the complete story, click here.
Highlights: Georgia
STOCK UP/stock down
SUNDAY
PLAYER
TEAM
POS
STOCK
UNC's Offense
North Carolina's offense has trailed off in the CWS for the third straight year. The Heels have lived on the edge in Omaha, and it caught up to them Sunday night, as they stranded 10 and managed just one run.
Clayton Allison
Fresno State
RHP
Allison, who has struggled with injuries at the CWS, exceeded all expectations on the mound Sunday night. He pitched six innings, giving up just one run and striking out six.
Tommy Mendonca
Fresno State
3B
Mendonca's two-run single in the third got Fresno State on the board and his double in the fourth scored Alan Ahmady and gave the Bulldogs a 4-1 lead in the fifth inning.
End Of The Road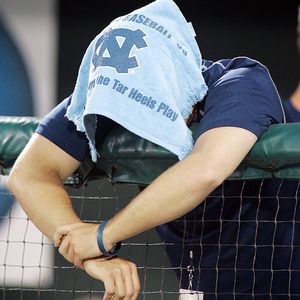 AP Photo/Eric Francis
North Carolina came within a win of reaching its third straight championship series.
By The Numbers
By ESPN Research
1 The matchup between Bulldogs' will be the first time in College World Series history that the two schools participating in the finals have the same nickname.
8 After defeating North Carolina on Sunday, Fresno State has won eight NCAA tournament games against teams in the top 20.
23 Stanford's 1988 team stands as the team with the most losses (23) to win the College World Series. Fresno State has 30.
54 North Carolina notched its 54th win on Saturday, matching Florida State for the national lead. Both teams have been eliminated from the College World Series.
Postgame Extra: Fresno State
Year Of The Dawgs?
By Curt McKeever, ESPN.com

OMAHA, Neb. -- David Perno knew how outsiders could perceive his perpetual optimism for Georgia's 2008 season -- he was a guy in need of a quick turnaround.
He wouldn't have argued, either.
One year after taking the Bulldogs to their second College World Series in three seasons, Perno's 2007 team finished 23-33 and didn't even qualify for the SEC tournament.
For the complete story, click here.
On Tap At The CWS
All times Eastern
Finals
Monday, June 23
Fresno State vs. Georgia, 7 p.m., (ESPN2)

Tuesday, June 24
Georgia vs. Fresno State, 7 p.m., (ESPN)

Wednesday, June 25
Georgia vs. Fresno State (if nec.), 7 p.m., (ESPN)

For the full schedule, click here.