After surrendering late rally to Georgia, Fresno State looks to bounce back
AP Photo/Eric Francis
Bounce Back Bulldogs?
By Tim Griffin, ESPN.com
OMAHA, Neb. -- Fresno State doesn't exactly have Georgia where it wants it after falling behind in the best-of-three championship series.
But nobody ever said that Cinderella's trip to the ball was going to be an easy one -- particularly after the Bulldogs' disappointing 7-6 loss Monday night.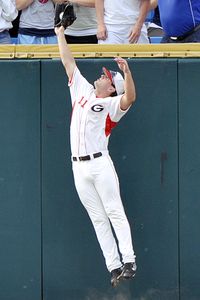 AP Photo/Ted Kirk
Georgia left fielder Lyle Allen robbed Fresno State's Steve Susdorf of a home run in the fourth inning.
Fresno State has battled adversity throughout the tournament, becoming the cuddly, feel-good story and emerging from "Underdogs" to its self-proclaimed title of "Wonderdogs" with a series of stunning victories.
Monday marked the 39th straight day that Fresno State has been on the road. The Bulldogs have needed an atlas to navigate their way from Sacramento, Calif., to Ruston, La., to Long Beach, Calif., to Tempe, Ariz., before coming to Omaha.
To wrap up their first national championship, the Bulldogs will have to rebound and hang around for two more nights. And even after squandering a three-run lead in the eighth inning, Fresno State players were confident about their chances.
"We've been at it in the regional, the super regional and here," Fresno State third baseman Tommy Mendonca said. "Last night, we were in the same position. We just have to go out and play. Tomorrow is another day."
To get to the championship series, Fresno State has won eight tournament games against five teams ranked in the top 20. They bounced back from elimination games in the regional, super regional and earlier in the College World Series, winning all four games.
"It was like this at Arizona State," Fresno State right fielder Steve Detwiler said. "We've been here before. I know we'll do everything we can to come back tomorrow. Because it's going to be a dogfight."
Injuries left Fresno State with a makeshift pitching rotation against Georgia that included Sean Bonesteele, Jake Floethe, Kris Tomlinson and Jason Breckley as its first four pitchers. All had earned run averages of more than 6.75 before the game.
But the group combined to limit Georgia to four runs and seven hits through seven innings. But Fresno State relief ace Brandon Burke struggled as Georgia rallied for four runs in the eighth inning to reclaim the lead for good.
"I think if you told me we'd hold that offense to seven with the arms we had, I would have taken it," Fresno State coach Mike Batesole said. "We knew with the arms we had available we wouldn't strike out too many guys. We thought we would strike out more than one and that was really the difference."
More of the same will be needed by Fresno State on Tuesday if the Bulldogs hope to extend the tournament to a third game.
"We're going to somehow piece it together again on Tuesday," Batesole said. "It will be the same thing. You'll probably see five, six or seven guys throw and at least four of these guys will throw tomorrow."
Man On Fire
By Tim Griffin, ESPN.com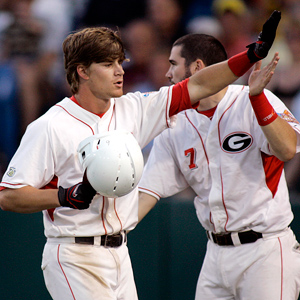 AP Photo/Eric Francis
Gordon Beckham broke Georgia's home run record when the Dawgs needed it most.
OMAHA, Neb. -- With a safe lead earlier in the tournament, Georgia coach David Perno joked that he was finally ready to see slugging shortstop Gordon Beckham snap the school record for career homers.
Perhaps owing to his sense of heightened drama, Beckham told his coach he was willing to wait a few nights to make his record-breaking blast really memorable.
"Everybody was giving me a bunch of grief for not breaking that record," Beckham said. "I told Coach I wanted to break it when we really needed it the most. Tonight, I guess, was a pretty good time to do it."
For the complete story, click here.
Highlights: Georgia's Rally
STOCK UP/stock down
MONDAY
PLAYER
TEAM
POS
STOCK
Gordon Beckham
Georgia
SS
Beckham's home run in the eighth got Georgia back in the game and his play in the field kept Fresno State from scoring. It was his 27th of the year (second nationally) and his first two RBIs at the CWS,
Brandon Burke
Fresno State
RHP
Burke, who has had an otherwise outstanding CWS to date, was on the mound for Georgia's fateful eighth-inning rally. He gave up three earned runs in the one inning he pitched.
Josh Fields
Georgia
RHP
Fields tallied his 18th save of the season against Fresno State -- possibly his most important. He's now 18-for-18 in save opportunities and sports a 0.47 ERA in 18 innings of work.
Hairy Situation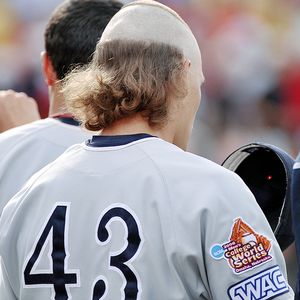 AP Photo/Ted Kirk
Superstitious athletes sometimes shave their heads for luck -- but after the Game 1 loss, will Fresno State's Kris Tomlinson lose the skullet?
By The Numbers
By ESPN Research
7 Trevor Holder's seven innings represented the longest start by a Georgia pitcher since Holder tossed 8 2/3 innings of seven-hit ball against North Carolina State on June 6. He is the first Georgia starter to reach the fifth inning in the CWS.
14 Monday's game was the ninth come-from-behind win in 14 games in the 2008 CWS, and third by Georgia in Omaha. The Bulldogs overcame a 4-3, ninth-inning deficit against Miami and a 3-2, seventh-inning deficit against Stanford.
14 Of the 14 games in the 2008 CWS, 11 have been won by relievers -- including Will Harvil's win on Monday night. All four of Georgia's wins in Omaha have been by its bullpen.
Postgame Extra: CWS Finals Game 1
On Tap At The CWS
All times Eastern
Tuesday, June 24
Georgia vs. Fresno State, 7 p.m., (ESPN)

Wednesday, June 25
Georgia vs. Fresno State (if nec.), 7 p.m., (ESPN)

For the full schedule, click here.