Fresno State gets support from unlikely places in Game 2 win
AP Photo/Dave Weaver
Out Of This World
By Tim Griffin, ESPN.com
OMAHA, Neb. -- Fresno State pitcher Holden Sprague's impish way of stretching the truth has made him one of his team's most popular players.
But coach Mike Batesole is happier how Sprague stretched the Bulldogs' season for another night with a gritty pitching effort Tuesday night.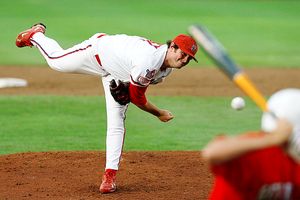 Kevin C. Cox/Getty Images
Holden Sprague picked up a crucial win for the Bulldogs in Game 2.
Sprague yielded eight hits and five runs in a less than stellar 3 1/3-inning effort. But considering the way his team hit in its 19-10 pounding of Georgia, just gobbling up a few innings was huge for the beleaguered Fresno State pitching staff.
"The ball was given to me, but the key was our offense," said Sprague, who notched the win as the second of three Fresno State pitchers. "I was fortunate that I was able to get them to put the ball in play and our guys made the plays when we needed them to."
Sprague is known as a free spirit among his teammates. He listed his father's occupation as an astronaut in the Fresno State media guide before the season.
"Last season, they switched things up and he was listed as a kindergarten teacher and my mom was listed as a financial planner," Sprague said. "So he said that if he can be listed a kindergarten teacher, he could just as easily be an astronaut."
Don Sprague joked after Tuesday's game that he was heading out for a space shuttle launch. But the Bulldogs' improbable charge to the College World Series title game has left his family with more immediate plans than his pretend occupation.
His son's work bought time for a worn-out Fresno State pitching staff that should now be better settled for Wednesday's championship game (ESPN, 7 p.m. ET).
The staff was further bolstered by the efforts of Jake Hower, who earned his first save by limiting Georgia to two hits over the final three innings. It was Hower's first work since May 17 and his first postseason action of the season.
Sprague and Hower have set up Fresno State's pitching staff nicely for Wednesday's deciding game. Left-handed pitcher Justin Wilson will start on three days' rest in his first work since a 5 1/3-inning effort against North Carolina on Saturday.
"He'll be on short rest, but he'll have plenty of adrenaline flowing," Batesole said. "Hopefully that will be enough to get him through three or four innings."
Clayton Allison could also be ready after a quick recovery from tendinitis, which has hampered him in Omaha.
Georgia coach Dave Perno will counter with left-hander Nathan Moreau, who lasted only 2 1/3 innings in the Bulldogs' 10-8 victory over Stanford on Saturday, the victory that pushed them into the CWS finals.
Perno also said that Dean Weaver, Alex McRee and Joshua Fields would be ready if needed in the deciding game for his team.
"Everybody else will be cheerleading," Perno said. "Those are the guys who got us here and this one will be for all the marbles."
Pluck Be A Bulldog
By Tim Griffin, ESPN.com
OMAHA, Neb. -- Even if the Fresno State players don't realize how far they've come over the last six weeks, the gravity of the Bulldogs' improbable charge through the College World Series finally hit home with their coaches.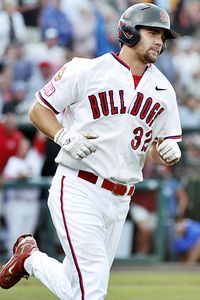 AP Photo/Ted Kirk
Tommy Mendonca's three-run homer in the third sparked Fresno State's comeback.
Late during Fresno State's wild 19-10 comeback victory over Georgia in Game 2 of the CWS finals Tuesday night, several veteran coaches shook their heads, bemused as they considered what has happened for the team that calls itself "The Wonderdogs."
"This is just amazing," veteran Fresno State assistant coach Mike Mayne said. "At the end of the game, we're sitting there looking at each other. Tomorrow will be for the College World Series championship."
This was the same Fresno State team that had lost 10 out of 15 games late in the season and entered the WAC tournament only six games above .500. The Bulldogs needed a WAC tournament win just to make the NCAA field of 64, and even then were only awarded a No. 4 seed in the Long Beach Regional -- the equivalent of being seeded 13th through 16th in the NCAA basketball tournament.
"Honestly, all we were trying to do is just make a regional," Fresno State left fielder Steve Susdorf said. "To make it this far is definitely a dream. There's something going on here -- something above all of us."
Strong Fresno State hitting had as much to do with Tuesday's victory as any divine intervention that Susdorf might be hinting at. The Bulldogs pounded 19 hits against seven Georgia pitchers, putting the game away with a 15-run, three-inning blitz that turned the game into a rout after Fresno fell into an early 5-0 hole.
"The biggest thing was there was no sense of panic," said Susdorf, who collected four RBIs to lead the hitting binge. "We just realized what we had in front of us and went out and did it."
Fresno State (46-31) took the lead with six runs in the third inning in a rally punctuated by a three-run homer by Tommy Mendonca. It was his fourth homer of the series and tied a record set eight times previously, most recently by Louisville's Logan Johnson last season.
"We were rallying and that helped make it into a huge inning," Mendonca said. "We just started rolling after that and it gave us a big boost."
After Georgia (45-24-1) tied the score in the fourth, Fresno State put the game away with five more runs in the fourth keyed by a two-run triple by Danny Muno and a two-run single by Ryan Overland.
Such situational hitting helped explain Tuesday's turnaround after Fresno State struggled with runners in scoring position earlier in the tournament. The Bulldogs had collected only four hits in their last 31 at-bats with runners in scoring position before the victory, which evened the best-of-three championship series.
For the complete story, click here.
Lucky Dawg
By Ryan McGee, ESPN The Magazine

OMAHA, Neb. -- As the sun finally disappeared over the south parking lot of Rosenblatt Stadium on Monday night, the Georgia Bulldogs gathered with fans and family alongside the team bus to celebrate a gutsy Game 1 win over Fresno State. Nearly everyone in the starting lineup played a crucial part in the team's fourth straight come-from-behind win of the College World Series. Now the team sits just one game away from the school's second baseball title. There were plenty of smiles to go around, but no one was sporting a bigger grin than Bulldogs catcher Bryce Massanari.
For the complete story, click here.
Highlights: Fresno State
STOCK UP/stock down
TUESDAY
PLAYER
TEAM
POS
STOCK
Georgia's pitchers
The Dawgs' aces were anything but in Game 2, giving up a CWS finals record number of hits (19) and runs (19).
Jake Hower
Georgia
RHP
The Bulldogs' senior righty earned his first career save with three innings of shutout relief Tuesday night, striking out three, walking one and allowing just two hits.
Tommy Mendonca
Fresno State
3B
Mendonca's third-inning homer was his fourth of the 2008 CWS, tying a single-series record. He leads all players in the CWS in homers (four) and RBIs (11).
Danny Muno
Fresno State
SS
Fresno State's freshman shortstop broke out of his slump in Game 2; he went 3-for-4, scoring four runs and recording 2 RBIs.
Pro Prospects
By Orel Hershiser, ESPN.com

OMAHA, Neb. -- Seven first-round draft picks reached the College World Series in Omaha, with two making it to the finals: Georgia closer Joshua Fields and shortstop Gordon Beckham, who have helped lead the Bulldogs to within one win of winning the school's second title. Kidded by his teammates before Game 1 that he hadn't hit a home run in a while, Beckham -- the SEC Player of the Year -- told his coach he'd go deep when the team needed it most. And in the eighth inning of Game 1, Beckham hit a two-run home run that cut Fresno State's lead to 6-5. The eighth overall pick in the draft by Chicago White Sox, Beckham will take some time to make the transition from aluminum to wood bats, but he could be in the big leagues within a year or year and a half, depending on where the White Sox feel he fits and what position he'll play. Georgia's lights-out closer Fields (the 20th overall pick by the Seattle Mariners) is close to being big-league ready once he knocks the rough edges off as far as command and mechanics. With Seattle having a bad year, I don't see the Mariners rushing Fields to the big leagues. But with a 95-98 mph fastball and an 82 mph curveball that drops off the table, Fields should be part of the rebuilding process in Seattle. He reminds me a lot of Angels closer Francisco Rodriguez with that over the top, aggressive delivery and a big breaking ball. Fields was a second-round pick of the Braves in 2007 but opted to return to school for his senior season. Georgia played the Braves in spring training this year, and after Fields pitched against Atlanta, Braves manager Bobby Cox wished they'd been able to sign him. But Fields was at peace with his decision to turn down a big signing bonus to return to Georgia.
By The Numbers
By ESPN Research
5 The five-run deficit that Fresno State overcame equaled the largest in the CWS finals game. Oregon State overcame a 5-0 deficit against UNC on June 25, 2006, a game the Beavers won 11-7.
10 Game 2 marked the 10th of 15 College World Series games in which the winner had to battle back from a deficit to win.
24 Georgia's Game 2 loss was its 24th of the season, which guarantees that the 2008 College World Series champ will set the record for the most losses and the lowest winning percentage by a CWS champion. Fresno State has 31 losses. The 1998 Stanford squad (46-23) currently holds both records -- most losses (23) and lowest winning percentage (.667).
Postgame Extra: CWS Finals Game 2
On Tap At The CWS
All times Eastern
Wednesday, June 25
Fresno State vs. Georgia, 7 p.m., (ESPN)

For the full schedule, click here.