Braun is working on turning the tide for the Owls
Rice's 2009 Recruiting Class A Symbol Of Good Things To Come
By Scott Duncan
Special to ESPN.com
Arsalan Kazemi had a choice.
The 6-foot-8 power forward could have opted for a major conference power -- Louisville, Maryland and Syracuse were among his suitors. Or he could have ignored the traditions and past national titles and chosen Rice, which went 3-27 a season ago and last appeared in the NCAA tournament in 1970.
No question for Kazemi (Patterson, N.C./The Patterson School). The Iran native never hesitated. He went the nontraditional route, leaving the major-conference offers on the table and picking Rice.
"All of those other schools, everyone has heard of those schools," said Kazemi, the ESPNU No. 44 power forward in the 2009 class. "No one has been hearing about Rice basketball. We want to make it a known program."
In Ben Braun's first fall as head coach of the Owls, the signings of Kazemi and three other talented prospects have energized the program a season after Rice posted three wins. Braun, whose previous coaching stops include California and Eastern Michigan, said that he does not like to compare classes with others he has signed but that he believes this one stacks up favorably.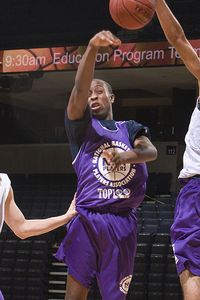 Jason O. Watson for ESPN.com
Guard Tamir Jackson, the top-rated prospect in Rice's 2009 class, could have an immediate impact for the Owls.
Joining Kazemi next season at Rice will be No. 30 SG
Tamir Jackson
(Newark, N.J./St. Benedict's), No. 55 SF
Chris Eversley
(Chicago/Walter Payton College Prep) and No. 132 PF
Egheosa Edomwonyi
(Princeton, N.J./The Hun School).
"This class is a good one. I think we're all really excited," Braun said. "They all have had great high school careers. They are all winners.
"It was a good time for this class to come to Rice. They are going to be able to support what we have already built and then take it and build it even further."
How was Braun able to attract top recruits to the program a year after the Owls lost 27 games? Instead of ignoring the recent struggles, he used the 3-27 record to offer players a chance to make a name for the program.
The opportunity to reconstruct Rice from the ground level was what attracted Eversley, who chose Rice over offers from Horizon League schools Illinois-Chicago and Wright State. He said Braun's record (557-398 in 32 seasons) and his track record in making the postseason (eight NCAA tournament bids and four NIT appearances at Cal and Eastern Michigan) led him to Rice.
"There's no question that coach Braun is a proven winner," Eversley said. "Getting down there and playing under him, I think we all know we can start something special. Everyone is saying that Rice is on the bottom of [Conference USA], and I want to help change that."
With last year's national runner-up finish, Memphis bolstered the image of Conference USA. While the gap between Memphis and the bottom half of the conference remains, the model for a top-flight program to develop in Conference USA exists for schools like Rice.
The turnaround from a 3-27 season has begun, as the Owls surpassed last year's win total in the ninth game of this season. Rice has posted a 5-9 record, heading into Wednesday's Conference USA game against Southern Methodist.
This fall's recruiting class has the opportunity to push the turnaround further along. The class features four highly regarded players with a variety of skills.
Kazemi, who passed over Oklahoma State and Seton Hall in addition to Louisville, Maryland, and Syracuse, presents an inside-outside threat with smooth post moves and an ability to hit the three-point shot.
In Jackson, Braun pulled in one of New Jersey's top prospects. The 6-2 shooting guard has started for three years for St. Benedict's, one of the nation's top high school basketball programs. He had scholarship offers from two ACC schools, Miami and Virginia Tech.
Jackson was the first to commit in this class.
"I give him a lot of credit for not waiting to see what other players were going to be part of this class," Braun said. "He had faith in what we have going here."
Edomwonyi, also from New Jersey, runs the floor well, can command double-teams in the post and step out and hit the mid-range jumper. In signing with Rice, the 6-foot-7 power forward turned down offers from Cleveland State, Drexel, Furman, New Hampshire, Penn and Vermont.
Braun said Eversley, a small forward, is the sleeper in the class. Braun cited Eversley's explosiveness and defensive abilities as his strengths.
"One of the things we like about this class is that each guy brings his own element to the program," Braun said.
With his first early signing class, Braun took a national approach in his recruiting efforts. He hit on three regions, getting two players from New Jersey, one from North Carolina and one from Chicago.
He said that the broad scope was intentional but that the lack of Texas recruits is something he hopes to change.
Stevie Rogers (Houston/Strake Jesuit) may add a Texas feel to next year's freshman class. Rogers, the No. 93 point guard, has made a verbal commitment to the Owls, but he did not sign during the early signing period. If Rogers opts to sign during the spring, he can, beginning April 15 -- the first day of the regular signing period.
"This is an exciting time for the Rice program," Braun said. "This was a program that experienced 20 straight losses last season. But we've made great improvements already, and we think this class will continue it.
"The potential exists for the future at Rice."
Scott Duncan is a freelance writer in the Northeast.

Cousins Taking A Serious Approach
In a highly anticipated matchup between two of the best big men in the class of 2009, one made a significant adjustment in his game. At the 'Iolani Classic, an annual high school basketball tournament held in Hawaii in late December, LeFlore (Mobile, Ala.) took on Fairfax (Los Angeles) in the tournament's consolation game.

Cousins
It was the first time LeFlore's DeMarcus Cousins and Fairfax's Renardo Sidney went head-to-head. In a game many predicted to be a down-low duel, the 6-foot-9 Cousins and 6-10 Sidney changed it up by stepping out to the perimeter and calling for isolation. For most of the first half, each tried to cross the other but instead settled for jump shots, connecting on only a few.
In the second quarter, while Sidney maintained a guard's mentality, Cousins began to battle for position inside. He connected on a goodie bag of hook shots, layups off spin moves and putbacks. After LeFlore trailed 15-10 in the first quarter, Cousins was the momentum changer as the Rattlers outscored the Lions 15-4 in the second, giving them a 25-19 halftime lead.
"I went back to my bread and butter, which is the post," said Cousins, the No. 1 center and fourth-ranked overall prospect in the ESPNU 100.
• Click here to read the full story
ESPNU 150 prospect DeMarcus Cousins
On The Trail
Cowboys add Shaw

Oklahoma State received a verbal commitment from senior center Jarred Shaw over the weekend.
Shaw is the seventh recruit to choose the Cowboys, joining fall signees Ray Penn (Ft. Bend, Texas/Travis), Karron Johnson (Richmond, Va./Mt. Zion Christian Academy), Roger Franklin (Duncanville, Texas), Reger Dowell (Duncanville, Texas), Torin Walker (Columbus, Ga./Northside) and Fred Gulley (Fayetteville, Ark.).
ESPN.com recruiting coordinator Reggie Rankin talks about this athletic big man.
"Jarred is an athletic center who can really get up and down the floor and is a terrific shot-blocker because of his great timing," Rankin said. "He will bring a lot of upside when he arrives at Stillwater next season."
Shaw primarily scores from 15 feet and in, Rankin said.
"He scores with his back to the basket but can knock down the occasional jumper out to 15 feet," he said. "He has a nice little right-handed jump hook and is working on a left-handed version. He's also a good rebounder who scores on tip-ins and putbacks."
---
2011 PG Kabongo picks Texas

Point guard
Myck Kabongo
, ranked No. 15 in the ESPNU Terrific 25, verbally committed to Texas on Monday. Kabongo, a native of Toronto, picked the Longhorns over Kansas, Florida, Wake Forest and Villanova.
Kabongo joins his St. Benedict's teammate Tristan Thompson, a Class of 2010 UT commit.
ESPN.com recruiting coordinator Antonio Williams talks about head coach Rick Barnes' newest recruit.
"Coach Barnes has the ability to attract talent from all over the country, forgoing traditional recruiting 'pipelines,'" Williams said. "However, he may have established two gateways with this commitment from Kabongo.
"St. Benedict's has one of the strongest basketball programs in the nation, and now the Longhorns will have two Gray Bees on their future squads," Williams said. "Both Kabongo and Thompson hail from the Toronto area, giving Barnes a beat on other programs when it comes to recruiting there, which has provided a number of talented prospects for many college basketball teams recently."
• Kabongo's On the Trail archive
• Complete On the Trail updates